Double the Donation and DonorSearch Debut Advanced Integration Enhancements
Double the donation and DonorSearch are thrilled to announce their recent donor insight enhancements. This innovative integration now identifies high-value donors from within the 360MatchPro portal, providing actionable donor wealth data designed to drive revenue for your organization.
"Providing accurate, comprehensive, and actionable data is at the core of our mission, so enhancing our matching gift integration to include donor wealth insights felt like a natural choice," said Bill Tedesco, CEO of DonorSearch. "Double the Donation's 360MatchPro is an impressive solution, and we are looking forward to helping organizations harness wealth screening functionality through this integration."
Using advanced, user-friendly technology, fundraising organizations can now filter high-value individuals in conjunction with their employer matching gift data. Using the data screening flag to craft actionable and effective matching gift messaging to your high-value donors leads to more excellent outreach customization options and higher matching gift results.
"DonorSearch provides impressive wealth insights, and we knew our users could benefit from connecting these data points with their existing matching gift metrics," said Adam Weinger, President of Double the Donation. "It's easy to see how these combined solutions will provide users with streamlined information that drives donor engagement and revenue."
The 360MatchPro and DonorSearch integration work to provide nonprofits and educational institutions with the insights they need to drive donations for the causes they care about. Using advanced donor wealth-screening data, organizations can now not only see the details of their donors' matching gift opportunities, but they can also see which of those opportunities ties to affluent individuals.
This powerful integration provides another touchpoint for fundraising organizations to target the 26+ million individuals who work for companies with matching gift programs.

Activate in Seconds and Sta
rt Raising More from Donor Insights!
360MatchPro and DonorSearch  seamlessly integrate so you can begin leveraging donor insights in no time. To activate this integration enhancement, simply log in to your 360MatchPro portal, access the integrations tab and select the DonorSearch option. Then, enter your DonorSearch API key and validate your credentials.

Once you select the "Integrate" option, you'll be all set! Now you can access the high-value donor flag from within your 360MatchPro portal and begin tracking profitable matching gift opportunities without any unnecessary effort!
Looking to learn more? Check out our in-depth integration guide to get started!

Drive More Matching Gifts to Completion with 360MatchPro!
360MatchPro works with DonorSearch to help your organization identify the best donor outreach opportunities. Using this integration, your team can:
Identify more matching gift revenue opportunities: 360MatchPro enables you to automatically collect matching gift eligibility from donors using email domains, within donation forms, on confirmation screens, or by email. The more matching gift opportunities 360MatchPro discovers and shares with donors, the more matching gift requests your donors will successfully submit.
Drive more matches to completion, from form submission to corporate payment: Direct donors immediately to their matching gift forms after completing the donation process. Then, provide the right information to the right donors at the right time with custom emails based on match eligibility. Target follow-ups drive more completed submissions than ever before, bringing exponentially more matching gift checks from companies through your door.
Reallocate your time from the routine follow-up to your top opportunities: Your time is valuable, so why spend it chasing small dollar-value matching gifts? Instead, let 360MatchPro automate your matching gift outreach while flagging your highest-value opportunities, allowing your team to personalize follow-ups to the most valuable match-eligible donations. Then, rest easy knowing that 360MatchPro can handle the rest.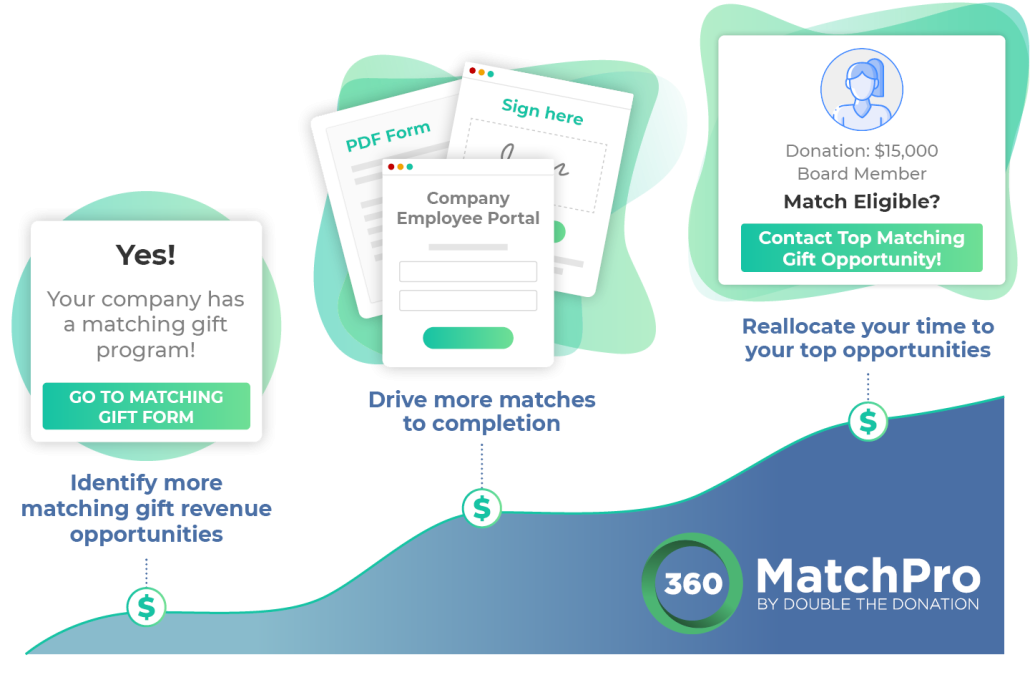 Ready to get started? Schedule a personalized demo to learn more about how this integration can drive value for your nonprofit.
---
About DonorSearch: At DonorSearch, we know that philanthropy markers connect what is in someone's heart – their aspirations in life – to their capacity to give to a nonprofit organization. Likewise, we believe that donor prospecting tools should help you connect your cause to more incredible people who can give to the mission. Founded in 2007 and built upon years of experience in philanthropy, our purpose is to provide nonprofits with actionable data and insights that help fundraisers connect more deeply with the right donors. With DonorSearch, identify your best donors, expand your donor pool, predict a donor's capacity to give, and connect at the right time. Our platform empowers fundraisers and takes the guesswork out of donor prospecting so that you can focus your time on relationship building.
Check out the DonorSearch website to learn more: https://www.donorsearch.net/
About Double the Donation: Automate your matching gift fundraising with the industry-leading solution from Double the Donation. The 360MatchPro platform provides nonprofits with tools to identify match-eligible donors, drive matches to completion, and gain actionable insights. 360MatchPro integrates directly into donation forms, CRMs, social fundraising software, and other nonprofit technology solutions to capture employment information and follow up appropriately with donors about matching gifts. Learn more at: https://360matchpro.com/demo-request/
https://doublethedonation.com/wp-content/uploads/2022/06/Double-the-Donation-DonorSearch-enhancement-feature.png
290
775
Adam Weinger
https://doublethedonation.com/wp-content/uploads/2022/03/logo-dtd.svg
Adam Weinger
2021-07-15 16:06:22
2023-09-14 21:24:37
Double the Donation and DonorSearch Debut Advanced Integration Enhancements