UC Innovation Selects 360MatchPro by Double the Donation as New Automated Matching Gift Offering
Double the Donation is thrilled to announce its newest integration with ascend by UC Innovation, a CRM software and consulting company committed to delivering innovative, sustainable results. This technical partnership has come together to provide educational institutions with the power to double eligible donations through the industry-leading matching gift solution, 360MatchPro.
"Our product, ascend, is the most comprehensive advancement solution based on the Salesforce platform, and 360MatchPro by Double the Donation is the most advanced matching gift solution on the market," said Caroline Chang, VP of Product and Community Engagement. "Providing our clients with a simple integration with this solution is incredibly valuable."
The integration is designed to work with the ascend platform to identify match-eligible donors following the donation process, then lead them directly to their matching gift submission form. This powerful technology makes it easy for organizations to double or even triple their employer matching gift funds without having to manually chase after matching gift requests, saving them time, effort, and revenue.
"UC Innovation's ascend product is an impressive fundraising solution, and our team is so excited to add our robust matching gift functionality to it," said Adam Weinger, President of Double the Donation. "Our combined solutions will undoubtedly drive value for our mutual users."
ascend and 360MatchPro integrate seamlessly so that your organization can start harnessing matching gift funds in minutes. This simple process will allow your organization to target the 26 million individuals who qualify for employer matching gift programs.

Activate in Seconds and Start Raising More from Matching Gifts!
360MatchPro and ascend integrate seamlessly so that you can start driving matching gift revenue in no time. To get started with this solution, simply navigate to the "Setup" section within your ascend account to manage your custom metadata types. You can then enter your 360MatchPro credentials to activate the integration.
Once you've added your credentials, you can navigate to your "Gift Processing Settings". By editing these settings you will have the option to check a box that enables "Double the Donation".

That's all there is to it! By entering your credentials and selecting the option to enable the integration, you can begin leveraging the power of 360MatchPro. With this integration, your donation records will flow from ascend into your 360MatchPro portal to kick off the matching gift process. 360MatchPro then gets to work identifying match-eligible donors and driving their matching gift requests to completion. This solution even stores valuable matching gift metrics directly in your 360MatchPro portal so that you may access actionable insights to drive your fundraising efforts.
Looking to learn more? Check out our in-depth integration guide to get started!

Drive More Matching Gifts to Completion with 360MatchPro!
Double the Donation and UC Innovation work to provide fundraisers with powerful, innovative solutions.
Using their matching gift integration, you team can:
Identify more matching gift revenue opportunities: 360MatchPro enables you to automatically collect matching gift eligibility from donors using email domains, within donation forms, on confirmation screens, or by email. The more matching gift opportunities 360MatchPro discovers and shares with donors, the more matching gift requests your donors will successfully submit.
Drive more matches to completion, from form submission to corporate payment: Direct donors immediately to their matching gift forms after the donation process is complete. Then, provide the right information to the right donors at the right time with custom emails based on match eligibility. Target follow-ups drive more completed submissions than ever before, bringing exponentially more matching gift checks from companies through your door.
Reallocate your time from routine follow-up to your top opportunities: Your time is valuable, so why spend it chasing small dollar-value matching gifts? Let 360MatchPro automate your matching gift outreach while flagging your highest-value opportunities, allowing your team to personalize follow-ups to the most valuable match-eligible donations. Rest easy knowing that 360MatchPro can handle the rest.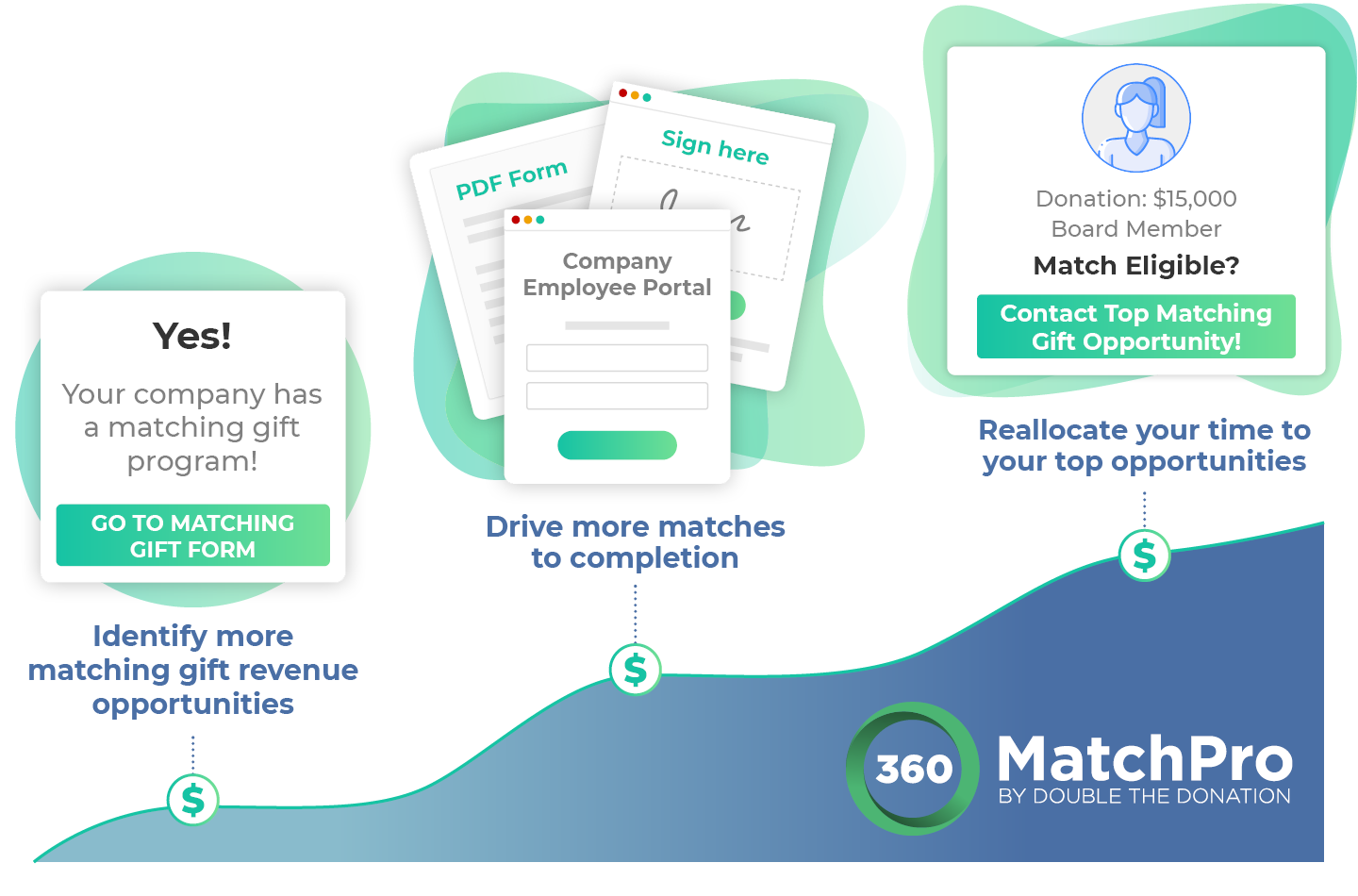 Ready to check it out? Schedule a personalized demo to learn how this integration will drive matching gift revenue for your organization.
---
About UC Innovation: Founded in 2011, UC Innovation is a CRM software and consulting company that is committed to serving higher education and nonprofit clients. Their organization focuses on delivering advanced solutions on time and on budget, finding that optimal blend of innovative products and deep domain expertise. UC Innovation strives to provide clients with solutions that use efficient business processes and state of the art technologies to reduce cost, ensure quality, and provide timely delivery of your CRM needs. To learn more, visit: https://www.ucinnovation.com/s/contact
About Double the Donation: Automate your matching gift fundraising with the industry-leading solution from Double the Donation. The 360MatchPro platform provides nonprofits with tools to identify match-eligible donors, drive matches to completion, and gain actionable insights. 360MatchPro integrates directly into donation forms, CRMs, social fundraising software, and other nonprofit technology solutions to capture employment information and follow up appropriately with donors about matching gifts. To learn more about Double the Donation, visit https://doublethedonation.com and request a demo at https://360matchpro.com/demo-request/.
https://doublethedonation.com/wp-content/uploads/2022/06/Double-the-Donation-UC-Innovation-feature.png
290
775
Adam Weinger
https://doublethedonation.com/wp-content/uploads/2022/03/logo-dtd.svg
Adam Weinger
2021-07-27 18:15:16
2023-01-15 17:08:21
UC Innovation Selects 360MatchPro by Double the Donation as New Automated Matching Gift Offering