Nonprofit Basics: Donation Request
Nonprofits require consistent funding to work toward their missions, making effective fundraising campaigns crucial for success. Just having robust fundraising software isn't enough—you need a compelling reason for people to donate. A well-timed, well-written donation request provides this reason—it can connect passionate supporters to giving opportunities.
What is a donation request?
When a nonprofit organization asks its supporters to make a donation, that's a donation request. The request can be made in different ways, such as in person or by phone call, and the type of donation can also vary. Having compelling and thoughtful donation requests is crucial for nonprofit organizations to get the funds they need.
5 steps of the donation request process
Let's review the steps to making a donation request.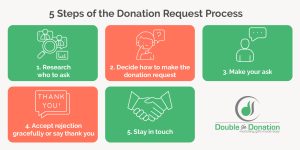 1. Research who to ask
Here are the different groups you can ask for donations:
Current donors. These are individuals who have previously made gifts to your nonprofit. Consider pitching a recurring donation plan to previous donors—recurring donors give 42% more per year than one-time donors.
Prospective donors. Prospective donors are interested in your organization and your cause, but haven't donated yet. Implement an emotional appeal in your donation request to these individuals to convince them to make a gift.
Businesses. Businesses sometimes offer corporate philanthropy programs, encouraging their employees to give to nonprofits. According to fundraising statistics gathered by 360MatchPro, 65% of Fortune 500 companies offer matching gift programs and 40% offer volunteer grant programs. Reach out to a company that already offers a corporate giving program for a better chance at securing donations.
Foundations. Large charitable foundations are often able to donate large sums of money to nonprofits. However, the process is more complicated than picking up the phone and asking an individual for a donation. Foundations often require applications to be submitted before they will even consider donating.
Interacting with so many donor groups can be confusing, especially when you consider that there are smaller subgroups with different interests. Consider donor segmentation to keep track of your different donor groups. This will allow you to easily tailor your content to each donor group, making the content more likely to resonate with them.
2. Decide how to make the donation request
After deciding who your donation request is targeted towards, you should choose how you will make your request. You can make your ask through a variety of means, including:
Phone. Phone call donation requests are best made to current or prospective individual donors. These requests are a good opportunity to strengthen your connection with your donors and share your passion for your nonprofit's mission.
Email. While you can automate these emails to send them to a large number of people, make sure to personalize them by addressing the donor by their first and last name. This will help you bond with your potential donors and show that you care about them.
Text. People nowadays spend large amounts of time on their mobile devices. Sending a text is a quick and inoffensive way to get someone's attention. Before making your donation request via text, confirm that your online donation pages are mobile-optimized for your donors' convenience.
Social media. Asking for donations on social media allows you to reach a wider audience. Consider using fun graphics or even videos to appeal to followers.
In person. In-person donation requests often occur when interfacing with major donors, businesses, or foundations. Because these groups can often make large gifts, practice your pitch. Confidence will encourage them to make donations.
Depending on which donor group you've decided to ask, these request methods will have varying levels of efficacy. Consider which method would work best for the donor group you're targeting, and then make your ask.
3. Make your ask
Here are a few best practices for when you sit down to create your donation request. Each request should be:
Inspiring. 90% of millennial donors are motivated to give when they connect with a nonprofit's mission. Inspire your donors by telling the story of your mission and giving them compelling reasons for why your cause is important. You can include inspiring content like direct quotes from people your organization has supported or images of volunteers during a volunteer workday.
Specific. Most likely, you're fundraising for a particular event or goal. Be specific about what your goal is to help donors understand why you're looking for gifts. You can also include donation amount suggestions, such as $10 or $25.
Direct. Don't beat around the bush—make it clear what you're asking for. If your potential donors are confused by your request, the chance that they will follow through is very low.
Personalized. You can personalize your donation request by addressing the donor by their first and last name. If they have donated to your nonprofit before, you might consider mentioning the amount they previously donated.
Urgent. You can add urgency by including imperatives in your calls to action (CTAs). For example, your CTA might be "donate now" or "help puppies find a home today!" You can also increase urgency by informing donors that they have a limited amount of time to donate to help you reach a time-based fundraising goal.
Creative. Having a creative request will make potential donors more likely to interact with it. For example, you might choose a creative subject line for an email request. Or, if marketing on social media, you could post pictures of volunteers or even videos to draw the eyes of potential donors.
Your donation software should make it easy for donors to make gifts to your nonprofit. Effective donation software will make donating streamlined and convenient, and will offer integrations that simplify your team's workflow. For example, if your donations software integrates with your donor management system, you can automatically personalize donation requests with donors' names and past gift amounts.
4. Accept rejection gracefully or say thank you
Keep in mind that what you're asking for is a big deal: you're requesting that your potential donors part with some of their hard-earned money. Although many people will be happy to donate, many people will not want to. That's okay! Accept the rejection gratefully and thank them for their time. Remember that just because an individual doesn't want to make a gift now doesn't mean they won't be open to it in the future.
On the other hand, if you do secure a donation, make sure that you say thank you! Your gratitude should be appropriate for the size of the gift made. Consider sending a letter or an email showing your gratitude and letting donors know what exactly their money is going towards. For major donors, you could host a thank-you party or gala.
5. Stay in touch
You should be communicating with interested individuals even outside of making donation requests. If a potential donor perceives your organization as only reaching out for funds, they might feel as though they are being taken advantage of. It's important to offer your donors a sense of community and to show that you're grateful for their support outside of donations.
Remember that people will interact with your organization if they connect with your mission and are interested in what you're doing. Those people may not be donors now, but they can still be donors in the future. It's important to cultivate your relationships by fostering ongoing donor engagement.
The donation request process may seem daunting, but at the end of the day, your supporters want to help you out. As long as you show that you appreciate them, they will be willing to make gifts to your organization. If you're still feeling unsure, take a look at the donation request email template below for some inspiration!
Donation request email template
Dear [donor's name],
My name is [name here], and I'm the [role] at [nonprofit's name]. We at [nonprofit's name] are dedicated to [nonprofit's mission]. Through [actions nonprofit has taken], we are taking steps toward a better future.
[Write an emotional anecdote here about your nonprofit, perhaps giving one specific example of someone/something you helped. For example, if you run an animal shelter, you could add an image of a dog you helped find a home, and write a brief description of the process.]
While we're making progress towards positive change, [nonprofit's name] still has a lot to do. We need your support to [new goal, project, or event you're asking donations for].
Would you consider donating [monetary amount, items, volunteer time, services, etc.] to help us with our goal? Your donation will be used to [state a specific action/goal that the donation will be used for and what the impact of the donation will be]. We would greatly appreciate it!
If you wish to help, please fill out the attached form or call us at [phone number]. If you have any questions, I would be happy to answer them and give you more information about [nonprofit's name].
Please join us! With your donation, we'll be one step closer to [mission here]!
Sincerely,
[name]
[role]
[nonprofit website]
[email]
If you're interested in other related resources, you can explore the ones below!
Other Resources to Explore
Nonprofit Basics – Learn more nonprofit management essentials by exploring other expert resources.
Corporate Giving Programs: The Ultimate Fundraising Guide – Interested in how businesses can help out nonprofits? Take a look at this guide to corporate giving programs.
215+ Amazing Fundraising Ideas for Your Organization – If you're looking for inspiration for your next fundraising event, check out this article.
https://doublethedonation.com/wp-content/uploads/2023/02/re-charity_Double-the-Donation_Nonprofit-Basics-Donation-Request_Feature.jpg
608
1602
Adam Weinger
https://doublethedonation.com/wp-content/uploads/2022/03/logo-dtd.svg
Adam Weinger
2022-08-02 17:08:47
2023-09-14 20:20:06
Nonprofit Basics: Donation Request