Givebutter Debuts Advanced Gift Matching Automation with 360MatchPro by Double the Donation
Givebutter, one of the fastest growing providers on online crowdfunding, peer-to-peer, and online fundraising resources, can now provide their nonprofits, educational institutions, and other fundraisers with 360MatchPro by Double the Donation. With the 360MatchPro integration, donors giving through Givebutter can automatically discover their matching gift eligibility and double their impact by getting their donation matched.
"We're all about providing nonprofits and other fundraisers awesome fundraising tools they'll actually love using, and matching gifts fit perfectly in that mission," says Max Friedman, CEO and Co-founder at Givebutter. "That's why we're so excited to partner with Double the Donation and offer this new functionality."
Each year, $4-7 billion in matching gift revenue goes unclaimed because donors are unaware of the opportunities they have to get their gift matched by their employer. 360MatchPro by Double the Donation focuses on closing that awareness so impact-driven donors can increase their contribution by double or even triple the amount. 
"Partnering with Givebutter is a more-than-natural fit for the Double the Donation mission," says Adam Weinger, President at Double the Donation. "Our goals are as aligned as they are simple: help nonprofits and educational institutions raise more money without the pain of complicated tech work."
With the industry's leading matching gift tools integrated into Givebutter campaign and donation pages, organizations can make sure that each matching gift opportunity is identified and followed up on with minimal effort.

Activate in Seconds and Start Raising More from Matching Gifts!
The integration of 360MatchPro into Givebutter forms is a seamless process you can complete in a matter of seconds. It's as simple as going to your Integrations tab on your Givebutter platform and getting set up with your 360MatchPro API keys! No complicated IT work required.
Once you have your 360MatchPro tool live on your Givebutter forms and campaigns, donors will be able to search their company name and find their matching gift eligibility using the autocomplete search tool. With 1 out of 3 donors more likely to donate more money when a match is offered, you'll want to make sure those donors find out their status sooner than later! 
Following up with those donors is equally important. That's why the 360MatchPro and Givebutter integration also makes sure that no donor walks away from the giving process without an opportunity to go straight to their matching gift form or employee portal! Identifying those eligible matches is just step one—making sure donors have an easy pathway to getting their gift matched is the final piece of the puzzle.
You can take advantage of 360MatchPro's automated email functionality to create that extra touchpoint for your donors. The more opportunities you give donors to get their gifts matched, the more likely you'll see those matches rolling in! With the ease of use for both you and your donors, gift matching becomes a no-brainer.
Looking to learn more? Check out our in-depth integration guide to get started!

Drive More Matching Gifts to Completion with 360MatchPro!
Givebutter and Double the Donation are dedicated to creating a simple and effective experience for clients and donors alike. With the new integration of Givebutter's online fundraising software and 360MatchPro's advanced matching gift tools, nonprofits, schools, and other fundraisers alike can increase the impact of their campaigns by adding corporate matching gifts to their fundraising strategy.
Check out some of these features from the 360MatchPro-Givebutter integration:
Identify more matching gift revenue opportunities:

360MatchPro enables you to automatically collect matching gift eligibility from donors using email domains, within donation forms, on confirmation screens, or by email. The more matching gift opportunities 360MatchPro discovers and shares with donors, the more matching gift requests your donors will successfully submit.

Drive more matches to completion, from form submission to corporate payment:

Direct donors immediately to their matching gift forms after the donation process is complete. Then, provide the right information to the right donors at the right time with custom emails based on match eligibility. Target follow-ups drive more completed submissions than ever before, bringing exponentially more matching gift checks from companies through your door.

Reallocate your time from routine follow-up to your top opportunities:

Your time is valuable, so why spend it chasing small dollar-value matching gifts? Let 360MatchPro automate your matching gift outreach while flagging your highest-value opportunities, allowing your team to personalize follow-ups to the most valuable match-eligible donations. Rest easy knowing that 360MatchPro can handle the rest.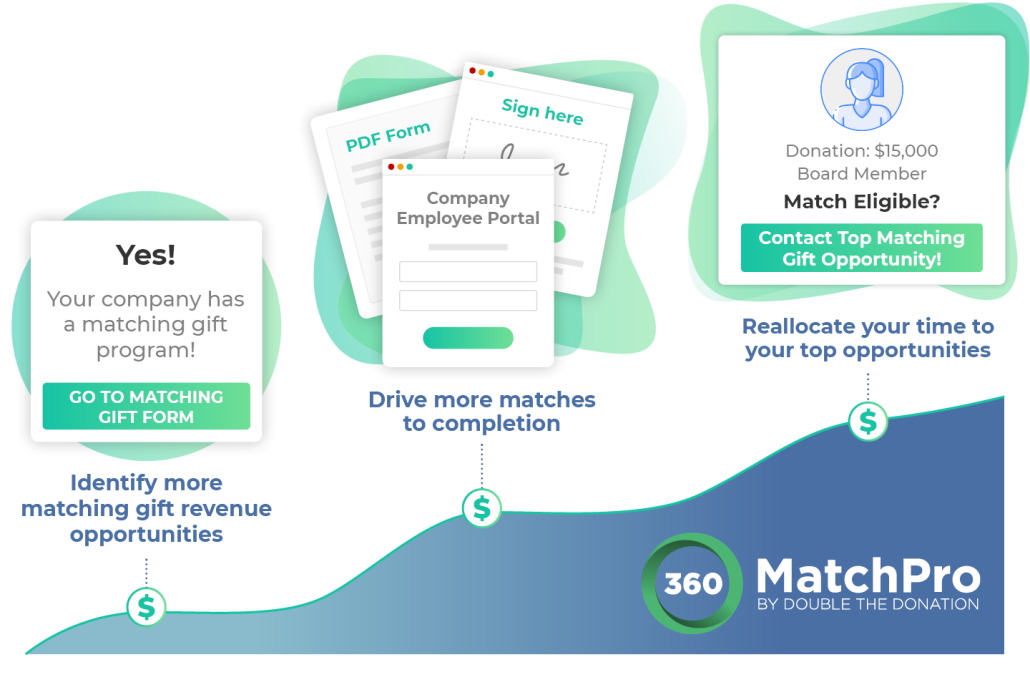 Ready to get started on your matching gifts journey? Request a demo today.
---
About Givebutter: Givebutter, established in 2016, is a fundraising technology company based in Washington, D.C., powering millions in online donations, fundraising campaigns, and ticketed events for more than 15,000 charitable causes around the world. Combining industry best practices such as Peer-to-Peer with innovative technologies like Venmo, Givebutter helps organizations raise more, increase engagement, and grow supporter bases over time – particularly amongst younger generations. Thanks in large part to its transparent pricing and beautifully designed user interface, Givebutter has become one of the fastest-growing and best-rated nonprofit technology platforms, according to Software Advice Frontrunners and G2 (2020). For more information on Givebutter, visit https://givebutter.com.
About Double the Donation: Automate your matching gift fundraising with the industry-leading solution from Double the Donation. The 360MatchPro platform provides nonprofits with tools to identify match-eligible donors, drive matches to completion, and gain actionable insights. 360MatchPro integrates directly into donation forms, CRMs, social fundraising software, and other nonprofit technology solutions to capture employment information and follow up appropriately with donors about matching gifts.
https://doublethedonation.com/wp-content/uploads/2022/06/Double-the-Donation-Givebutter-feature.png
290
775
Adam Weinger
https://doublethedonation.com/wp-content/uploads/2022/03/logo-dtd.svg
Adam Weinger
2021-01-26 16:50:40
2022-06-20 07:55:39
Givebutter Debuts Advanced Gift Matching Automation with 360MatchPro by Double the Donation