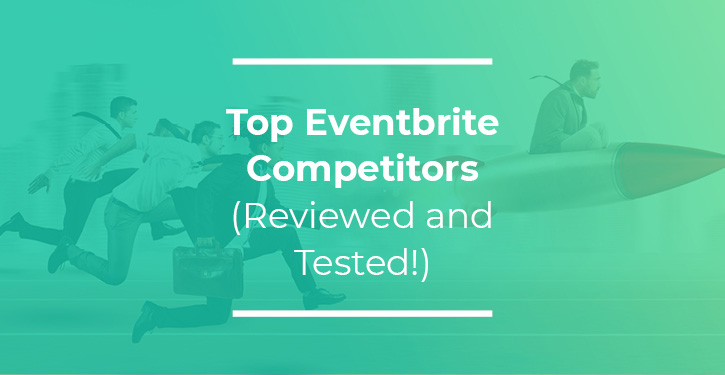 The Top 12 Eventbrite Competitors (Reviewed and Tested!)

Let's set the stage: your organization needs to plan a killer event that will engage your constituents and enhance your fundraising power (without causing too many headaches for your event planning team). You search for an event management solution to help you streamline the planning process, but software like Eventbrite doesn't have the tools or capabilities to meet all of your unique needs.
If this situation sounds familiar, don't fret! To help you find an event management solution that can meet all of your needs, we've taken the liberty of reviewing the top Eventbrite competitors on the market.
In this post, we'll highlight some top solutions that are like Eventbrite, but even better:
Each of these Eventbrite alternatives offers a unique take on event management, so every organization can find a solution that's perfectly suited for their needs.


1. Our Top Eventbrite Competitor: Mobilize
Product Overview
Mobilize is the leading events management and volunteer recruitment platform for mission-driven organizations.
This comprehensive solution makes it easier than ever to create new in-person and virtual events, recruit attendees, and boost engagement. Their top features include:
Quick and easy event creation and customization
Automated email and text communication
Seamless signup and peer-to-peer recruitment
Access to a growing network of over one million volunteers nationwide
Robust data reporting and analytics to review your performance
With a set of intuitive event management features and an impressive network of resources, Mobilize generates more value for your organization over time than single-use event registration sites. This solution will help you empower and connect with more supporters, volunteers, and event attendees.
Comparison to Eventbrite
The online Eventbrite platform can be a good choice for one-time ticketed events. However, mission-driven organizations like nonprofits and advocacy groups often have more complex, long-term needs than the typical Eventbrite user.
One major difference between the platforms is how supporters discover your events and opportunities. With Eventbrite, you send your event listing to a list of supporters. With Mobilize, you can promote your events to existing supporters and tap into a rapidly growing network of (over 1.7 million!) passionate individuals looking for their next volunteer opportunity.
This is amplified by the platform's automated social recruitment features and cross-promotion opportunities between organizations. Organizations can also enable all-star volunteers to host events on their behalf, drastically expanding their reach.
With access to the Mobilize network and its amplification features, your organization will reach much wider audiences than if you relied on your contact list alone. Plus, plenty of CRM integrations make it easy to record new supporter details and post-event feedback, driving even more engagement over the long-run.
For mission-driven events of all sizes, Mobilize is the best choice for long-term value. Its toolset and expansive network of volunteers and partners make it a no-brainer.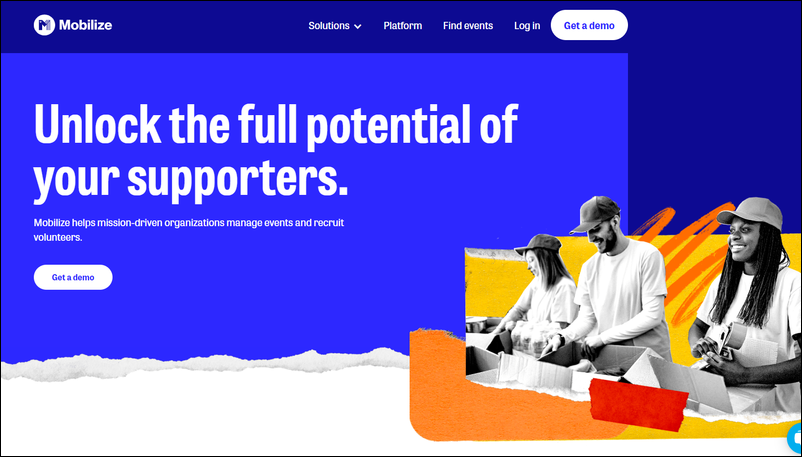 ---

2. Eventbrite Competitor: Fonteva Events
Product Overview
Fonteva Events is an all-in-one event management solution designed for Salesforce users.
With Fonteva, you'll have access to virtually unlimited tools to plan, execute, and follow up on your event. Their all-encompassing features include:
Total logistics management, including event setup, speakers, vendors, and sponsors.
Attendee management tools such as a guest agenda builder.
Intuitive registration and ticketing options.
An event microsite generator.
Hesitant about using such a comprehensive platform? Trust us: Fonteva's software could not be more user-friendly. Your staff will have no problem implementing the solution and actually capitalizing on all of its features.
Comparison to Eventbrite
Eventbrite was designed as an online solution, so Salesforce users who want to create Eventbrite events will need to integrate the platform with their Salesforce system.
Fonteva, on the other hand, was built explicitly for Salesforce users. Fonteva Events is a native Salesforce application, meaning there's absolutely no integration required to sync up the two platforms; Fonteva and Salesforce work hand-in-hand!
If your organization already uses Salesforce, you can still use an external platform like Eventbrite, but you'll be spending significant time and money to force the two solutions to work together. Why not spend that time planning your event instead?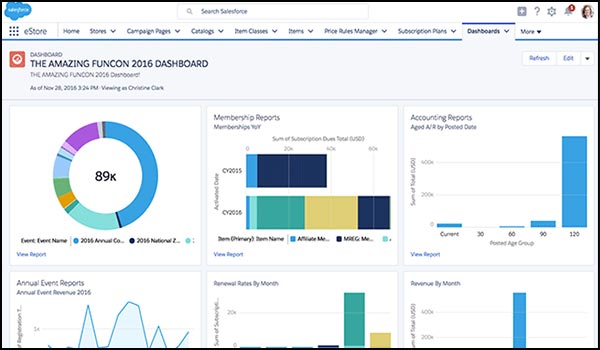 ---

3. Eventbrite Competitor: Soapbox Engage
Product Overview
Soapbox Engage offers a comprehensive suite of Salesforce apps for organizations of all sizes. Specifically, their tools are designed to help smaller organizations get up and running on what can otherwise be a complicated platform for newcomers.
Their Events app includes a number of robust features:
Unlimited event creation with customizable ticketing options

Built-in analytics tools to track traffic and registration metrics

Flexible options to choose your own payment processor

Customizable and fully mobile-optimized registration pages for your site
Most importantly, as an app for Salesforce, all of your registration and engagement data will report seamlessly from the Soapbox Engage platform into your CRM. It's the easiest way to start making the most of Salesforce for your events.
Comparison to Eventbrite
Eventbrite is a web-based platform, making integration for Salesforce somewhat difficult. For Salesforce users, bouncing between two completely separate tools can become a major time-waster and distract your team from planning the event.
Staying within the Salesforce app ecosystem is the best way to see returns on your CRM investment, both in terms of raising more money with your event and saving more energy overall. This is especially true for smaller organizations just getting started with the platform.
Plus, as a full suite of online fundraising and engagement apps, each Soapbox Engage tool works seamlessly with the others, giving you more intuitive features and comprehensive views of your data.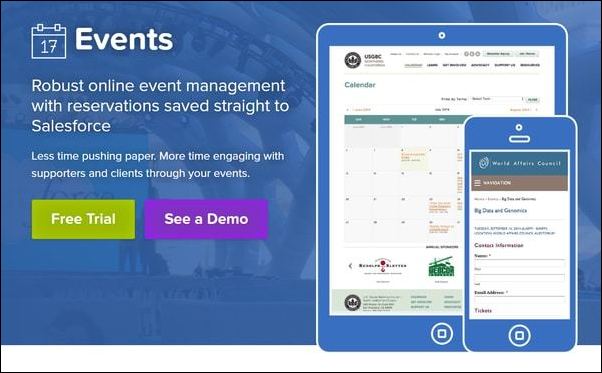 ---

4. Eventbrite Competitor: Snowball
Product Overview
Snowball is an easy-to-use, all-in-one platform for nonprofits. Their suite of tools is designed to help smaller organizations clear the hurdles that often stand between them and sustained growth.
For growing organizations, planning fundraising events can be particularly challenging. That's because the costs of separate ticketing, online fundraising, text-to-give tools, and more can very quickly become overwhelming.
Snowball solves this problem by giving you a full suite of nonprofit-specific tools for an affordable price. Their tools include:
Event ticketing tools
Customizable donation pages
Fundraising thermometers
Text-to-give services
Peer-to-peer fundraising options
For organizations just getting started, being able to host events with efficient online ticketing and intuitive giving options like text-to-give can be a game-changer!
Comparison to Eventbrite
Using multiple separate platforms, especially for complex tasks like planning a fundraising event, is not usually a good idea. As a standalone web platform, Eventbrite will most likely operate very separately from the rest of your toolkit. For individuals planning one-time events like concerts or parties, a standalone platform could work well.
Nonprofits, though, rely on their events to accomplish a number of very important and interconnected tasks, namely engaging their guests, raising awareness for their missions, and soliciting donations. Working with a set of interconnected tools is the best way to save time and effort while also making sure no important data slips through the cracks.
Snowball's suite of all-in-one ticketing, online fundraising, and text-to-give tools make it a powerful choice for smaller organizations. Centralizing your tools makes your job easier, creates a more streamlined experience for supporters, and gives your team fuller access to the important data you generate.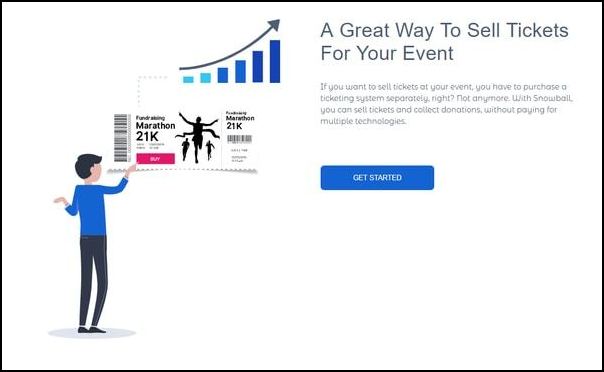 ---

5. Eventbrite Competitor: Doubleknot
Product Overview
Designed for specific types of nonprofits including zoos, museums, and retreat centers, Doubleknot offers intuitive event registration and program management tools to make event planning easier.
Doubleknot's software comes with rich features to help you manage all types of events and programs. With Doubleknot, you can:
Configure a custom event with ease.
Build registration forms that capture all the guest data you need.
Manage capacities and waitlists per session or event.
Create unique event categories based on your organization's common needs.
You'll also have access to all of Doubleknot's impressive integrated nonprofit features, such as communications and marketing, reporting and analytics, and payment processing. Everything you need will be visible in one simple solution!
Comparison to Eventbrite
Eventbrite doesn't provide half of the program management tools you'll gain with Doubleknot.
Because Doubleknot was created with unique organizations in mind, this software allows you to design events and programs that are truly complex. Whether you're planning a straightforward fundraising gala or an ongoing class with multiple track options, Doubleknot can adapt to your needs—not the other way around!
---

6. Eventbrite Competitor: Regpack
Product Overview
Designed as an all-in-one system for registration, email marketing, and report creation, Regpack's software comes with a variety of amazing features to help you manage events and enrollment.
With Regpack, you can:
Embed your form right on your website

Create new registration projects with ease

Easily communicate with registrants

Create and trigger discounts

Offer payment plans

Allow one person to register multiple people for your event
You will also be able to effortlessly manage your events, with automated workflow, data filtering, dynamic reporting tools, and data backed up in the cloud.
Comparison to Eventbrite
Regpack and Eventbrite both offer the ability to duplicate events that you host each year, so you only have to set them up once. However, Regpack offers more flexibility with registration types, such as conferences, one-day events, and trips. Their software offers an easy solution for even the most complex registration needs.
Regpack also offers a dedicated support team and a project manager who can build out your system based on your needs. Take advantage of their comprehensive knowledge database, too!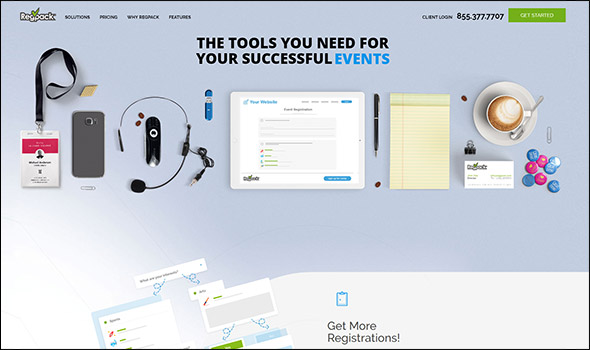 ---

7. Eventbrite Competitor: Ticketbud
Product Overview
Ticketbud is an online ticket sales and event registration platform designed for event organizers.
Its comprehensive features are perfect for nearly every single event type out there. You have a wide reach with a lot of different ways to sell tickets through these Ticketbud features:
Sell tickets at the door and collect card and cash payments with the Ticketbud point of sale system.
Sell tickets on your website and Facebook page with the Ticketbud ticket widget.
Track all of your marketing efforts with Google Analytics and Facebook Pixel integrations.
Manage collaborators and volunteers in one place.
Comparison to Eventbrite
Ticketbud has a fairly similar feature set compared to Eventbrite.
However, where they differ is that Ticketbud offers daily payouts for ticket sales, whereas with Eventbrite you have to wait until after your event to get paid. Also, with intuitive data reporting tools and customer support available by both phone and live chat, Ticketbud focuses more on the organizers and their needs.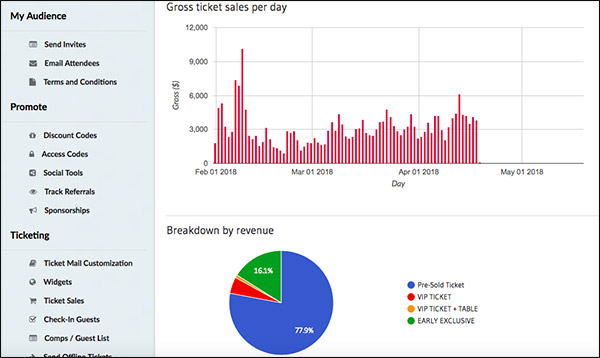 ---

8. Eventbrite Competitor: Eventbee
Product Overview
Eventbee is an online event management software available for any type of event, from small-scale parties to business events, festivals, or conferences.
Eventbee offers a number of features that are similar to Eventbrite, such as:
Online ticketing and customizable registration forms.
Flexible payment processing options.
Branded event pages on Eventbee's website.
Check-in via Eventbee mobile app.
Plus, Eventbee offers event management options specific to businesses or nonprofits, so any type of event planning team can access the most useful tools.
Comparison to Eventbrite
Eventbee stands out from the crowd thanks to their flat fee pricing, making them a cost-effective alternative to Eventbrite.
They offer four distinct fee structures ranging from $1 to $3 per ticket sold. You can even use their handy cost calculating widget on their website to find out exactly how much you'll save when you switch from Eventbrite, Ticketmaster, or Ticketleap!
---

9. Eventbrite Competitor: Gather
Product Overview
A comprehensive event management solution, Gather can provide a robust look at all the elements that make up your event.
Designed for venues, hospitality groups, and event planning organizations, Gather includes features such as:
Workflow and team management tools.
Events calendar with past, present, and future viewing options.
Custom reports and data tracking.
Responsive web app for planning events on the go.
Gather also offers a number of useful guides and other resources to those who subscribe to their event management newsletters!
Comparison to Eventbrite
Because Gather is designed for event planning professionals, it provides a much more inclusive look at event management than Eventbrite does.
While still easy to use, Gather is a better choice for organizations and businesses who know their way around event planning software. If you're new to event management or have only sporadic event planning needs, you might be better off choosing a more lightweight Eventbrite alternative.
---

10. Eventbrite Competitor: ZapEvent
Product Overview
ZapEvent is a web-based event registration platform designed to make selling tickets simple and secure for organizations of all sizes.
With an extremely user-friendly interface, ZapEvent provides all of the following essential tools:
Custom event pages.
Social media integration.
Flexible ticket and payment options.
Preset registration and financial reports.
Not only does ZapEvent make setting up your event easy; they make pricing easy too! ZapEvent's flexible pricing model allows organizations to choose how they'll handle processing fees, and they provide a price calculator to make mapping out a ticket strategy that much easier.
Comparison to Eventbrite
What sets ZapEvent apart from other event apps (including Eventbrite)? Their customers would agree that ZapEvent's exceptional customer service seals the deal on the event management experience.
ZapEvent provides a wealth of videos and other online resources to help both novice and veteran event planning teams get the job done most effectively. On top of that, their team of event specialists are available to help you personalize your event and optimize your strategy.
---

11. Eventbrite Competitor: Fundly CRM
Product Overview
For small to midsize nonprofits who want to manage constituent data and event logistics in the same system, Fundly CRM can provide all of the tools you need to do both (and a lot more).
In this robust constituent relationship management software, you'll have access to built-in event management tools including:
Customizable registration forms.
Event project management tools.
Sponsorship management.
Peer-to-peer fundraising tools.
Unlike some nonprofit CRMs, all of Fundly CRM's event management tools are included with their base package, so you don't have to break the bank to afford these fantastic features!
Comparison to Eventbrite
Fundly CRM isn't just an event management platform; it's an all-in-one nonprofit constituent relationship management software.
If your organization already uses a nonprofit CRM to manage supporter data, you'll have to integrate outside event management software to use both platforms simultaneously. Because integrations can be costly (and often ineffective), it might make more sense for your organization to upgrade to a CRM that can handle all of your fundraising needs, including event planning!
---

12. Eventbrite Competitor: SimpleTix
Product Overview
SimpleTix provides an intuitive, flexible ticketing solution for any organization holding an event. SimpleTix users range from pumpkin farms to culinary festivals, from zoos to performing arts centers. It's intuitive enough for first-time organizers and powerful enough for organizers hosting big-time events.
SimpleTix excels at reducing friction in the ticketing process by providing features that allow organizers to customize their ticket structure and remove the burden of manual administrative processes. Their top features include:
Instant payouts, thanks to their official partnership with Square payment processing
Unlimited, customizable ticket types for early bird discounts, member rates, multi-day packages, and more
Customers can change ticket dates and time slots on their own
Sell concessions, merchandise, and on-site tickets from the same platform
An event website builder you can try for free
The SimpleTix team constantly adds new features and refines existing ones, and its YouTube channel shows tons of tips and tricks for making the most out of the platform. The platform comes with adjacent functionality like QR code-enabled etickets and mobile scan-and-go capabilities that make it easier to keep the line at the gate moving. Though SimpleTix may be a fairly single-point solution, SimpleTix integrates widely with other apps like Zapier, MailChimp, SalesForce, to name a few.
Comparison to Eventbrite
Like most ticketing platforms, Eventbrite holds ticket revenue for days or weeks after the event is over. SimpleTix's official partnership with Square sets it apart in this regard. SimpleTix pays out ticket revenue immediately, which lets organizers use presale revenue to finance other aspects of their event. Eventbrite is notoriously bad at facilitating refunds, but SimpleTix makes that refund instantly accessible. Organizers can even offer a refund in the form of a Square gift card, which allows the organizer or venue to keep the revenue without sacrificing attendee satisfaction.
SimpleTix provides an event website that keeps your event front and center. Unlike Eventbrite, SimpleTix's site builder doesn't clutter your page with branding and promotions for other events.
---
Now that you know your options, it's time to start planning your event!
Check out these additional resources for more event management help:
Top Cvent Competitors. Didn't find the event management solution you were looking for in this post? Check out our breakdown of the top Cvent competitors to continue expanding your knowledge of the best event management products around.
Salesforce Event Management Guide. If you're planning an event using your Salesforce CRM, look no further! Fonteva has the ultimate guide for using Salesforce to plan lucrative, effective events your constituents will love.
Our Favorite Event Fundraising Solutions. Discover even more nonprofit event management solutions! We'll walk you through the top fundraising software to meet any need your organization has.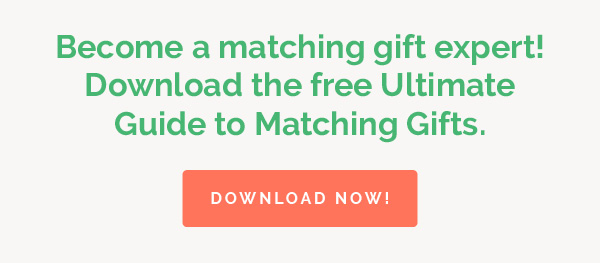 https://doublethedonation.com/wp-content/uploads/2022/06/top-eventbrite-competitors-reviews.jpg
375
725
Adam Weinger
https://doublethedonation.com/wp-content/uploads/2022/03/logo-dtd.svg
Adam Weinger
2017-08-02 19:11:52
2023-10-02 13:06:54
The Top 12 Eventbrite Competitors (Reviewed and Tested!)