Firefly Partners Pairs with Double the Donation for Matching Gift Integrations
Firefly Partners is thrilled to announce its partnership with Double the Donation, the leading provider of matching gift software for nonprofits and educational institutions.
Double the Donation's powerful gift matching tool, 360MatchPro, integrates with 50+ software platforms to allow nonprofits to harness its gift matching power. With Firefly Partners' exceptional technological tools and design strategies, these implementations can stretch even further. Firefly Partners is able to insert the 360MatchPro streamlined search tool directly onto donation forms and confirmation pages of select fundraising platforms to capture donor employer information and drive gift matches to completion. This results in extra contributions at no additional cost to donors.
This partnership can help nonprofits take advantage of the estimated $4 to $7 billion in matching gifts that go unclaimed each year.
"Nonprofits can greatly increase their revenue through gift matching, and Double the Donation provides the best tools to do that," said Jen Frazier, Founder and President of Firefly Partners. "These organizations do valuable work, and they deserve to take full advantage of the programs designed for them – and with Double the Donation, they can."
360MatchPro efficiently identifies match-eligible donors during the donation process. Then, the software educates donors and provides easy methods to complete gift matching requests. This automated process gives nonprofits more time to focus on their mission instead of chasing company gift matches.
"Our gift matching tool is designed to grow nonprofit revenue in a simple and efficient way," said Adam Weinger, President of Double the Donation. "Firefly Partners can implement this software so that more organizations will take advantage of the billions of dollars offered in matching gifts each year."
This integration can address the lack of donor awareness that prevents gift matching completion. Once Firefly Partners implements the 360MatchPro tool onto an organization's donation forms, their gift matching revenue is expected to double or even triple.

Activate in Seconds and Start Raising More from Matching Gifts!
360MatchPro integrates seamlessly with a variety of platforms to increase gift matching revenue. Firefly Partners makes that setup process quick and easy. Simply contact Double the Donation to acquire a 360MatchPro account. Then, Firefly Partners can help you set up your 360MatchPro account with any number of tools already in your fundraising suite, such as Engaging Networks, EveryAction, and more.
When integrated into your online donation forms, 360MatchPro makes it quick and easy to identify where donors work and drive their matches to completion. A streamlined, auto-complete employer name search field gathers company matching gift eligibility on your donation page, while post-transaction messaging delivers the right matching gift forms to the right donors at the right time to increase your conversion rate.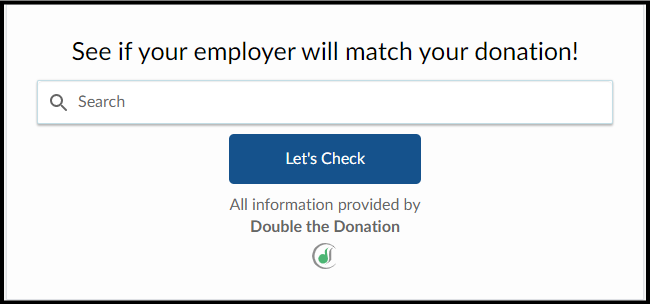 360MatchPro users can also work with Firefly Partners to embed the Double the Donation matching gift program search tool on their website so that donors have even more opportunities to access their gift matching dollars.

Drive More Matching Gifts to Completion with 360MatchPro!
360MatchPro does the fundraising work so that you don't have to. This tool helps your organization:
Identify more matching gift revenue opportunities: 360MatchPro enables you to automatically collect matching gift eligibility from donors using email domains, within donation forms, on confirmation screens, or by email. The more matching gift opportunities 360MatchPro discovers and shares with donors, the more matching gift requests your donors will successfully submit.
Drive more matches to completion, from form submission to corporate payment: Direct donors immediately to their matching gift forms after the donation process is complete. Then, provide the right information to the right donors at the right time with custom emails based on match eligibility. Target follow-ups drive more completed submissions than ever before, bringing exponentially more matching gift checks from companies through your door.
Reallocate your time from routine follow-up to your top opportunities: Your time is valuable, so why spend it chasing small dollar-value matching gifts? Let 360MatchPro automate your matching gift outreach while flagging your highest-value opportunities, allowing your team to personalize follow-ups to the most valuable match-eligible donations. Rest easy knowing that 360MatchPro can handle the rest.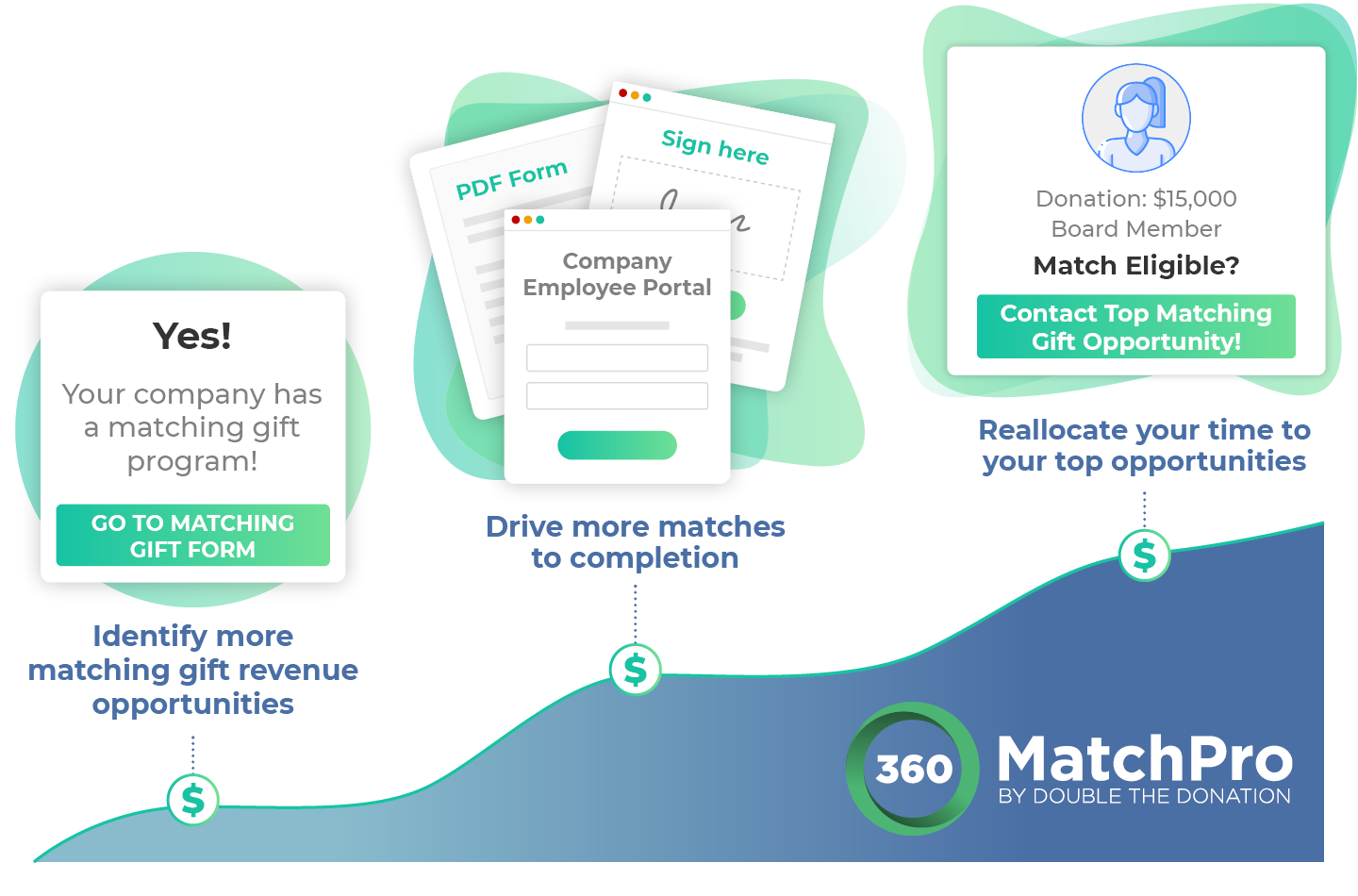 Ready to check it out? Schedule a personalized demo to learn how 360MatchPro can help your specific organization drive donations through company gift matching.
---
About Firefly Partners: Firefly Partners is a women-owned digital marketing agency delivering tailored solutions that help progressive nonprofits achieve their goals. They specialize in digital strategy and support, website design and development, email and fundraising campaigns, fundraising and CRM tool selection and upkeep, and analytics and optimization to tackle today's biggest social challenges. To learn more, visit: https://fireflypartners.com/
About Double the Donation: Automate your matching gift fundraising with the industry-leading solution from Double the Donation. The 360MatchPro platform provides nonprofits with tools to identify match-eligible donors, drive matches to completion, and gain actionable insights. 360MatchPro integrates directly into donation forms, CRMs, social fundraising software, and other nonprofit technology solutions to capture employment information and follow up appropriately with donors about matching gifts. To learn more visit https://360matchpro.com/demo-request/
https://doublethedonation.com/wp-content/uploads/2022/06/Firefly-Partners-Integration-Announcement-Image.png
290
775
Adam Weinger
https://doublethedonation.com/wp-content/uploads/2022/03/logo-dtd.svg
Adam Weinger
2020-09-01 12:14:36
2022-06-20 07:55:33
Firefly Partners Pairs with Double the Donation for Matching Gift Integrations