MemberClicks Reviews | Our Rating and Alternative Solutions
The search for the perfect association management software solution is a major undertaking for your association. You want to ensure your team has plenty of features at your disposal, but you also need a sleek solution that won't bog you down or blow your budget.
When reading MemberClicks reviews, you might think you've found your solution and stop looking. As one of the major players in the association management space, MemberClicks offers many associations the database, communications, and events features they need.
But did you know that there are plenty of incredible association management solutions out there that might serve your association better? 
Before you make an important software purchase, make sure you actually understand what your options are. In this post, we'll review the following association management software solutions to help you decide which providers you should reach out to in your search:
It might seem overwhelming right now, but choosing association management software becomes so much easier once you have a shortlist of vendors to consider. With these top providers, you can't go wrong!
Let's get into the reviews to guide you to the best fit for your association.

1. MemberClicks Review
MemberClicks was founded in 1998, making it one of the most established legacy AMS products still on the market. In its lifespan, the software has expanded, bringing on a diversity of features that serve as the software's main selling point.
The associations that find the most success with MemberClicks are those with the smallest staff. This AMS provides everything a small association needs in one package, which is much easier to keep track of than a constellation of separate systems that might or might not integrate properly with one another.
The MemberClicks solution is also highly customizable. Associations using the software are able to include their branding on their website, email campaigns, applications, and events pages. Many MemberClicks members feel overwhelmed and confused at the beginning, but with time and support, they are able to adjust to the level of customization available: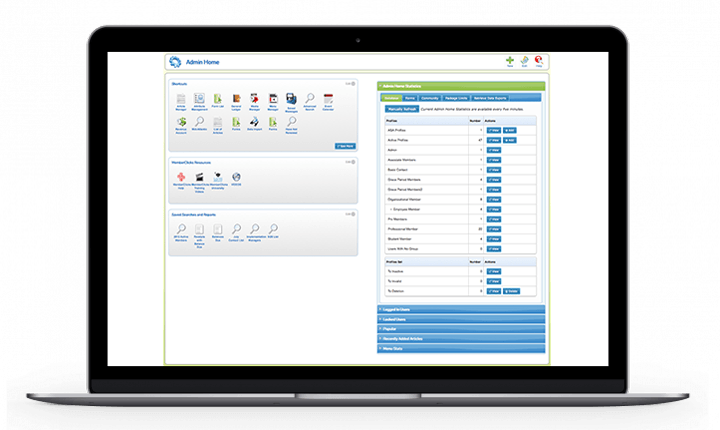 Top Software Features
MemberClicks provides small associations with:
A membership database
Renewal and application automation
Organizational memberships
Email marketing
Event registration
Member-facing website
Reporting, accounting and payment processing
Of course, this wealth of options comes with a downside.
A common complaint among MemberClicks customers is slow load time. With this many features packed into one locally hosted solution, it's no wonder that MemberClicks can be clunky and slow down associations' operations.

2. MemberClicks Alternative: Fonteva for Associations
In contrast, Fonteva for Associations is a lean, streamlined software solution that offers customization and breadth of features without slowing down essential business operations.
The speed can be attributed to true-cloud hosting. The Fonteva for Associations platform is built completely native in Salesforce, the world's most popular cloud CRM. That's why enterprise-level associations with members and chapters all over the world choose Fonteva instead of a locally hosted solution.
With Salesforce, your member data and operations are hosted in the cloud. That means:
There's no limit on your storage space like there is with legacy AMS, no matter how many profiles or events you host at once.
Updates are pushed through the cloud without having to take your local servers offline and disrupt your operations.
Your information is safe, since Salesforce is the most secure cloud CMS in the world.
Besides, though Fonteva for Associations comes fully equipped with the most common modules needed by large associations, you have access to the Salesforce AppExchange with your Fonteva license. Instead of cluttering your core platform with point solutions, Fonteva gives you the opportunity to browse the AppExchange and Fonteva Marketplace to complete your software package. The Fonteva User's Network can give you some ideas of what other users have done to customize the software to their needs: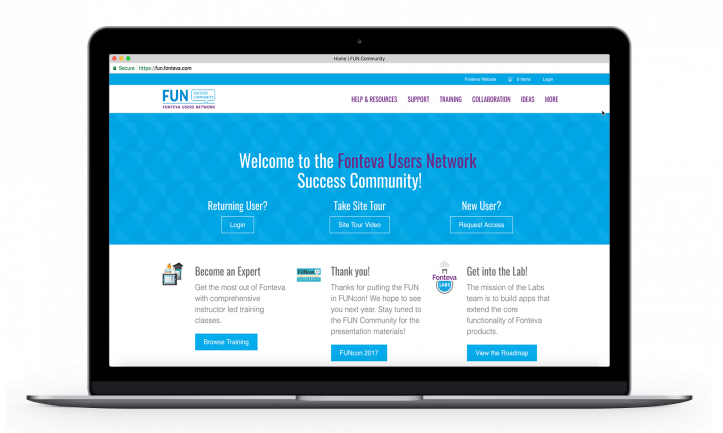 Top Software Features
Fonteva for Associations offers enterprise-level associations access to:
True-cloud Salesforce hosting
Member-driven communities
eCommerce
Drag-and-drop reporting
The best part? You don't need any technical coding knowledge to customize and implement any of these features.
But if you need to reach out for assistance, you can always take advantage of Fonteva's world-class training and customer support team, as well as all the support materials Salesforce has to offer.

3. MemberClicks Alternative: Salsa
Some specific member-based associations and organizations need specialized solutions that can meet their unique needs.
If you're a nonprofit that works in the arts and culture space, your members are your donors. You need a solution that understands constituents in both categories at once, like Salsa.
Salsa CRM, a top nonprofit CRM, integrates seamlessly with Salsa Engage, a digital marketing, fundraising, and advocacy platform that brings your association, nonprofit, or organization closer to your members.
The most important advantage Salsa's suite of products offers to nonprofits and associations is its integrated marketing features. Without close member communication, you can't push your campaigns forward and build a strong, sustainable member community. Salsa makes it possible to always know where you stand with your campaigns: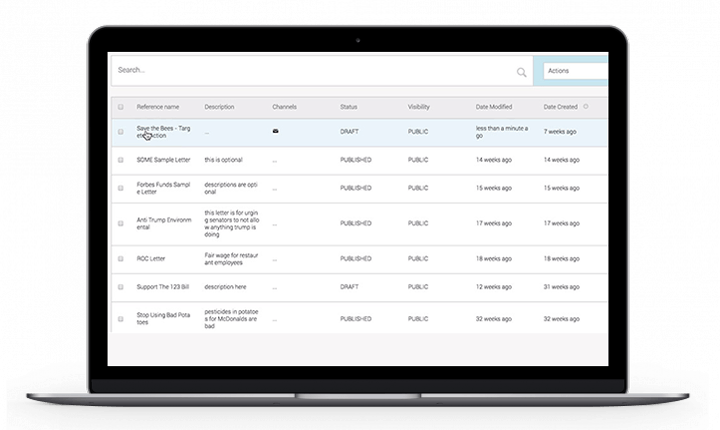 Top Software Features
With Salsa, you can take advantage of:
Member profiles
Donation tracking
Donor communications
Performance dashboards
Advocacy campaigns
Whether you're supporting your members in fundraising, advocacy, or community engagement, Salsa makes it possible to track all your supporters' activities in one database.
Instead of importing data after an event or major campaign, let the software do the work automatically so your records are ready to inform your next campaign — marketing campaign, fundraising campaign, advocacy campaign, or otherwise!

4. MemberClicks Alternative: Doubleknot
Visitor-serving nonprofits run very different membership programs than trade associations and arts and cultural nonprofits. For museums, science centers, zoos, and aquariums, specific administrative software like Doubleknot can take care of the unique challenges faced.
One main difference between visitor-facing nonprofits like museums is the motivation behind membership. While nonprofit members may join to support a charitable cause and trade association members may join for professional networking and advancement, museum members most often join to take advantage of specific member benefits.
Whether your museum offers discounted admission, invitations to special after-hours events, or gift certificates to the gift shop, your membership management software needs to be able to prioritize the ease of providing those benefits to the proper members at any time, on any device.
Doubleknot makes museum membership programs beneficial for members and profitable for your institution. Plus, through Doubleknot museum management, your programs become even more engaging for the greater member community. Centralize all you need for museum management in member profiles: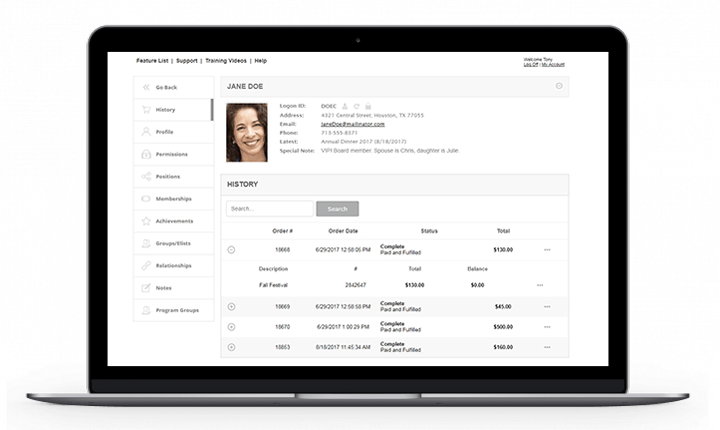 Top Software Features
Doubleknot offers museums and science centers:
Automatic membership benefits
Gift memberships
Membership cards
Automated renewals
Arguably the most important feature on this list are automatic membership benefits.
If a museum member buys an admissions ticket, item from the gift shop, or camp registration, the system should automatically apply any appropriate discounts of special permissions.  The system should also allow nonmembers to purchase membership and take advantage of their new membership benefits in the same transaction, both online and in the gift shop.

5. MemberClicks Alternative: MIP Fund Accounting
One integral element of the association management process that you absolutely don't want to overlook is the accounting process. Keeping your membership fees, fundraising opportunities, and expenses organized is key to a successful association. 
Associations don't focus on making a profit, but providing effective services for their members, making their accounting needs very different than your typical for-profit business. That's why it's important to invest in accounting software specifically designed for associations. 
MIP Fund Accounting offers a fund accounting solution so that associations can provide financial transparency with their members and make smart financial choices.
With a completely configurable ledger, your association will be able to track funds from the time they enter the system until they're spent on the services you provide. You can track funds based on restrictions and specialized fund groupings, making it easy to determine the next best steps for investments.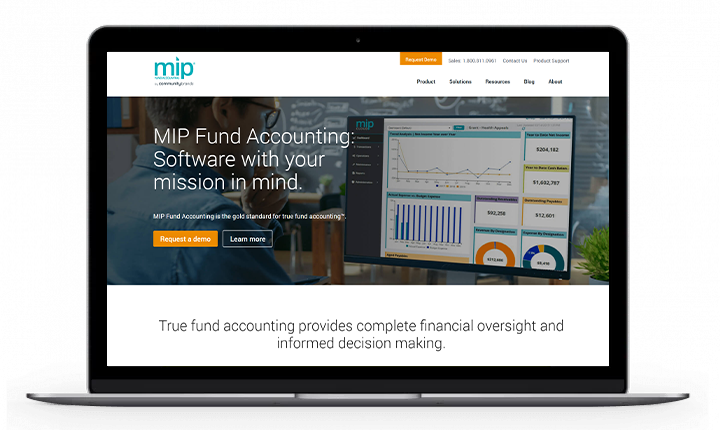 Top Software Features
MIP Fund Accounting offers the features your association needs to make smart financial decisions. For instance: 
Multi-dimensional charts of account

Audit trail and fraud protection

Built-in FASB-compliant reports

Unlimited budgets

Human resources tools
One of the most unique features offered by MIP Fund Accounting is the ability to choose between hosting the software on-premises or in the cloud. 
You may choose to host the software in the cloud if you prefer a more modern UI, have reliable internet connectivity, have staff in multiple locations, and prefer access from anywhere at any time. Meanwhile, those who choose on-site hosting may have specific IT policies, have a primarily co-located staff, have in-house IT staff, or prefer manual control over updates.
Having this option shows that MIP Fund Accounting understands that different organizations and associations have different needs. And you can make the best decision based on where your association's priorities lie.
---
Association management software solutions should make membership management easier, not harder. Choose the solution that simplifies your association's operations, and you can't go wrong!
If you need some more information before embarking on the software search, start with these great additional resources: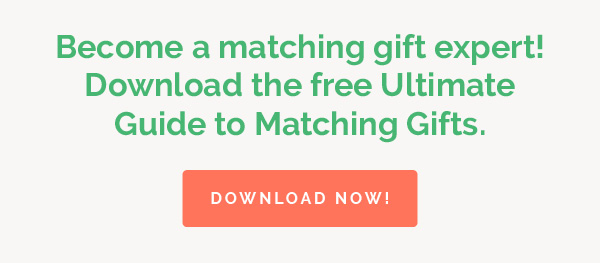 https://doublethedonation.com/wp-content/uploads/2022/06/MemberClicks-Reviews-Rating-and-Alternative-Solutions.jpg
280
720
Adam Weinger
https://doublethedonation.com/wp-content/uploads/2022/03/logo-dtd.svg
Adam Weinger
2018-03-01 13:00:26
2022-06-20 07:54:51
MemberClicks Reviews | Our Rating and Alternative Solutions