Aptify Review | Our Assessment and Software Comparison
An association management software purchase isn't a decision that should be taken lightly. Your nonprofit, organization, or association needs to find a solution that can provide smooth operations and a positive member experience.
One of the first ways to ensure that you're getting the best software is to look for solutions that other associations like yours have found success with. In your search, chances are you've come across Aptify.
As a firmly established solution on the market, Aptify is a popular choice for association management! But before you make your decision, make sure you have all the information you need to make an informed choice.
In this post, we're going to discuss:
An Aptify review, complete with history and features.
Common shortcomings of Aptify software.
Our top pick for associations looking for an alternative.
Ready to get your facts straight? Let's jump into it!

Aptify Review
Founded in 1993, Aptify is one of the more established legacy AMS options on the market.
The solution's main selling point is its flexibility. The way the software works is pretty simple, in theory: the entire system is built upon the Aptify Rad platform, which never changes. This platform allows your association to store and search member data, create reports, and sell merchandise online.
From there, associations can add on a total of 21 applications, including:
CRM
Accounting
Committees
Events
Subscriptions
eCommerce
Another key feature of the Aptify AMS is its permissions. Data housed in the system is available to all administrative users, for them to create reports and use to make informed decisions from as they wish.
As you can see, Aptify provides an immensely powerful software solution! But it's a double-edged sword.
As is often the case with such wide-ranging legacy programs, Aptify's extensive library of complex features can lead to some significant drawbacks for users. Keep reading to see if your organization or association would run into common problems that Aptify users face!

Shortcomings of Aptify Reviewed
Overwhelmingly, Aptify users discover that while they want to take advantage of the software's flexibility, they aren't able to. That's because it's difficult to navigate the software platform without extensive IT knowledge, which many nonprofit and association administrative teams don't have.
This difficulty extends beyond the modules that come with the Aptify AMS platform. If you encounter a need that these pre-built modules can't meet, you'll need to consider third-party applications.
Aptify has launched a beta version of the Aptify Marketplace, where the team has put some of their point solutions up for download. Since it's a beta platform, not all the kinks have been worked out, including kinks in the installation process. As such, your team will still need extensive technical expertise with SQL to install these extensions on your own.
Not sure you have the capabilities to customize the Aptify platform yourself in-house or the resources to outsource this complex process? Why not consider a solution that promises no coding necessary for out-of-the-box features or third-party extensions?

Top Aptify Alternative: Fonteva
For ease of use and ease of customization, the top association management software solution on the market is Fonteva.
Fonteva is true-cloud association management software built entirely native in Salesforce, the word's most popular, innovative, and secure cloud CRM. That means you can reach your member data anywhere, any time.
The software is highly user-friendly, with drag-and-drop reporting and configurations making it easy to customize the platform to your association's needs through simple configuration — no knowledge of coding needed! 
Even if you discover that you need to meet a specific need with a third-party application, you don't have to worry about messy coding and troubleshooting just to make the integration happen. Fonteva is built native in Salesforce, so any of the thousands of apps on the Salesforce AppExchange will integrate as easily as any other.
Still worried you might not be able to customize the platform exactly to your needs? Don't worry! When you implement Fonteva, you can rest assured you have world-class support in your corner, including:
Online documentation, including free online training videos.
Onsite training and classroom training to fit your schedule.
Fonteva's full in-house, on-call customer support team.
The online Fonteva Users Network success community (see screenshot below!).
Salesforce documentation, user support forums, and customer support.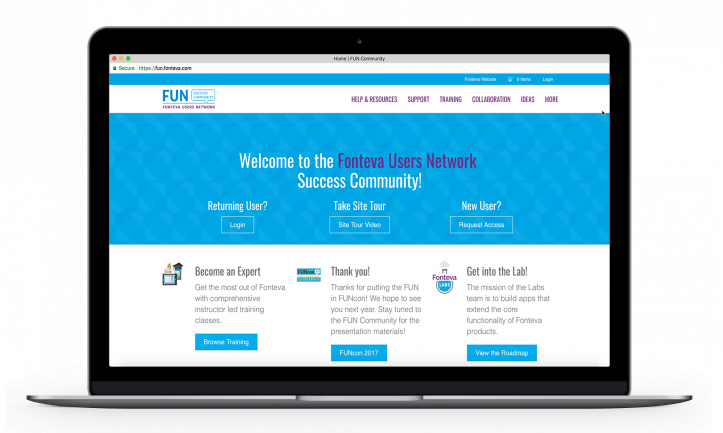 These resources give your association the support and confidence to get exactly what you need out of your association management software solution.
---
Every association's needs will be different, so it's worth taking the time to find the perfect solution for your association, organization, or nonprofit. The most popular solution isn't always the best for everyone!
Thinking about other association management software vendors before making a purchasing decision? Check out these additional resources before going too much further:

https://doublethedonation.com/wp-content/uploads/2022/06/Aptify-Review-Assessment-and-Comparison.jpg
280
720
Adam Weinger
https://doublethedonation.com/wp-content/uploads/2022/03/logo-dtd.svg
Adam Weinger
2018-03-12 18:54:42
2022-06-20 07:54:52
Aptify Review | Our Assessment and Software Comparison