Double the Donation and Fundmetric Answer the Call for Advanced Matching Gifts Integration
Double the Donation is proud to unveil a new partnership with the fundraising AI ecosystem Fundmetric to provide integrated matching gifts functionality to schools, universities, and nonprofits. Fundmetric and Double the Donation's integration combines the power of 360MatchPro, the world's leading matching gift automation platform, with the modern flow Fundmetric's fundraising environment. 
"Fundmetric and Double the Donation's partnership opens up opportunities for schools and charitable organizations to get the most from their advanced fundraising strategy," said Mark Hobbs, CEO at Fundmetric. "Integrating DTD's tools into our donation pages help donors get their donations matched with more speed and ease than ever."
If organizations' donors have trouble navigating the world of matching gifts, or maybe don't even know about matching gifts in the first place, this could mean thousands upon thousands of dollars of lost revenue for the nonprofits these donors support. Fundmetric and 360MatchPro disrupt the status quo by introducing donors to their matching gift potentials. 
"Schools and nonprofits miss out on billions of dollars each year in matching gift revenue, and we're here to change that," said Adam Weinger, President at Double the Donation. "We're proud to offer our mutual clients an answer to their request for functionality that shakes up the matching gifts process for the better."

Activate in Seconds and Start Raising More from Matching Gifts
The activation process for organizations looking to activate their integration between Fundmetric and 360MatchPro is quick and easy. All a verified user has to do is retrieve their public and private API keys from their 360MatchPro account, plug them into their Fundmetric integration settings, and add Double the Donation's tools anywhere they'd like within their desired Fundmetric donation forms.
Once this is complete, donors will be able to discover their match eligibility during their giving flow and take their next actions directly from the confirmation page.
Actionable analytics and real-time data flow into the organizations' connected accounts so they can continue their matching gift strategy with personalized follow ups and more.

Drive More Matching Gifts to Completion with 360MatchPro!
Double the Donation and Fundmetric set out to complete an integration that utilized smart data, helped orgs get set up easily, and took donor impact to the next level. See more value from the integration with the following features: 
Identify more matching gift revenue opportunities: 360MatchPro enables you to automatically collect matching gift eligibility from donors using email domains, within donation forms, on confirmation screens, or by email. The more matching gift opportunities 360MatchPro discovers and shares with donors, the more matching gift requests your donors will successfully submit.

Drive more matches to completion, from form submission to corporate payment: Direct donors immediately to their matching gift forms after the donation process is complete. Then, provide the right information to the right donors at the right time with custom emails based on match eligibility. Target follow-ups drive more completed submissions than ever before, bringing exponentially more matching gift checks from companies through your door.

Reallocate your time from routine follow-up to your top opportunities: Your time is valuable, so why spend it chasing small dollar-value matching gifts? Let 360MatchPro automate your matching gift outreach while flagging your highest-value opportunities, allowing your team to personalize follow-ups to the most valuable match-eligible donations. Rest easy knowing that 360MatchPro can handle the rest.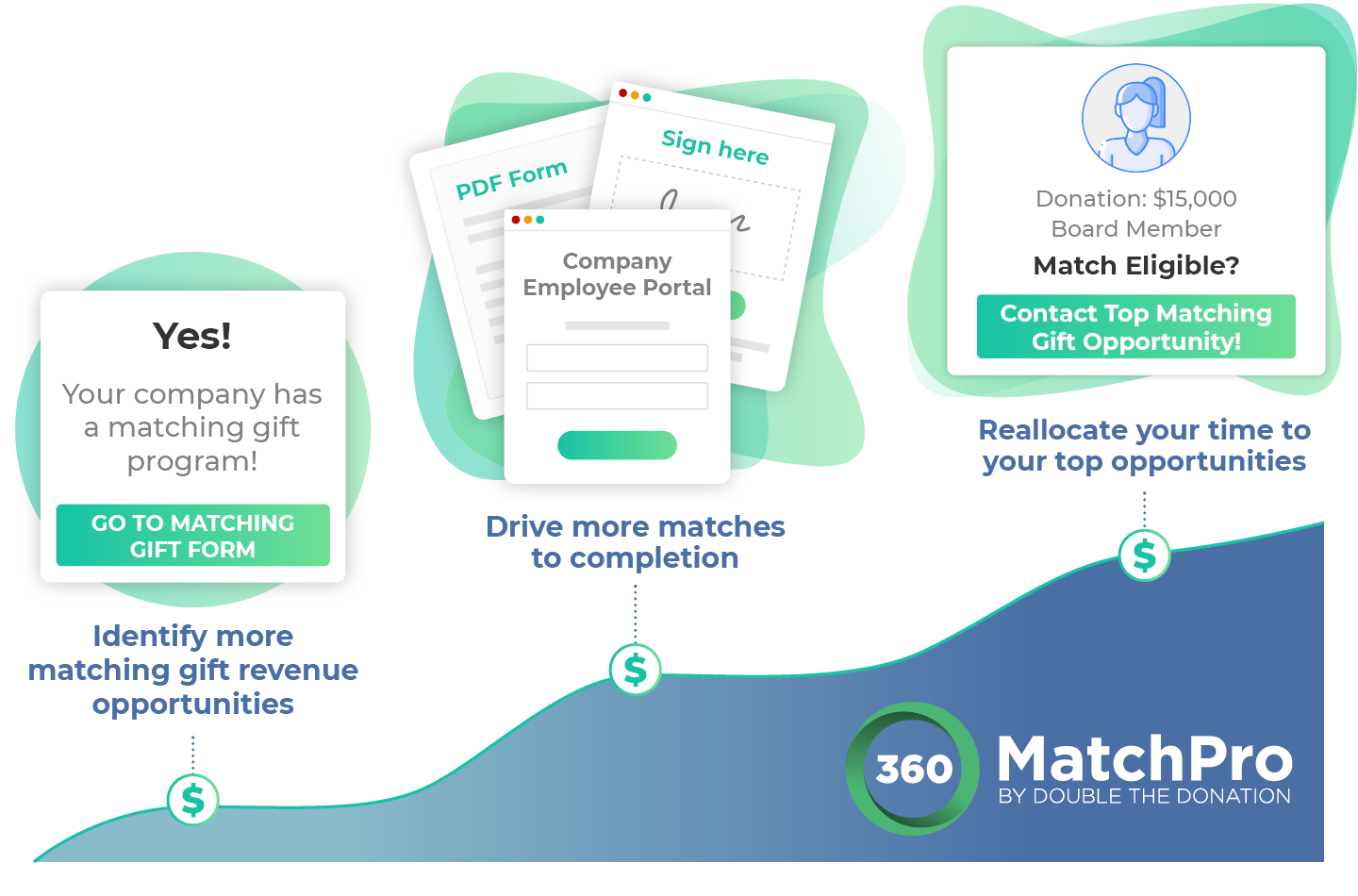 Interested in increasing your fundraising revenue with matching gifts? Request a demo today to get started with corporate gift matching through Fundmetric and 360MatchPro by Double the Donation. 
---
About Fundmetric: Fundmetric is an AI data ecosystem that connects siloed data, enabling teams to maximize lifetime giving and increase predictability of revenue. Build your highest-converting lists and cultivate constituent interests using behavioral data and machine learning. Fundmetric's flexible infrastructure leverages the ability to execute optimized campaigns and capture the attention of your donors in a noisy world. To learn more about Fundmetric visit https://www.fundmetric.com/ and request a demo at https://www.fundmetric.com/demoform. 
About Double the Donation: Automate your matching gift fundraising with the industry-leading solution from Double the Donation. The 360MatchPro platform provides nonprofits with tools to identify match-eligible donors, drive matches to completion, and gain actionable insights. 360MatchPro integrates directly into donation forms, CRMs, social fundraising software, and other nonprofit technology solutions to capture employment information and follow up appropriately with donors about matching gifts. To learn more about Double the Donation, visit https://doublethedonation.com and request a demo at https://360matchpro.com/demo-request/.
https://doublethedonation.com/wp-content/uploads/2022/11/DTD-Blog-Feature-for-Fundmetric.png
290
775
Adam Weinger
https://doublethedonation.com/wp-content/uploads/2022/03/logo-dtd.svg
Adam Weinger
2022-11-23 12:15:52
2022-12-06 15:08:13
Double the Donation and Fundmetric Answer the Call for Advanced Matching Gifts Integration