Matching Gifts & Higher Education: Companies That Match [+Tips]
If you've graduated college, chances are, your alma mater has contacted you asking for a donation at some point. Perhaps this happened even before you graduated. Statistics show that many alumni actually do donate to their colleges and universities. Luckily, many of these generous gifts can be matched by alumni's employers.
If you'd like to optimize your school's matching gift fundraising efforts by targeting impactful corporate programs, incorporating tried-and-true best practices, and exploring examples put in place by similar institutions, this is the guide for you! We'll cover:
Most matching gift programs began with only matching to colleges and universities. Since then, many companies have expanded their programs to include most other nonprofit organizations. However, there still remains a large contingent of companies that only match to higher education, excluding K-12 educational organizations and schools. And that means extra potential matching opportunities for your institution!
Top Companies that Match Gifts to Colleges and Universities
Almost all the companies you've heard offer matching gift programs (such as Bank of America, GE, Coca-Cola, Home Depot) will match gifts to colleges or universities, too. However, for this post, we decided to put together a list of some companies with lesser-known matching gift programs. Oftentimes, when a company only matches to higher education colleges and universities, their program flies under the radar.
If your college or university is looking to boost its matching gift revenue, be on the lookout for these popular matching gift companies!
Allstate Insurance

Allstate has an employee matching gift program completely devoted to higher education. Through the Good Hands Matching Grant Program, Allstate matches donations made to higher education institutions at a 1:1 rate. In other words, employee donations can potentially be doubled.
The company will match a range of donations from $25 to $5,000. Individuals who are eligible include employees, agency owners, personal financial representatives, and retirees.
Plus, Allstate also offers volunteer grants for employees who'd rather donate their time than money. Through the Hands in the Community Grants Program, employees and agency owners who volunteer more than 16 hours in a calendar year are eligible for volunteer grants.
The volunteer grant amount depends on the employee's position. While regular employees are eligible for $500 volunteer grants, agency owners are eligible for $1,000 volunteer grants.
Read more about Allstate's matching gift program.

ConAgra Foods, Inc.

ConAgra will match gifts made to higher education between $25 and $1,000. Both full-time and part-time employees are eligible. However, retirees are not eligible. They also donate to other educational organizations, such as nutrition education programs.
To submit a request, employees either fill out a paper form or an electronic form. Unlike most companies, employees aren't restricted to just one type of form. However, they do have to submit the matching gift request within 90 days of the initial donation. After that point, the company will no longer match the donation.
Read more about the ConAgra Foods matching gift program.

eBay, Inc.

The popular online auction site, eBay, will match employee donations made between $25 and $2,500 per year. The company increased the maximum from $500 just a few years ago, which is a substantial jump!
While full-time and part-time employees are eligible for the program, retired employees are not. In addition to matching gifts to education, eBay will also match gifts to most other nonprofit organizations. Unlike some companies, employees are urged to submit matching gift requests as soon as possible, because there's a company-wide annual limit.
As part of its corporate philanthropy initiative, eBay also offers volunteer grants. Grant amounts are tier-based, depending on the number of volunteer hours employees finish:
8-24 hours = a $100 grant
25-49 hours = a $250 grant
50+ hours = a $500 grant
Be on the lookout for this popular employer when developing your corporate giving strategy.
Read more about eBay's matching gift program.

Sherwin-Williams

Sherwin-Williams offers a matching gift program where the company matches up to $3,000 in donations to a wide variety of nonprofits. This includes higher education institutions. The company's matching gift program is open to both current employees as well as retirees.
The company matches at a 1.5:1 ratio. For instance, if a match-eligible individual donates $100 to your school, your institution will receive a $150 match, totaling $350.
In case that's not impressive enough, Sherwin-Williams also has a great volunteer grant program. After an employee volunteers 50 hours, Sherwin-Williams provides the eligible organization or school with $200. Each employee can request up to three separate grants each year, totaling $600.
Read more about Sherwin-Williams' matching gift program.

ExxonMobil

ExxonMobil is very well-known for its corporate philanthropy, specifically for its efforts toward educational institutions. The company offers two matching gift programs, the Arts and Cultural Matching Gift Program and the Educational Matching Gift Program.
Through the Educational Matching Gift Program, ExxonMobil will match donations to higher education institutions, including U.S. colleges and universities. They'll provide up to $22,500 in matching gift funds per year. However, for cultural organizations, the company only matches up to $2,000.
Plus, the company offers two volunteer grant programs. For its individual grant program, when an employee or retiree volunteers for 20 hours, ExxonMobil provides a volunteer grant of $500. Each individual can request up to four grants per year. For its team volunteer involvement program, ExxonMobil awards a $500 grant when a team of five or more eligible participants volunteers for a combined total of at least 20 hours. While employees are limited to $2,000 in grants per year, individual organizations are limited to $5,000.
Read more about ExxonMobil's matching gift program.

7 Best Practices for Matching Gifts and Higher Education
Now that you know of a few major companies that offer matching gifts to higher education institutions, let's dive into a few ways you can incorporate them into your fundraising strategy. Let's explore seven tried-and-true tips here!
1. Ensure your team understands the importance of matching gifts and higher education.
Before you can promote (and communicate the value of) matching gifts to your institution's donor base, it's critical that your fundraising team is up to speed. Be sure to incorporate department-wide meetings to explore matching gift opportunities, what that means for your institution, and how you can collect more corporate funding for your efforts.
And if you're not sure your team understands the impact of matching gifts, consider sharing powerful statistics like these:
More than 26 million individuals work for companies that offer matching gift programs.
Over 78% of that 26 million (or approximately 20.3 million) people have no idea whether their employer matches gifts.
An estimated $2 to $3 billion is donated annually through corporate matching gift programs.
An additional $4 to $7 billion in available match funding is left on the table each year, largely due to a lack of awareness.
84% of survey participants reported that they'd be more likely to donate to a nonprofit if their employer was matching the donation.
1 in 3 participants stated that they'd likely make a larger donation if it was being matched.
Then, once they're on board, you'll likely want your development and fundraising staff to be familiar with top companies that match gifts to colleges and universities, common matching gift program guidelines to look out for, and how to assist donors as they walk through the process of requesting their employer matches.
And that's just the beginning! As you continue to develop your matching gift strategy to direct more corporate dollars toward your school, it's essential that everyone stays on the same page.
2. Enlist multiple methods for collecting alumni employment information.
Your alumni are likely some of your school's most dedicated supporters. As they move on from your institution and begin their careers in the real world, make sure you have a process in place for collecting and tracking graduates' employment information. This will enable you to screen donors and alumni against some of the most generous matching gift companies, such as those mentioned above.
More than likely, your alumni employment data search will include some combination of the following:
Matching gift software
Email domain screening
Employer appends
Alumni outreach
But you don't have to pick just one method, either! The more you know, the better. Our research shows even that incorporating more than one approach for identifying matching gift eligible donors results in 77% more identified potential matches. So perhaps you might leverage domain screening and donor outreach, then utilize an employer appending service to help fill in any remaining gaps.
3. Screen donors and prospects for employers with matching gift programs.
Once you've located donor and alumni employment data, you can utilize the information to identify matching gift eligible donors. Here are a few best practices you can follow as you do so:
Check out top matching gift programs from well-known companies like these.
Emphasize companies that match gifts to colleges and universities.
Explore additional matching gift companies with a comprehensive database.
Studies show that more than 26 million individuals work for companies that offer some form of matching gift program. More than likely, that's a significant portion of your school's donors⁠—you just have to figure out which ones are eligible and where to go from there.
4. Communicate the value of matching gifts and higher education impact to donors.
Donors love participating in their employers' gift-matching programs because the initiatives enable them to make a larger impact through their initial donations. Because this is one of the top motivating factors for participation, it's a good idea to place a significant emphasis on doubled (and sometimes even tripled!) benefits that a matching gift can bring.
For example, let's say a donor contributed $500 to provide 100 books for your newly built library. Be sure to highlight that, should that individual secure a match for their already-generous donation, they can essentially provide 200 books to make twice the impact⁠—all without having to reach back into their own wallets.
5. Follow up with donors on match-eligible gifts and provide employer-specific guidelines.
Your school's online donation process should gather ample information about your donors as they complete the giving process⁠—including their employment status. After the transaction is complete, your fundraising team can (and should) leverage those collected insights in order to drive more matches to completion.
Picture this: Let's say Donor Johnny entered his employer's name in your donation page search tool, and you see that he works for the Home Depot. Afterward, you've collected that information, along with the data on the $1,000 gift that he made, to determine that his donation is matching gift eligible. But Johnny might not know that himself!
That's why we recommend that you follow up with donors post-transaction to share whichever insights you've collected about their employers' matching gift program availability. This should include minimum and maximum match amounts, match ratios, types of qualifying donors and organizations, and submission deadlines. And in order to really seal the deal, you can even equip donors with direct links to their employers' matching program online submission forms!
6. Integrate matching gifts in your university's Giving Day strategy.
Hundreds of higher education institutions host annual Giving Days as a way to drive engagement with their schools each year. These efforts are often particularly effective fundraising campaigns, with many schools collecting the majority of their revenue in a short, 24-hour period.
With such high levels of traffic interacting with an institution's donation forms in that time-frame, it makes sense to use the opportunity to promote employer matching gifts. And doing so enables donors to double (or sometimes even triple!) their impact on your school.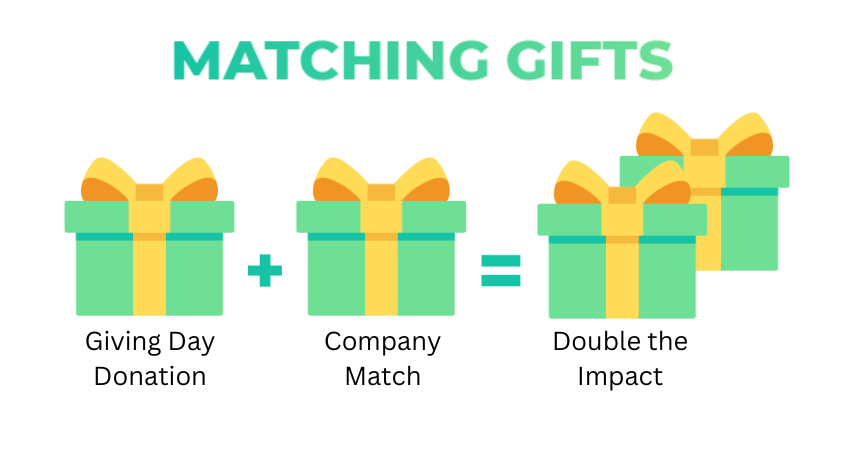 If you're planning an upcoming Giving Day for your school, we recommend getting up and running with innovative matching gift software beforehand—which brings us to our next tip!
7. Streamline your efforts with matching gifts and higher education software.
By adding a matching gift database like Double the Donation to your tech toolkit, you significantly boost your fundraising potential without putting a ton of added work on your team members' plates. This fully automated matching gift platform identifies more match-eligible donors, automatically follows up with them, and even creates an automated match plan for you.
Not to mention, you can easily integrate Double the Donation's matching gift automation tool⁠—360MatchPro⁠—across higher education fundraising channels such as GiveCampus, Anthology, Almabase, Ellucian, and more. Thanks to available matching gift and higher education software partnerships, institutions like yours can quickly raise more by adding company gift-matching functionality to their existing fundraising systems!

Matching Gifts and Higher Education: Examples to Follow
Hundreds of schools and universities have successfully implemented these strategies to effectively promote matching gift fundraising opportunities to donors, alumni, and their overall communities. Let's look at a few examples of how the right matching gift solutions can help boost your college's funds!
Flagler College's Dedicated Matching Gift Page
If alumni are looking for different ways to support their alma mater, well-designed matching gift pages can offer helpful information about multiplying their contributions. Check out this example of a dedicated matching gift page from Flagler College!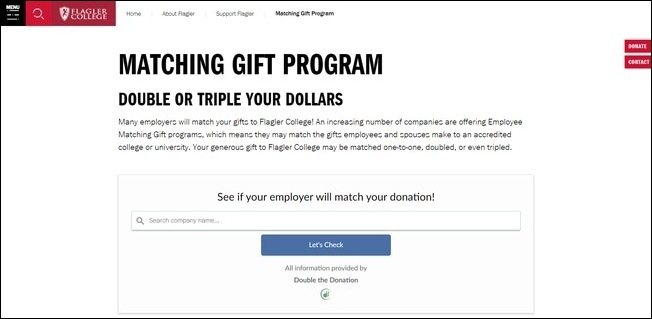 Flagler College's web page provides alumni with instructions on how to obtain a matching donation from their employer. Plus, they've embedded the search tool and encouraged donors to look for more in-depth information about their employers' matching gift programs. Not to mention, they offer vital contact information in case donors have additional questions.
Eckerd College's Donation Form
Donation forms are another great way to start the conversation about matching gifts. At this stage, Eckerd College knows its users are ready to give and will be more motivated to multiply their contributions without reaching back into their own pockets.
Check out this example of this school's donation form and how it promotes matching gifts: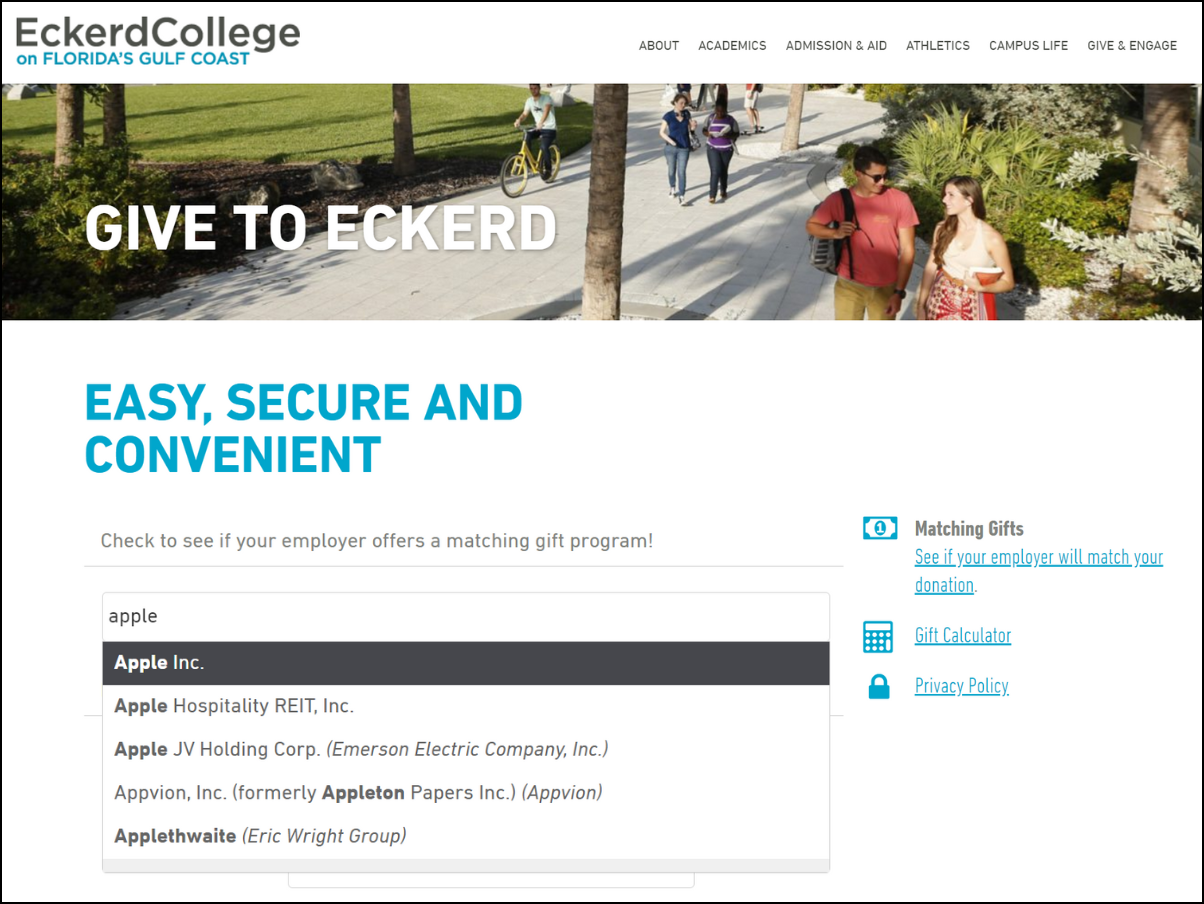 In addition to the other donation options on the page, Eckerd College offers donors the chance to look into their employers' matching gift programs with a searchable database tool (specifically through Double the Donation!).
University of Utah's Ways to Give Page
Many institutions have a Ways to Give page on their website—the University of Utah being one of them. In order to drive fundraising efforts, this school includes different donation methods (e.g. online with a credit card or through the mail) through which donors can contribute. And the University of Utah also knows that its Ways to Give page is a key location to promote corporate matching gift programs!
Here's what this school's Ways to Give page looks like: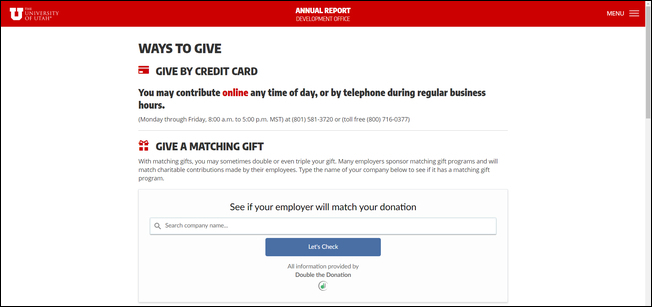 This school not only shares general information about matching gift programs but also provides donors with Double the Donation's embedded search tool to learn more about their specific employer's gift matching policies. The more ways a donor or prospect knows to support your institution (including corporate gift-matching), the more likely they are to follow through with the process!
---
Matching gifts are a valuable resource, so ensure that your institution is taking advantage of all available revenue. In fact, the colleges and universities that have the most matching gift success incorporate matching gifts throughout their broader fundraising efforts. It won't take much, but, as you can see from the corporate guidelines sampled above, a little goes a long way with matching gifts.
This list, while helpful, doesn't come close to covering all matching gift opportunities. Rather, it's a sampling of well-known companies with matching gift programs. While these major companies do offer generous matching gift programs for educational institutions, they aren't the only companies that do. Make sure to stay up-to-date with your donors' employers. That way, you can maximize your revenue potential!
Interested in learning more about matching gifts for colleges and universities? Check out these educational resources:
Top Matching Gift Companies. For more matching gift companies (most of which match gifts to higher educational institutions), go over this list of some standout opportunities. Then, see if your alumni or donors work for these businesses!
12 School & Higher Ed Fundraising Platforms That Grow Matching Gifts. Looking for top software that will help you grow matching gifts and higher education fundraising efforts? Check out our list of twelve fantastic solutions.
Marketing Matching Gifts. Learn how to promote matching gifts for higher education with this Double the Donation guide. Ensure your school doesn't miss out on revenue opportunities by incorporating these practices.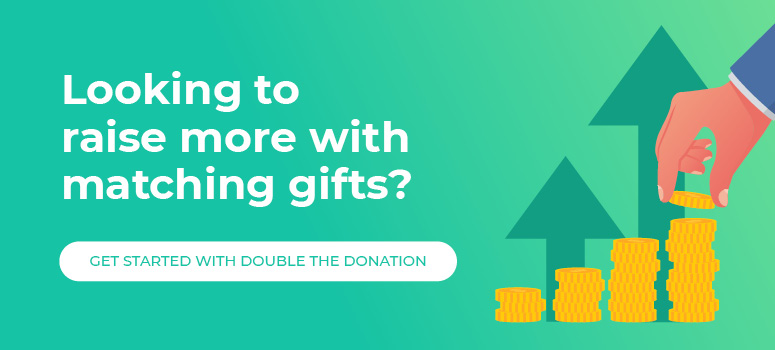 https://doublethedonation.com/wp-content/uploads/2017/06/DTD_Matching-Gifts-and-Higher-Education_Feature.png
600
1600
Adam Weinger
https://doublethedonation.com/wp-content/uploads/2022/03/logo-dtd.svg
Adam Weinger
2017-06-20 13:47:07
2023-06-06 13:57:51
Matching Gifts & Higher Education: Companies That Match [+Tips]