Get Your Team Motivated! 9 Employee Engagement Strategies
What causes your employees to clock into work every day? The obvious answer is their compensation. But what causes them to strive to do their best work, go the extra mile to complete projects, and expand their skills to create more value at your business?
The answer is engagement! Today's savvy business owners are more than aware of the difference strong motivation can have on every aspect of their company, from lowering accidents and mistakes to improving customer relationships.
With the importance of keeping motivation high, you might assume employee engagement is a priority for most businesses. However, approximately 85% of employees report being unengaged or actively disengaged at work. That's a big problem for businesses that don't want to see increased absenteeism, higher turnover, and lower-quality work.
Fortunately, there is a solution if your employees are part of that 85%. There are several employee engagement strategies that are easy to manage long-term. We'll explore those tips in this article, but first, let's define just what employee engagement is.

What is Employee Engagement?
Employee engagement refers to how employees feel about and behave at their work. Ultimately, engagement is a scale that goes from engaged to unengaged to disengaged.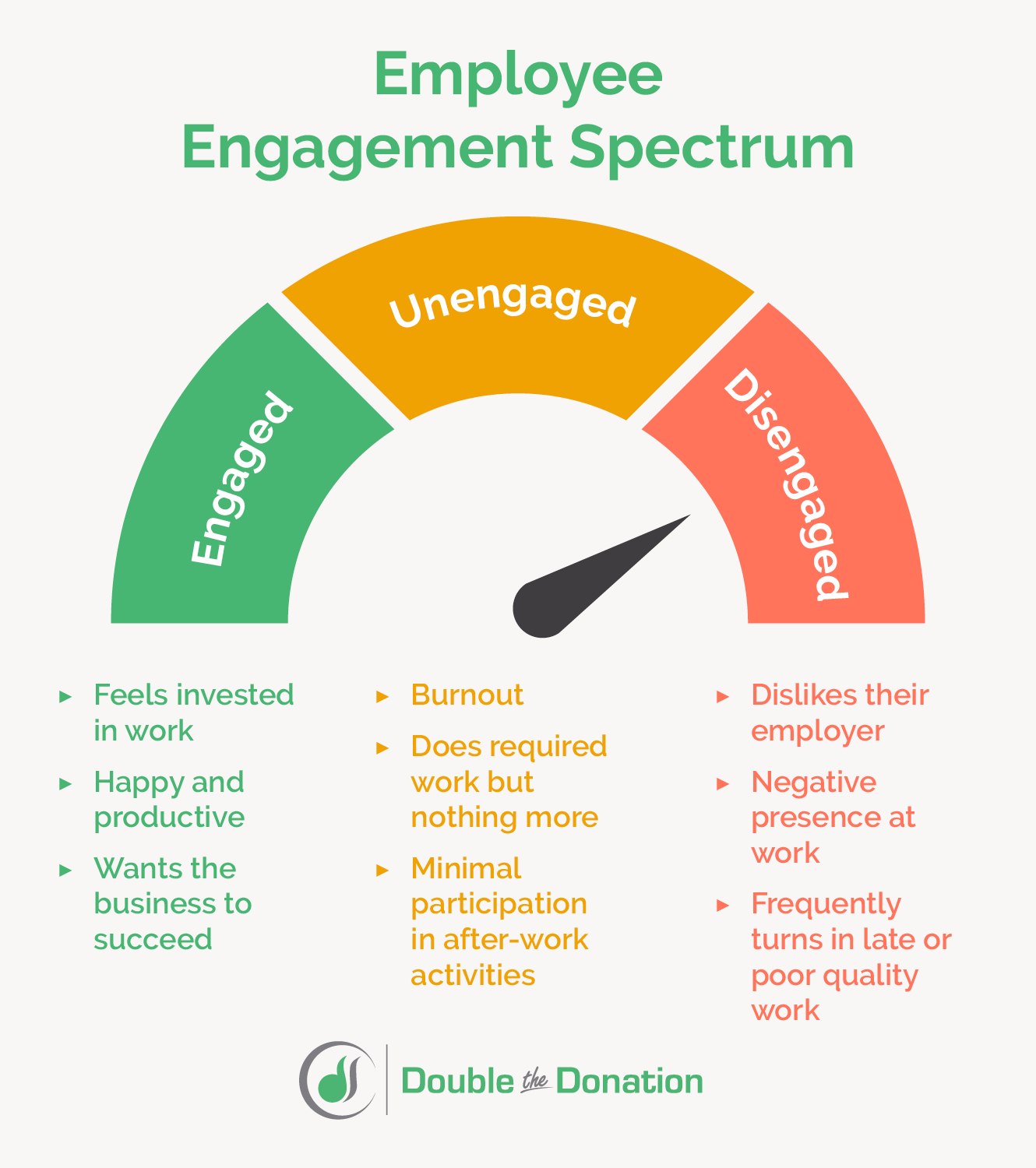 Engaged employees are committed to their work and see it as important. These employees often feel a sense of ownership over their assignments and constantly strive to do better and improve. They feel like they're an important part of their workplace and want to see the businesses they work for succeed.
Unengaged employees are middle-of-the-road in the scale. They come to work and do their assignments, but ultimately they aren't that invested in the quality of their work as long as they're not actively getting in trouble. Before judging unengaged employees too harshly, remember if it's possible for formerly engaged employees to become unengaged for a variety of factors, such as burnout, sudden life events, and frustrations at work.
Disengaged employees are an active detriment to their workplaces. These employees feel resentful of their place of work and may try to spread that discontentment. They might create a negative work atmosphere, sabotage projects, or simply not show up for work at all.
It is possible to turn the feelings of unengaged and disengaged employees around, but doing so requires taking a hard look at why employees become disengaged in the first place.
What are the Benefits of Employee Engagement?
Outside of preventing actively disengaged employees, is it worth the time and effort to turn unengaged employees into engaged ones? Research shows that yes, it is, and multiple studies have the numbers to back it up, finding that engaged employees:
To tap into these benefits, businesses need to look at their practices, identify any processes or systems that might be leading to disengagement, and start implementing practices that improve engagement. To inspire you to turn around any poor employee attitudes, here are eight of our favorite strategies:
8 Employee Engagement Strategies
1. Collect employee feedback.
Before launching a new product or service, your business collects audience data to understand what customers need and the type of solutions they're looking for. After all, selling a product designed to fit customer needs is much easier than creating a product first and trying to convince customers it's right for them second.
The same goes for your employee engagement strategies. Your team is much more likely to respond positively to programs they feel were created with their specific needs and feedback in mind.
Prioritize engagement at your company by surveying your employees with questions like:
Do you feel supported at work? Why or why not?

Are there any routine processes that are frustrating?

What types of changes would you like to see implemented?
You can make these surveys anonymous to get more honest feedback or ensure each is linked to the specific employee to address concerns and gather more information as needed.
After your initial survey, regularly reach out to employees for more feedback to make sure you're on the right track. Additionally, vary which employees you survey to collect a variety of feedback and also prevent over-surveying.
2. Create an appreciation strategy.
Even if it's your job to do a particular task every day, it can be hard to complete quality work and continually strive to do your best if you never hear a thank you in return. Fortunately, implementing an appreciation strategy that takes a deliberate approach to showing employees gratitude is relatively easy.
For example, here are three recognition methods most businesses can get up and running in just a few days:
eCards.

eCards are digital greeting cards that can be sent through emails or text messages. While handwritten cards are heartfelt, sending a fast electronic message of thanks is more practical for the workday and allows your employees to receive a meaningful thank-you message as soon as their work is noticed. To implement eCards, you will need to use an

eCard platform

and go over how to use it with your staff. From there, encourage employees to keep sending eCards whenever they want to congratulate their peers on a job well done.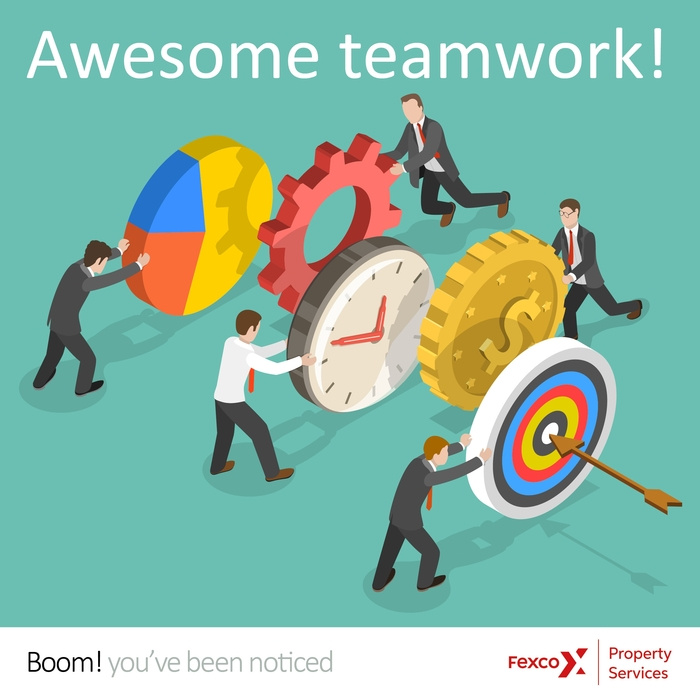 Employee awards.

Some people enjoy a little public recognition, which is why employee of the month awards and their ilk have been a staple of workplace appreciation strategies for decades. Set up informal awards to honor the values you want to see in your employees, such as an award for best mentor, commitment to inclusivity, and creative problem solver.
Perks.

Tangible benefits don't need to be expensive bonuses to get employees moving in the right direction while also making them feel appreciated. For example, you might give everyone in the office a thermos with the company logo or give special thanks to a few overachievers, such as extra vacation days or a gift card to a nice restaurant.
The best employee appreciation strategy depends on your staff. For instance, if your employees are already social and supportive of one another, employee awards are an opportunity for everyone to celebrate, whereas that might not be the case in environments where employees feel competitive with one another.
Use the surveys you conducted earlier on employee experience to learn how they feel about your current company culture and what changes they want to see when crafting your appreciation strategy.
3. Provide employee giving opportunities.
Giving back to your community feels good, and employees want to know they're part of an organization that's dedicated to making a positive difference in the world. While your business might have various corporate philanthropy initiatives like sponsoring nonprofits, try providing additional employee giving opportunities that allow your team to feel like active participants in giving back.
A few programs you might consider include: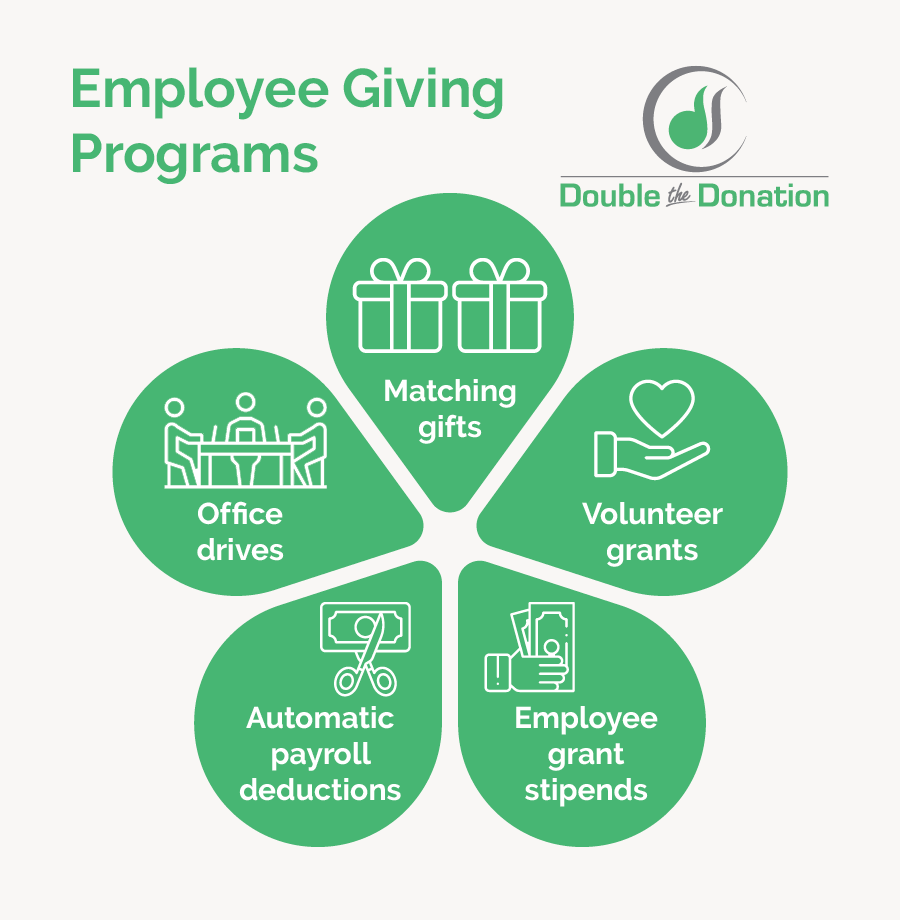 Matching gifts.

Matching gifts

are a staple of employee giving programs that enable employees to give to the causes they want to and feel like their specific charitable interests are supported by their employer. In a matching gift program, you would agree to match donations your employees make to nonprofits. You can set restrictions for what types of causes and organizations you'll support or provide employees with the freedom to distribute their gifts as they please.
Volunteer grants.

Support your employees when they volunteer by offering to donate to the nonprofits they help out at. This could be a set amount per hour or a certain amount after an hours threshold is reached, such as donating $100 after an employee volunteers 5 hours. You can also organize

corporate volunteer opportunities

that your business oversees and where your entire team is encouraged to participate.
Employee grant stipends.

Take the financial burden of giving off employees altogether with grant stipends. Rather than donating their own money, employees can use grant funds provided by your business to give to the nonprofits they care about.
Automatic payroll deductions.

Make donating a no-brainer by making it automatic. When first joining your company or at the start of a new fiscal year, allow employees to enroll in automatic payroll deductions. Most payroll deductions go to nonprofits the business picks out, so make sure you choose organizations your employees are invested in and have information readily available about these nonprofits' missions and programs.
Office drives.

Make giving a team activity with office drives. Office drives can be monetary in nature but are often more successful for collecting in-kind donations, like non-perishable food or new and lightly used clothes. Physically seeing items pile up can convince people to join in and create a sense of accomplishment for everyone involved.
When defining your corporate giving strategy, talk with your employees about the causes they care about and how they want to give back. If it seems like there are multiple winners, remember you don't need to limit yourself to just one giving program. For example, you might offer both matching gifts and volunteer grants!
Whichever employee engagement programs you decide to launch, remember to choose a software solution with features that allow you to run your engagement activities as smoothly as possible. 

4. Leverage software for support.
Keeping track of your employee engagement initiatives can become challenging as you grow your motivation program. By leveraging employee engagement software solutions, you can streamline your employee stewardship efforts, measure their attitude toward your organization, and adjust your strategy based on employee feedback.
Here are a few types of software that can help your organization better engage and retain employees:
Corporate social responsibility (CSR) software. CSR software is designed to help manage corporate responsibility initiatives—typically business-led efforts to support employee giving and charitability. This type of software includes matching gift platforms, volunteer grant management, corporate volunteerism software, and platforms for managing employee assistance programs.
Employee appreciation software. These technology tools help organizations express gratitude toward their employees for their hard work and dedication. These platforms include leadership-to-employee and peer-to-peer recognition platforms, like eCard software.
Employee experience software. This software category includes solutions for improving the overall quality of the employee experience. This typically includes any tools used to send surveys to employees to gather their feedback and summarize their input.
When determining the right software solution for your organization, first consider your employee engagement goals. Which aspects of employee engagement are priorities at your business? For example, if you're looking to strengthen your recognition approach first and foremost, then appreciation software may be the right choice.
Make sure also to consider your budget and schedule demos for any solutions you're interested in. Then, be sure to communicate clearly with employees about how you'll be using the new platform and any tips they need to know to get involved in your initiatives.
5. Host culture events.
An office environment that employees are happy to go to and feel supported working in is nearly unbeatable when it comes to creating positive motivation. However, with 83% of employees preferring a hybrid work environment, building a cohesive work culture can be a challenge.
You shouldn't necessarily turn away from a hybrid model. In fact, employees have shown to enjoy remote work and the flexibility to determine when they'll come into the office. Instead, think about how you can engage employees even when they're remote.
Office culture events are an easy way to mix up the workday, and they're a highly flexible engagement strategy that can be adapted to all types of workplace models. Here's how you might host culture events in each of these settings:
In-person only.

When all of your employees come into the office every day, they likely already know each other and have made connections. In this work model, your goal is to provide a new context that encourages employees to socialize more openly than they would during their normal work routine. This might involve going outside the office to a nearby park or restaurant or hosting creative after-work events like a knitting tutorial or paint-along.
Hybrid.

In a hybrid work model, you can use your culture events as incentives for employees to coordinate their work schedules to choose the same in-office days. For example, if you announce that you'll order pizza for everyone on a specific day, you'll likely see more employees show up that day.
Remote only.

With remote-only work, you may have employees who regularly work together but don't really know each other outside of email exchanges and work meetings. For remote employees, host virtual events that provide plenty of socialization opportunities and the ability to show off their personalities and interests. Trivia contests, virtual escape rooms, and movie-watch parties are all easy remote get-togethers to consider.
Rather than having just leadership organize culture events, this can be an easy responsibility to give to your employees. Provide a budget and other necessary guidelines (such as no alcohol) and let trusted employees plan events. This encourages employees to share their interests and frees up leadership's time.
6. Offer opportunities for growth.
Employees who are serious about their work don't want a job, they want a career. In other words, they want to grow their role, take on new responsibilities, and generally move up the ladder in their industry.
If employees know their hard work will pay off in the form of career advancement, they're more likely to take their work seriously and be personally invested. You can provide growth opportunities at your business by:
Offering skill training.

Give employees the time and opportunity to improve their skills. This might involve paying for courses they can take in their free time or providing additional training as part of their daily responsibilities.

Promoting internally.

It can be tempting to bring in an outside expert when you have an opening, but research shows that companies with strong internal mobility retain employees

nearly twice as long

as their counterparts. When a manager, director, or specialized employee leaves your business, look inward first to see if anyone has the skills needed to perform the role or would be willing to step up their training to attain those skills.

Providing mentoring opportunities.

One of the best ways to prepare your employees for moving into a new role is to have them shadow someone already in that position. Consider implementing a mentorship program that allows employees to get hands-on experience with the roles and responsibilities they want, while also having the safety net of a senior employee guiding them during the learning process.
To create a healthy work environment, encourage supervisors to have frank conversations with their directs about the future they want to have at your company. This can help you shape career paths, provide needed training, and spot retention risks.
7. Promote autonomy.
When considering how to motivate your employees, it can pay to look at psychological studies on behavior and motivation. One compelling study is researchers Richard Ryan and Edward Deci's Self-Determination Theory.
This theory proposes that external motivations, such as compensation, can only impact motivation so much. While proper compensation is important and pay raises are appreciated, is an employee who receives a $25,000 bonus really that much more motivated than one who receives $20,000? Or, conversely, is docking an employee $5,000 from their expected bonus actually going to motivate them? Essentially, the theory reports that external motivators like rewards and punishments eventually hit a wall where their impact becomes negligible.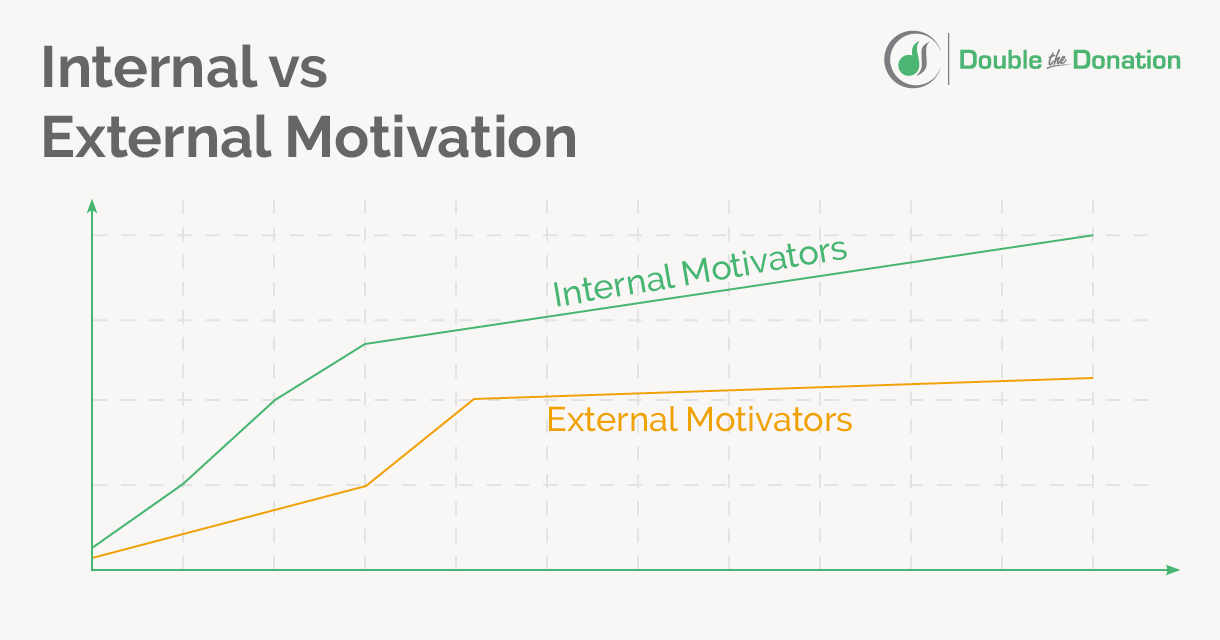 So if throwing money at the problem of disengaged employees isn't work, what does? According to the theory, the level of autonomy employees are granted highly impacts self-determination. In other words, providing employees with greater freedom in how, when, and where they approach their work increases their motivation to complete that work and do a good job.
Why? Essentially, autonomy causes employees to feel a greater sense of ownership over their work, and since they feel their work is a reflection on them, they want to make sure it's their best work.
Consider how you can promote autonomy in your workplace. This might be encouraging greater employee input in how projects are tackled so they can pursue their own ideas, allowing employees to propose ideas and take leadership roles in new projects, or even letting employees decide which days they want to work in-office in a hybrid model.
8. Be transparent.
Trust is a key sign of a healthy workplace. Employees who believe in their employers, know what their company is doing, and understand why certain decisions are made are more likely to feel like they are a part of that company. However, many employees feel in the dark about what goes on with senior leadership as 80% of workers want to know more about how decisions are made at their organizations.
So how can you be more transparent, and is there such a thing as being too transparent? It's definitely possible to overshare, and there certainly are times to keep information under wraps until you're ready to announce it.
However, when you can provide the rationale for a decision, even if it's not positive, do so. Be honest about your current priorities and what is considered when approving or shooting down ideas. On occasion, this might involve discussing sensitive subjects, such as finances.
While sometimes it may seem like it's better to keep things secret and avoid panic, many employees can tell when something is being hidden from them and will make assumptions of their own. Head off anyone jumping to conclusions by facilitating two-way communication and being as transparent as possible.
9. Encourage a healthy work-life balance.
Highly engaged employees can be unengaged, and one common culprit for this is burnout. Burnout is an absolute killer when it comes to productivity, and while many employees appreciate a hybrid or remote work model, working from home does not make your team immune to burnout.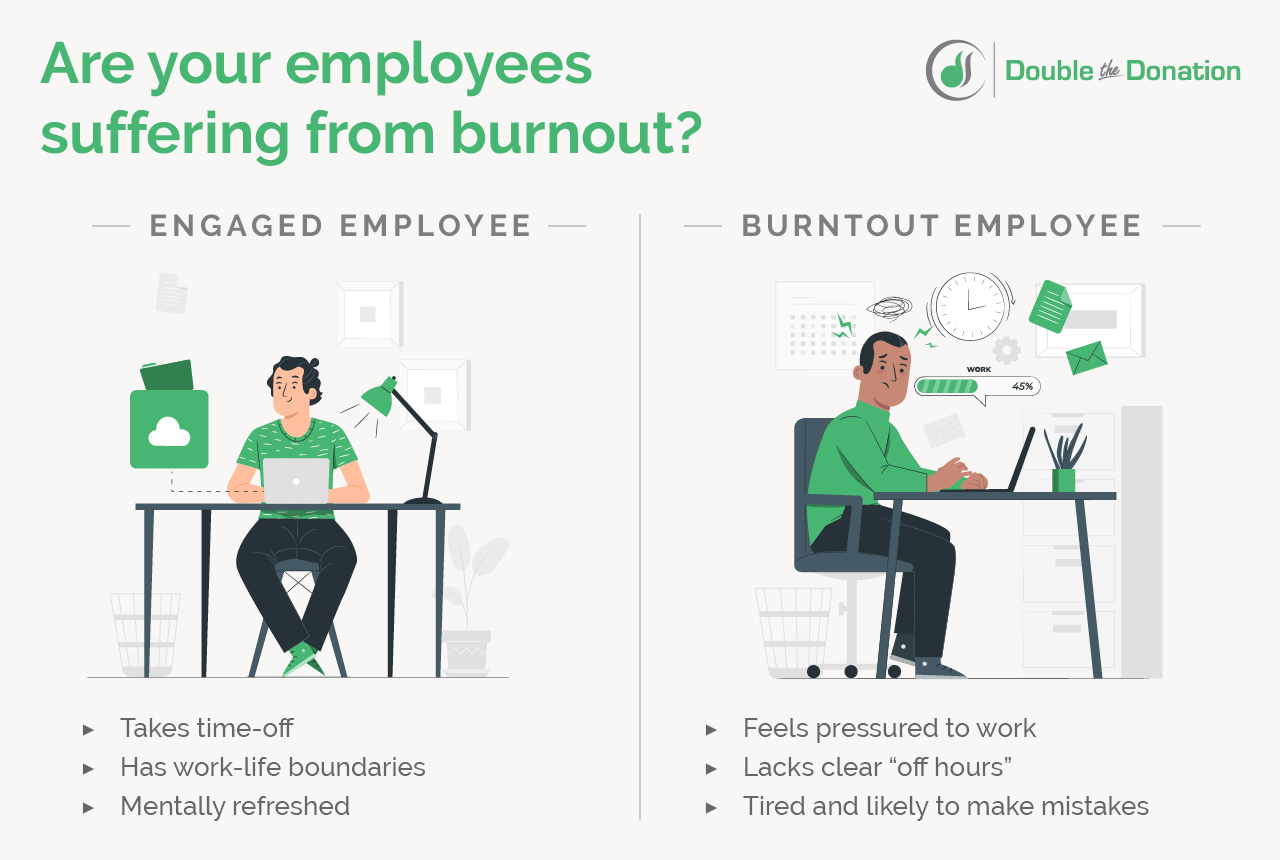 Why? Plainly, moving the office to home can blur the lines between the two, leading to an unhealthy work-life balance. While it's great when employees go above and beyond, working too many hours when employees are supposed to have time off can lead to poorer quality work.
Encourage your employees to reassess their work-life balance and take a healthier approach by:
Creating a no-pressure PTO policy.

This might sound obvious, but as a business, when you implement a PTO policy, be prepared for employees to actually take time off. Additionally, while it might sound generous in theory, avoid unlimited PTO plans as

multiple companies

have found that such programs actually result in employees taking

less

time off due to social pressures. If employees do feel pressured not to take time off, consider why that is and do the hard work of implementing policies that will undo a workplace culture that leads to burnout.
Being clear about what is and isn't expected during off hours.

Some companies ask employees to answer phone calls, check their emails, and work on projects during their off hours. Do not be one of these companies unless you want your employees to get burned out and stop performing their best work.
Discussing how to make an in-home office productive.

Provide your employees with tips about how to create a work environment in their homes with clear boundaries between work time and off-time. Some people working from home for the first time may assume they'll be able to juggle other responsibilities, like childcare. However, advise against this to prevent workers from getting distracted, resulting in them taking too much time off during the day and having to reallocate work to what should be their off hours.
If you feel your business can't comfortably operate without asking employees to work additional hours that disrupt their work-life balance, that's a sign to take a hard look at your business model. Consider hiring new staff, implementing more efficient policies, or limiting the number of projects you take on.
This might seem like a poor business decision on the surface, but peeling back the layers makes it clear it's for the best. After all, if you're taking on more work than your current employees can successfully complete, your relationships with customers may take a dip.
Employee Engagement Strategies: Final Thoughts
From talking to customers and creating marketing materials to coding your website and designing your products, employees are what keeps your business running. The better you can engage them, the more motivated they'll be to help make your business a success.
There are numerous ways you can connect with your team, and these employee engagement strategies are just one place to start. To learn more about how you can motivate your team, explore these resources: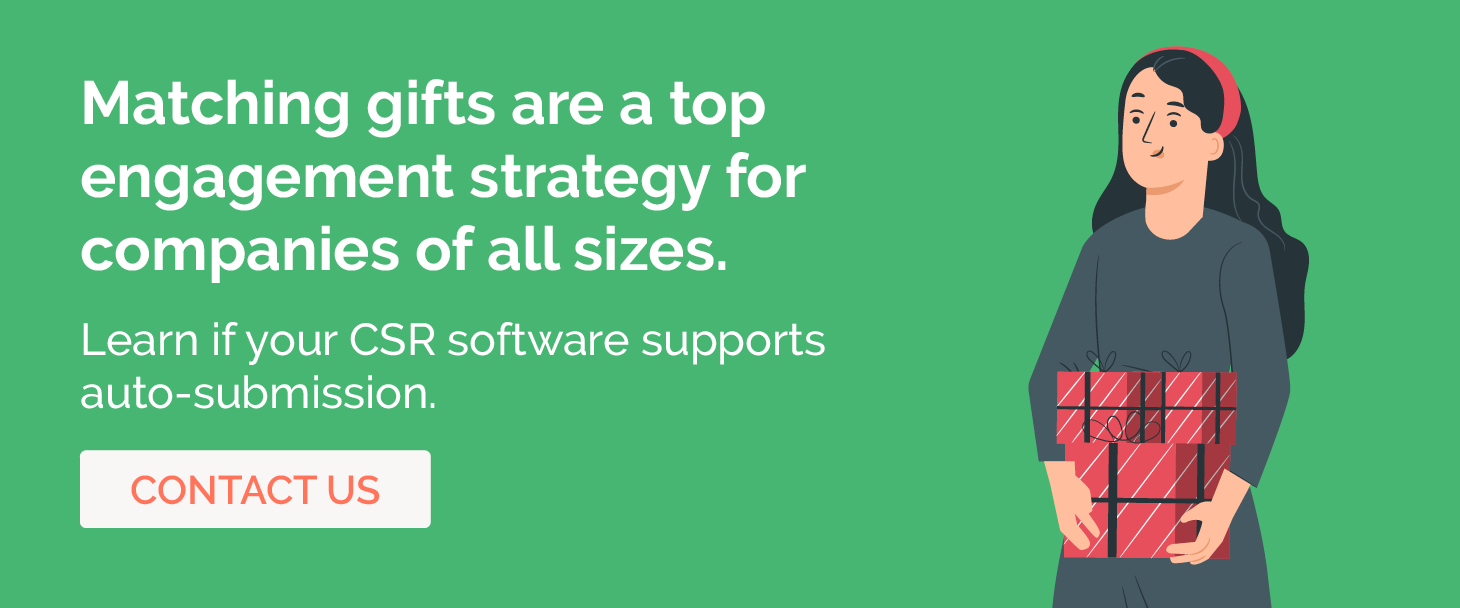 https://doublethedonation.com/wp-content/uploads/2023/10/employee-engagement-strategies_feature-2.png
600
1600
Adam Weinger
https://doublethedonation.com/wp-content/uploads/2022/03/logo-dtd.svg
Adam Weinger
2023-10-30 13:37:44
2023-12-07 22:33:19
Get Your Team Motivated! 9 Employee Engagement Strategies