Double the Donation Announces 360MatchPro by Double the Donation on Salesforce AppExchange, the World's Leading Enterprise Cloud Marketplace
Double the Donation has launched 360MatchPro by Double the Donation on Salesforce AppExchange, empowering customers to raise more money from corporate matching gift and volunteer grant programs. 360MatchPro by Double the Donation connects directly with Salesforce to identify more matching gift opportunities, automatically drive those matches to completion, and any matching gift insights discovered by 360MatchPro can be viewed right from the related record within Salesforce.
Built on the Salesforce Platform, 360MatchPro by Double the Donation is currently available on AppExchange here.
360MatchPro by Double the Donation
The first matching gift automation platform on Salesforce AppExchange, 360MatchPro by Double the Donation is the nonprofit's go-to solution for increasing matching gift revenue. Nonprofits who integrate their Salesforce instance with 360MatchPro by Double the Donation automatically assess the matching gift eligibility of their donors, then provide the right information to the right donors at the right time with custom emails based on match eligibility.
Comments on the News
"Finding 360MatchPro by Double the Donation in Salesforce AppExchange is an exciting development for nonprofits focused on making the most out of matching gifts," said Adam Weinger, President of Double the Donation. "These organizations are continually hunting for ways to take advantage of the tools at their disposal, and backing up the matching gift automation power of 360MatchPro with the wealth of data at their disposal in Salesforce is the perfect marriage."

"360MatchPro by Double the Donation is a welcome addition to AppExchange, as they power digital transformation for customers by automating the corporate matching gift process for nonprofits," said Woodson Martin, GM of Salesforce AppExchange. "AppExchange is constantly evolving to enable our partners to build cutting-edge solutions to drive customer success."

Activate in Seconds and Start Raising More from Matching Gifts!
Combining Salesforce's configurable data management with 360MatchPro's leading technology in matching gifts, nonprofits can take advantage of matching gift optimization with an easy activation and quick, wholly customizable setup.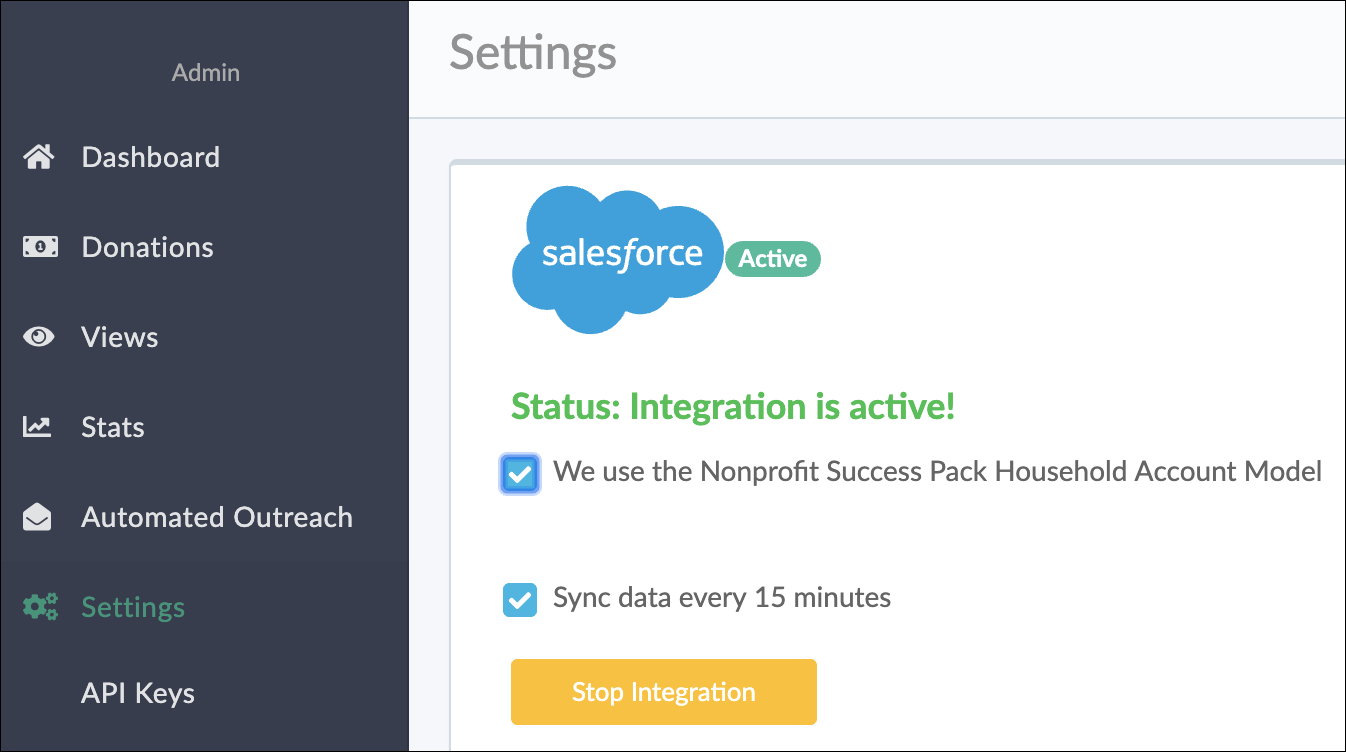 Nonprofits can activate their 360MatchPro account by linking their Salesforce account to their 360MatchPro account and configuring their settings to meet their organizational needs. From there, it's just a matter of identifying match-eligible donors and leading them to submit a gift matching form with their employer.
Once the integration is active, 360MatchPro will begin pulling donation data from the Salesforce CRM to the 360MatchPro platform and identifying possible match eligible donors, and then returning that company data to the Salesforce Opportunity record. This develops actionable insights that help nonprofits see and pursue donation trends and other gift matching opportunities. Organizations can manage employer data and craft their matching gift strategy using information found in the Salesforce platform.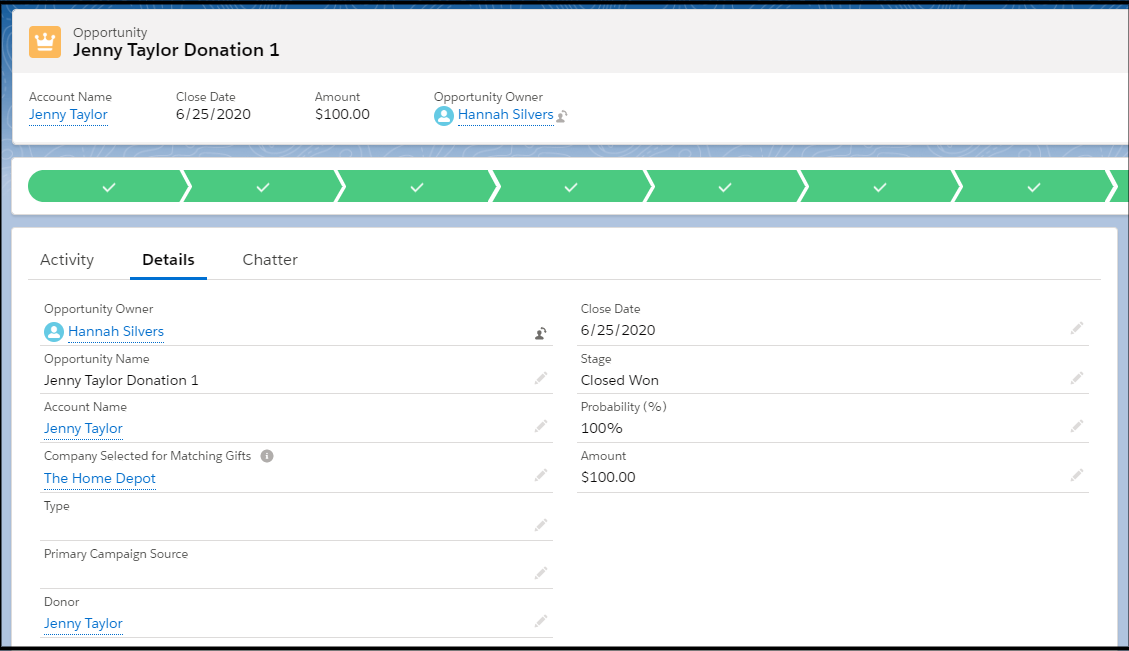 360MatchPro also allows you to send automated email notifications to donors to determine eligibility and map donors to the appropriate matching gift application form based on their employer information. This means donors can start the matching gifts process with just one click making it even easier to drive revenue with matching gifts. Organizations can fully customize the frequency, content, selectivity, and branding of these emails to best meet their fundraising needs.
Looking to learn more? Check out our in-depth integration guide to get started!

Drive More Matching Gifts to Completion with 360MatchPro!
The Salesforce AppExchange and 360MatchPro by Double the Donation integration opens the door to nonprofits to the world of corporate gift matching and gives them a chance to double or even triple their fundraising revenue using the automated outreach and employer data offered by the 360MatchPro tool. 
Identify more matching gift revenue opportunities:

360MatchPro enables you to automatically collect matching gift eligibility from donors using email domains, within donation forms, on confirmation screens, or by email. The more matching gift opportunities 360MatchPro discovers and shares with donors, the more matching gift requests your donors will successfully submit.

Drive more matches to completion, from form submission to corporate payment:

Direct donors immediately to their matching gift forms after the donation process is complete. Then, provide the right information to the right donors at the right time with custom emails based on match eligibility. Target follow-ups drive more completed submissions than ever before, bringing exponentially more matching gift checks from companies through your door.

Reallocate your time from routine follow-up to your top opportunities:

Your time is valuable, so why spend it chasing small dollar-value matching gifts? Let 360MatchPro automate your matching gift outreach while flagging your highest-value opportunities, allowing your team to personalize follow-ups to the most valuable match-eligible donations. Rest easy knowing that 360MatchPro can handle the rest.
To get started driving matches to completion via Salesforce and 360MatchPro, request a demo today and see for yourself the difference gift matching can make for your organization!
---
About Salesforce AppExchange
Salesforce AppExchange, the world's leading enterprise cloud marketplace, empowers companies to sell, service, market and engage in entirely new ways. With more than 5,000 solutions, 7 million customer installs and 90,000 peer reviews, it is the most comprehensive source of cloud, mobile, social, IoT, analytics and artificial intelligence technologies for businesses.
Additional Resources
Like Salesforce on Facebook: http://www.facebook.com/salesforce

Follow Salesforce on Twitter: https://twitter.com/salesforce

Become a fan of Double the Donation: https://www.facebook.com/DoubleTheDonation

Follow Double the Donation on Twitter: @2xdonations

Salesforce, AppExchange and others are among the trademarks of salesforce.com, inc.
Double the Donation is the leading provider of matching gift and volunteer grant solutions to nonprofits and educational institutions. The 360MatchPro platform provides nonprofits with tools to identify match-eligible donors, drive matches to completion, and gain actionable insights. 360MatchPro integrates directly into donation forms, CRMs, social fundraising software, and other nonprofit technology solutions to capture employment information and follow up appropriately with donors about matching gifts.
https://doublethedonation.com/wp-content/uploads/2022/06/Double-the-Donation-Salesforce-AppExchange-debut-feature.jpg
290
775
Adam Weinger
https://doublethedonation.com/wp-content/uploads/2022/03/logo-dtd.svg
Adam Weinger
2020-02-25 18:55:31
2022-06-20 07:55:16
Double the Donation Announces 360MatchPro by Double the Donation on Salesforce AppExchange, the World's Leading Enterprise Cloud Marketplace