Double the Donation and Classy Enhance Matching Gift Integration to Fuel Fundraising Opportunities
Double the Donation and Classy have come together to enhance their existing matching gift solution to help organizations drive greater matching gift revenue. This new functionality will provide nonprofits with greater donor touchpoints, increased identification methods and advanced two-way data synchronization.
The 360MatchPro and Classy integration has already served countless nonprofits in their automated matching gift fundraising efforts. With this solution, fundraisers were targeting the more than 26 million individuals who work for companies with matching gift programs.
"Classy strives to provide nonprofits with innovative, advanced technology, and 360MatchPro consistently provides the best gift matching automation for donors," said Colin Manuel, Head of Product Integrations at Classy. "With this enhancement, our customers can leverage the full gift matching power of the industry's leading solution alongside their Classy fundraising campaigns."
The enhanced matching gift technology will make it both easier for donors to submit matching gift requests and easier for nonprofits to track these gift matching submissions. With increased calls to action and more data flow opportunities, nonprofits will be able to drive matching gift revenue simply and seamlessly.
"The fundraising landscape is ever-changing, and our industry-leading technology is designed to evolve with the needs of our fundraising community," said Adam Weinger, President of Double the Donation. "We are committed to providing nonprofits with cutting-edge technology, and these enhancements will ensure that Classy users can continue to drive matching gift revenue easily and efficiently."
Using this advanced matching gift automation integration, nonprofits everywhere can continue to target the $4-7 billion in matching gift revenue that goes unclaimed each year.

Activate in Seconds and Start Raising More from Matching Gifts!
Classy and 360MatchPro integration seamlessly for a simple setup process. Nonprofits with a 360MatchPro account can simply navigate to the Double the Donation App in "Apps & Extensions" within their Classy account to connect the two services. Then, simply add the matching gift solution to your chosen donation forms and confirmation pages.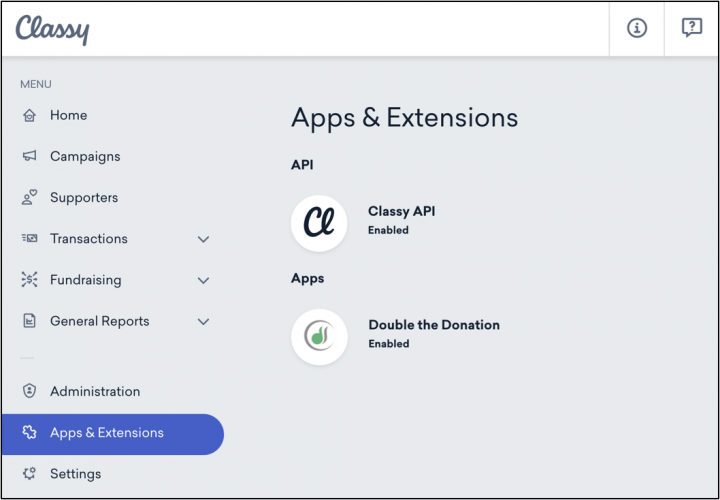 After the integration is set up, 360MatchPro gets to work by identifying match-eligible donors both during and after the donation process, making it easy for the tool to then automate personalized messages, driving employer matching gift requests.
With this integration, your organization can begin doubling (or sometimes even tripling!) eligible donations without having to dedicate any extra time or effort. This simple solution makes it easy for you to ramp up the matching gift funds while still focusing your valuable time on what matters most: your nonprofit's mission.

Drive More Matching Gifts to Completion with 360MatchPro!
360MatchPro and Classy offer valuable matching gift features to help your organization double donations for your mission.
With the power of this solution, your organization can:
Identify more matching gift revenue opportunities: 360MatchPro enables you to automatically collect matching gift eligibility from donors using email domains, within donation forms, on confirmation screens, or by email. The more matching gift opportunities 360MatchPro discovers and shares with donors, the more matching gift requests your donors will successfully submit.
Drive more matches to completion, from form submission to corporate payment: Direct donors immediately to their matching gift forms after the donation process is complete. Then, provide the right information to the right donors at the right time with custom emails based on match eligibility. Target follow-ups drive more completed submissions than ever before, bringing exponentially more matching gift checks from companies through your door.
Reallocate your time from routine follow-up to your top opportunities: Your time is valuable, so why spend it chasing small dollar-value matching gifts? Let 360MatchPro automate your matching gift outreach while flagging your highest-value opportunities, allowing your team to personalize follow-ups to the most valuable match-eligible donations. Rest easy knowing that 360MatchPro can handle the rest.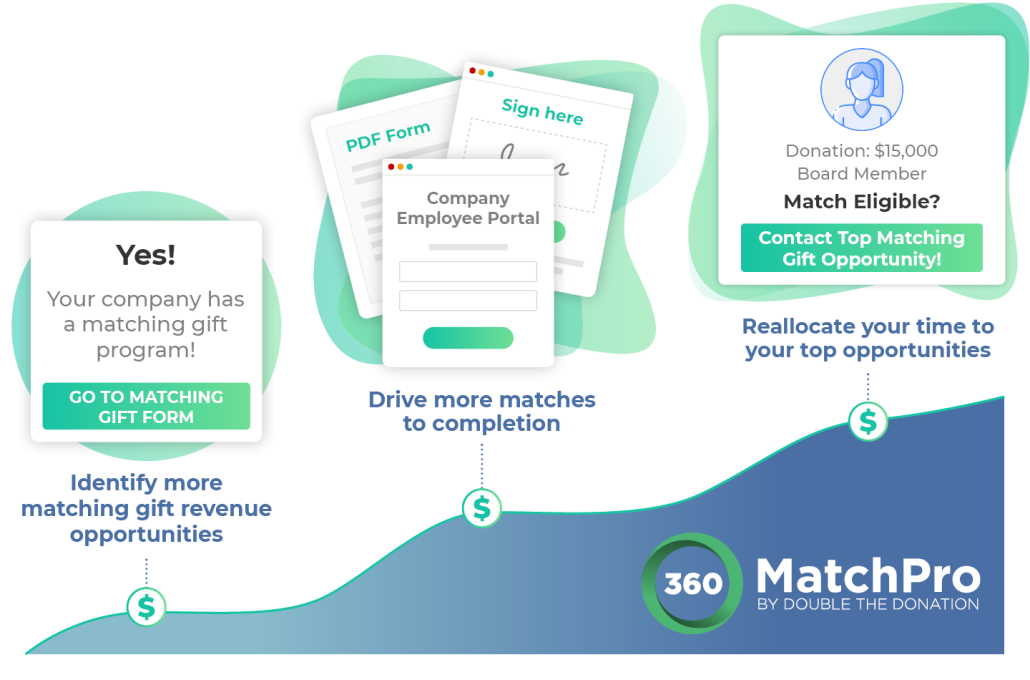 Ready to get started? Schedule a personalized demo.
---
About Classy: Classy is a social enterprise that creates online fundraising software for nonprofits, modernizing the giving experience to accelerate social impact around the world. Based in San Diego, CA, Classy is trusted by organizations of all sizes, from the fastest-growing nonprofits like Team Rubicon and The Trevor Project, to some of the world's largest social organizations, such as The Salvation Army, Robin Hood Foundation, and Shriners Hospitals for Children. Classy also hosts the Collaborative conference, a three-day immersive experience designed exclusively for nonprofit professionals and social impact leaders to learn, share, and get inspired. For more information, visit www.classy.org or follow Classy on Twitter @Classy.
About Double the Donation: Automate your matching gift fundraising with the industry-leading solution from Double the Donation. The 360MatchPro platform provides nonprofits with tools to identify match-eligible donors, drive matches to completion, and gain actionable insights. 360MatchPro integrates directly into donation forms, CRMs, social fundraising software, and other nonprofit technology solutions to capture employment information and follow up appropriately with donors about matching gifts. To learn more visit https://360matchpro.com/demo-request/
https://doublethedonation.com/wp-content/uploads/2022/06/Double-the-Donation-integration-enhancement-feature.png
290
775
Adam Weinger
https://doublethedonation.com/wp-content/uploads/2022/03/logo-dtd.svg
Adam Weinger
2021-09-15 15:06:45
2023-01-15 17:04:31
Double the Donation and Classy Enhance Matching Gift Integration to Fuel Fundraising Opportunities