Nonprofit Basics: Education Management Solutions
Finding the right software to manage your educational institution and programs is essential to the successful functioning of your business. Ideally, one technology can address multiple processes you have in your organization, including registration and student enrollment, one-time and recurring payments, and student reporting.
What Are Education Management Solutions?
Education management solutions are software programs that help school administrators and teachers manage the day-to-day of running a school. All of the top education management solutions on the market today are cloud-based. Education software should include robust data gathering and management tools that allow students and families to input, edit, and access their information as well as provide a database for you to filter, search, and run reports for you and your team. 
Solutions should be definition integration via API or built-in integration to Student information systems, CRMs, and more. 
User experience for your solutions should factor in the experiences of your team, your parents, students, and faculty.
Features To Look For in an Education Management Solution
It's important that whatever system you put in place to manage your programs has all the features needed to ensure your team's success. Here are a few features that we'd recommend looking for while evaluating your options: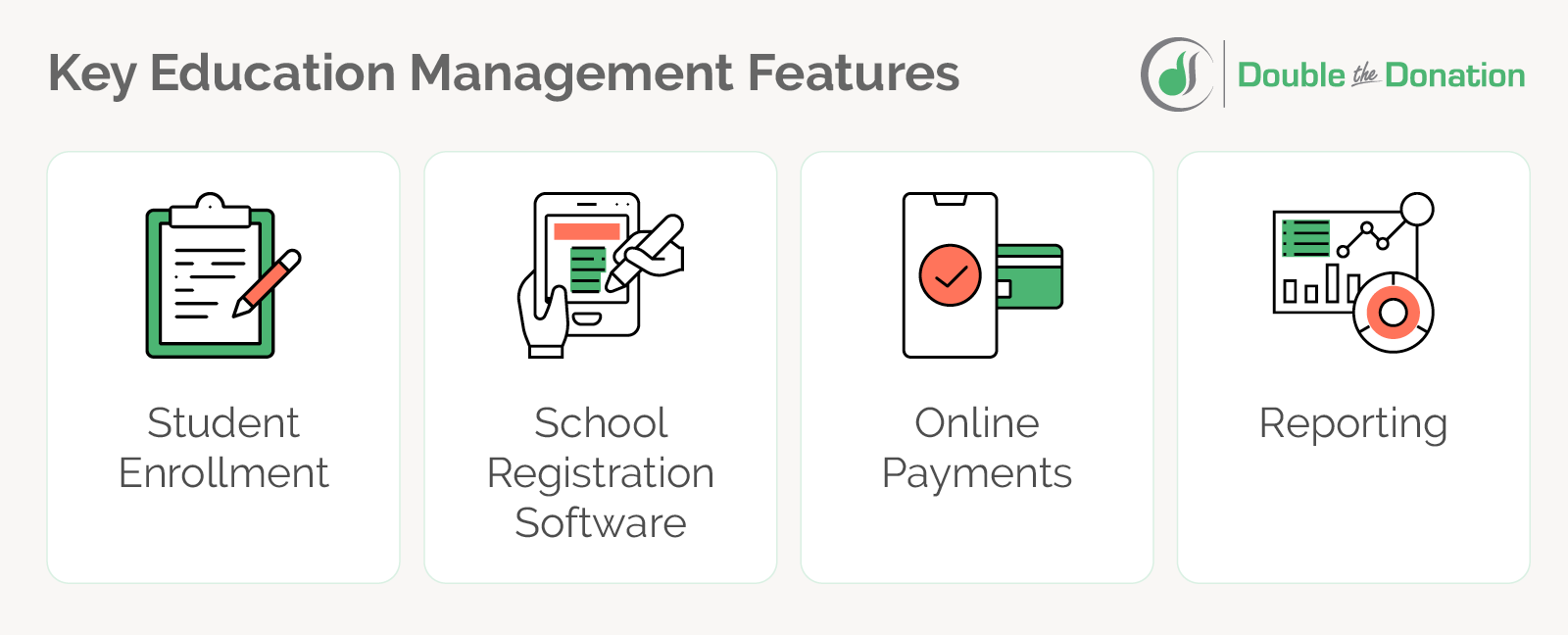 Student Enrollment Options
Ease of student enrollment is crucial for your software stack. Create customized forms and fields to gather the information you need, as well as an easy way for families to pay. 
The data generated by these processes can be managed by you and your team easily including generating reporting and statistics from this data, managing day-to-day tasks like recording notes, tagging students by where they are in the application process, and automatic tools like email communication and payment plans.
School Registration Software
Ensuring you have all the necessary data on students registering for your classes and programs is crucial to your success. 
A good software can replace manpower that can otherwise be focused on marketing, growing your offerings, and improving customer service. 
A good registration software should allow you to:
Customize form fields 

Run reports on any data collected

Be mobile friendly 

Embed on your website
These features will ensure that your registration software will work seamlessly for your team and audience and integrate well with your other education management solutions. 
Online Payments
Making it easy for students and families to pay will make or break the profitability of your programs. Streamline the checkout process by offering payment plans to lower the barrier of payment entry, increase enrollment, and ensure you have consistent cash flow.
Look for a software tool that integrates payments into the registration process and embeds on your website. You'll see a 27%+ increase in on-time payments when your students can pay on your website, as they trust your business and won't hesitate to make a payment.
Payment plans allow families to commit to purchasing your classes and programs, without the hassle of remembering to pay each cycle. You'll save time not managing open invoices or manually billing families each month.
Reporting
The ability to extract the information you need to answer business questions is crucial. Whether it's creating a roster report with custom information each teacher needs about their students, or you'd like to see a sales report for specific classes and registration data – your technology partner should provide a multitude of reports to meet all of your business needs. 
Crucial reports for schools include: 
Sales reports for monthly, quarterly, and annual stats for leadership 

Roster reports 

Medication reports and/or health reports

Class contact lists 

Overdue or unpaid balance report 
Your education management solution should be able to run these reports for you, saving your team valuable time and energy.
Other Resources to Explore
Nonprofit Basics – Learn more nonprofit management essentials by exploring other expert resources.
Increasing Student Enrollment – If you're among school professionals tasked with increasing student enrollment, here are nine practical tips that will help you increase student enrollment.
Class Registration Software: Top Providers to Explore – Have you been pulling your hair out trying to decide which online class registration software to choose for your business? With so many good options out there, selecting the right software for your business can be really challenging. Lucky for you, we've narrowed down your options to just a few!
https://doublethedonation.com/wp-content/uploads/2023/01/Feature-Image.png
600
1600
Adam Weinger
https://doublethedonation.com/wp-content/uploads/2022/03/logo-dtd.svg
Adam Weinger
2022-03-16 21:27:23
2023-01-16 21:42:46
Nonprofit Basics: Education Management Solutions