Kindest and Double the Donation Announce Advanced Matching Gifts Integration
Kindest and Double the Donation are proud to announce a new matching gifts integration between Kindest's online fundraising platform and 360MatchPro, the most powerful matching gift automation tool by Double the Donation. 
"The Kindest mission is to provide nonprofits with a simple interface that provides them incredible value," says David Semerad, Co-Founder and CEO at Kindest. "Our new partnership with Double the Donation allows organizations to get set up immediately and see value from the minute they start using it."
The new Kindest and Double the Donation integration gets to work identifying eligible donors, guiding donors to their company matching gift request forms, and following up with donors even after they've left their giving screens. 
"Nonprofits are leaving $4-7 million in matching gift revenue on the table every year, and it's our goal to help nonprofits claim more and more of that each year," says Adam Weinger, President of Double the Donation. "360MatchPro and Kindest are able to help nonprofits close the donor awareness gap and raise more, donation after donation."

Activate in Seconds and Start Raising More from Matching Gifts!
Activating your integration takes no time at all—all you have to do is copy and paste your public and private API keys from your 360MatchPro account and plug them into your Kindest backend to get started. From here, you'll have the 360MatchPro autocomplete search field and confirmation page plugin appear on all your Kindest giving forms.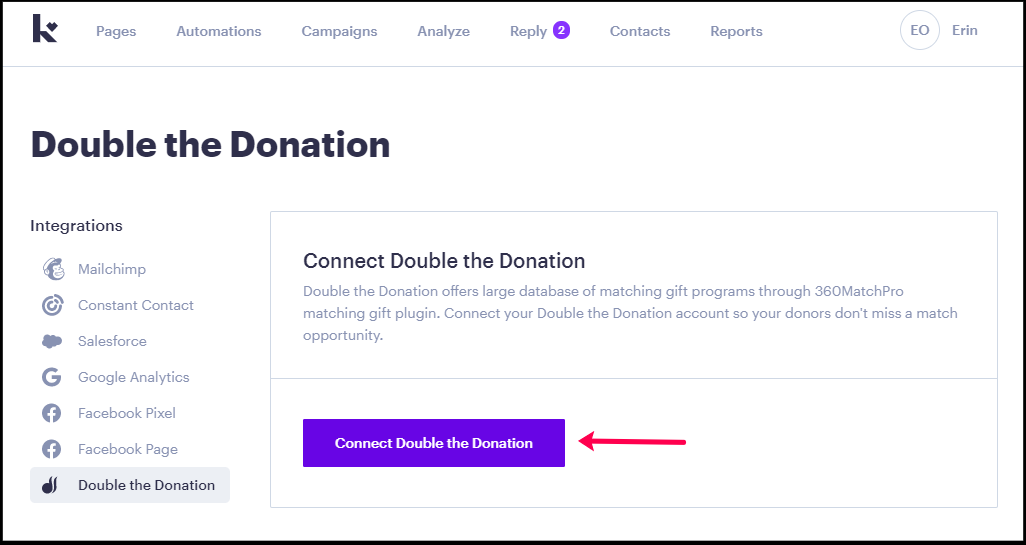 Now you can let Kindest and 360MatchPro do the matching gifts work for you! Donors will be able to check their eligibility by searching their company name during the giving process. After identifying their employer, 360Matchpro can immediately notify donors of their eligibility and lead them to their next steps directly on the confirmation page.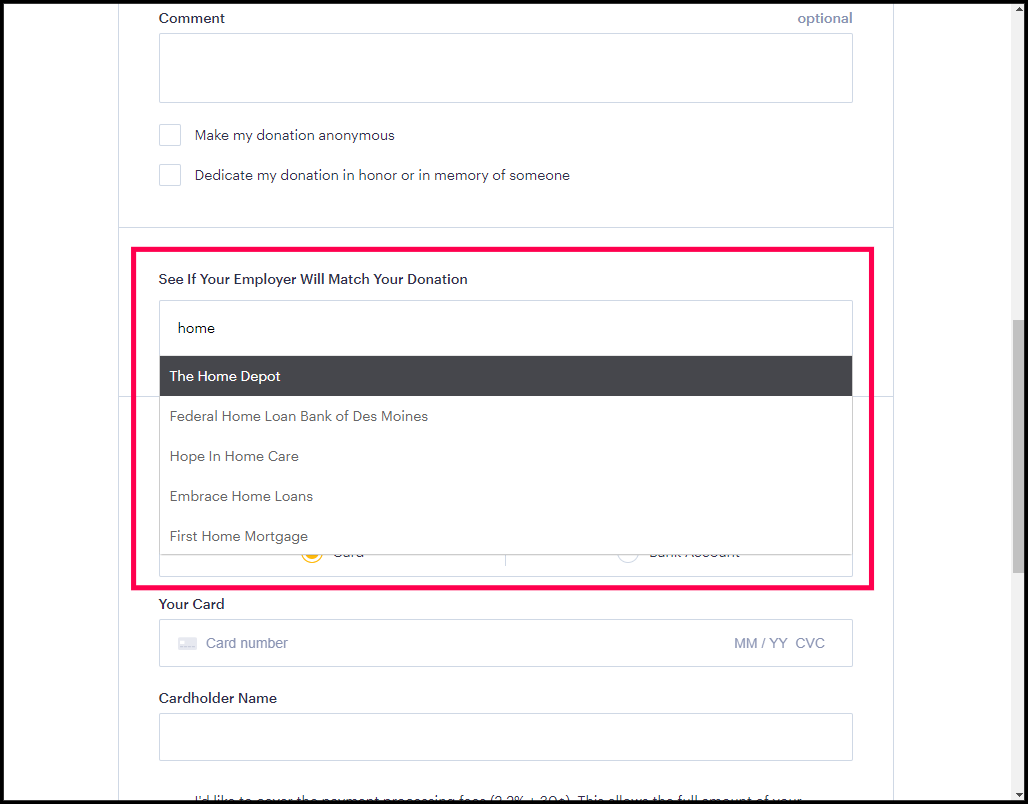 If donors can't submit their matching gift request immediately, 360MatchPro's automated email streams will follow up later with personalized next steps. The best part? With a one-time configuration and full onboarding support from the Double the Donation Client Success Team, your team won't have to worry about complicated IT work or time-consuming manual outreach.
Looking to learn more? Check out our in-depth integration guide to get started!

Drive More Matching Gifts to Completion with 360MatchPro!
The simple, effective, and powerful integration between Kindest and 360MatchPro by Double the Donation makes life easy for both nonprofits and their donors. Some other key features nonprofits can take advantage of: 
Identify more matching gift revenue opportunities: 360MatchPro enables you to automatically collect matching gift eligibility from donors using email domains, within donation forms, on confirmation screens, or by email. The more matching gift opportunities 360MatchPro discovers and shares with donors, the more matching gift requests your donors will successfully submit.
Drive more matches to completion, from form submission to corporate payment: Direct donors immediately to their matching gift forms after the donation process is complete. Then, provide the right information to the right donors at the right time with custom emails based on match eligibility. Target follow-ups drive more completed submissions than ever before, bringing exponentially more matching gift checks from companies through your door.
Reallocate your time from routine follow-up to your top opportunities: Your time is valuable, so why spend it chasing small dollar-value matching gifts? Let 360MatchPro automate your matching gift outreach while flagging your highest-value opportunities, allowing your team to personalize follow-ups to the most valuable match-eligible donations. Rest easy knowing that 360MatchPro can handle the rest.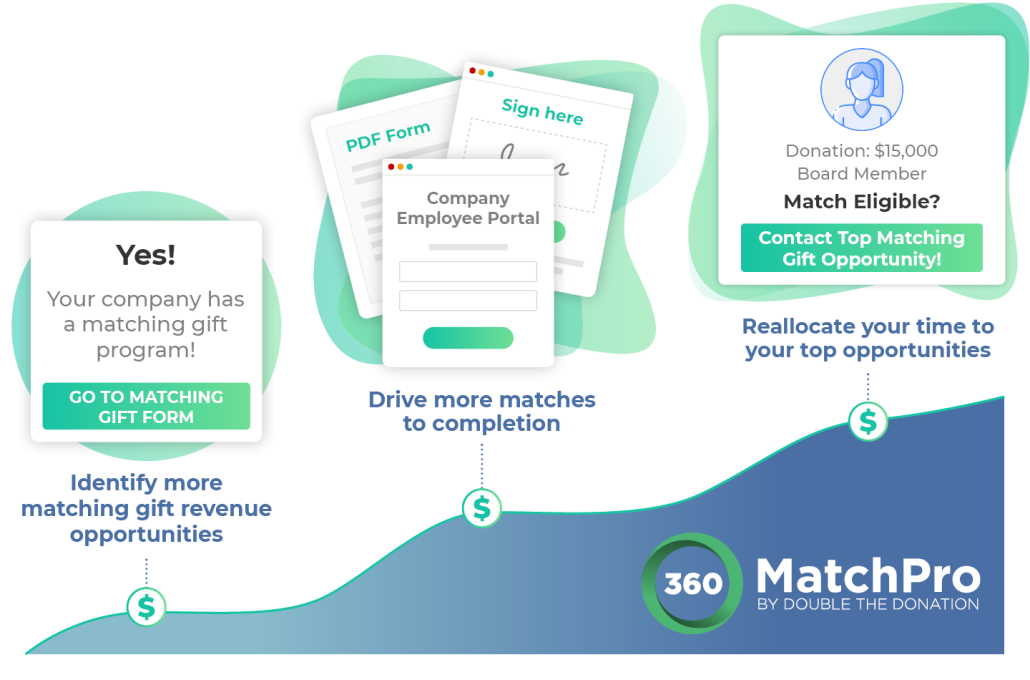 Ready to get started today? Request a personalized demo with the Double the Donation team, and make sure you mention you use Kindest! 
---
About Kindest: Kindest brings modern marketing methods to the online fundraising world with simple and easy to use tools. Our platform combines email campaigns, scheduling and SMS marketing with powerful CRM, donor engagement and integrated analytics. This sophisticated yet simple combination takes all important fundraising use cases under one roof.
About Double the Donation: Automate your matching gift fundraising with the industry-leading solution from Double the Donation. The 360MatchPro platform provides nonprofits with tools to identify match-eligible donors, drive matches to completion, and gain actionable insights. 360MatchPro integrates directly into donation forms, CRMs, social fundraising software, and other nonprofit technology solutions to capture employment information and follow up appropriately with donors about matching gifts. To learn more about Double the Donation, visit https://doublethedonation.com and request a demo at https://360matchpro.com/demo-request/.
https://doublethedonation.com/wp-content/uploads/2022/06/Double-the-Donation-Kindest-feature.png
290
775
Adam Weinger
https://doublethedonation.com/wp-content/uploads/2022/03/logo-dtd.svg
Adam Weinger
2021-03-30 15:38:29
2022-06-20 07:55:45
Kindest and Double the Donation Announce Advanced Matching Gifts Integration