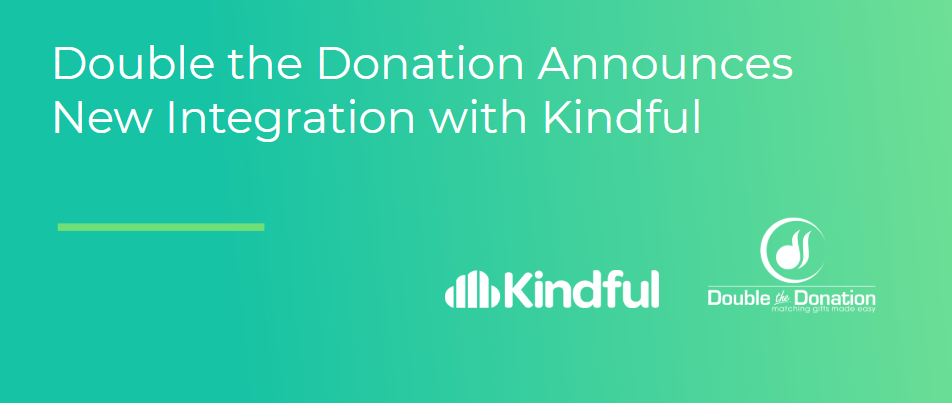 Double the Donation Announces New Integration with Kindful
Double the Donation is excited to announce a new integration with Kindful, a powerful donor management software for nonprofits.
Kindful clients can now create a direct link between their Kindful account and 360MatchPro, Double the Donation's most robust matching gift tool. Every donation will flow from the Kindful CRM into 360MatchPro, where they'll be logged, tagged and tracked.
Lack of donor awareness is the biggest hurdle to collecting corporate matching gifts. To narrow the gap between donors and matching gift information, 360MatchPro triggers out emails to every donor.
"Kindful customers are changing the world, and are always looking for like-minded partners," said Jeremy Bolls, Founder and CEO of Kindful. "They wanted access to the best matching gift tools, and I'm happy to report that this new 360MatchPro integration offers access to Double the Donation's incredible platform as well as their extensive matching gift database. We've known the folks at Double the Donation for years and are thrilled to partner with them in the matching gift space."
With 360MatchPro, Kindful users can completely automate their matching gift efforts. This platform automates all matching gift outreach, provides actionable insights into ongoing matching gift efforts, and tracks the status of every potential matching gift.
"With $4-7 billion in matching gift revenue left on the table every year, Double the Donation is committed to helping Kindful clients claim some of that revenue," said Adam Weinger, President of Double the Donation. "We simplify matching gifts and automate the entire process so that 360MatchPro clients can skip the minutiae and focus on their missions."
Double the Donation maintains the most comprehensive database of matching gift programs available. It includes over 20,000 entries of parent companies, subsidiaries, and spelling variations to ensure that not a single matching gift opportunity slips through the cracks.

Activate in Seconds and Start Raising More from Matching Gifts!
Kindful software already helps you know and understand donor behavior. Unfortunately, your donors most likely do not know about their own gift matching programs. 360MatchPro will help drive donor gift matches to completion – and the setup process is quick and easy.
To activate this integration, log on to the 360MatchPro dashboard. Navigate to "Integrations" then select "Sign in with Kindful".
Once you are in your Kindful portal, create a new webhook, and use your 360MatchPro URL. This will get you all set up, and your donations will now flow through 360MatchPro!
After your integration is complete, all donations will flow through 360MatchPro to check for gift matching eligibility. Donors will then receive customizable automated messaging with company gift matching information. If a donor uses a company email address during the donation, then they will receive tailored information on their employer's gift matching program. All other donors will receive an email that instructs them to search for their company and complete a gift matching contribution. To ensure that donors understand the next steps, these emails are illustrated and feature an easy-to-use format.
Looking to learn more? Check out our in-depth integration guide to get started!

Drive More Matching Gifts to Completion with 360MatchPro!
360MatchPro uses technical features to ensure the gift matching process is quick and easy.
This valuable integration will: 
Identify more matching gift revenue opportunities

: 360MatchPro enables you to automatically collect matching gift eligibility from donors using email domains, within donation forms, on confirmation screens, or by email. The more matching gift opportunities 360MatchPro discovers and shares with donors, the more matching gift requests your donors will successfully submit.

Drive more matches to completion, from form submission to corporate payment

: Direct donors immediately to their matching gift forms after the donation process is complete. Then, provide the right information to the right donors at the right time with custom emails based on match eligibility. Target follow-ups drive more completed submissions than ever before, bringing exponentially more matching gift checks from companies through your door.

Reallocate your time from routine follow-up to your top opportunities

: Your time is valuable, so why spend it chasing small dollar-value matching gifts? Let 360MatchPro automate your matching gift outreach while flagging your highest-value opportunities, allowing your team to personalize follow-ups to the most valuable match-eligible donations. Rest easy knowing that 360MatchPro can handle the rest.
If you would like to see the 360MatchPro and Kindful integration in action, schedule a demo with the Double the Donation team. This session will help you to evaluate gift matching goals while learning more about product functionality. 
---
About Kindful: Kindful believes that it should be easier to manage your donors.  Kindful provides powerful nonprofit software that helps you organize your data and manage your donors better. With former fundraisers, board members, consultants, and nonprofit employees on their team – working alongside top-notch, veteran talent from the tech world – Kindful is a modern fundraising platform built to help your organization grow. To learn more visit https://kindful.com/
About Double the Donation: Automate your matching gift fundraising with the industry-leading solution from Double the Donation. The 360MatchPro platform provides nonprofits with tools to identify match-eligible donors, drive matches to completion, and gain actionable insights. 360MatchPro integrates directly into donation forms, CRMs, social fundraising software, and other nonprofit technology solutions to capture employment information and follow up appropriately with donors about matching gifts. To learn more visit https://360matchpro.com/demo-request/
https://doublethedonation.com/wp-content/uploads/2022/06/Double-the-Donation-Kindful-Announcement.png
403
952
Adam Weinger
https://doublethedonation.com/wp-content/uploads/2022/03/logo-dtd.svg
Adam Weinger
2019-02-20 15:30:05
2023-09-14 21:36:08
Double the Donation Announces New Integration with Kindful