Nonprofit Basics: Nonprofit Annual Report
Your nonprofit completes various activities throughout the year, such as hosting fundraising events, launching community outreach initiatives, and taking on new projects to make an impact in the area you serve. With so much notable work to remember each year, it's important to track and share what your nonprofit has accomplished. 
Most nonprofits create an annual report to highlight successes, thank supporters, and increase transparency with stakeholders. The best reports not only review the high points of the past year but also encourage continued support in the next year.
What is a nonprofit annual report?
A nonprofit annual report is a document compiling all of an organization's activities, projects, and initiatives for a year. These documents are made publicly available for transparency reasons, allowing all stakeholders and supporters to understand what your organization has done throughout the year.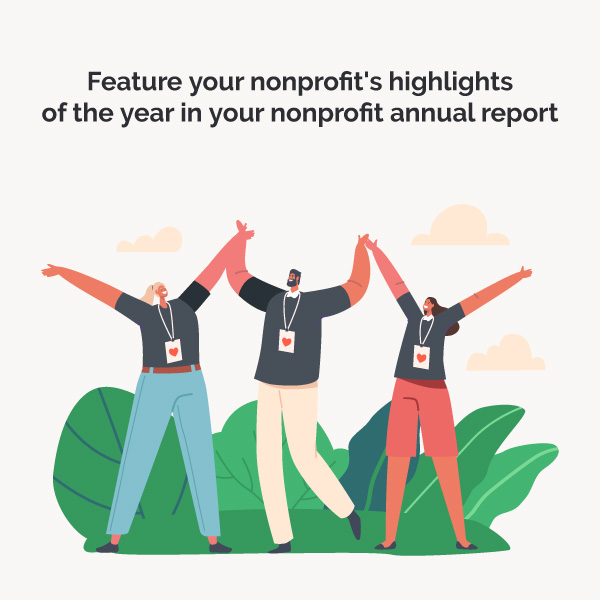 While the completion of an annual report is not legally required to maintain your nonprofit's 501(c)(3) status, most organizations write one to be transparent with their communities. More than that, annual reports serve as an essential element of many nonprofits' annual fundraising appeals. By highlighting the work that your organization has done and thanking supporters, donors feel appreciated and see the direct impact of their donations, inspiring them to make another donation to further your nonprofit's work in the next calendar year. 
Tips for an Effective Nonprofit Annual Report
There is no singular formula for a perfect nonprofit annual report—you know your nonprofit and its activities best. But there are some best practices that can ensure that your annual report will see the best results possible. These tips include:

Brand your report: 

Your supporters appreciate your nonprofit for what you do and who you are. Incorporate your

organization's branding

within your annual report to increase credibility and visibility. This includes your nonprofit's name, logo, slogan, color scheme, and any other recognizable features of your nonprofit's brand.

Incorporate storytelling:

In both textual elements and visuals, ensure that your annual report is telling the story of your nonprofit and the work you've done throughout the year. Include pictures from events and initiatives, and make sure that you're highlighting your work through specific stories of how you impacted your community.

Use data:

Don't forget to back up the claims you make in your storytelling with

concrete data

. Donors want to hear not only about the people your nonprofit served but also the quantifiable impact you made through metrics such as event attendance, total annual revenue, volunteer hours, and program expenses.

Make it a downloadable resource:

For full transparency, ensure that your annual report is available for download on your

nonprofit website

. That way, your report is accessible to all supporters and can serve as a resource to both current and potential donors. 
Your nonprofit annual report should be a resource to your nonprofit itself as well as your supporters. Take the opportunity each year to highlight all of your nonprofit's successes, taking pride in the great work that you've done and sharing with your supporters how you've continued to further your mission.
Other Resources to Explore
Nonprofit Basics – Learn more nonprofit management essentials by exploring other expert resources.
Nonprofit Branding: Our Complete Guide and Best Examples – Explore the connection between branding and credibility, especially as it relates to your nonprofit annual report.
Top Nonprofit Website Builders to Promote Your Mission – Make it easy to upload and share your annual report with a well-built website.
https://doublethedonation.com/wp-content/uploads/2023/01/Loop_Double-the-Donation_Nonprofit-Basics-_-Nonprofit-Annual-Report_Feature.jpg
380
1000
Adam Weinger
https://doublethedonation.com/wp-content/uploads/2022/03/logo-dtd.svg
Adam Weinger
2022-07-13 16:18:22
2023-09-14 20:58:09
Nonprofit Basics: Nonprofit Annual Report