Blackbaud Raiser's Edge | 5 Top Benefits and Drawbacks

Nonprofits all over the the world turn to industry leader Blackbaud for their data and donor management software needs. The entire suite of Blackbaud products spans a wide range of needs, offering appropriate tools for small local nonprofits up to huge enterprise-level organizations.
If your nonprofit has considered making the move to Blackbaud, chances are you've done a little research into Raiser's Edge. This all-in-one fundraising and management platform is one of the most popular Blackbaud products, and for good reason. For context, here's how the Blackbaud experts at TeamDNL rank Raiser's Edge in comparison with other popular products in the suite: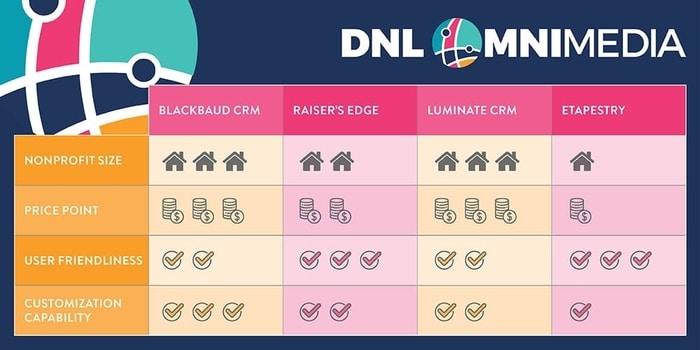 The price point, comprehensive features, and target nonprofit size of Raiser's Edge all make it an extremely useful platform for a wide cross-section of nonprofits.
However, it's important to remember that any new software is an important investment for your organization and requires careful consideration. Before moving forward with Raiser's Edge (or its newest iteration, Raiser's Edge NXT), you'll need to determine that it's the right fit for your nonprofit.
To help you navigate all the product reviews out there and cut down on research time, we've compiled the most significant benefits and potential drawbacks you'll need to consider.
We'll look at the following:
Before diving into the details, we recommend bookmarking this more comprehensive before-you-buy Raiser's Edge guide from DNL OmniMedia. Let's get started:

1. Pro: Nonprofits can use Raiser's Edge for virtually all of their fundraising needs.
If you need expansive fundraising software, Raiser's Edge won't disappoint.
With features designed to improve operational efficiency, enhance donor acquisition and engagement, and of course, boost fundraising revenue, Raiser's Edge is truly comprehensive. 
While nonprofits of all sizes can use Raiser's Edge, its broad functionality makes it an ideal fit for nonprofits who need to store a significant amount of data and implement more complex fundraising strategies.
For instance, Raiser's Edge can play an instrumental role in streamlining all of the following processes:
Data enrichment.
Communications and marketing.
Online payment processing.
Event management.
Wealth analytics and prospect research.
Crowdfunding and social engagement.
Of course, this also means your team should be prepared to learn about as many of these tools as possible. Take some time beforehand to consider how each member of your team will need to use the platform and what features are immediately relevant to each role. This can greatly streamline the training process.
Having an overwhelming set of fundraising resources in front of you with no idea where to start is a position no nonprofit wants to be in. To avoid that situation, make sure you've done your research to find out exactly what kind of fundraising software you need.
Or, seek out the help of a nonprofit technology consultant who can guide you through the implementation process and ensure you're on track for success!


2. Con: Raiser's Edge isn't a quick solution for inexperienced nonprofits.
Because Raiser's Edge is so multifaceted, some nonprofits have a difficult time finding their way around the product. Specifically, smaller organizations might struggle to get up and running quickly with the Raiser's Edge platform.
However, this isn't due to any major flaws in the software's user-friendliness or design. Rather, it's because Raiser's Edge is such a comprehensive and highly-customizable platform. This can make it a difficult adjustment for organizations that have never before used a dedicated, professional-grade data and campaign management system before.
Small, local organizations that might only have a few (or no) paid employees typically rely on a mixture of more informal tools, spreadsheets, general accounting software, and word processors. Upgrading an all-in-one system is an important step in nonprofit development, but merging all those historical processes can be a strain on small teams that aren't used to such major changes.
Typically, small organizations struggle with a few important aspects of the Raiser's Edge system:
Implementation.

For organizations that aren't used to comprehensive database platforms, it can take a lot of trial and error, testing, and training to really learn the ins and outs. If your smaller nonprofits needs to get up and running with Raiser's Edge quickly, expect at least a little frustration with the learning curve.

Creating queries.

Raiser's Edge provides the ability to pull information on specific groups or segments of constituents using their query tool. However, organizations with smaller donor pools might find that this feature is difficult to understand and utilize. The tool's value becomes much more apparent as nonprofits grow.

Generating custom reports. While Raiser's Edge allows organizations to run reports on virtually any metrics within their database, users at small or young organizations will likely be less familiar with the process and scope of analytics reporting.The platform offers preset reports that are certainly helpful, but small organizations will need to take the time and learn more and adjust them as needed.
Raiser's Edge is an ideal fundraising and donor management platform for mid-sized organizations. That's not to say that smaller nonprofits can't find any value in it, but they are more likely to run into challenges along the way. This is especially true if they've never used a dedicated management system like Raiser's Edge before.
Blackbaud has a highly competent support team who can walk you through these issues if you do encounter them. Or look for a third-party support team that specializes in Blackbaud's suite of products. Not only can they walk you through the ins and outs of Raiser's Edge, they can ensure all your essential integrations are up and running properly.


3. Pro: Raiser's Edge is a highly customizable platform.
For organizations who like to get under the hood of their fundraising software and design a platform that's fully unique, Raiser's Edge may be a good fit.
With a multitude of configurable settings and customization options, Raiser's Edge is most useful when organizations take advantage of the ability to adapt the platform to their needs.
Let's look at just a sampling of what your team can configure:
Role-based views and permissions.
Donor profile settings, including addressees and salutations.
Business rules and defaults.
Tables.
Constituent categories.
Fields.
Integrations and links to other platforms.
And that's truly just a taste of what you can customize!
However, it's important to understand that Raiser's Edge configuration is not a task just anyone can try their hand at, particularly if they've never worked with a Blackbaud platform before.
To truly capitalize on the advantage of in-depth customization, your organization will need to work with an experienced professional. 
A web developer or nonprofit technology consultant with Blackbaud expertise can save you time, headaches, and potentially damaging mistakes. Plus, a nonprofit consultant can take the time to understand your fundraising strategy and then implement the customizations that are proven to put you on the path toward success.
When Raiser's Edge is already such an investment, you need to go the extra mile to make sure your configurations are in line with your goals and fundraising needs. A nonprofit technology consultant can be that missing link!


4. Con: Raiser's Edge is a long-term investment that requires additional strategy.
Comprehensive fundraising and donor management platforms like Raiser's Edge are major investments for nonprofits; when properly implemented and customized, this software can make a huge difference for their campaign results and donor retention as they collect and use data in smarter ways.
Without an initial gameplan, however, organizations of any size can easily be overwhelmed by all these capabilities. Those that are less experienced with platforms of this scale risk not making the most of their new investment, or worse, misusing it.
You'll most likely need to seek out some form of training and strategy support for your team as you get started with Raiser's Edge.
While there are plenty of online and in-person Raiser's Edge training resources offered by Blackbaud, researching all of your options can be a challenge. If you're new to Blackbaud products more generally, just determining what type of support you need can make the implementation process even more challenging.
This master list of Blackbaud training resources covers can help alleviate some of the time you spend on research, but it's more important that you take the time to gauge your needs before purchasing Raiser's Edge. Consider your organization's current software habits and your team's levels of experience with different types of systems.
Try to determine how much and what sorts of support you'll need and plan accordingly. For instance, for a first-time transition to a professional-grade database and management system, budget for nonprofit strategy consulting.
An expert guide can offer a personalized training plan with role-based paths, in-person coaching, and general counsel regarding using Raiser's Edge as part of your fundraising strategy.

5. Pro: Nonprofits can integrate matching gifts into their Raiser's Edge platform.
Saving the best perk for last, we can't forget that Raiser's Edge makes it possible to seamlessly incorporate the oh-so-important matching gift process right into your fundraising software!
You already know how vital matching gifts can be to your fundraising strategy. Raiser's Edge accounts for this by making it easy to store matching gift information within your database and use that intel to (literally) multiply your gifts. 
Within a Raiser's Edge donor profile, you have the ability to view corporate giving data in a dedicated Matching Gifts section. All the relevant information, such as the company, match amount, and date, will be visible in one central location to make it easy to keep track of your matched funds over time.
Let's look at a few ways you can take advantage of this pro:
Store donors' employer information. You'll have a hard time securing matching gifts if you don't have your supporters' employer data on file. You can request this information through event registration or donation forms, or simply reach out to donors to ask.
Create constituent profiles for employers. You should keep employers' data on file in separate constituent profiles. That way, you can centralize important data such as matching gift ratios, deadlines, and eligibility requirements. Having their contact information on file also makes it easier to send them their own communications and thank-you notes for each matched gift.
Integrate a matching gift tool into your donation process. If you're using Blackbaud NetCommunity as part of your Raiser's Edge system, don't forget to integrate Double the Donation's easy matching gift tool on your donation confirmation pages and acknowledgement emails! Read this simple integration guide to find out how.
And if you're a larger organization interested in implementing matching gifts into your fundraising strategy, see how 360MatchPro can help you take your efficiency to the next level through a Raiser's Edge integration!
---
Raiser's Edge is a powerful campaign management and donor database platform, and it's provided countless organizations with game-changing features and capabilities to support their growth. Ensuring that your organization is in a good position to adopt a new tool of this scale, however, is essential.
Carefully consider your size and level of experience, and weigh these elements against the huge potential benefits of implementing Raiser's Edge into your nonprofit's operations.
Learn more about fundraising software by checking out these additional resources: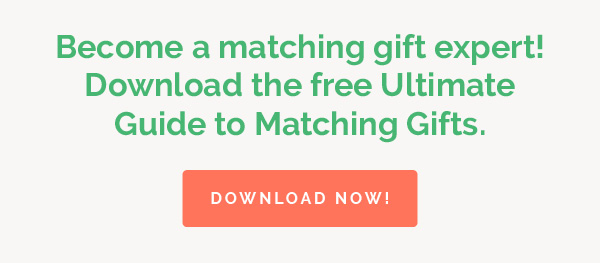 https://doublethedonation.com/wp-content/uploads/2022/06/raisers-edge-pros-cons-1.jpg
321
845
Adam Weinger
https://doublethedonation.com/wp-content/uploads/2022/03/logo-dtd.svg
Adam Weinger
2017-08-16 19:47:40
2022-06-20 07:54:46
Blackbaud Raiser's Edge | 5 Top Benefits and Drawbacks