EveryAction and Double the Donation Partner to Launch Advanced Matching Gift Integration
EveryAction and Double the Donation Partner to Launch Advanced Matching Gift Integration
Double the Donation is excited to announce a new integration with EveryAction, which is becoming Bonterra, a nonprofit CRM, donor management, and fundraising software, intended to help your organization do more good. This new partnership drives more revenue for nonprofit organizations through a seamless technical integration between EveryAction donation forms and 360MatchPro's automated gift matching platform.
"Corporate philanthropy programs are a big opportunity for maximizing gifts and our organization knew it was important to help fundraisers harness these funds," said Russ Jenkins, SVP of Fundraising & Engagement Products at Bonterra. "360MatchPro by Double the Donation is the logical integration choice for matching gift automation. We can't wait to see see organizations increase revenue with our combined feature."
This new integration will capture donors' matching gift eligibility as they give, then 360MatchPro's automated workflows connect donors with actionable matching gift next steps post transaction. Using this technology, nonprofits can simplify the matching gift process for their donors and drive more matches to completion, effectively doubling (or even tripling) revenue.
"Double the Donation is excited to launch this partnership and add valuable matching gift marketing and automation technology to the Bonterra platform," says Adam Weinger, President of Double the Donation. "Our mutual users can get set up with 360MatchPro's matching gift automation functionality and start raising more in minutes."
With the majority of donors unaware of their matching gift eligibility status, billions of dollars in available fundraising revenue go unclaimed each year. Matching gift automation like 360MatchPro can close this revenue gap and open the door to increased fundraising opportunities.

Activate in Seconds and Start Raising More from Matching Gifts!
EveryAction and 360MatchPro have a seamless integration that allows for a quick and simple set up process. Organizations with a 360MatchPro account can log into their EveryAction dashboard and select the Double the Donation integration from the Administrative Menu to connect the two platforms. Then, add the matching gift solution to your preferred donation forms and see the matching gifts roll in.

Once the integration is configured, 360MatchPro gets to work identifying match-eligible donors both during and after the donation process to ensure no matching gift opportunities slip through the cracks. With customizable follow up emails and tailored touchpoints, 360MatchPro connects donors to their matching gift next steps and drives more matches to completion.
With the EveryAction and 360MatchPro integration, your organization can focus on the things that matter most while automation takes care of matching gift outreach, follow-ups, and next steps. This streamlined solution makes it easy to save time and raise more.

Drive More Matching Gifts to Completion with 360MatchPro!
360MatchPro and EveryAction offer valuable matching gift features to help your organization double donations for your mission.
With the power of this solution, your organization can:
Identify more matching gift revenue opportunities: 360MatchPro enables you to automatically collect matching gift eligibility from donors using email domains, within donation forms, on confirmation screens, or by email. The more matching gift opportunities 360MatchPro discovers and shares with donors, the more matching gift requests your donors will successfully submit.
Drive more matches to completion, from form submission to corporate payment: Direct donors immediately to their matching gift forms after the donation process is complete. Then, provide the right information to the right donors at the right time with custom emails based on match eligibility. Targeted follow-ups drive more completed submissions than ever before, bringing exponentially more matching gift checks from companies through your door.
Reallocate your time from routine follow-up to your top opportunities: Your time is valuable, so why spend it chasing small dollar-value matching gifts? Let 360MatchPro automate your matching gift outreach while flagging your highest-value opportunities, allowing your team to personalize follow-ups to the most valuable match-eligible donations. Rest easy knowing that 360MatchPro can handle the rest.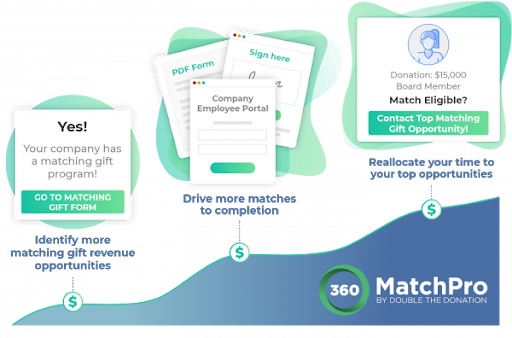 Ready to get started? Schedule a personalized demo today.
---
About EveryAction: EveryAction, along with CyberGrants, Network for Good, and Social Solutions, is becoming Bonterra. Bonterra enables and elevates the hardworking people at social good organizations by bringing together intuitive, powerful tools and technology.
About Double the Donation: Automate your matching gift fundraising with the industry-leading solution from Double the Donation. The 360MatchPro platform provides nonprofits with tools to identify match-eligible donors, drive matches to completion, and gain actionable insights. 360MatchPro integrates directly into donation forms, CRMs, social fundraising software, and other nonprofit technology solutions to capture employment information and follow up appropriately with donors about matching gifts. To learn more visit https://360matchpro.com/demo-request/
https://doublethedonation.com/wp-content/uploads/2023/04/Double-the-Donation-EveryAction-feature.png
290
775
Adam Weinger
https://doublethedonation.com/wp-content/uploads/2022/03/logo-dtd.svg
Adam Weinger
2023-04-18 10:00:27
2023-04-18 13:58:12
EveryAction and Double the Donation Partner to Launch Advanced Matching Gift Integration