ACD Direct Chooses Double the Donation for Matching Gifts Solution
Double the Donation, the leading provider of matching gift solutions for nonprofits, radio stations, and educational institutions, is proud to partner with ACD Direct. ACD Direct customers are now able to integrate matching gift functionality directly into their fundraising efforts. 
With this partnership, ACD Direct customers can incorporate matching gifts directly into their call scripts and online donation forms. The integration provides radio stations the tools to easily implement gift matching into their greater fundraising strategy and includes access to Double the Donation's extensive database of over 20,000 companies, subsidiaries, and spelling variations.
"ACD Direct continually searches for innovative solutions that will improve and maximize our clients' fundraising efforts," said Noah Rosales, CEO of ACD Direct, Inc.  "Through our partnership with Double the Donation, we can now offer our clients the opportunity to expand their fundraising strategies through matching gift optimization."
ACD Direct customers will be able to use 360MatchPro by Double the Donation to completely revolutionize their matching gift efforts. In the 360MatchPro portal, users can see which donations are known to be match-eligible, track the progress of matched donations, and automate outreach to all donors about matching gifts. 
The outreach automation is highly customizable so that every email is branded to match the organization. ACD Direct clients are also able to enter in customized text on the donation form, providing clearer guidance for donors as they move through the giving process. By automatically emailing every donor and providing a simple and clear breakdown of the donor's employer's matching gift program, 360MatchPro solves the problem of lack of donor awareness and makes it easier for organizations to collect matching gifts.
"Every year, $4-7 billion in matching gift revenue is left on the table each year," says Adam Weinger, President of Double the Donation. "We look forward to helping ACD Direct customers claim some of that revenue so their stations can focus on providing quality broadcasting to their communities."
Lack of donor awareness is the biggest hurdle to collecting matching gifts. 360MatchPro solves this problem by automatically emailing every donor and providing a simple and clear breakdown of the donor's employer's matching gift program. 
Thanks to the integration with 360MatchPro, ACD Direct customers will be able to effortlessly drive more matching gifts to completion and increase their overall annual revenue.

Activate in Seconds and Start Raising More from Matching Gifts!
Activate your 360MatchPro account in your ACD Direct platform in no time by entering your public API key. After configuring the search tool header text to your station's branding, you'll be ready to start matching gifts!
Donors can use the autocomplete search tool function to easily find their employer and identify if they are eligible for a matching gift right on the donation page! Stations can customize the text that follows that company selection with conditional messaging catered to the organization's needs. Once the donation is submitted, donors are greeted with actionable next steps to get their donation matched.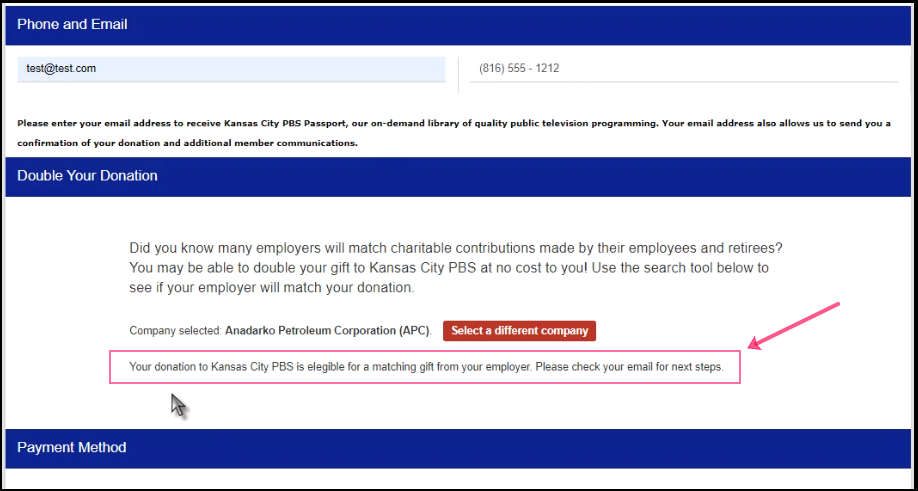 Through links embedded on the confirmation page and in follow-up email messaging, 360MatchPro creates a direct pipeline from donors to their matching gift request forms in order to drive more matches to completion. 
360MatchPro can also send customized, automated follow-up emails to match-eligible donors encouraging them to fill out and submit their gift matching form to their company.
These emails lead donors directly to their company's gift matching request form, minimizing the steps a donor has to go through to get their gift matched. It allows stations to keep their focus on essential programs and operations without having to worry about following up on their supporters' donations.
Looking to learn more? Check out our in-depth integration guide to get started!

Drive More Matching Gifts to Completion with 360MatchPro!
ACD Direct strives to create an environment of strong and positive connections between clients and their donors, and 360MatchPro contributes to that mission by adding corporate philanthropy to that network of connections. 
Identify more matching gift revenue opportunities:

360MatchPro enables you to automatically collect matching gift eligibility from donors using email domains, within donation forms, on confirmation screens, or by email. The more matching gift opportunities 360MatchPro discovers and shares with donors, the more matching gift requests your donors will successfully submit.

Drive more matches to completion, from form submission to corporate payment:

Direct donors immediately to their matching gift forms after the donation process is complete. Then, provide the right information to the right donors at the right time with custom emails based on match eligibility. Target follow-ups drive more completed submissions than ever before, bringing exponentially more matching gift checks from companies through your door.

Reallocate your time from routine follow-up to your top opportunities:

Your time is valuable, so why spend it chasing small dollar-value matching gifts? Let 360MatchPro automate your matching gift outreach while flagging your highest-value opportunities, allowing your team to personalize follow-ups to the most valuable match-eligible donations. Rest easy knowing that 360MatchPro can handle the rest.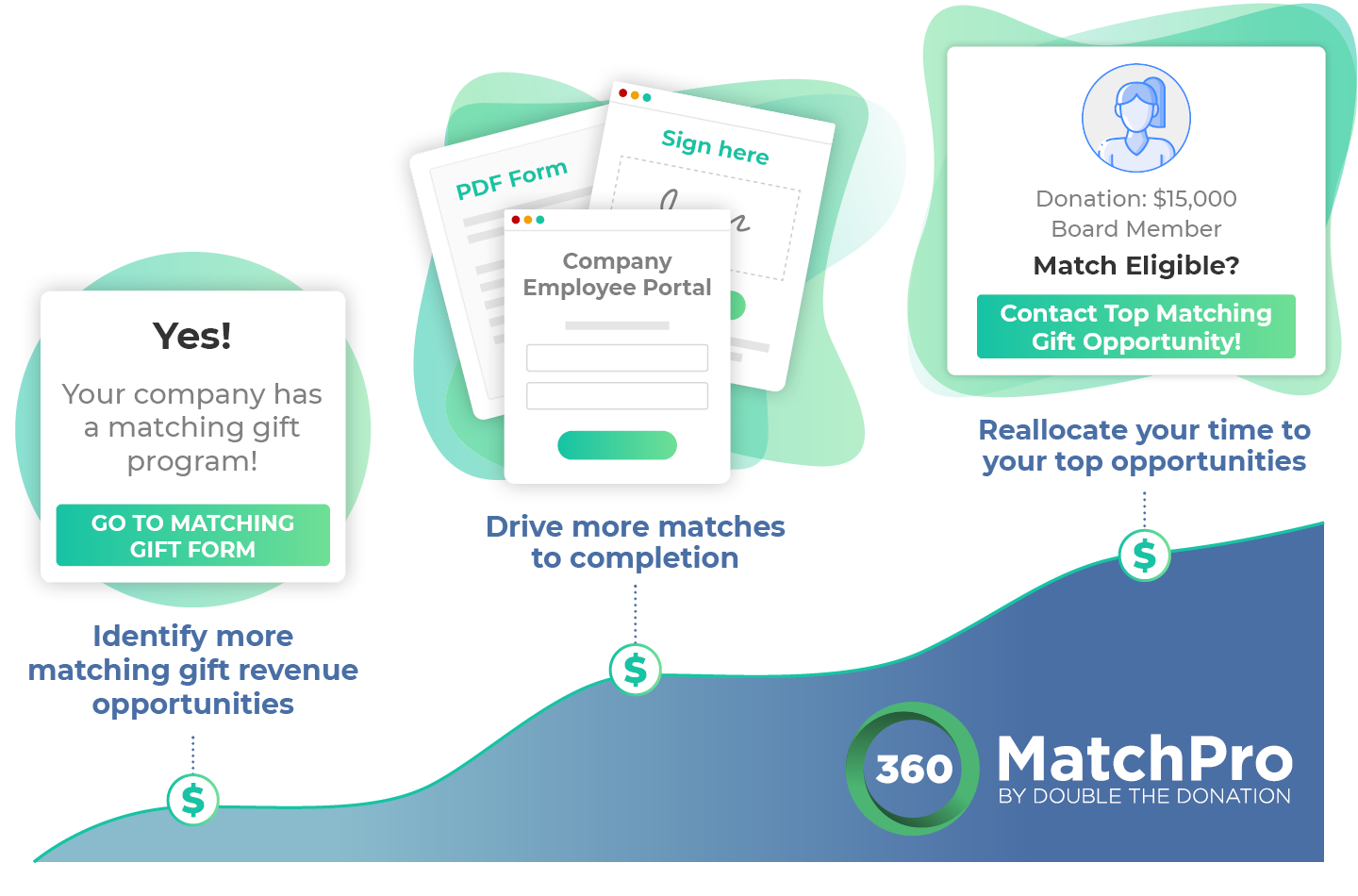 Interested in improving the giving experience for you and your donors? Request a demo today to get started.
---
About ACD Direct, Inc.: With over 15 years in the PBS/nonprofit industry, ACD continuously develops and delivers successful, proprietary, end-use products and solutions that align and support our clients' goals and integrates seamlessly into business processes, platforms and systems. ACD works alongside each client on their most complex and business-critical matters. For more information, contact us at biz@acddirect.com or visit www.acddirect.com. 
About Double the Donation:  Automate your matching gift fundraising with the industry-leading solution from Double the Donation. The 360MatchPro platform provides nonprofits with tools to identify match-eligible donors, drive matches to completion, and gain actionable insights. 360MatchPro integrates directly into donation forms, CRMs, social fundraising software, and other nonprofit technology solutions to capture employment information and follow up appropriately with donors about matching gifts. To learn more about Double the Donation, visit https://doublethedonation.com and request a demo at https://360matchpro.com/demo-request/.
https://doublethedonation.com/wp-content/uploads/2022/06/Double-The-Donation_ACDDirect-Feature-1.png
290
775
Adam Weinger
https://doublethedonation.com/wp-content/uploads/2022/03/logo-dtd.svg
Adam Weinger
2019-01-10 17:26:09
2022-06-20 07:55:31
ACD Direct Chooses Double the Donation for Matching Gifts Solution