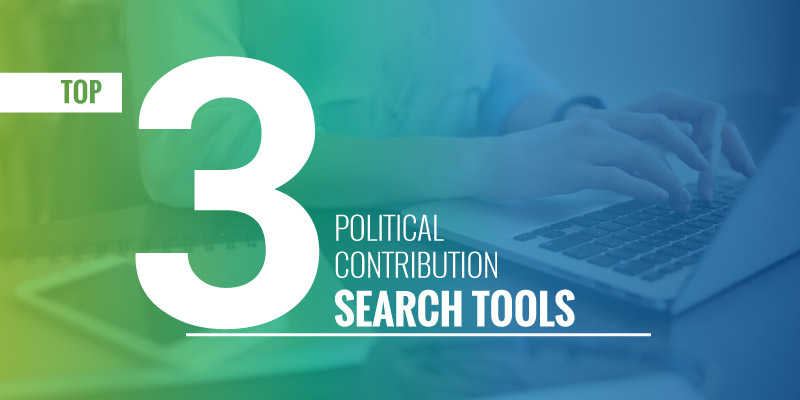 Top 3 Easy and Clever Political Contributions Search Tools
The Top 3 Political Contribution Search Tools
Political contribution history can be an extremely accurate indicator of giving potential, but the search tools to find them are often underutilized by prospect development professionals!
If it's been a while since your last major campaign, or if you're new to the topic, definitely check out our overview on the basics of prospect research.
Even if you're experienced with donor prospecting, you might be unsure about how political contributions are relevant to your organization's prospect development goals. Among all the metrics that you might use to guide your prospect development, this data can be the most useful mainly because it indicates demonstrated commitment and an interest in continual engagement with personally meaningful causes.
Political contributions search tools make a great addition to your other prospecting techniques, like a prospect generator tool. Having the full picture of your prospect as an individual is the key to an effective solicitation later.
Individuals who make political contributions of any size can become excellent prospects since they're clearly willing to stand by their beliefs and are motivated by a desire to see their support in action.
As a result, political contribution searches can be an extremely effective development strategy if your organization is deeply cause-based or pursuing major or ambitious campaign goals. If this describes your organization in any way, definitely consider these top 3 political contribution search tools:
Read on to discover how these tools work and why they'll help your organization to focus its prospect development strategies like never before!


1. DonorSearch
How Does This Political Contribution Search Tool Work?
Let's say you're developing a prospect strategy for an organization that works to empower young women who study law and political science. You've very generally identified one prospect, a guy named Bill Gates, so you do a quick search on DonorSearch's political contribution search tool:
Does anything stand out? Gates's major contribution to support women candidates for Senate is an excellent indicator that he'd also be willing to support your cause.
In this case, Gates would be a prospect with proven potential. Now imagine extending this idea to your entire prospect development strategy. With access to detailed political contribution data, you could more sharply focus your prospect development strategies, saving your organization time and resources in the process.
DonorSearch is a leader in prospect development resources because its databases and search tools are among the most exhaustive and accurate on the market. 
By giving you the biggest picture possible of your own data and theirs, including invaluable political contribution information, you can make faster and smarter donor prospecting decisions for your organization.
Why Do We Recommend This Search Tool?
Unlike other prospect screening services that focus solely on wealth markers and statistics, DonorSearch's suite of prospecting solutions will give you much a more comprehensive of who your prospect is as an individual.
With access to political contribution data, full philanthropic giving information, and professional histories, you'll be able to fully integrate your existing database with DonorSearch software and augment your existing prospect profiles. It's easy to generate longer prospect lists and identify potential major donors in your existing database by screening it with DonorSearch.
After all, identifying commonalities and trends between your donors and prospects is the first step to growth, especially when you have access to political contribution data.
Do you have any prospects that you've tried to approach unsuccessfully for years? Maybe their political contribution histories or other data will give you the breakthrough insight about how to individualize that strategy!

2. FEC.gov
How Does This Political Contribution Search Tool Work?
The United States Federal Election Commission provides a very handy search tool for its database of political contributions made by individuals: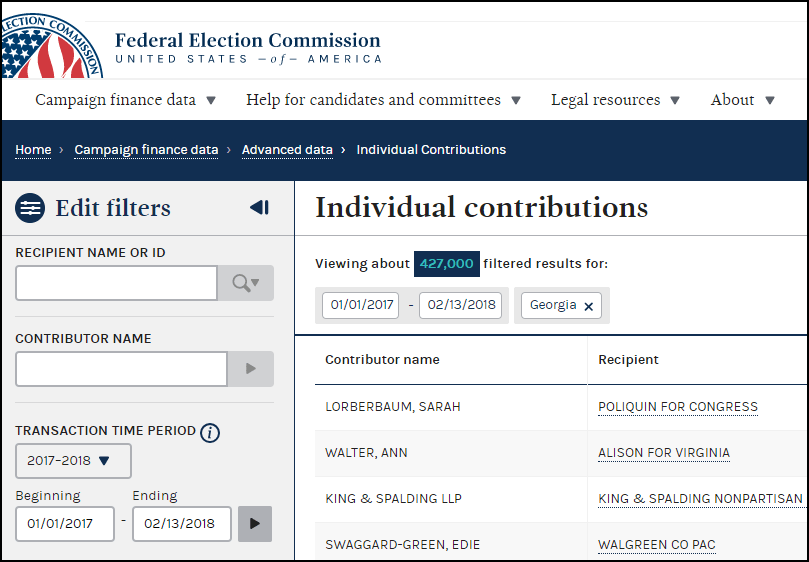 In this federal database you can filter your searches with a number of fields, allowing your organization to identify individual potential prospects by location, employer, and contribution date and amount.
For instance, if you're trying to identify potential donors for a hospital capital campaign, filtering the database by state and quickly browsing might yield you these results:

Immediately you find four individuals in your state who have supported a cardiology political action committee, one of whom donated $1,000. The database will provide you with the donor's name and location, then by cross referencing your other prospect development resources you can find more detailed contact information and begin your appeal.
Why Do We Recommend This Search Tool?
The FEC search tool can be an extremely useful resource for your nonprofit's prospect development strategies.
Refining your searches lets you easily find individuals with a proven commitment to financially supporting their beliefs and values. For the right organization this information can be invaluable.
Best of all, as a federal database, this tool is completely free to use. It can provide an excellent starting point for your donor prospecting, saving you time and effort in the early stages of identifying prospects.

3. Local Political Contribution Search Resources
How Do These Political Contribution Search Tools Work?
Do a little online research to see which political contribution resources might exist to report specifically on contribution data in your local area.
Here's an example from The Virginia Public Access Project: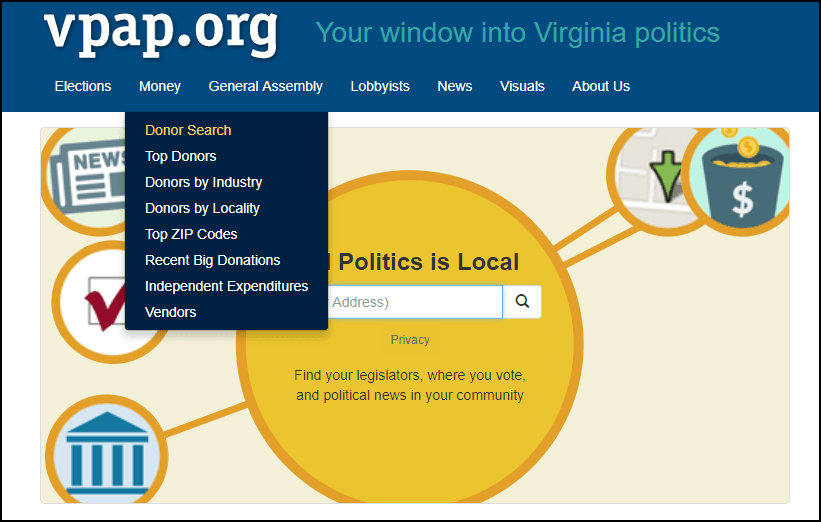 This Virginia political contributions database is a great example of the general features you'll find in similar resources. You can search donors by name, city, and zip code. 
Let's say your organization is based in Newport News, Virginia. A quick search reveals the largest donors in the city, both individuals and other organizations, like the local shipbuilding consortium: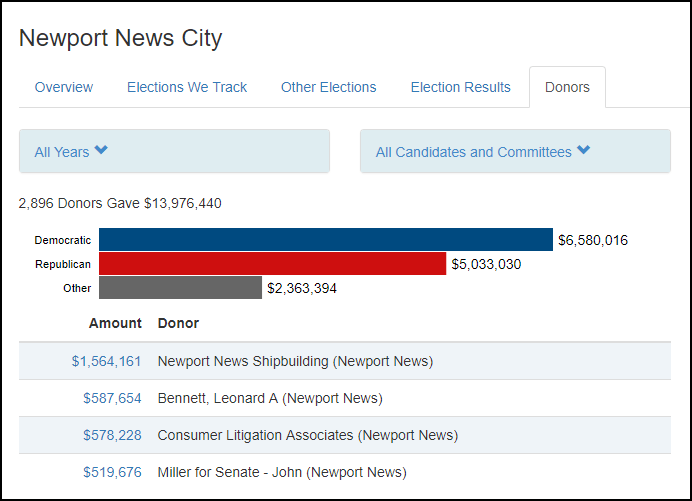 This search allows you to easily identify those in your area who regularly donate to political causes and candidates, indicating a proven commitment to financially supporting those whose work they believe in.
Why Do We Recommend These Search Tools?
If you already know that you need to target mainly local prospects, these niche political contribution databases should be your first step in the donor prospecting process since they let you completely focus your efforts.
With the ability to quickly identify and target political donors specific to their local areas, nonprofits stand a better chance of successfully converting prospects into major donors. Maybe you're unaware of an individual or company a few blocks away that regularly donates to all kinds of causes!
The shared connection of community can be a powerful incentive to support nonprofit work, so understanding your local prospect environment is extremely important before expanding your scope.
Bonus Tip:
Political Contributions and Corporate Philanthropy
Political donations and corporate giving can be excellent links between one another!
Political contributions search tools, and especially exhaustive databases and tools like DonorSearch, will uncover the professional affiliations of prospects for your capital campaign or major fundraising project.
With this information, nonprofits can then reach out to businesses that employ major prospects, and together they can discuss elements of corporate giving, like:
In-kind donations or other major gifts
Official corporate sponsorships
Always remember to apply your strategies for individual prospect development to corporations, since corporations with demonstrated histories of supporting political issues are much more likely to invest in similar nonprofit causes.
---
If you're beginning work on prospect development for your organization's future fundraising projects, make sure political contributions are a core component of your prospect research strategy.
This metric is extremely valuable as an indicator of giving potential, yet it is often underutilized by nonprofits looking to build their prospect lists!
Rely on these political contribution search tools, and your organization will never miss out on strong prospects in your community and around the country.
Check out some additional resources on prospect development and political giving that you might find useful:

https://doublethedonation.com/wp-content/uploads/2022/06/top-3-political-contribution-search-tools-hero.jpg
400
800
Adam Weinger
https://doublethedonation.com/wp-content/uploads/2022/03/logo-dtd.svg
Adam Weinger
2018-01-16 13:57:53
2023-09-12 16:55:14
Top 3 Easy and Clever Political Contributions Search Tools