Microsoft Ad Grants: A Q&A Guide for Nonprofit Marketers
The Microsoft Ad Grant is a program that's quickly emerging as a powerful way to amplify charitable causes. With a monthly allocation of $3,000, participating nonprofits can create well-written ads and bid on keywords that will connect them with new supporters.
Similar to the Google Ad Grant in many ways, this program enables nonprofits to strengthen their digital presence and drive greater results for their work. The grant amount may be smaller than Google's sizeable $10,000 monthly grant, but Microsoft's search engines provide access to new audiences with less competition for bottom-of-the-sales-funnel keywords, making it just as valuable.
This program is fairly new, meaning there are still a lot of questions surrounding how to leverage its features to maximize ad performance. Microsoft has paused on accepting new applications, but it's still worthwhile to be prepared as soon as it's up and running again.
Based on what's already been released about the program and what we know about the Google Ad Grant, we're here to help you perfect your Microsoft Ad Grant management strategies! In this guide, we'll answer the following questions:
At Double the Donation, we help nonprofits amplify their funding through matching gifts. We've seen the tremendous impact that corporate giving programs have on nonprofits, which is why we're excited to teach you about Microsoft's latest charitable initiative.
While incredibly valuable, getting started with the Ads for Social Impact program and managing your campaigns takes quite a bit of work. We recommend learning all you can about the program, but we also suggest working with a dedicated professional to handle your account maintenance for you. As our recommended Microsoft Grant management agency, Getting Attention can take the guesswork out of managing your campaigns, so you can focus more on your mission.
What Is the Microsoft Ad Grant?
Microsoft Advertising offers approved nonprofits a $3,000 monthly grant that can be used to promote their web content across its digital search network. Ads are displayed across Microsoft's search engines, including Bing, Yahoo, AOL, outlook.com, MSN, and Microsoft Edge.
Nonprofits can use this funding to bid on keywords that their prospects are searching online. They'll pick a landing page that matches the searcher's intent for the selected keywords, such as a donation page or matching gifts page. Then, they'll write ad copy that encourages users to click the linked page and get involved.
Here's an example of the World Wildlife Fund promoting its content through the Microsoft Advertising platform: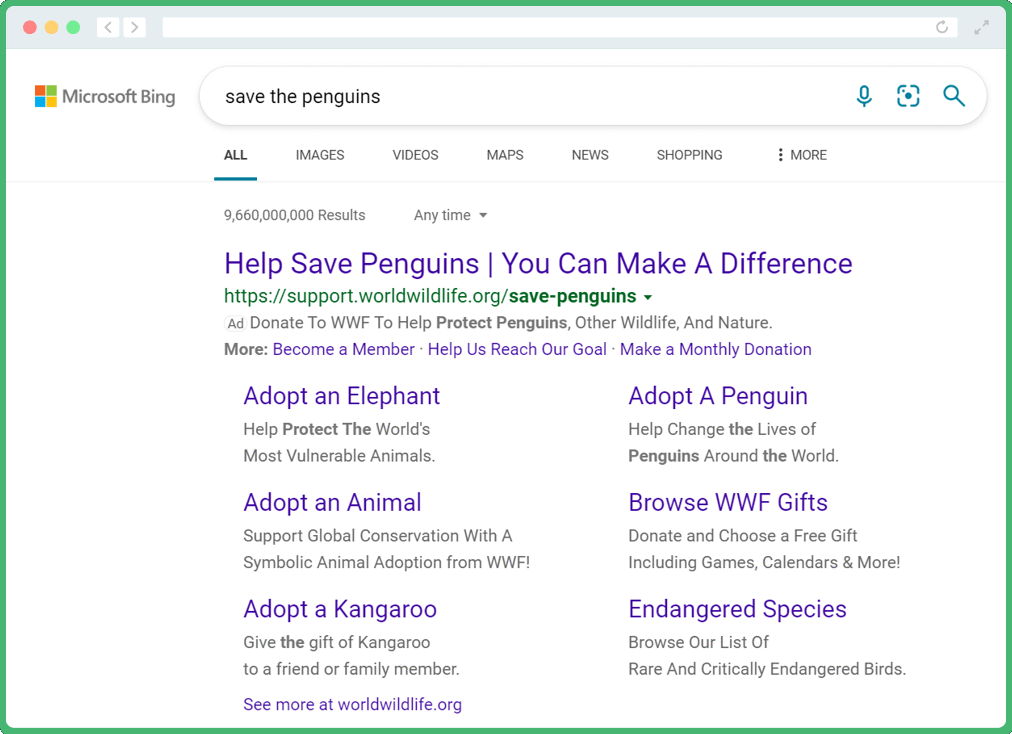 Advertisers can also build out your ads with additional features, such as ad extensions that link to additional pages. Note that the grant will only apply if your account is in Expert Mode. For now, the program is also currently only available to nonprofits located in the United States. Microsoft has also stopped accepting applications as the work on improving the program and platform to support onboarding more nonprofits.



What's the Difference Between Microsoft Grants and Google Grants?
If your nonprofit already participates in the Google Ad Grants program, many aspects of the Microsoft Ad Grant probably sound familiar to you. However, there are some key differences that advertisers have already noticed.
Let's walk through a few of these dissimilarities, so you can determine how your Microsoft Grant management strategy will differ from Google Grants.
Difference #1) How Ads Are Displayed
Both platforms display ads at the top of the search results for specific terms. However, the designs of the ads vary slightly.
Google displays ads prominently by featuring 'Ad' in bold text at the top of the listing. Microsoft makes it less apparent that particular results are ads.
While it looks slightly different across Microsoft's search engines, they primarily include it in standard, non-bold text within the meta description. Marketers speculate that this results in a better user experience, considering that it looks more like organic results.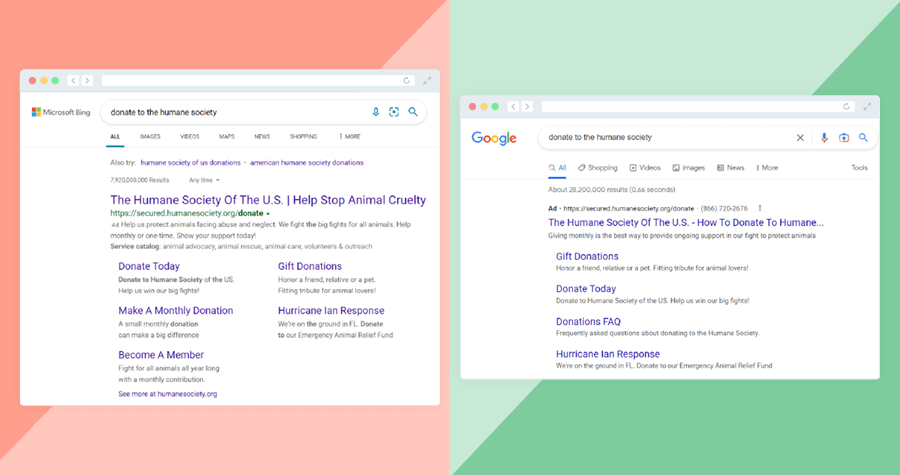 Difference #2) Reach
Google is marked as the world's most popular search engine, accounting for 61.4% of search queries in the United States, according to Statista. Microsoft's search engines account for 26.8% of search queries.
While Google clearly connects you with the most individuals possible, Microsoft still makes up a notable portion of users who you might not otherwise reach without creating content for their platforms.
In fact, 653 million unique PC users rely on Microsoft's search engines, reaching 49 million users who don't use Google.
Leveraging the Microsoft Ad Grant will empower you to tap into the extensive Microsoft Search Network audience.
While you might interpret a lower number of users as a drawback, there's actually an advantage that Microsoft has over Google in this regard.
Competition on Microsoft's advertising platform is much lower since advertisers aren't pursuing it as heavily as Google's platform due to the difference in the number of users. In turn, the cost of reaching people is much lower for Microsoft's program.
Difference #3) Audience Demographics
Considering that you'll be reaching a different subset of web users, that naturally means your audience for Microsoft Advertising will have different characteristics.
Microsoft pulled user demographics and found that their U.S.-based users tend to be:
Educated. 48% have a college degree.
Family-oriented. 50% are married, and 60% have children living at home.
Wealthier. 41% have a household income in the top 25%.
More likely to spend money. The Microsoft Search Network audience spends 32% more online than the average user.
Knowing these details can help you craft ads that are tailored to different audiences across Google and Microsoft's advertising platforms.
Difference #4) Ad Scheduling
Across both platforms, advertisers can target their ads and make bid adjustments with ad scheduling. They can choose the day of the week and the time of day that they want their ads to be shown. They can also schedule certain times to make bid adjustments.
However, there's one key difference in scheduling. When you adjust your Google Ads schedule, Google will remind you what time zone your account is in. That's because any adjustments in your ad schedule are based on your time zone rather than users'.
So, if you set your ad campaign to run from 8 a.m. to 5 p.m. Pacific Time, users on Eastern Time would see the ads from 11 a.m. to 8 p.m. There is a workaround, though. You'll need to create separate campaigns and adjust each campaign's schedules to account for different time zones.
For Microsoft Advertising, ad scheduling is a bit simpler. Scheduling is based on the user's location. In other words, you'd only need to create one campaign to target every user during specific hours.
Difference #5) Targeting Capabilities
While Google has several targeting capabilities, Microsoft has even more robust options. You'll notice that a lot of the targeting capabilities are the same, such as geotargeting and remarketing. However, Microsoft's options go more in-depth.
For one, the primary difference is that you can set targeting at the Ad Group level with the Microsoft Ad Grant, whereas Google requires you to do it at the campaign level.
What's more, you can use LinkedIn profile information with Microsoft to inform you who your audience is to better target qualified users.
Also, Microsoft enables advertisers to target specific audiences based on device type and OS, simplifying device targeting. With this, they also provide the option not to display campaign ads on desktops. This feature isn't available on Google, giving Microsoft Advertising a leg up.
Difference #6) Restrictions
While both programs have restrictions, Google is slightly stricter than Microsoft. Both have initial eligibility requirements, but Google's ongoing compliance requirements cause the program to vary from Microsoft's Ads for Social Impact quite a bit.
Here are some of the differences in limitations between the two platforms:
Impressions. Google Ads limits your impression share to 10%, meaning fewer people will see your ads. With Microsoft, there are no limitations on impressions since you're creating ads on a paid account.
Ongoing requirements. Google requires nonprofit advertisers to meet a series of ongoing requirements, such as maintaining a 5% click-through rate each month and not using one-word or overly generic keywords. At the moment, Microsoft only requires Microsoft Ad Grant advertisers to occasionally attest to their donor rules to maintain eligibility.
Overall, the Microsoft Ad Grant currently comes with fewer restrictions, making it more accessible to nonprofits.
What Are the Eligibility Criteria for Microsoft Ad Grants?
Like the Google Ad Grant program, Microsoft implements eligibility criteria to ensure that only organizations that will benefit from the program can participate. The idea behind this is that it will result in higher quality ads, promote reputable organizations, and reflect well on the program.
Microsoft breaks down these criteria into three categories.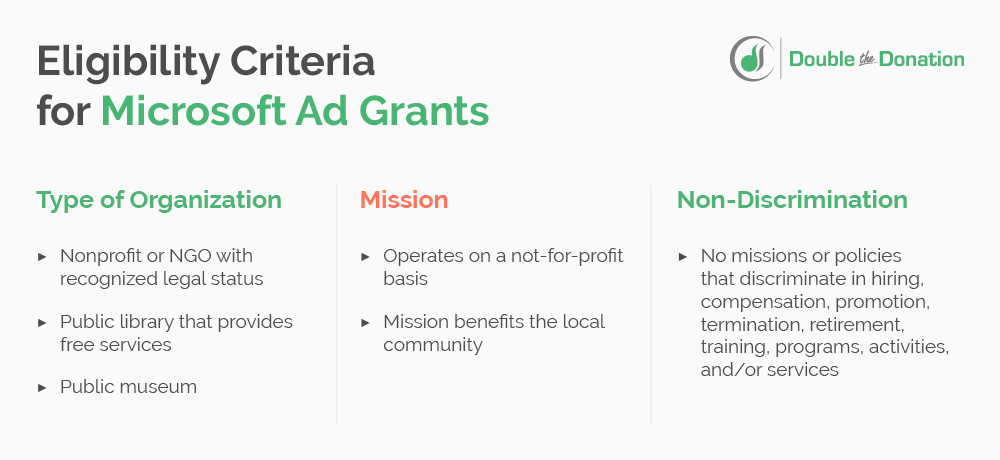 1. Type of Organization
Only specific types of organizations can participate in the Microsoft Ad Grant program. Organizations must be a:
Nonprofit or non-governmental organization with recognized legal status
Public library that provides services without charge to all residents in a given area
Museum that's open to the public and conserves tangible objects for purposes of cultural preservation, education, or aesthetic enjoyment
If your organization doesn't meet these requirements, it will automatically be rejected from the program when applying.
2. Mission
Eligible organizations must operate on a not-for-profit basis, and their mission should benefit the local community.
Examples include improving social welfare, providing relief to the needy, preserving the environment, and establishing a civil society.
3. Non-Discrimination
When it comes to corporate giving, businesses recognize that any participating organizations should share their values. In Microsoft's case, they're committed to providing an inclusive environment that's free from discrimination. That's why they also require participating nonprofits to not discriminate in their mission or policies.
Nonprofits can't discriminate in:
Hiring
Compensation
Retirement
Training
Programs
Activities
Services
Any organization that has a mission or engages in discriminatory acts in any of the areas listed above will be rejected from the program.
Examples of Ineligible Organizations
If you're still questioning your eligibility for the Microsoft Ad Grant, let's walk through examples of ineligible organizations.
Ineligible organizations may include but are not limited to:
Nonprofits that have not obtained legal status in their respective country (e.g. U.S.-based organizations must be registered as 501(c)(3)s with the IRS).
Professional, commerce, and trade associations
Schools, colleges, and universities. However, philanthropic arms of educational institutions are still eligible.
Healthcare organizations, including hospitals, healthcare networks, outpatient healthcare organizations, and more.
Political, labor, and fraternal organizations
Note that the person completing registration on behalf of the nonprofit must be an employee or a strategic volunteer. Otherwise, the application will be rejected.



Why Should You Apply for Microsoft Ad Grants?
With the clear impact that the program can have on your mission, applying for the Microsoft Ad Grant once they start accepting applications again should be a no-brainer. If you're still on the fence about applying, here are just a few of the advantages that participating will give you:
Increase visibility for your most important landing pages. Place your web pages at the top of search results pages for valuable, mission-centric keywords.
Connect with new supporters. Existing and prospective supporters are already searching for terms related to your cause online. Meet them where they are by bidding on the right keywords and creating ads that inspire them to get involved.
Deal with lower competition. Since nonprofits operate on a paid account, ads paid for using the Microsoft Ad Grant are treated as traditional paid ads. That way, their ads won't be automatically placed lower than others.
Chances are, your nonprofit doesn't want to miss out on free funding. If your organization already has a website, the Microsoft Ad Grant can be a fantastic way to launch your marketing efforts forward and strengthen your digital presence.



Is It Free To Use the Microsoft Ad Grant?
Yes, any organization that's eligible to participate will receive the Microsoft Ad Grant free of charge. However, note that the grant will be attached to a paid account, which requires a credit card to be attached.
You'll also want to consider the time spent on applying for the grant, setting up your campaigns, and monitoring results. You might rely on an in-house staff member to do this, which means you might factor part of their salary into the maintenance costs. Alternatively, you might outsource the work to a third-party agency, which would incur fees.



How Do You Apply for the Microsoft Ad Grant?
Applying for the Microsoft Ad Grant is a straightforward process. Once you've confirmed your eligibility, you can breeze through the process and get your first campaign set up.
Let's walk through the 3-step process that your nonprofit will need to follow once Microsoft starts accepting applications again. And remember, Microsoft only allows staff members and strategic volunteers to complete this process on behalf of a nonprofit. However, a third-party agency may be able to guide you through applying.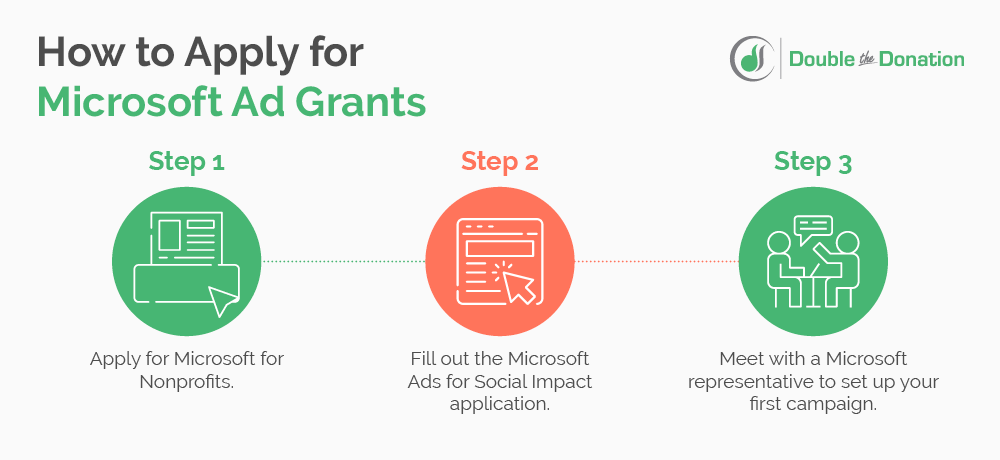 1. Apply for Microsoft for Nonprofits.
Beyond Ad Grants, Microsoft provides nonprofits with grants and discounts for a variety of their tools and services, like Microsoft 365, Office 365, and Dynamics 365. Applying to their general nonprofit program is a prerequisite for the Microsoft Ad Grant program.
At this stage, you'll need to do the following to register for Microsoft for Nonprofits:
Share information about your role and your nonprofit
Agree to Microsoft's nonprofit discount and donation policies
Share your contact details
The first part of the application should only take about 10 minutes to complete. Then, Microsoft For Nonprofits will reach out via email within 7 business days.
Microsoft partners with TechSoup to validate nonprofits' information, so be aware that they may share your registration data with TechSoup who may contact you for more details.
2. Fill out the Microsoft Ad Grants application.
Upon acceptance into the program, you can access the Ad Grants application within the Microsoft Nonprofit Hub. At this point, you'll simply need to provide some additional information about your organization and role, such as:
The URL for your nonprofit's website
The number of employees at your organization
Your nonprofit's phone number
Microsoft will send an email confirming whether you've been accepted within 10 business days. Be aware that this timeline can be impacted if they request additional information or documentation from your nonprofit.
3. Meet with a Microsoft representative to set up your first campaign.
Microsoft wants to set participating organizations up for success, especially since this is a new program. Before you start creating your own campaigns, they require you to meet with one of their representatives.
During your meeting, they'll work with you to set up your first campaign to make sure your account, ads, and keywords are structured correctly.
From here, you're free to start creating your own ad campaigns, using that initial one to guide your efforts.



How Can I Make the Most of the Microsoft Ad Grant?
While it's still a fairly new program, there are already some tips we can draw from the resources Microsoft has shared and from what we already know about the Google Ad Grant program.
Creating a Microsoft Grant management strategy before applying will help determine whether the program will be a worthwhile investment for your cause. Let's jump into a few core tips to guide your strategy.
Consider what goals you want to achieve.
Leveraging the Microsoft Ad Grant allows you to pursue a range of goals. Before setting up your campaigns, determine the end goal you want to achieve with each ad campaign.
For instance, many nonprofits leverage the Microsoft Ad Grant to:
Increase fundraising efforts by promoting donation and sponsorship pages.
Boost corporate giving participation by raising awareness for matching gifts and volunteer grants.
Boost volunteer registrations by sharing volunteer opportunities.
Grow event attendance by promoting conferences, webinars, and other events.
Educate the public about your cause by promoting educational content and services pages.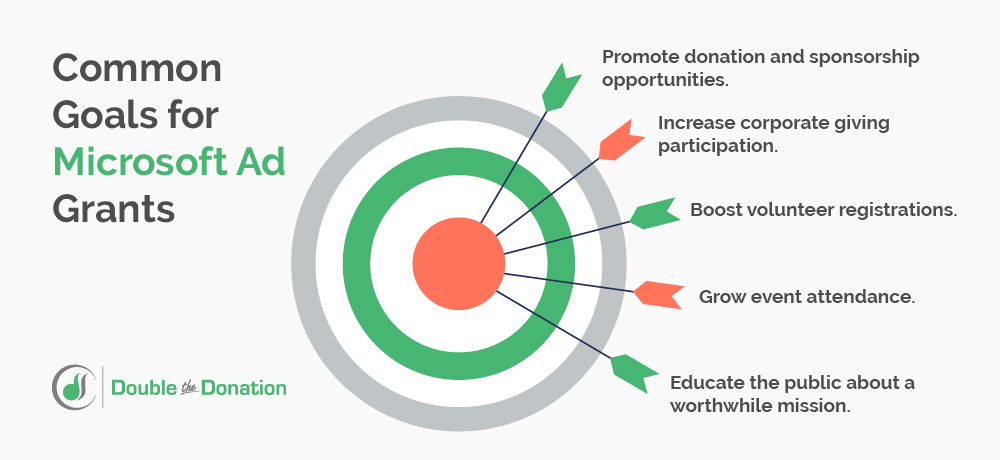 Determining your objectives upfront means you can choose the right landing pages for your ads and effectively guide your users to take actions that are meaningful to your organization. Otherwise, you might experience fewer conversions.
Vary your Microsoft Ad Grant Strategy from your Google Grants strategy.
While similar in many respects to Google Ad Grants, the Microsoft Ad Grant program varies a good bit. That means you shouldn't treat Microsoft's program the same as Google's.
Don't simply replicate the same ads across both platforms. For instance, you'll want to:
Use more bottom-of-the-sales-funnel keywords for Microsoft. Microsoft Advertising has a higher impression share and cheaper costs-per-click (CPCs), making it more affordable to bid on these terms. Plus, competition is lower, so you're more likely to rank for these search terms.
Vary your ads to target different audiences on the two platforms. Remember, Microsoft users tend to be educated, wealthier, and more likely to spend money online. Google's audience is younger and more tech-savvy. Make sure the tone of your ads speaks to these different groups.
Pay attention to the results on each advertising platform. Determine what inspires users on each platform to convert. Then, make adjustments to make the most out of each program.
In any case, you'll want to leverage both programs if you're able to. After all, that totals to $13,000 in free marketing money each month for your cause!
If participating in both programs is out of reach for your team, turn to a grant manager to help. They can take the guesswork out of your advertising and make sure you're set up for success across both platforms.



How Can a Microsoft Ad Grants Manager Help?
While an incredibly powerful digital marketing resource, Microsoft Ad Grants can take a lot to manage effectively. Between applying for the program and monitoring ad performance, you'll need to set aside extra time and resources each month to manage your account.
To harness the grant's full potential, consider turning to a professional agency. A professional can tackle every aspect of the Microsoft Grants management process through services like:
Eligibility verification: A professional will understand the Microsoft Ad Grant eligibility requirements through and through and will be able to confirm whether you're eligible for the program. Note that Microsoft requires an employee or strategic volunteer to apply on behalf of your organization, though.
Ad creation: A Microsoft Grant manager will help you develop ads that drive users to get involved in your cause. Between picking your landing pages and writing ad copy, they'll make sure you stand out on search engines.
Keyword research: Professionals can research keywords related to your mission and pick the ones that are most likely to connect you with prospects who are ready to give, volunteer, or whatever you're aiming to accomplish through Microsoft Ads.
Landing page optimizations: Your landing pages are a major part of your ads. The right agency will help you improve the landing pages associated with your ads, so you can drive more users to give, participate in your programs, or take another meaningful action.
Ongoing campaign management: An agency will monitor your campaign performance and make adjustments as needed. That way, you can be confident that you're targeting the best keywords with the best possible ads and landing pages.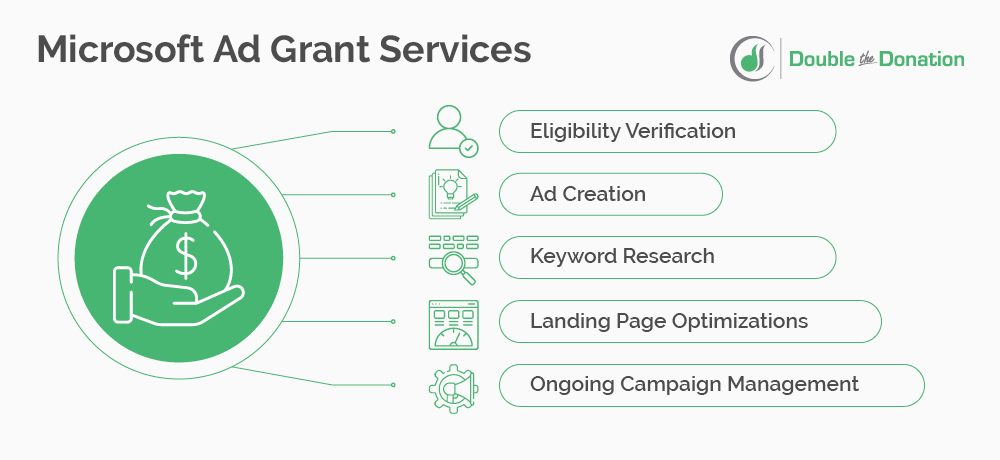 Instead of spending your time learning the intricacies of the program, we recommend turning to a trusted professional that offers the exact services you need. That way, you can focus on pursuing your mission and trust that your search engine marketing needs are taken care of!
As our recommended agency, Getting Attention understands what it takes to make its nonprofit partners stand out on search engines. Backed by their team, you can harness the power of Microsoft Ad Grants and Google Ad Grants simultaneously.

Additional Resources
If you're looking to venture into the world of search engine marketing, the Microsoft Ad Grant is the ultimate addition to your nonprofit's digital marketing strategy. Considering that it's a fairly new program, you can get a jump start on the program and start showing up for mission-related keywords that drive traffic to your site.
With a thought-out management strategy, you'll be well-equipped to drive real value for your cause. Start enhancing your volunteer recruitment efforts, raise more awareness for corporate giving, or accomplish whatever your nonprofit wants with the Microsoft Ad Grant!
Remember, a professional agency will help you make the most of the program and make sure you represent your organization in the best way possible online.
In the meantime, continue learning about Microsoft Grants and other strategies that will enrich your digital marketing plans with these educational resources:

https://doublethedonation.com/wp-content/uploads/2022/10/Microsoft-Ad-Grants_Feature.jpg
380
1000
Adam Weinger
https://doublethedonation.com/wp-content/uploads/2022/03/logo-dtd.svg
Adam Weinger
2022-10-20 19:59:35
2023-02-16 19:11:02
Microsoft Ad Grants: A Q&A Guide for Nonprofit Marketers