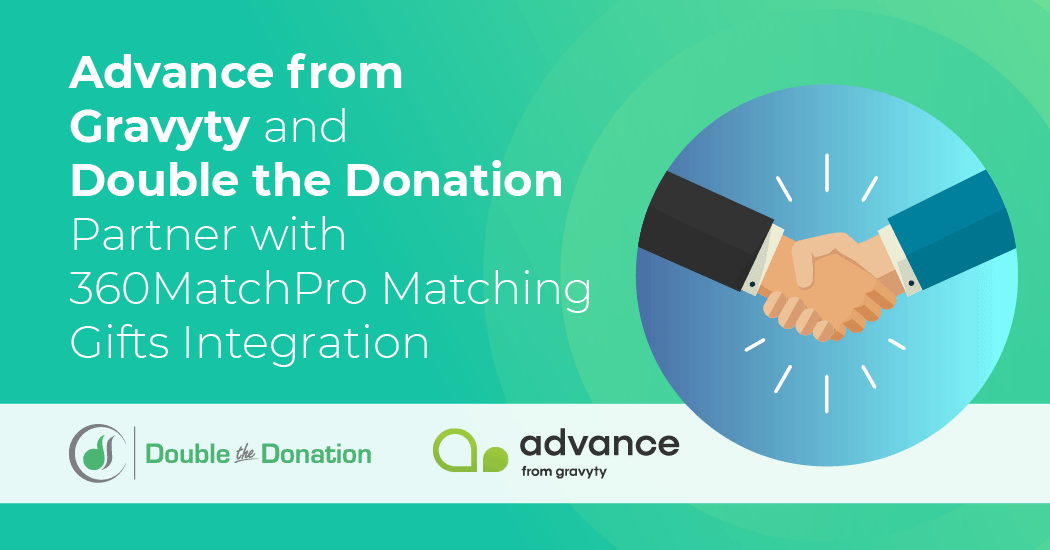 Advance from Gravyty and Double the Donation Partner with 360MatchPro Matching Gifts Integration
Advance from Gravyty and Double the Donation are proud to announce their new partnership together, servicing higher education institutions as they aim to raise more in revenue from corporate matching gifts. 
"Advance from Gravyty focuses on helping educational institutions of all sizes and nonprofit organizations accept donations from their supporters with powerful technology and seamless, customized experiences," said Sevonne Eliyahu, President of Gravyty. "It was a natural next step for us to empower our partners with the ability to fundraise with 360MatchPro's powerful and easy-to-use matching gift tools."
The new integration, which places 360MatchPro's autocomplete search tool and matching gift plugin on Advance from Gravyty digital giving forms, empowers donors to discover their match eligibility and take their next steps toward matching gift success by guiding them through the process. 
"Double the Donation is dedicated to helping close the awareness gap that surrounds matching gift knowledge," said Adam Weinger, President at Double the Donation. "Our partnership aims to educate donors while they give, resulting in a better experience and increased revenue for our mutual clients."

Activate in Seconds and Start Raising More from Matching Gifts!
Activating the Advance and 360MatchPro integration is quick and easy. All a client will have to do is reach out to their Gravyty Client Success team to activate their integration using their 360MatchPro API keys, and the connection will be established with no effort on the school's side. 
Once this is complete, schools and universities can now share matching gift and corporate giving details with their donors and supporters directly from the giving process by helping them discover their match eligibility on the donation page and take their next steps from a prompt on the confirmation page.

360MatchPro will also kick off matching gift follow ups to donors to ensure the highest conversion rate for matching gifts submissions as possible. These automated messages are sent at an optimal time set by the university or school to fit into their greater outreach strategy.

Drive More Matching Gifts to Completion with 360MatchPro!
Advance from Gravyty and 360MatchPro by Double the Donation integrate to give schools and universities a seamless matching gifts experience to increase donations through additional corporate participation. The possibilities are endless when these two platforms are connected–check out some extra benefits below!
Identify more matching gift revenue opportunities:

360MatchPro enables you to automatically collect matching gift eligibility from donors using email domains, within donation forms, on confirmation screens, or by email. The more matching gift opportunities 360MatchPro discovers and shares with donors, the more matching gift requests your donors will successfully submit.

Drive more matches to completion from form submission to corporate payment:

Direct donors immediately to their matching gift forms after the donation process is complete. Then, provide the right information to the right donors at the right time with custom emails based on match eligibility. Target follow-ups drive more completed submissions than ever before, bringing exponentially more matching gift checks from companies through your door.

Reallocate your time from routine follow-up to your top opportunities:

Your time is valuable, so why spend it chasing small dollar-value matching gifts? Let 360MatchPro automate your matching gift outreach while flagging your highest-value opportunities, allowing your team to personalize follow-ups to the most valuable match-eligible donations. Rest easy knowing that 360MatchPro can handle the rest.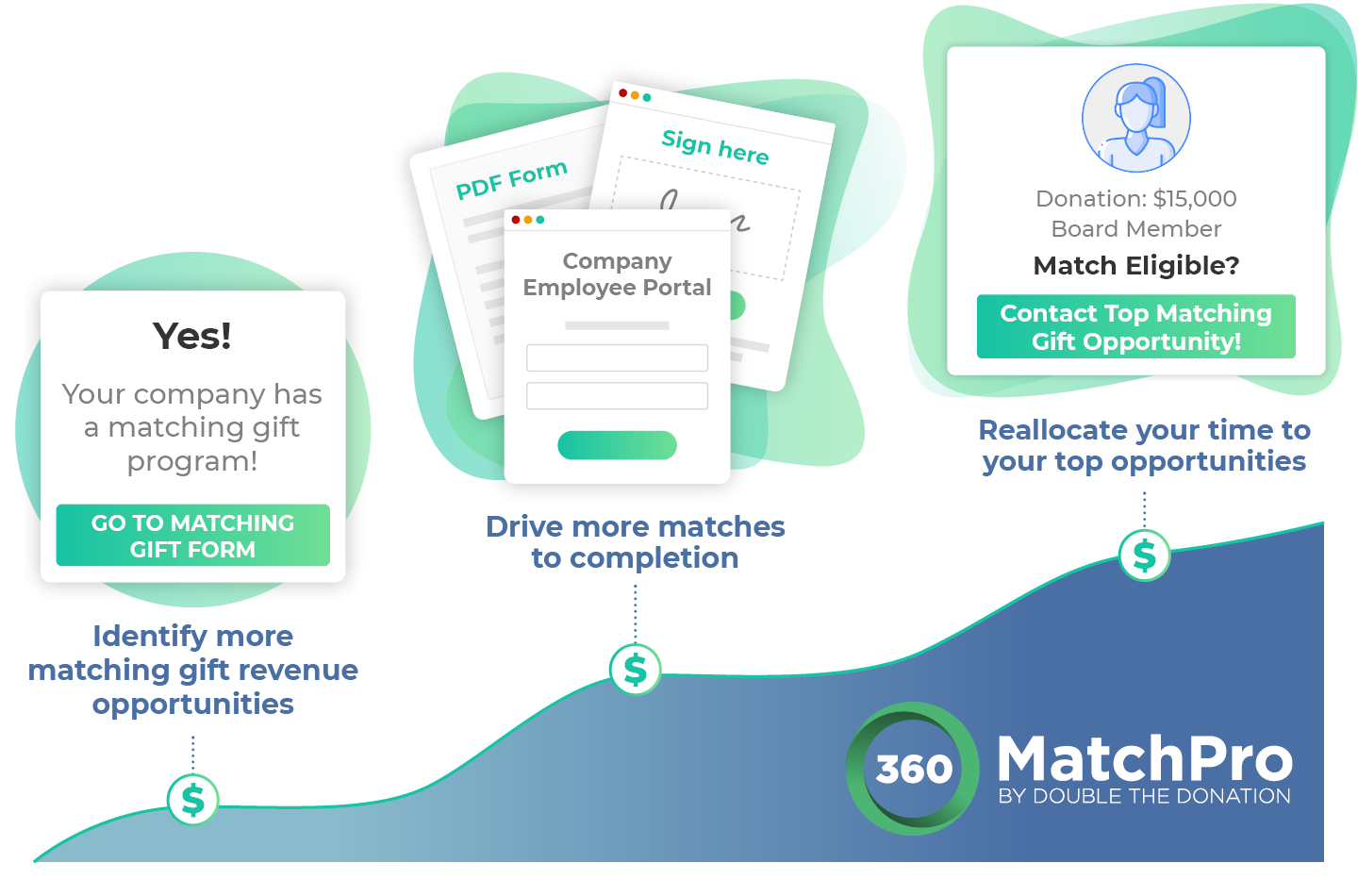 Ready to get started with raising more from matching gifts? Request a demo today and let us know you use Advance by Gravyty for your fundraising!
---
About Gravyty: Gravyty is the leading provider of purpose-driven technology, providing nonprofits, organizations, educational institutions and corporations the tools they need to create an engaging community and fundraise smarter. Backed by K1 Investment Management, Gravyty has $72 million in funding and six strategic industry acquisitions to build a holistic, mission-driven ecosystem of solutions. Gravyty is headquartered in the United Kingdom, with operations in the United States, Canada, South America and Israel. For more information, visit https://gravyty.com/.
About Double the Donation: Automate your matching gift fundraising with the industry-leading solution from Double the Donation. The 360MatchPro platform provides nonprofits with tools to identify match-eligible donors, drive matches to completion, and gain actionable insights. 360MatchPro integrates directly into donation forms, CRMs, social fundraising software, and other nonprofit technology solutions to capture employment information and follow up appropriately with donors about matching gifts.
https://doublethedonation.com/wp-content/uploads/2023/06/Double-the-Donation-Advance-from-Gravyty-LinkedIn.gif
550
1050
Adam Weinger
https://doublethedonation.com/wp-content/uploads/2022/03/logo-dtd.svg
Adam Weinger
2023-06-16 08:00:31
2023-09-05 15:01:39
Advance from Gravyty and Double the Donation Partner with 360MatchPro Matching Gifts Integration