Double the Donation and Windfall Data Launch Innovative Donor Insight Integration
Double the Donation and Windfall are thrilled to launch their new integrated solution. This exciting update combines matching gift insights with donor wealth screening to ensure fundraisers everywhere craft actionable, timely donor messages to drive contributions.
"Windfall empowers nonprofits with actionable data, and Double the Donation's robust matching gift insights complement our donor wealth dataset perfectly," said Dan Stevens, Co-Founder and VP of Business Development at Windfall Data. "With our combined solutions, fundraisers everywhere will be confident that their tailored outreach efforts will maximize donor engagement without sacrificing time or effort."
Nonprofit organizations already use Double the Donation's tool, 360MatchPro, to automate the matching gift process. Now fundraisers can take advantage of high net worth donor flags to add wealth screening functionality to their existing donor matching gift insights – all from within their 360MatchPro portal. This update makes it easier to enhance donor communications and earn greater donations, both from employer matching gifts and high net worth donors.
"Integrating with Windfall was a natural fit for our solution, 360MatchPro," said Adam Weinger, President of Double the Donation. "Our combined donor insights will help organizations everywhere craft effective, successful fundraising initiatives that drive donations."
The 360MatchPro and Windfall integration can work for both nonprofit organizations and academic institutions, helping fundraisers to gain actionable donor data, which can be leveraged for impactful fundraising campaigns. By combining matching gift eligibility and wealth screening, your organization can take advantage of the highest value employer matching gifts without any unnecessary effort.

Activate in Seconds and Start Raising More from Donor Insights!
360MatchPro and Windfall integration seamlessly, so you can get started with just a couple of clicks. Simply log in to to your 360MatchPro dashboard and navigate to the Windfall integration tile. You will then see a an option to activate the integration.
Enter your organization's website domain that is associated with your Windfall account. Then select "Integrate". That's all there is to it! Now Windfall will check your donor records to find high net worth individuals, which are then flagged within 360MatchPro.
Using this data, you can filter your donor records within 360MatchPro to find which contributors have a net worth of $1 million or greater. Then, use 360MatchPro to discover their matching gift eligibility, send targeted messages and drive contributions!
Looking to learn more? Check out our in-depth integration guide to get started!

Drive More Matching Gifts to Completion with 360MatchPro!
360MatchPro and Windfall work together to help your organization maximize revenue. Using wealth screening data and employer matching gift functionality, you can:
Identify more matching gift revenue opportunities: 360MatchPro enables you to automatically collect matching gift eligibility from donors using email domains, within donation forms, on confirmation screens, or by email. The more matching gift opportunities 360MatchPro discovers and shares with donors, the more matching gift requests your donors will successfully submit.
Drive more matches to completion, from form submission to corporate payment: Direct donors immediately to their matching gift forms after the donation process is complete. Then, provide the right information to the right donors at the right time with custom emails based on match eligibility. Target follow-ups drive more completed submissions than ever before, bringing exponentially more matching gift checks from companies through your door.
Reallocate your time from routine follow-up to your top opportunities: Your time is valuable, so why spend it chasing small dollar-value matching gifts? Let 360MatchPro automate your matching gift outreach while flagging your highest-value opportunities, allowing your team to personalize follow-ups to the most valuable match-eligible donations. Rest easy knowing that 360MatchPro can handle the rest.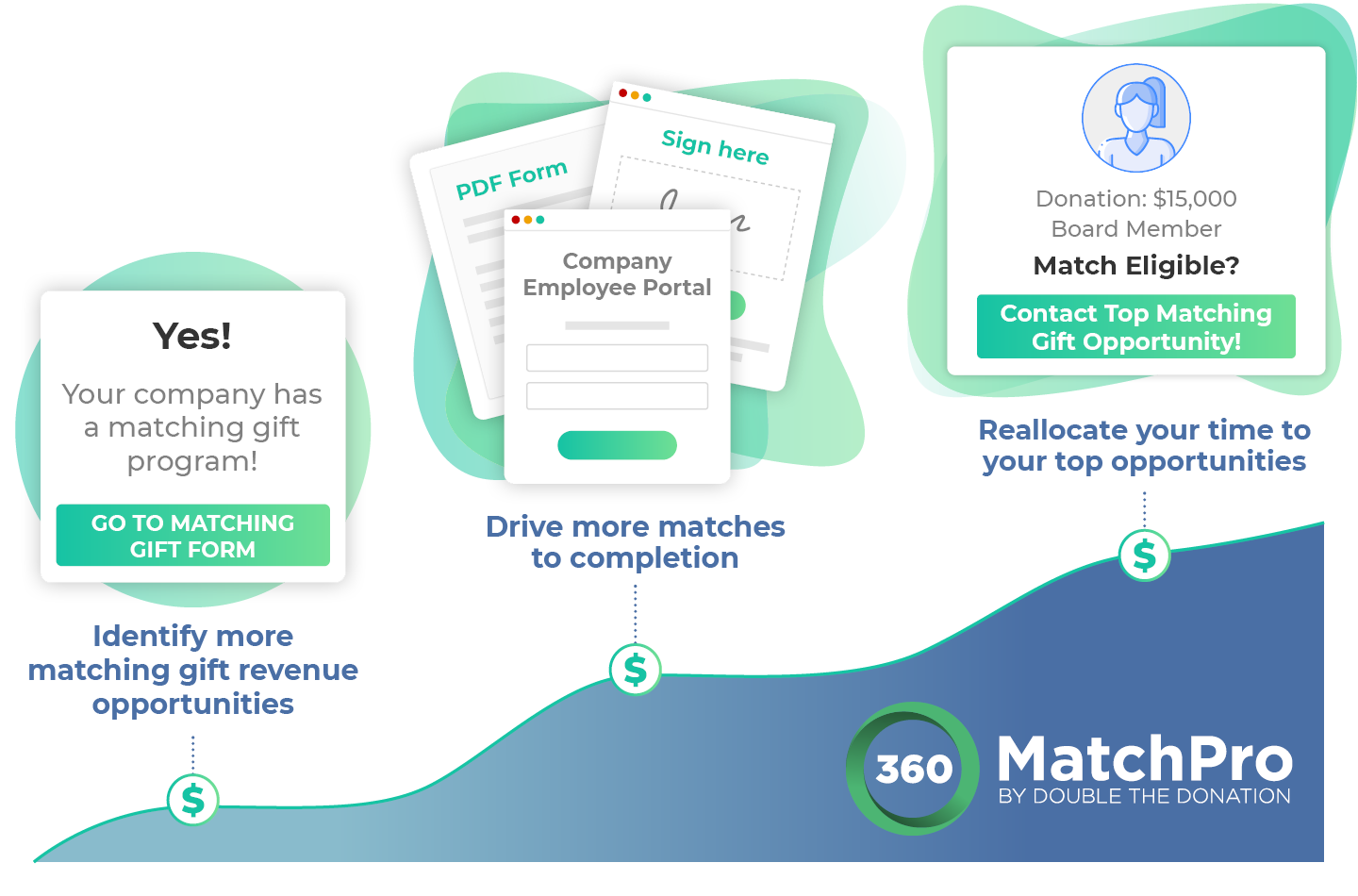 Ready to get started? Schedule a personalized demo to learn how 360MatchPro and Windfall can increase your impact.
---
About Windfall Data: Based in San Francisco, Windfall is on a mission to help data-driven organizations effectively identify, understand, and engage affluent consumers with reliable and accurate data. Today Windfall serves over 500 nonprofit organizations to help them harness consumer insights and drive value for their organizations. See it in action by checking out: https://windfalldata.com/demo/
About Double the Donation: Automate your matching gift fundraising with the industry-leading solution from Double the Donation. The 360MatchPro platform provides nonprofits with tools to identify match-eligible donors, drive matches to completion, and gain actionable insights. 360MatchPro integrates directly into donation forms, CRMs, social fundraising software, and other nonprofit technology solutions to capture employment information and follow up appropriately with donors about matching gifts. Ready to learn more? Check out https://360matchpro.com/demo-request/
https://doublethedonation.com/wp-content/uploads/2022/06/Double-the-Donation-Windfall-Data-feature.png
290
775
Adam Weinger
https://doublethedonation.com/wp-content/uploads/2022/03/logo-dtd.svg
Adam Weinger
2021-05-20 13:40:51
2023-09-14 21:30:02
Double the Donation and Windfall Data Launch Innovative Donor Insight Integration