Salesforce for Nonprofits: 5 Features You Need to Know
A popular solution for for-profit businesses, Salesforce has earned its place as one of the most comprehensive CRM software options on the market. With so many companies relying on it for sales, marketing, and more, you're probably familiar with Salesforce to some extent—but did you know that your nonprofit can take advantage of the full range of Salesforce features too?
How is Salesforce used in a nonprofit?
Salesforce CRM can be a powerful tool in your constituent management and fundraising arsenal if you know how to maximize your use of this robust software.
Since nonprofits have such specific needs, you'll have to know how to use Salesforce the right way to stay on top of your most important efforts, including:
Is Salesforce good for nonprofits?
Yes! In this post, we'll walk through how you can use built-in Salesforce features as well as powerful Salesforce apps and integrations to manage all of your most vital nonprofit initiatives and actually enhance your strategies through your CRM's innovative functionality.
Ready to learn how Salesforce for nonprofits can push your organization forward? Let's get straight to it!

1. How to Use Salesforce for Constituent Management
Potentially the most important task for any nonprofit is staying on top of all the supporter information you have access to and then using that data to drive more effective fundraising and engagement strategies.
Without your constituents, your organization wouldn't be able to move your mission forward through fundraising campaigns, volunteer work, or advocacy initiatives. That's why it's imperative that you know who your supporters are and how to properly connect with them!
As a CRM, Salesforce should be your first resource for managing constituent data. Let's lay out a few of our favorite strategies for using Salesforce for better donor, volunteer, and other types of constituent management:
Consider Salesforce's nonprofit products. Did you know Salesforce offers "re-imaginations" of their core products built expressly for nonprofits? With the Nonprofit Success Pack, you'll gain access to all the features of standard Salesforce CRM pre-configured to better meet nonprofit donor management and fundraising needs.
Build out your supporter profiles using custom fields and relationships. Anyone can add custom fields, objects, relationships, and other elements to their CRM without being an IT expert. By creating unique data sets, you'll see a more intentional view of your constituents, which can then inform all of your strategies.
Use Salesforce's web-to-lead feature to capture information online. Salesforce's web-to-lead feature automatically converts online forms into lead profiles in your CRM. That way, anyone who signs up for more information online (e.g., signing up for your mailing list or requesting a volunteer schedule) will instantly be logged in Salesforce.
Proper constituent management can also inform your fundraising strategies, specifically how you incorporate important elements such as corporate giving!
When you have complete, manageable data sets, you'll be able to better target matching gift prospects and communicate opportunities for corporate philanthropy to the right supporters.
An integration with 360MatchPro by Double the Donation can help large nonprofits use their Salesforce data to power more effective matching gift strategies. 360MatchPro breaks down the constituent data you're already storing in your CRM by matching gift eligibility and status. This powerful matching gifts software can put your constituent information to good use with actionable matching gift reports: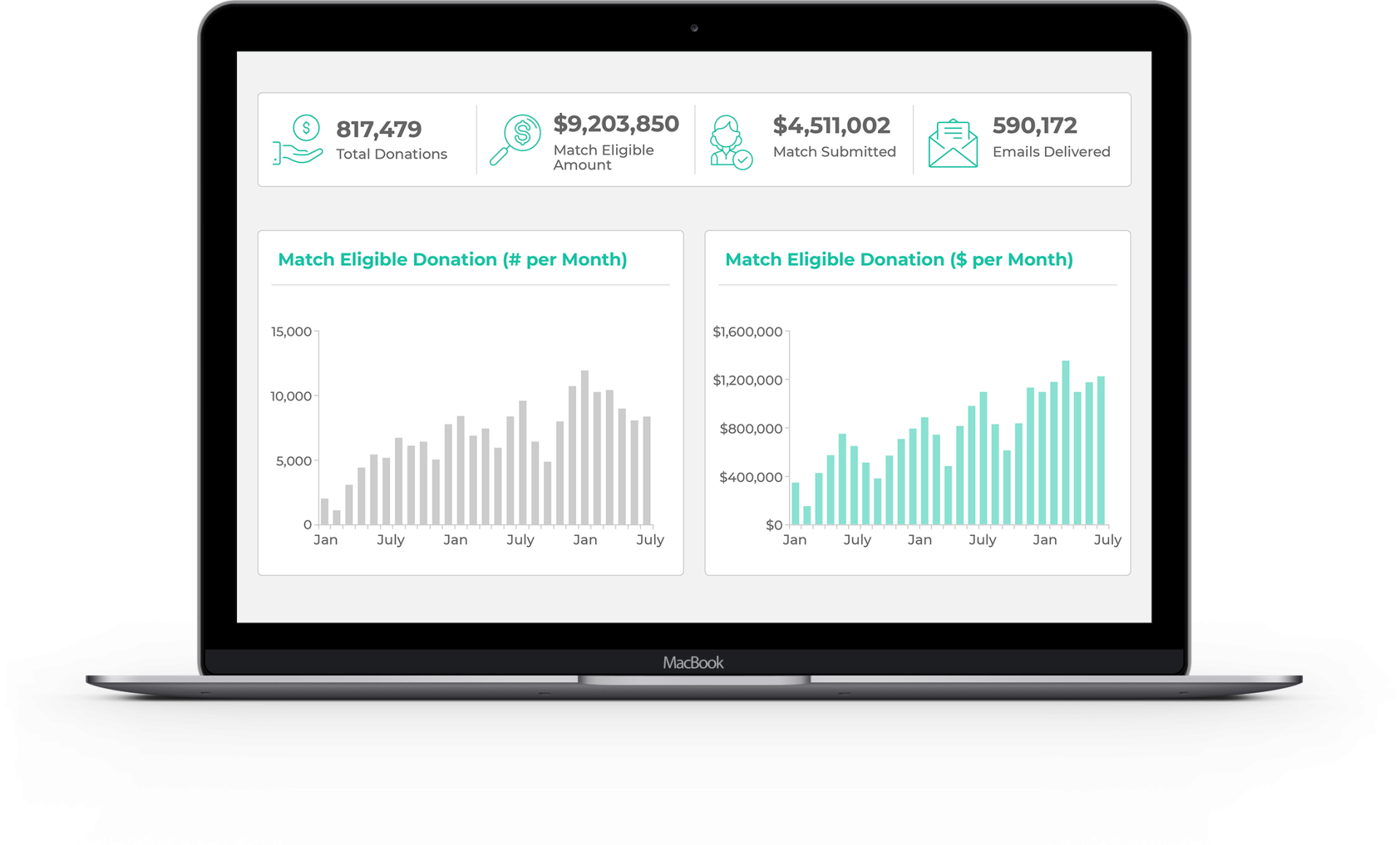 The more you lean on Salesforce for nonprofits to manage your constituent data, the more time you'll have to focus on other things—like actually using that data to drive your fundraising tactics!
Next Steps for Using This Salesforce Feature
Interested in learning more about how your CRM can (and should) help you improve donor management? Check out our thorough guide to nonprofit constituent relationship management software to learn everything you need to know.

2. How to Use Salesforce for Event Management
For many nonprofits, fundraising events are the cornerstone of their fundraising efforts. Whether you're planning a variety of small-scale events or one extensive annual fundraiser, you'll need a way to manage your event logistics, guests, marketing, and more.
While you can look to a third-party solution to plan your event, having access to all of your event management features within your Salesforce system will provide a more holistic view of your efforts and allow you to streamline many of your event-related tasks.
While you can use some of Salesforce's built-in features to plan your event, to truly maximize your event management experience, we recommend finding a native Salesforce app to extend your CRM's functionality to include dedicated event tools.
With the help of the right Salesforce event management application or integration, you can tackle all of the following vital event elements without ever leaving your CRM:
Event registration. Set up a fully customized event microsite with an intuitive registration process. Set up multiple ticket types, build out tracks with unique sessions, and even offer merchandise as an add-on to registration using an interactive eStore interface.
Total logistics management. Track speakers, sponsors, venue arrangements, and other necessities within your CRM. Since no two events are alike, make sure that your app can accommodate whatever you're planning, from golf tournaments to mega-conferences to stakeholder meetings and more.
Guest experience. Empower guests to build and manage their own event agendas, share your event with friends via social media integrations, and complete pre- and post-event surveys to provide invaluable feedback to your event team.
With the power of Salesforce for nonprofits and the right event management app, you can centralize your event planning efforts and design a more productive (profitable!) event for your donors.
Next Steps for Using This Salesforce Feature
Find the right Salesforce partner for your next event by reading our reviews of the best event solutions on the AppExchange. Each of these tools can help your nonprofit's next event thrive in a unique way, so all types of nonprofits can benefit from integrating these helpful solutions.

3. How to Use Salesforce for Fundraising Campaign Management
It goes without saying that in order to keep your organization's mission moving forward, you need to find creative ways to bring in money for your cause.
Those efforts typically combine a lot of different fundraising techniques and strategies, from hosting fundraising events to cultivating long-term major donor relationships to simply setting up an online donation form.
Thankfully, your Salesforce CRM can help you balance all of your fundraising efforts in a way that drives your campaigns forward (and hopefully, above and beyond expectations). 
By using Salesforce's features and a few well-placed integrations, you can manage a multitude of fundraising tactics, such as:
Online fundraising. Being able to accept gifts on your website is essential! You can customize your web-to-lead capture so that online donation form data appropriately transfers to any field in your database, or work with an online giving tool that offers a custom Salesforce integration.
Matching gifts. A vital part of many nonprofits' fundraising strategies, matching gifts can have a place in your Salesforce system, too! You can manually track employer information on your donor profiles, but for best results, you'll likely need to implement a custom integration.
Peer-to-peer fundraising. By integrating a peer-to-peer fundraising platform with your CRM, you'll be able to seamlessly transfer all of your fundraiser and donor information into Salesforce. Because peer-to-peer fundraising is so unique, it's important to find an app that can map your data to Salesforce in a streamlined way.
You'll be able to track all of these campaigns within Salesforce so that you have a real-time snapshot of who is donating, how you're collecting donations, and how you're measuring up to your short- and long-term fundraising goals.
Next Steps for Using This Salesforce Feature
Fundraising campaigns are the backbone of nonprofit organizations. Get started building out a Salesforce system that can cater to your fundraising campaign management needs (and other vital nonprofit efforts) by checking out these top nonprofit Salesforce apps.

4. How to Use Salesforce for Marketing and Communications
Whether you're getting the word out about fundraising projects or inspiring supporters to make a donation, your marketing and communications initiatives can have a huge impact on your overall fundraising and donor engagement strategies.
However, with so many channels through which you can communicate, it's difficult to nail down how you'll connect with your supporters and how you'll track those efforts within your CRM. Luckily (you guessed it), Salesforce for nonprofits can help!
Within Salesforce, your nonprofit should be able to manage your marketing and communications in a comprehensive way, taking advantage of all the most relevant, engaging channels, such as:
Email marketing. Perhaps the most universal communication channel around, email can be your go-to for newsletters, donation solicitation, acknowledgments, event marketing, and virtually anything else. Design branded email templates and build out custom automations based on content or recipient list.
Social media. Whether your supporters are using Facebook, Twitter, LinkedIn, or all of the above, your nonprofit's web presence relies on active social media profiles. Store your constituents' profile information within your CRM so that you can keep track of their interactions and manage your own posts effectively.
Direct mail. If you think direct mail is out-of-date, think again! Still a powerhouse marketing means for many organizations, direct mail appeals to individuals of all demographics. Streamline your snail mail efforts by creating unique direct mail workflows and tracking responses in Salesforce.
No matter what type of communication you choose to employ, Salesforce for nonprofits should make it easy to organize and segment your recipient list, design professional materials, and track responses and interactions intuitively.
Next Steps for Using This Salesforce Feature
To actually follow through with these efforts, you can take advantage of the Salesforce Marketing Cloud, which offers all-in-one marketing solutions, or look to third-party integrations or Salesforce apps. If you're interested in exploring your options, take a look at our list of the top nonprofit marketing software.

5. How to use Salesforce for Reports and Dashboards
With all of the data you're compiling in Salesforce (not to mention any apps or integrations you've paired with your CRM), you'll need a way to make all the information you've stored meaningful and useful.
Salesforce for nonprofits has a wide range of built-in reporting tools to help you make sense of your different data sets. With Salesforce, you'll be able to pose questions in order to generate custom reports. Then, you can display those reports visually using dashboards.
What kind of questions might you ask in Salesforce? Here are just a few examples of how Salesforce reports can help you break down data:
Donor acquisition. Measure how many new donors you engaged during your last fundraising campaign or at your last event by running reports on new leads generated or contacts added during a set time frame; you can even automate these to run on a schedule that keeps you updated regularly with no extra effort on your end.
Fundraising progress. Discover how your organization is tracking against your goals by building a dashboard to show a real-time picture of the revenue you've earned toward your end goal. Don't forget to display this dashboard on your Salesforce home page so it's always at front of mind!
Survey responses. A great way to measure engagement, surveys can provide you with a large amount of data at once. After building a custom object for your survey in Salesforce and the mapping that data so it flows into your CRM in a meaningful way, you can then run reports and generate dashboards for all of the information you collect or break down the answers into smaller reports.
You might also view dashboards related to donors' matching gift eligibility, as shown with 360MatchPro: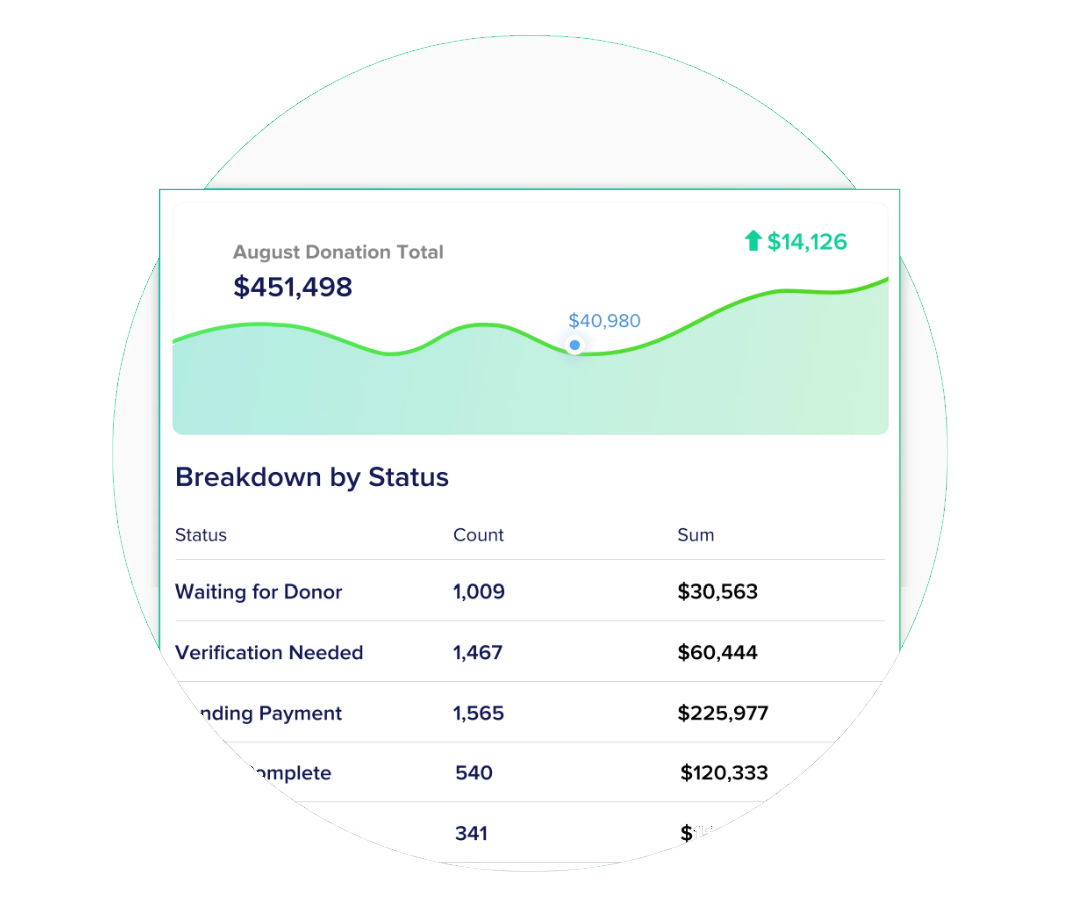 When you have a clear view of how your nonprofit is performing in all the most important areas, you'll be able to move forward with a stronger vision than ever.
Next Steps for Using This Salesforce Feature
Salesforce's analytics features can help you determine a more strategic plan forward in terms of fundraising, donor engagement, and other vital areas. For more help putting together your nonprofit strategy, check out this post!
---
Now that you know how useful Salesforce can be, it's time to start making the most of this impressive CRM!
But before you dive into your Salesforce strategy, check out these additional resources too:
Top 10 Salesforce Apps for Nonprofits. Learn how to take your Salesforce system from adequate to out-of-this-world by implementing these amazing Salesforce apps, all designed for nonprofits!
Salesforce Event Management: The Ultimate Guide. If event management is your Salesforce goal, you'll need to know the best ways to go about it. Fonteva's got you covered with this thorough guide!
Top Nonprofit CRMs. If Salesforce isn't quite your speed, you've got plenty of other nonprofit constituent relationship management software options. Check out our favorites!
https://doublethedonation.com/wp-content/uploads/2022/06/Salesforce-for-Nonprofits-Feature.jpg
275
725
Adam Weinger
https://doublethedonation.com/wp-content/uploads/2022/03/logo-dtd.svg
Adam Weinger
2017-08-11 19:43:57
2022-06-20 07:54:47
Salesforce for Nonprofits: 5 Features You Need to Know