How to Start A Donor Retention Program for Your Nonprofit
The importance of outreach and donor engagement is no mystery to the nonprofit leader. Engaged donors are loyal to your organization, and donor retention is beneficial to both your nonprofit and your supporters.
Strategies and digital tools are only effective when organized, which is why a structured donor retention program is the most efficient way to keep your supporters coming back. In this guide, we'll explore everything you need to know about standardizing your nonprofit's donor retention practices:
Returning donors are a fundamental aspect of nonprofit success, so you must understand the goal of retention before you can plan a retention program. Let's start with some donor retention program basics.

What are donor retention programs?
Donor retention refers to how successful your nonprofit is in getting donors to continue giving. When you successfully retain donors, supporters give repeatedly to your organization and maintain their involvement year after year.
Donor retention is generally a nonprofit priority since it's easier and more cost-effective than donor acquisition and leverages existing marketing techniques. To encourage supporters to return, nonprofits must employ a donor retention program.
A donor retention program is the standardized process your organization follows for implementing donor retention strategies. In other words, it's your nonprofit's established method for approaching donor retention.
A classic lesson in the nonprofit realm is goal-setting before taking action, and the same is true when it comes to donor retention. Before strategizing, you'll need to establish your current rate of retention, what that means for your nonprofit, and the rate at which you want to improve.
How to calculate donor retention rate
Donor retention rate is the percentage of a nonprofit's donors who returned from a previous year. It can be calculated by dividing the number of donors who gave in a previous year by the number of donors who gave in the present year, then multiplying that quotient by 100 to get a percentage.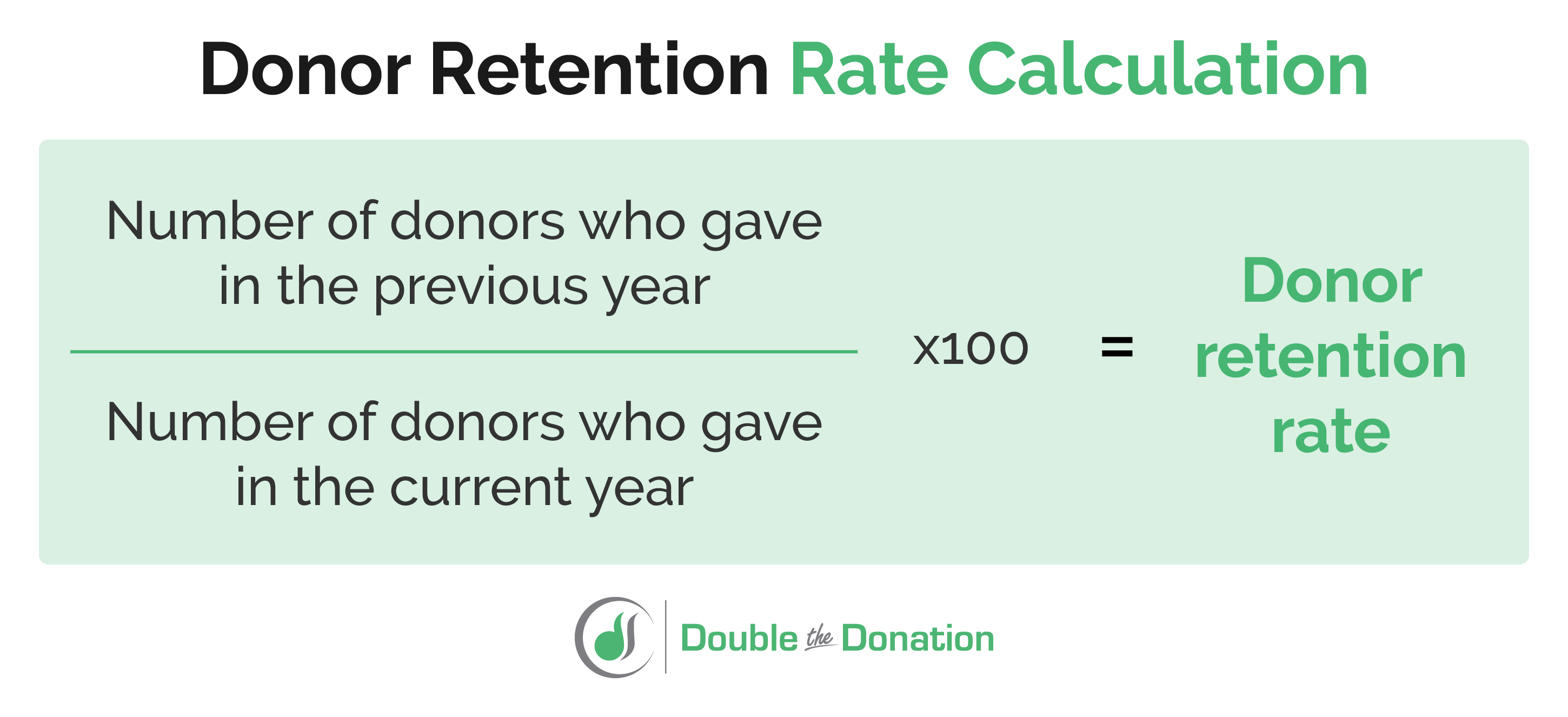 For example, let's say 500 donors gave to your nonprofit last year and 275 of them gave again this year. 275 returning donors divided by 500 previous donors, multiplied by 100, would give you a 55% donor retention rate. This means that more than half of last year's donors stayed involved—your retention efforts are paying off!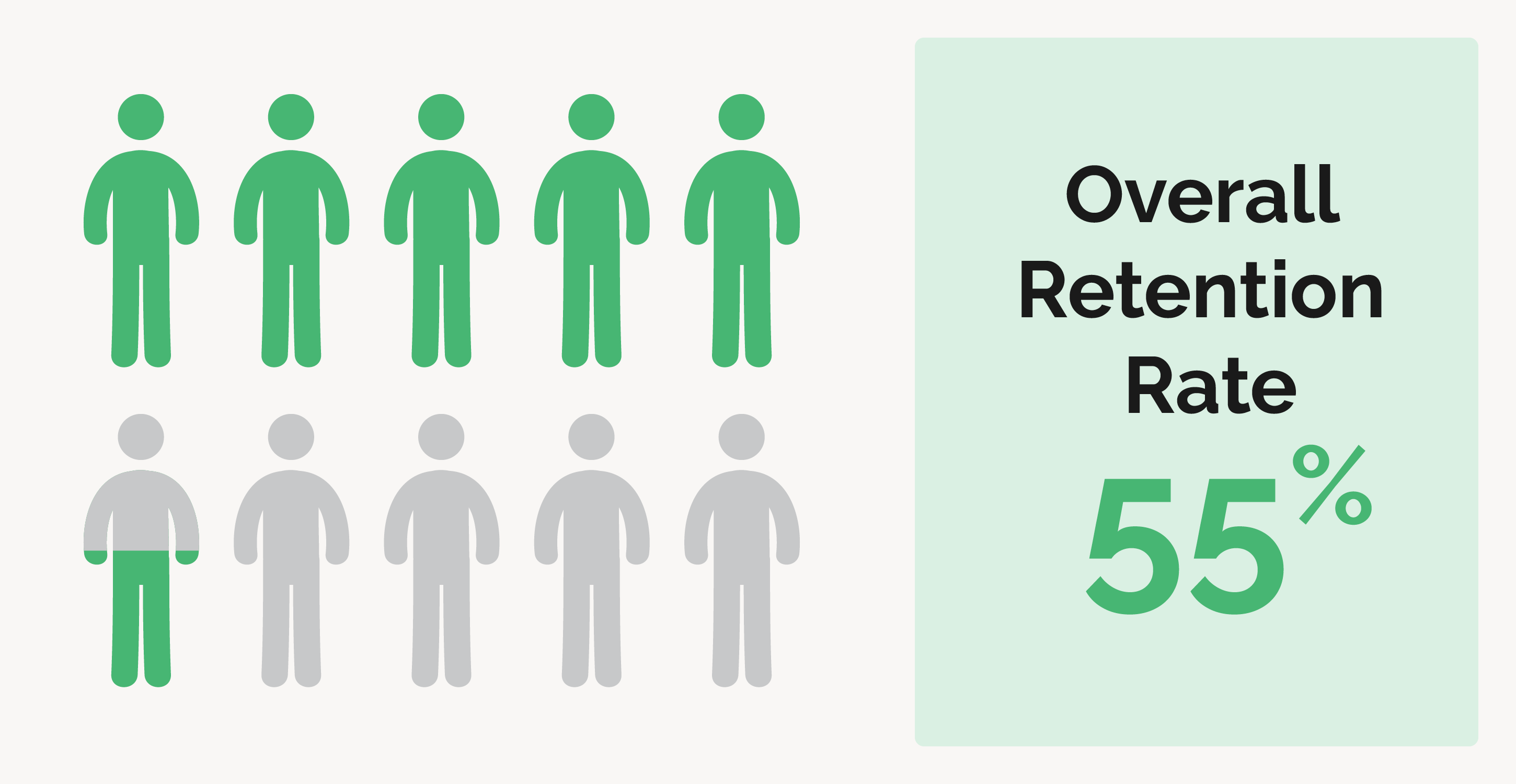 A high percentage means that your nonprofit has retained a large number of donors, while a low percentage means most of your donors are new to your organization. Ideally, this rate should grow with time as your organization becomes more established and your outreach becomes more centralized. But it's ultimately up to your nonprofit to decide what rates are ideal and how much growth is expected as a result of your retention efforts.
After calculating your retention rate, determine what that rate means for your organization and what rate you'd like to achieve. For example, you might make the following determinations about different retention rates:
0%-25%: Your nonprofit may have a lower rate in its early stages when cause and brand awareness is low. In this stage, your outreach might share compelling calls to action that encourage active supporters to continue engaging with your nonprofit.
25%-50%: According to statistics from the Fundraising Effectiveness Project (FEP), the average donor retention rate in 2022 was 42.6%. In most years, the average donor retention rate lands around 45%. If your donor retention rate falls in the 25-50% range, keep the average for most nonprofits in mind while setting reasonable expectations for your goal.
50%-75%: This range of retention is on the higher end. If this is what your nonprofit aims to achieve, it would mean that over half of your supporters continued to give. When the majority of your organization's supporters are loyal donors, you should shift your focus to appreciation efforts.
Determine your current rate and set a retention goal, then assign tasks to each milestone. That way, you'll know where your organization stands and what your donor retention program needs to accomplish to meet your goal.
Tools to help retain donors
You wouldn't start cooking before making sure you have all the ingredients, and the same is true about starting a donor retention program! Before researching and employing retention strategies, consider these tools to aid your outreach.
Autosubmission
Your donors prefer to give in all different ways, which is why you likely have multiple fundraising methods and communication tactics in your nonprofit's reserve. A surefire way to encourage donors to give continuously is by showing them that they only need to give half a gift!
Matching gifts are financial contributions from corporations to nonprofits that supplement a donor's gift. So, let's say a donor knows their employer will double whatever gift they make to your organization. Your donor can contribute $100 to your nonprofit just by giving $50, since their employer will provide another $50
However, if the matching gift request process is complicated, your supporters will be less likely to repeat it. With Double the Donation's autosubmission tool, your donors can drastically cut down on the work it takes to request a match by skipping 75% of the process's steps. Of the eight steps in the process, autosubmission automatically takes care of the following six: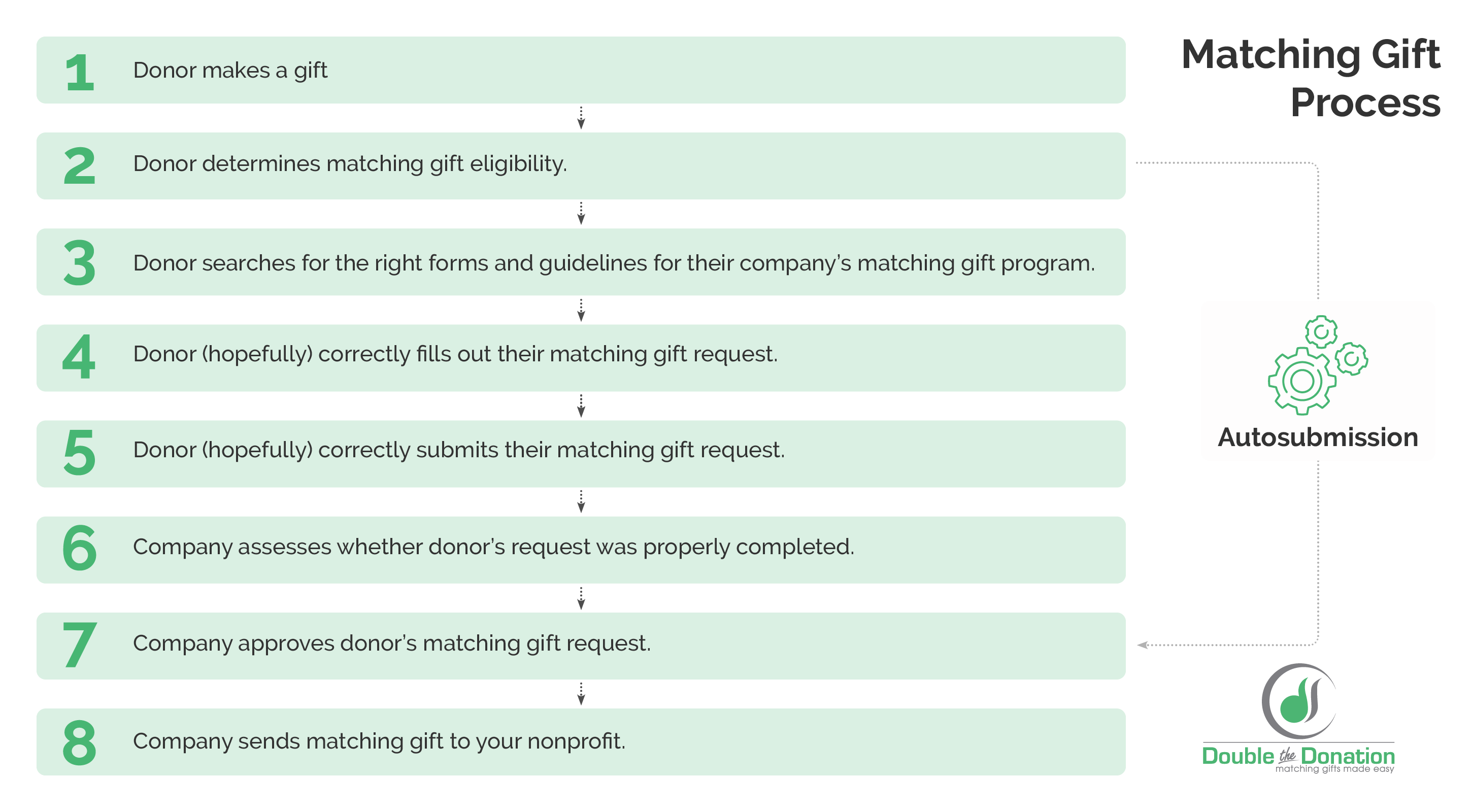 Determine matching gift eligibility
Search for the necessary forms and guidelines
Fill out a matching gift request
Submit the request
Have their request assessed by their company
Receive request approval
By streamlining this process into one easy action using an online tool, your nonprofit can make matching gifts more convenient and enticing for past donors, encouraging them to give again.
eCards
No matter how you choose to convey it, your donor retention program should ultimately show donors that you appreciate their past involvement and need their help again. Although some donors return easily, others may have forgotten about your organization or stepped away altogether.
That's why classic marketing mediums won't be enough for your donor retention program—you'll need a tool that effectively grabs your audience's attention and gets your message across quickly. eCardWidget's digital greeting cards allow for all kinds of messages to be sent. After placing the eCard sending widget on your website, cards can be sent:
From your nonprofit leaders to donors. For your donor retention program, you'll want to send messages that invite donors to continue giving. eCards are an enticing way to send this message and their virtual nature allows donors to easily give within seconds of opening the card.
Among supporters. Aside from your nonprofit's efforts, supporters will also hear about your organization from their peers. After all, who better is there to vouch for your organization than a potential donor's loved ones? When supporters send eCards to their loved ones, they can either invite their friends to donate or let their friends know a donation has been made on their behalf. This peer-to-peer approach can incentivize giving not only from returning donors but from new ones, as well.
As an added bonus, eCards are fully customizable, so they can be branded to your organization and creatively designed to be visually appealing. An eCard will pique the interest of its recipient and also host a concise message that supporters will have to open to read. For example, consider this eCard created by the Maryland food bank: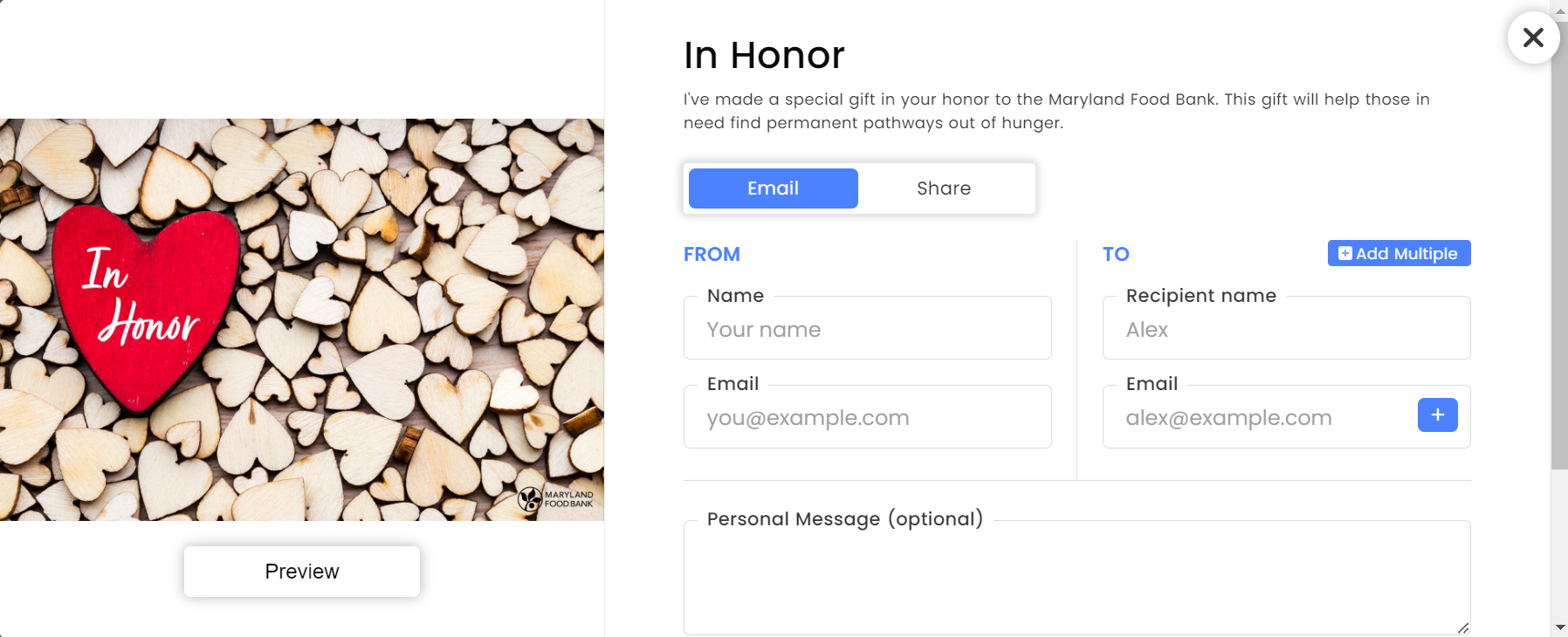 This eCard encourages recipients to open it by leading with the vague phrase, "In Honor." Piquing the interest of your supporters is a surefire way to engage them in your communications and lead them to continue their involvement in your organization.
Donor database
Every donor engagement strategy depends on communication, but donor retention programs have a special advantage in that your nonprofit has already encountered the donors you're aiming to reach. All the donor data you've gathered from their involvement with your organization can be used to send specific messages that make previous supporters feel remembered, recognized, and missed.
To target your outreach effectively, you'll need organized donor data. Invest in constituent relationship management (CRM) software, or another database, to organize important donor information such as:
Contact information
Preferred method of communication
Giving and involvement history
Participation in other organizations
Employer information
Payment method preference
Properly managed data is the key to collecting and utilizing helpful information. Treat your database like your closet after college: clean out the old clothes that you'd never wear again and bring in new outfits that are necessary to wear to your new, full-time job. You may need to conduct data appends to find missing or updated information, such as birthdays and mailing addresses. As you update information, look out for duplicate entries or irrelevant details that are cluttering your database.
Even if you only have a few details about your donors, you can encourage them to continue giving in specific ways. For example, with only a donor's contact information and giving history, you might notice they only give at in-person events. Send an email inviting that donor to your next in-person fundraiser for a higher chance of retaining them.
Donor retention program steps
Once you've determined your retention goal and have acquired the tools you'll need to achieve that goal, you can develop a process for donor retention that engages donors throughout every stage of the donor lifecycle. From your first communication to donation follow-up, implement these donor retention strategies:

Engage lapsed donors
Kickstart your donor retention program by reaching out to supporters who have stepped away from your organization. To find these donors more easily, keep a record of each supporter's most recent involvement with your organization in your donor database. That way, you can filter through donors to see which ones have been disengaged the longest.
Send a survey to understand more about why donors have been absent and what would entice them to come back. For example, you might ask:
What is your deciding factor when it comes to making a donation?
Have you donated to any nonprofit organizations in the past year?
How would you prefer to give?
For unresponsive donors, respect their decision to not participate in the survey. After all, bombarding them with messages will likely drive them further away. For the donors who do participate in your survey, use their responses to target your invitation to donate.
Target communications to active donors
Absent donors will be more receptive to different messages than active ones. After all, donors who have recently been involved with your organization have been actively supporting your nonprofit!
Use information from your donor database to call out their specific contributions and show them that you recognize their involvement. Also, share the impact their donations had and what work your nonprofit was able to accomplish with their help. Making these donors feel appreciated and necessary to your organization's work will convince them of the importance of their continued gifts.
Set up recurring donations
Convenience greatly incentivizes giving, which is why recurring donations can guarantee supporters continue to give. Provide a way for supporters to opt-in to recurring donations from your donation portal.
This capability allows donors to give directly from their bank account at a recurring frequency, such as:
Daily: You might suggest that donors sign up for daily donations during a special giving period, such as an awareness week.
Weekly: Donors might be incentivized to give weekly during a specific holiday season or challenge. For example, a food bank might encourage donors to give every week during the month of December to give a gift to other families during the holiday season.
Biweekly: Provide giving frequencies that are convenient for supporters' budgets. Many donors with full-time jobs might receive their paychecks bi-weekly and would prefer to make the donation when they get paid.
Monthly: This is the most common frequency of a recurring gift and is especially convenient for donors, who likely have monthly subscriptions and bills also coming out of their bank accounts.
Supporters can factor recurring donations into their regular budgets when they contribute consistently. Plus, they're spared the inconvenience of having to access your donation portal every time they think to make a donation.
Show your gratitude in the donation receipt
A donation receipt should automatically be sent to the donor after they make a donation for a confirmation of the transaction. However, this can also be an opportunity to share your gratitude immediately after the gift is made.
Set up an automatic donation receipt to be texted or emailed to the donor after their donation. Include a quick message of gratitude, such as "We received your [dollar amount] donation. Thank you!"
Invite them to get involved in other ways
Think about supporters' donations like a purchase at a farmer's market: Simply receiving a receipt would be the standard, but explaining to the shopper that their purchase is supporting local businesses might inspire that customer to return.
In the same way, it's simply not enough to send a receipt confirming that a supporter's donation has been processed. Encourage donors to continue doing what they're doing, furthering your cause, by giving to other initiatives.
For example, an animal shelter might send a message thanking a donor for their contribution, then encourage them to attend an upcoming gala in support of the shelter's facility expansion.
Conclusion and Additional Resources
Equipped with the basics of a donor retention program, your nonprofit is ready to start reaching out to previous donors and asking them to come back! With a structured approach, you'll make sure that no supporter slips through the cracks.
After creating your retention program, test it out and revise it as needed based on its effectiveness. Track changes in your donor retention rate to measure your progress, and get feedback from supporters to see how you can improve your program. For more information about revamping your strategy or expanding your audience, check out these additional resources:

https://doublethedonation.com/wp-content/uploads/2023/06/Double-the-Donation_Donor-retention-programs_feature.png
1080
2900
Adam Weinger
https://doublethedonation.com/wp-content/uploads/2022/03/logo-dtd.svg
Adam Weinger
2023-01-01 16:24:03
2023-06-01 16:28:32
How to Start A Donor Retention Program for Your Nonprofit