What Is a Date of Birth Append? A Comprehensive Guide
When collecting information from your supporters, you'll probably capture bits and pieces of who they are. You'll learn their names, email addresses, and phone numbers just to name a few. However, there are probably some snippets of information you don't collect that could really benefit your organization's understanding of your supporters.
Date of birth is one such category of information you might not gather from supporters, and that's where a date of birth append comes in handy. Some people might not want to offer their date of birth to an organization to reveal how old they are. Additionally, they may not see how that information could improve their experience with your nonprofit. Frankly, you might not understand how having one's date of birth could help your organization either.
However, gathering date of birth appends can actually help your organization communicate more effectively with your supporters once you know a little more about them.
In this guide, we'll answer questions you may have about what a date of birth append is and how it works. The questions we'll be covering include:
Here at Double the Donation, we help make the matching gift process easy for nonprofits. Considering our focus on efficiency, we know how important it is for nonprofits to have easy access to the data they need to improve their communications with supporters. This guide will walk you through date of birth appends and how they can help out your organization.
With that in mind, let's get started learning about date of birth appends!
What Is a Date of Birth Append?
A date of birth append comprises an individual's day, month, and year of birth sourced from a public database of demographic information. You use the information supporters have already shared with your organization to successfully identify them and pull the correct birthdate. This might include their full name, contact information, and education.
Knowing your supporters' dates of birth can allow you to send customized messages based on age and birthday, resulting in a higher ROI for your marketing efforts.

What Are the Benefits of Date of Birth Appends?
Data about supporters, such as their email addresses or phone numbers, have obvious benefits. They allow you to get in touch with your supporters in different ways to share important updates, request donations, or let them know about upcoming events.
The benefits of knowing a supporter's birthdate may not be as clear to you, so we've developed a list of some of the top advantages of using date of birth appends, including: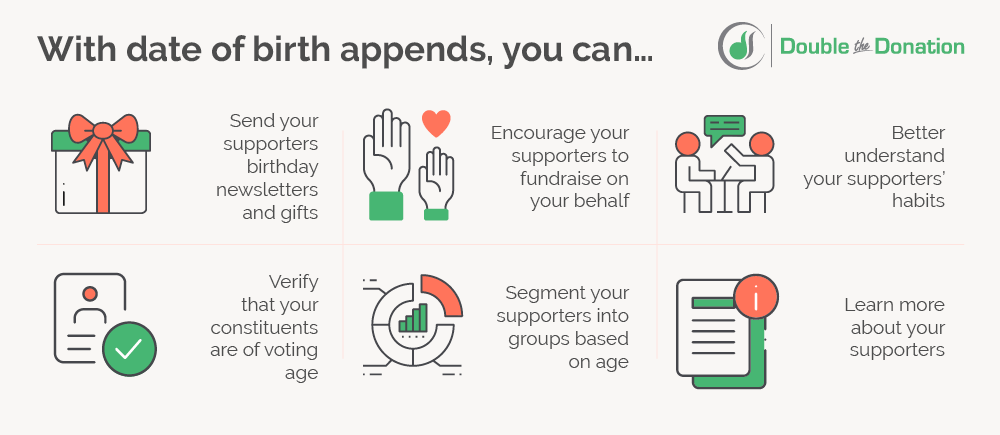 Birthday newsletters and gifts. Simply wishing your supporters a happy birthday can help you build lasting relationships with them. If you want to take it a step further, send your supporters a birthday gift such as a branded t-shirt or mug to show that you care about them and their life milestones.
Personal fundraisers. Speaking of birthdays, many people like to celebrate their special day by asking for donations to their favorite cause on social media. Remind your supporters that they can fundraise on your behalf in honor of their birthday.
Better understanding of supporters' habits. Perhaps some of your supporters are more likely to give donations to your cause themselves to celebrate a milestone birthday. If you know the date of birth of a donor who typically lends their support around their special day, you can better plan for which times of year you'll be receiving more funds.
Voter age verification. It would be a waste of time and resources to contact people about upcoming elections who aren't even eligible to vote. Make sure you're only sending messages about voting to those who can actually vote using birthdate appends.
Segmentation. Do you have a campaign that only applies to an audience of a certain age? Maybe you work to provide Medicare to those who need it or help low-income students with their college applications. Perhaps you want to send the same message to all of your supporters but through different platforms based on which ones each age group prefers. You can use date of birth appends to easily segment your supporters by age so you only send relevant communications to them.
If any of these birthdate append benefits seem useful to your organization, you might be wondering how to move forward with the date of birth append process. Let's make sure you fully understand the process so that you can experience all of the great advantages we just covered!

How Does the Date of Birth Append Process Work?
Once you've decided that you want to conduct a date of birth append, it's important to know how the process works so you can be prepared. To conduct a date of birth append, most organizations use a date of birth append service that finds the information for them. These services make it way easier for you to secure the data you need without wasting your team's time.
For a date of birth append service to help you out, you must first give them the data you currently have for each of your supporters. They accept a variety of information, including:
Unique identification number
Name
Mailing address
Region
Email address
Phone number
College or university
Class year and major/degree
Last gift amount
Date of last donation
Date entry was last updated
Don't worry if your nonprofit doesn't have all that information, though! As with any data append, just provide as much information as you can. That way, it's easier for the date of birth append service to correctly identify your supporters and find the birthdates you're looking for.
After receiving the information you've provided, date of birth append services will search public demographic information databases to match birthdates to your supporters. To ensure they pull accurate records, most service providers perform some sort of accuracy scan or check. They may also assign an accuracy rating to each birthdate append based on the results of the scan to share with your team.
At the end of the process, your date of birth append service provider will send you your birthdate appends and related accuracy information if applicable.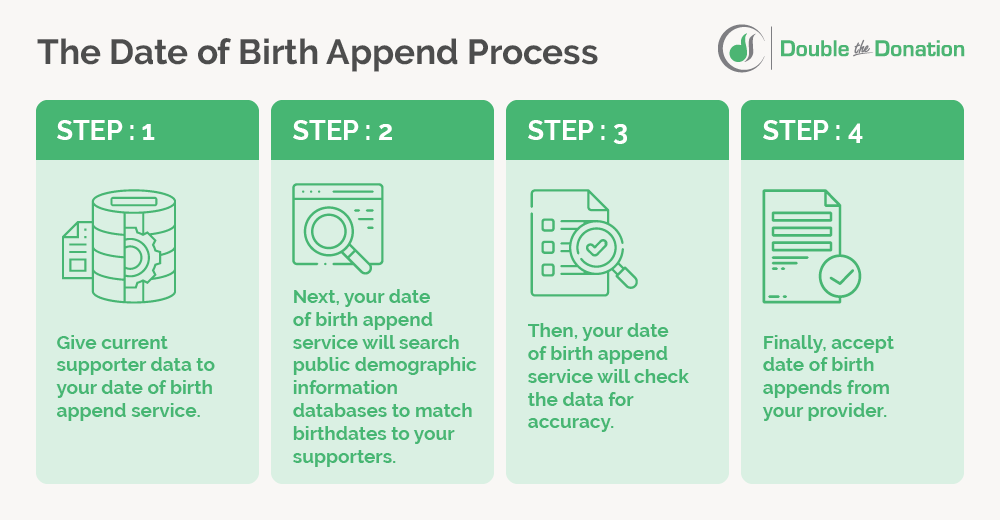 Hopefully, you'll leave the process satisfied with the data you've received and have a more complete picture of your supporters. However, you might be missing other information that similar data append services can also help you with.

What Other Types of Data Appends Are There Aside from Birthdate Appends?
Most date of birth append services offer much more than just birthdates. If you find a comprehensive data append service, they will be able to help you with all kinds of data appends. Here are some other common types of data appends your organization might benefit from:
Address appends. Address appends allow you to build successful direct mail campaigns.
Employer appends. Identify matching gift opportunities with employer appends.
Email appends. Make sure you have all your supporters' email addresses so you can inform them about upcoming events and opportunities.
Phone number appends. Try text-to-give fundraising or a phone-a-thon with the help of phone number appends.

The best part about using a general data append service is that they'll likely provide you with all your data appends at once. That way, there's no need to go through multiple rounds of pulling data, resulting in a quicker experience for your team. Equipped with all your new data, you'll be able to immediately update your supporter database and start sending out more personalized campaigns.

How Do Organizations Use Date of Birth Appends?
Earlier on, we introduced some of the benefits of date of birth appends, but what might they look like for your nonprofit in particular? Different organizations use date of birth appends to personalize their marketing efforts and offerings based on age and birthday.
To help you gauge what this might look like for your organization, here are some specific ways nonprofits take advantage of birthdate appends:
Museum and zoo ticket or membership perks. Who wouldn't want to visit a museum or zoo at a discounted rate for their birthday? Cultural organizations like to give out special birthday deals, and date of birth appends can ensure that they offer them to as many of their supporters as possible.
Peer-to-peer fundraising. Social media birthday fundraisers have grown significantly in the past couple of years. Sending a message to your supporters around their birthday to remind them of this opportunity can help you maximize your fundraising efforts.
Voter outreach. Political advocacy groups are the perfect example of an organization type that could benefit from age segmentation. Only send messages about voting to constituents who are of voting age. To engage constituents in certain age groups, reach out to them with new information about causes that apply to them and let them know what they can do to help besides voting.
Hopefully, these use cases gave you a better idea of how your organization could leverage date of birth appends. If so, you'll want to move forward by leveraging a date of birth append service provider.

Which Date of Birth Append Service Provider Is Right for Me?
If you're researching date of birth append service providers, you might be overwhelmed by the number of options you have. It's helpful to know what to look for when selecting which service you'll work with. After all, you'll be entrusting them with sensitive data and will expect them to provide efficient, accurate results.
That's why we've put together this list of guarantees every good birthdate append service should provide, including:
Accuracy scans. If the date of birth appends you receive aren't accurate, then you could be sending your supporters birthday messages on the wrong dates or segmenting your supporters by age incorrectly. Make sure your date of birth append service has a system in place for checking the accuracy of the data they collect.
High match rate. Beyond performing accuracy scans, you'll want to know that your date of birth append service provider has a history of accurate data matches. For example, NPOInfo by Double the Donation has a 40-70% match rate for date of birth appends, which is quite high compared to other providers.
Additional append types. A dedicated date of birth append service would be great, but a general data append service for all your data append needs would be even better. Find a provider that offers all the appends you're looking for.
Efficiency. The quicker your provider can get you the data you need, the better — as long as they don't sacrifice accuracy. With timely results, you'll be able to immediately start working on new campaigns and fixing up old ones with your new date of birth append data.
Quotes. Before you start working with a birthdate append service provider, you'll want to make sure their services are within your budget. Reliable birthdate append service providers will offer you a quote if you let them know how much data you're looking for.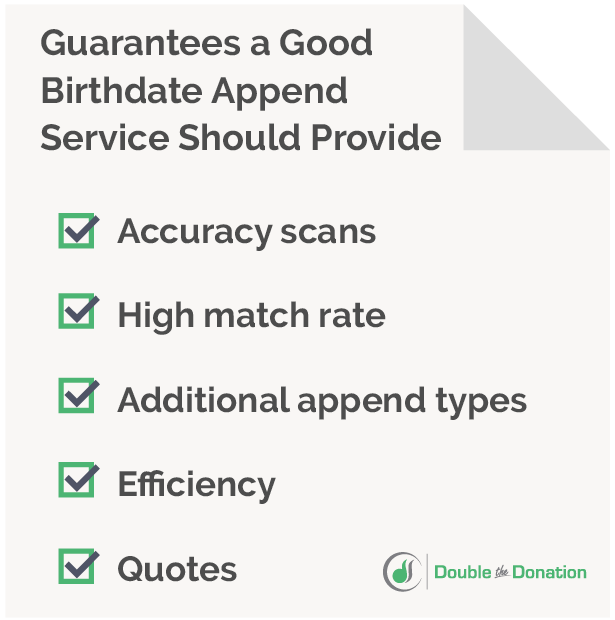 Keep these qualities in mind when looking for a date of birth append service provider, and you're sure to find one that will handle your supporters' data with care and give you the information you need.

Additional Resources
With date of birth appends, you'll be able to communicate with your supporters in more personalized ways. Whether you send them birthday wishes or include them in an age-specific campaign, gathering date of birth information will get you one step closer to a complete picture of who your supporters are and how you can best reach out to them.
As we mentioned before, you may be looking for other types of appends or resources about supporter data. If so, we're here to help you out with these relevant articles: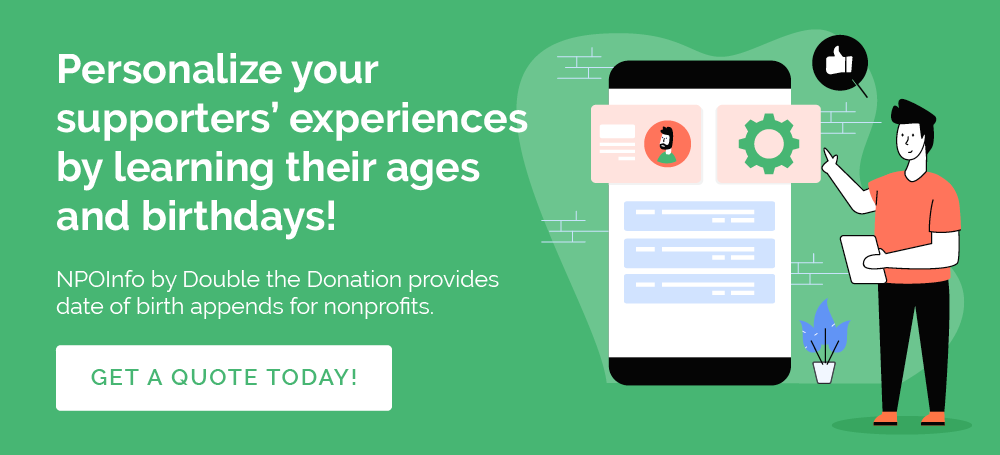 https://doublethedonation.com/wp-content/uploads/2022/07/Date-of-Birth-Append_Feature-1.jpg
380
1000
Adam Weinger
https://doublethedonation.com/wp-content/uploads/2022/03/logo-dtd.svg
Adam Weinger
2022-07-26 13:03:26
2023-05-01 12:37:00
What Is a Date of Birth Append? A Comprehensive Guide