Donorbox and Double the Donation Elevate Partnership with New 360MatchPro Integration
Double the Donation and Donorbox proudly announce a new integration between Donorbox forms and 360MatchPro, Double the Donation's most advanced matching gift automation platform. The integration upgrades nonprofits from an integration with Double the Donation's legacy solution, which was sunsetted to make space for more advanced functionality. 
"Matching gifts are a powerful way to boost the impact of our nonprofits, and we've seen that firsthand through our long-term collaboration with the Double the Donation team," said Charles Zhang, CEO of Donorbox. "We're excited about what this new integrated solution will do to significantly increase that value."
Clients of Donorbox and Double the Donation can now enjoy the benefits of 360MatchPro's leading matching gifts follow up process. The donor can share their company name at the time of giving, get their next steps directly on the confirmation page, and get smart automated follow ups, customized to the nonprofit's branding and the donor's individual eligibility. 
"We've already seen a lot of success for our nonprofit clients using our prior integration over the years," said Adam Weinger, President at Double the Donation. "We're looking to take those matching gift wins to the next level and really boost revenue for orgs looking to raise more through this new integration."
Read on to learn more about this updated integration!

Activate in Second and Start Raising More from Matching Gifts!
With the new and improved 360MatchPro integration between Donorbox and Double the Donation, all that's required for Donorbox users is a 360MatchPro account. Then, clients can enter their 360MatchPro API keys into their Donorbox account to activate the integration. Easy as that! Now, 360MatchPro's tools will appear on the client's Donorbox donation forms.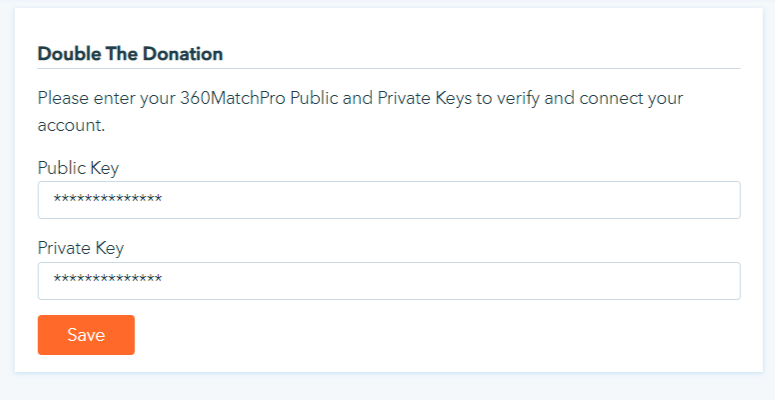 Once the activation process is complete Donorbox donors can discover their match eligibility on the donation form and take their next steps directly from the confirmation page. After this, 360MatchPro can send customized emails directly to the donor to encourage them to complete the match process. Another perk of the upgraded integration? Matching gift auto-submisison capabilities can now be utilized by eligible donors.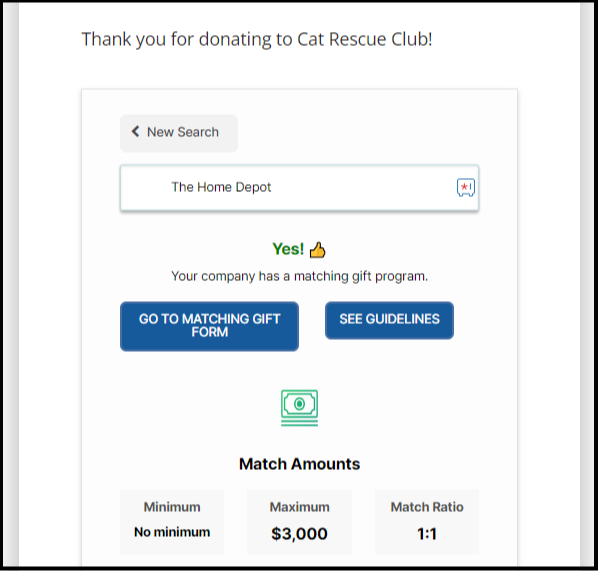 Drive More Matching Gifts to Completion with 360MatchPro!
Donorbox and Double the Donation have been partners for years, and the most recent update to the partnership takes matching capabilities to the next level. See some newly available features below:
Identify more matching gift revenue opportunities:

360MatchPro enables you to automatically collect matching gift eligibility from donors using email domains, within donation forms, on confirmation screens, or by email. The more matching gift opportunities 360MatchPro discovers and shares with donors, the more matching gift requests your donors will successfully submit.

Drive more matches to completion, from form submission to corporate payment:

Direct donors immediately to their matching gift forms after the donation process is complete. Then, provide the right information to the right donors at the right time with custom emails based on match eligibility. Target follow-ups drive more completed submissions than ever before, bringing exponentially more matching gift checks from companies through your door.

Reallocate your time from routine follow-up to your top opportunities:

Your time is valuable, so why spend it chasing small dollar-value matching gifts? Let 360MatchPro automate your matching gift outreach while flagging your highest-value opportunities, allowing your team to personalize follow-ups to the most valuable match-eligible donations. Rest easy knowing that 360MatchPro can handle the rest.
Ready to start raising more with matching gifts? Schedule a personalized demo today and let us know you use Donorbox when you book! 
---
About Donorbox: It's undoubtedly the 'keep it simple' approach applied to products, user interface, and app integrations that makes Donorbox so appealing to nonprofits. Available in 96+ countries, 11 languages, and over 45 currencies, the core multi-step donation form is simple, yet flexible and intuitive for nonprofits and donors to set up, customize, embed, and manage. Multiple secure payment methods place Donorbox in the same class as regular fundraising software, but easily scheduled, and managed, recurring donations are the hero of this product offering. When you add all that to the lowest conversion fee in the market, it is clear why over 50,000 nonprofit organizations trust Donorbox as their partner in making the world a better place.
About Double the Donation: Automate your matching gift fundraising with the industry-leading solution from Double the Donation. The 360MatchPro platform provides nonprofits with tools to identify match-eligible donors, drive matches to completion, and gain actionable insights. 360MatchPro integrates directly into donation forms, CRMs, social fundraising software, and other nonprofit technology solutions to capture employment information and follow up appropriately with donors about matching gifts.
https://doublethedonation.com/wp-content/uploads/2023/06/DTD_DonorBox-partnership-announcement.png
290
775
Adam Weinger
https://doublethedonation.com/wp-content/uploads/2022/03/logo-dtd.svg
Adam Weinger
2023-06-27 17:00:33
2023-09-05 15:01:46
Donorbox and Double the Donation Elevate Partnership with New 360MatchPro Integration