Haku Integrates with 360MatchPro by Double the Donation for Advanced Matching Gifts Functionality
Double the Donation and haku have joined in collaboration to bring the power of matching gifts to nonprofit organizations by implementing an integration between haku donation forms and 360MatchPro by Double the Donation.
"We are thrilled to launch our partnership with Double the Donation. This innovative platform is one of the most advanced ways of helping nonprofit organizations increase their impact by deepening their corporate matching programs," said Jaclyn Levi, Chief Strategy Officer at haku. "As a company dedicated to helping our customers drive their impact in seamless and efficient ways, haku's partnership with Double the Donation is an ideal fit."
The new integration allows nonprofits to interact with their donors directly after a gift is made, presenting them with information about their company's matching gift program and encouraging them to take their next steps toward matching gift request submission.
"Double the Donation has been the leader in matching gifts automation software for years now, and we've found that the most effective way to get more from matching gifts is by meeting donors where they are," said Adam Weinger, President at Double the Donation. "Our integration with haku allows nonprofits to engage with new donors and raise awareness about matching gifts in an exciting way."
The integration is now available for all mutual clients of haku and Double the Donation to activate on their various donation forms.

Activate in Seconds and Start Raising More from Matching Gifts
The activation process is incredibly easy thanks to the native integration between 360MatchPro and haku. Organizations who have a 360MatchPro account can enter their haku account and enter their API keys into whichever donation form builder they'd like and toggle the integration to active.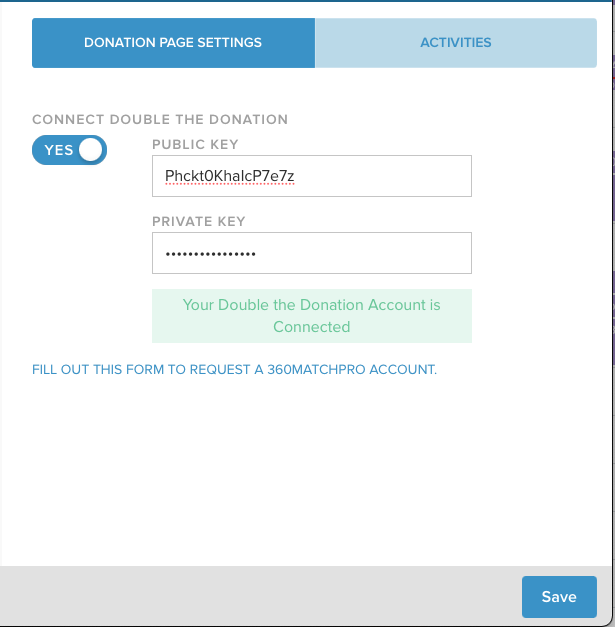 Once this step is complete, orgs are ready to go with their matching gift outreach! Directly after the giving process, donors will be able to easily find if they are match eligible through the auto-complete search field on the 360MatchPro matching gifts plugin.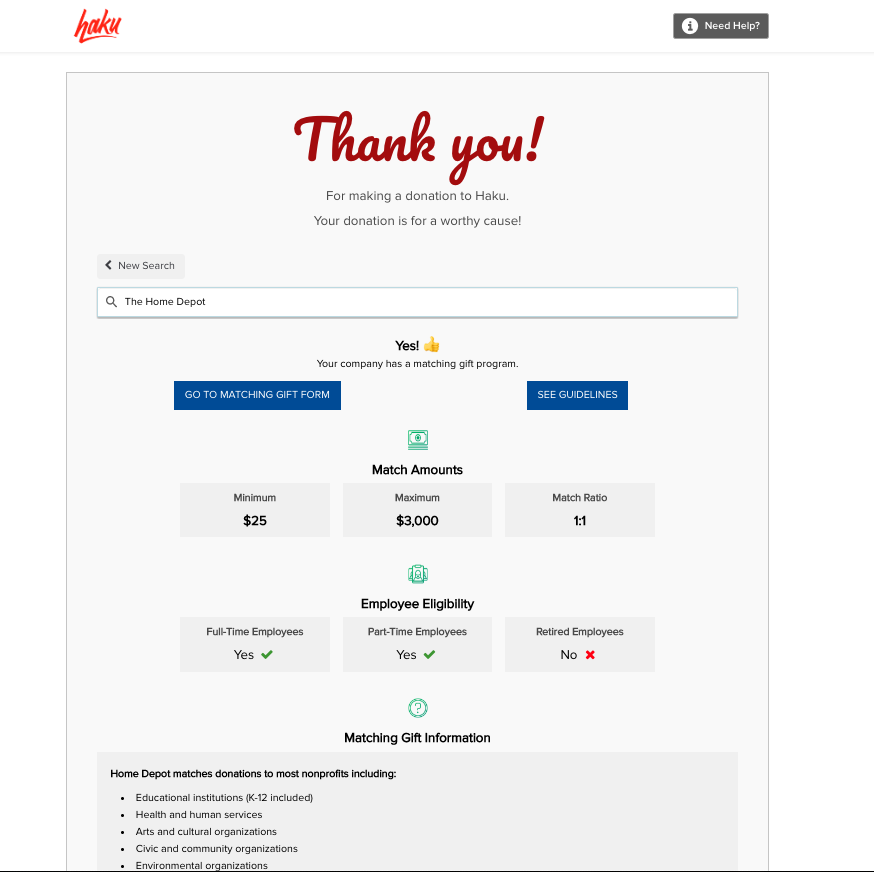 From here, donors can immediately take their next steps toward getting their gift matched, and the nonprofit is apprised of updates along the way in real time!
Looking to learn more? Check out our in-depth integration guide to get started!

Drive More Matching Gifts to Completion with 360MatchPro
haku and Double the Donation's integrated solution aims to provide nonprofits with an easy-to-use and intuitive solution to their matching gift outreach needs. Some more features allow organizations to:
Identify more matching gift revenue opportunities: 360MatchPro enables you to automatically collect matching gift eligibility from donors using email domains, within donation forms, on confirmation screens, or by email. The more matching gift opportunities 360MatchPro discovers and shares with donors, the more matching gift requests your donors will successfully submit.
Drive more matches to completion, from form submission to corporate payment: Direct donors immediately to their matching gift forms after the donation process is complete. Then, provide the right information to the right donors at the right time with custom emails based on match eligibility. Target follow-ups drive more completed submissions than ever before, bringing exponentially more matching gift checks from companies through your door.
Reallocate your time from routine follow-up to your top opportunities: Your time is valuable, so why spend it chasing small dollar-value matching gifts? Let 360MatchPro automate your matching gift outreach while flagging your highest-value opportunities, allowing your team to personalize follow-ups to the most valuable match-eligible donations. Rest easy knowing that 360MatchPro can handle the rest.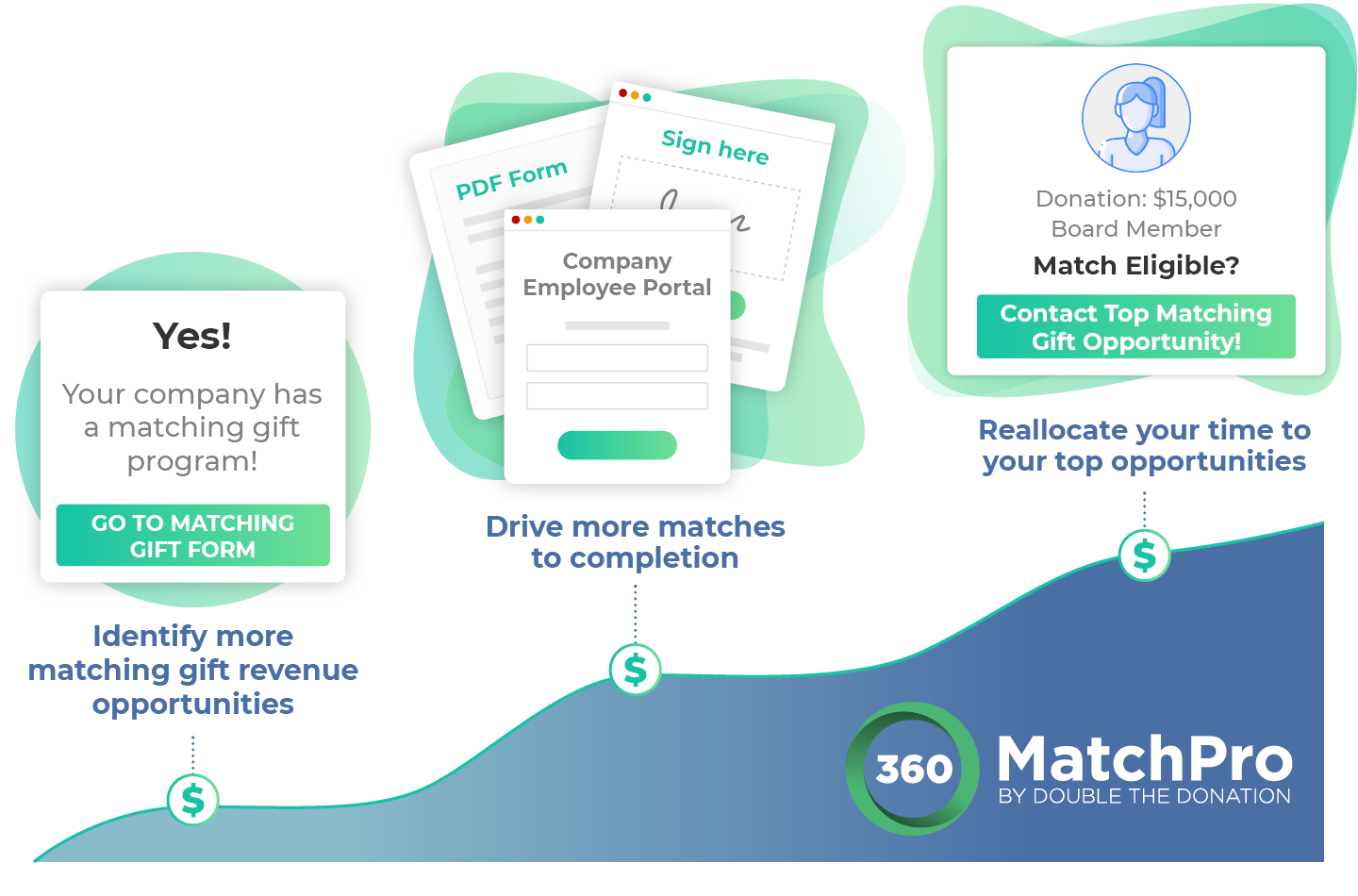 Interested in increasing your fundraising revenue with matching gifts? Request a demo today to get started with corporate gift matching through haku and 360MatchPro by Double the Donation.
---
About haku: haku is a technology platform enabling non-profits to more effectively and efficiently grow their impact. Through our innovative all-in-one platform and unwavering customer service, non-profits have an easy, effective, and customizable way to engage supporters through a myriad of fundraising channels with haku.
About Double the Donation: Automate your matching gift fundraising with the industry-leading solution from Double the Donation. The 360MatchPro platform provides nonprofits with tools to identify match-eligible donors, drive matches to completion, and gain actionable insights. 360MatchPro integrates directly into donation forms, CRMs, social fundraising software, and other nonprofit technology solutions to capture employment information and follow up appropriately with donors about matching gifts. To learn more about Double the Donation, visit  https://doublethedonation.com and request a demo at https://360matchpro.com/demo-request/.
https://doublethedonation.com/wp-content/uploads/2022/10/Double-the-Donation-Haku-feature.png
580
1550
Adam Weinger
https://doublethedonation.com/wp-content/uploads/2022/03/logo-dtd.svg
Adam Weinger
2022-10-28 12:15:17
2022-12-06 15:08:28
Haku Integrates with 360MatchPro by Double the Donation for Advanced Matching Gifts Functionality