The Ultimate Fundraising Event Software Buyer's Guide
It takes a lot to plan and execute a nonprofit event. From getting started with goal-setting and budgeting through organizing and promoting your event experience and finally hosting and engaging with donors, there's a lot to juggle. Luckily, the right fundraising event software can make organizing an impactful event a breeze.
But even the software buying process can be overwhelming if you don't know what you're looking for. That's where this helpful guide comes in handy!
Here, we'll cover everything you need to know about event fundraising tools, including:
At Double the Donation, we've worked with many different providers in the space, and we gathered some of our top tips for choosing the best fundraising event software for your team. In the end, these practices should help guide your decision-making process as you continue to develop your perfect toolkit of nonprofit technology.
Not to mention, you'll be all set to get started with optimal fundraising events with the right tools to power your efforts. Let's begin!

Why Invest in Fundraising Event Software?
Fundraising event software is a critical component of any organization's fully built-out tech stack. After all, a significant portion of many nonprofits' overall revenue is collected through engaging fundraising events. And the right tools can make organizing and hosting as easy and effective as ever.
Not to mention, more and more fundraising events are involving increasingly technical aspects. Even in-person gatherings are becoming dependent on behind-the-scenes software and user-facing technology to run smoothly and elevate the event experience.
Thus, if your organization is looking to develop or optimize your event fundraising strategy, investing in the right tools to power your efforts is essential.

Features to Consider For Your Event Software
The term "fundraising event software" can encompass a lot of different kinds of tools. And each one offers key benefits to your organization, the events you organize, and the individuals who support your efforts.
Let's explore a few of these key functions.
(Top tip: As you walk through the following types of features and functionality commonly associated with nonprofit event software, keep in mind that you may have to prioritize offerings in order of importance. Consider flagging elements as "must-haves" and "nice-to-haves.")
Online Event Pages
In order to pull off an effective event, it's crucial that your supporters are aware of the opportunity. And one of the best ways to spread the word about upcoming events involves engaging online event pages or microsites.
Here's what this event software functionality should include:
Pre-built and customizable web page templates;
Landing page and microsite options.
Personalized branding that matches your organization's existing materials;
Mobile-optimized pages that are easy to use on screens of all shapes and sizes;
Search engine optimization and accessibility tools;

Ticketing Services
Make sure your team and your attendees are prepared for your event with intuitive ticketing functionality. Consider these key features:
Easy-to-use online ticketing forms;
Free and paid ticket purchases for in-person and virtual events;
Online RSVP management and automated receipting;
Customizable questions, such as meal preferences and t-shirt sizes;
Multiple ticketing tiers and packages.

Payment & Donation Processing
Regardless of whether you're hosting free or paid events, it's essential that your team has the tools for processing payments from supporters. This should include:
Accepting payments online and in-person;
Leveraging multiple payment methods;
Processing payments for event tickets, merchandise, pledges, and more;
Collecting donations, in addition to ticketing and other sales.

Peer-to-Peer Fundraising Capability
Peer-to-peer fundraising and nonprofit events often go hand-in-hand. Some of the most impactful social fundraising efforts cumulate in a final event to drive engagement and celebrate success. Think⁠—run/walk/rides and other "a-thon" style events.
Here are a few peer-to-peer fundraising features to consider in your search for nonprofit event technology:
Online event participant registration;
Customizable participant fundraising pages;
Gamification tools, such as fundraising thermometers, badges, and prizes;
Donation and pledge processing and fulfillment.

Auction Management
Charity auctions are many nonprofit organizations' most profitable fundraising events time and time again. So when it comes to event software buying, it's a good idea to keep auction tools in mind. These typically include:
Item procurement and tracking capabilities;
Facilitation of live and silent in-person, virtual, and hybrid auction events;
Online and mobile bidding functionality for attendees;
Real-time bid tracking and other analytics.

Data Reporting
Nonprofit events produce a lot of powerful data. It's important to have the tools you need to collect, analyze, and leverage that information for the greatest results! That's where an event software's data reporting functionality comes in.
Consider these key features:
Event attendee supporter profiles to track ongoing engagement;
Budgeting and revenue tools to determine ROI calculations;
Real-time event data reporting;
Birds-eye view and in-depth options.

Matching Gift Automation
Did you know that nearly 27 million individuals work for companies that match gifts? But approximately 78% of this group has no idea that their employers offer these programs?
That's why increasing awareness of match opportunities is essential⁠—and your event software can help! Matching gift software, or event fundraising software with a dedicated matching gift component, should:
Collect supporter employment information through email domain screening or with an integrated company search tool;
Provide donors and event attendees with employer-specific matching gift guidelines (eligibility criteria, online forms, etc.);
Automatically follow up with match-eligible or unknown donors post-engagement to remind individuals about matching opportunities and drive more successful matches to completion.
Organizations that enhance matching gift efforts by utilizing top software offerings tend to see elevated event and other fundraising experiences. In many cases, it's the equivalent of a two-for-one sale on charitable donations!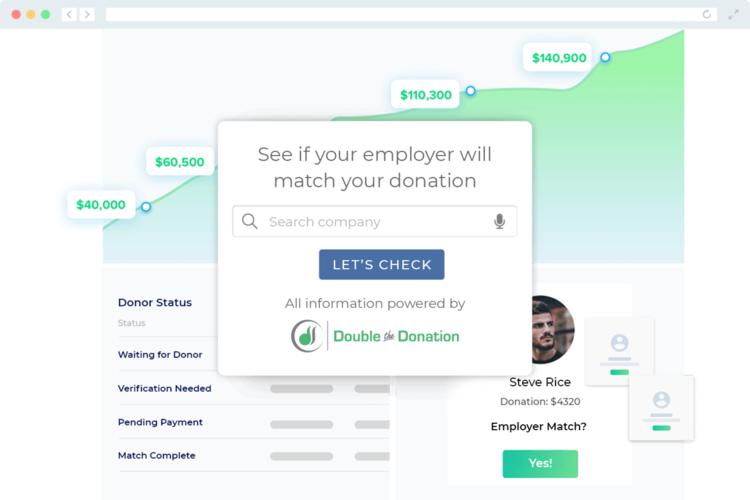 Integrations
Expand your event software's reach with seamless integrations⁠—especially with the tools your organization already uses on a day-to-day basis.
Software integrations essentially form unified systems between varying platforms, allowing different tools to speak to one another. Therefore, integrating your event fundraising software with your organization's existing fundraising solutions empowers your technology to do more with less manual tasks and configurations.
As you consider fundraising event software integrations, this might include:
Online donation tools;
Peer-to-peer fundraising platforms;
Data management systems;
Corporate giving software;
Marketing and outreach solutions.


How to Make Your Fundraising Event Software Choice
As you work to narrow down your event technology options, here are a few best practices to keep in mind:
Consider bundling event tools with a comprehensive fundraising platform. While some event tools are made available in an à la carte or piecemeal format, others are offered as a bundle in an overall fundraising software package. In the latter scenario, your event-specific technology may be integrated directly with an online donation tool, CRM, and more for an all-in-one solution. Many organizations prefer this type of software collection for ease of use and seamless communication between platforms.
Set a software budget to guide your buying decisions. One of the best ways to narrow down your available options is to go into the buying process with a set budget in mind. This way, you can devote your time to the software your organization can afford. As you look for cost-effective solutions, be sure to consider base price, startup costs, ongoing fees, expansions or add-ons, scalability, and more.
Seek software with matching gift functionality. Beyond typical event software features, one element that can drastically improve your team's fundraising efforts⁠—event-based and otherwise⁠—is matching gift functionality. Corporate matching gifts enable many donors and event attendees to double their impact on your cause. Luckily, tools like Double the Donation integrate with top event platforms to enable seamless match identification and automated follow-ups.
Request a demo to see prospective tools in action. Before you make your final decisions, it's a good idea to request some demos. Many companies can provide access to a pre-recorded video, though a live demo offers a more personalized encounter. As you experience the software in action, consider how the tools will look from a user's perspective⁠. And don't be afraid to ask questions, either!
---
Final Thoughts
In the recent past, events of all kinds have become increasingly technology-based⁠—from innovative in-person elements to virtual and hybrid experiences. And it's important that your nonprofit has the tools to keep up with the times!
As you look to revolutionize your organization's event offerings with powerful software, we recommend exploring Double the Donation's integration partners. Many of these top-of-the-line fundraising software providers offer impactful tools that can bring your event endeavors to the next level. Then, don't forget to factor matching gifts into your strategy, as well!
Want to learn more? Check out these other educational resources to elevate your organization's event, workplace giving, and overall fundraising strategies:

https://doublethedonation.com/wp-content/uploads/2022/11/The-Ultimate-Fundraising-Event-Software-Buyers-Guide.png
600
1600
Adam Weinger
https://doublethedonation.com/wp-content/uploads/2022/03/logo-dtd.svg
Adam Weinger
2023-01-03 19:06:43
2023-09-20 18:50:26
The Ultimate Fundraising Event Software Buyer's Guide