Nonprofit Basics: Museum Membership
Museums are centers of cultural curiosity. Their events create a sense of community, belonging, and inspiration. Audiences of all ages from middle schoolers to retirees are invited to pause and reflect on their history. However, museums can run into some serious challenges when it comes to finding reliable funding. 
With a few exceptions, most museums are privately funded and therefore rely heavily on donations. To keep their doors open, museums must be creative with their revenue streams. That's why promoting museum membership opportunities is essential. 
On the other side of the coin, museum members are often interested in joining a community full of curious, like-minded people. However, amid hectic schedules, it's easy for them to miss out on a museum's latest displays. Museum memberships provide community members with an extra incentive both to visit new exhibits and return to old favorites. 
Therefore, museum memberships offer a win-win for both museums and members. 
What is a museum membership?
To put it simply, a museum membership is a monetized, tax-deductible pass available for the general public to redeem for free admission. Membership passes typically offer special discounts and privileges as well. 
Memberships are appealing to frequent museum-goers as they will likely save a couple of ticket payments with the added appeal of a few extra perks. Membership packages can be tailored to specific member needs based on annual or group options.
If you're a decision-maker at a museum or cultural organization, consider implementing a museum membership program to boost awareness and admission levels. Growing your membership base can increase your donation amounts and promotional efforts, so you can focus on your next exhibition. 
What are the benefits of a museum membership? 
Depending on the museum, membership benefits can look different. These benefits can also differ among membership packages. Besides offering free admission, here's a list of potential benefits a museum membership can offer: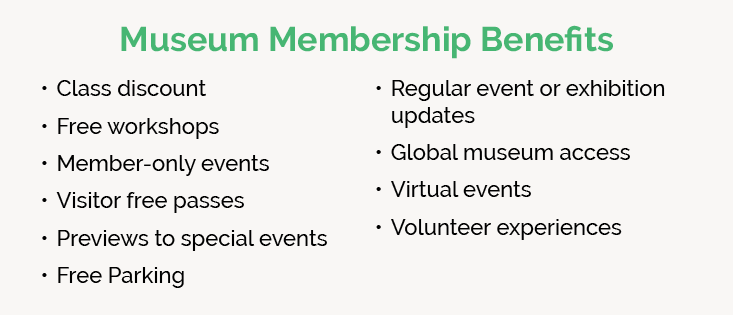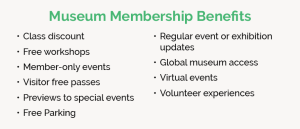 Class discounts

Free workshops

Members-only events

Discounted visitor passes

Previews to special events

Free parking

Regular event or exhibition updates

Global museum access

Virtual events

Volunteer experiences
In particular, if your museum has multiple locations or partners with other museums, global museum access is a great selling point. Cultural enthusiasts tend to be interested in memberships that offer added admission to other museums. 
For instance, a family may have kids intrigued by the latest children's museum exhibition, while the parents could be on the lookout for a more comprehensive art museum exhibition. Reach out to your museum network to discuss potential partnership opportunities to advertise for members looking for these different types of experiences.
How do members apply? 
Although membership sign-ups can differ between museums, they usually follow a standard process. If you get stuck at any point, contact museum staff to answer any questions or concerns. To sign up for a museum membership, follow these steps:
Visit your museum's website

. From there, locate the membership tab that should be embedded in a top, bottom, or side menu. 

Select the membership tab

. Within this page, there may be special discounts to apply to your membership status.

Choose a membership type. Each membership type will include a description of the accompanying benefits in addition to the cost and tax-deductible amount. Memberships are often categorized by contributor, benefactor, and supporter status.
However, membership categories, prices, and benefits are subject to change. In general, the higher the membership cost, the more perks a member can enjoy. Student, artist, and senior discounts may apply. 
How can museums create a membership program? 
Are you ready to implement a museum membership program? Managing memberships can be tricky. Everything from event registration to payment methods can be difficult to keep up with among other museum operations. 
A helpful CRM (customer relationship management) platform can streamline the museum membership process to retain current members while recruiting new ones. An effective management system can level up your membership process in a variety of ways, including: 
Flexible payment features and automatic renewals.

Make it easy for members to sign-up using a wide range of payment options. 

Add-on donations.

Transform members into donors by analyzing unique visitor and member data profiles.

Mobile sales and digital membership cards.

Make your membership cards easily accessible so members can scan their phones and breeze through the museum check-in process. 

Membership portal.

Give members an online space to check up on the latest event updates. Include promotional specials and discounts. 
Drive revenue and increase visits to your museum by adding a robust membership program. Include a range of membership options and discounts to interest your audience. Consider implementing flexible pricing for different demographics to attract more members and improve their museum experience.
Other Resources to Explore
Nonprofit Basics – Learn more about the nonprofit management essentials by exploring other expert resources
40+ Marketing Ideas for Nonprofits to Spread Your Mission – Leverage your resources and increase your revenue with these cutting-edge marketing ideas.
6 Powerful Member Management Features to Build Resilency – Use these six tools to effectively manage your museum memberships.
https://doublethedonation.com/wp-content/uploads/2022/04/Doubleknot_Doublethedonation_Nonprofit-Basics_Museum-Membership_Feature.jpg
568
1572
Adam Weinger
https://doublethedonation.com/wp-content/uploads/2022/03/logo-dtd.svg
Adam Weinger
2022-04-06 16:51:29
2023-02-07 19:54:57
Nonprofit Basics: Museum Membership