Matching Gift Trends 2023: New, Growing Initiatives & More
Matching gift programs⁠—as well as corporate philanthropy as a whole⁠—are constantly evolving to meet the needs of the companies, nonprofits, and individuals who partake. But there are some external factors at play that impact matching gift trends, too.
Over the last several months, there's been talk of an impending recession. When the economy seems rocky, many worry that employee matching gifts will be negatively impacted. But luckily, that's not been the case. Instead, many corporations are even expanding their giving programs in the face of economic downturns.
Why? In periods of turbulence, charitable efforts are more important than ever before.
In this guide, we dive into matching gift trends in 2023⁠—including what we're seeing and what we expect to continue. Specifically, we'll cover:
If you're looking for the Too Long; Didn't Read version, it's this⁠—matching gifts are thriving, and we don't expect them to go away anytime soon.
For a more in-depth look at the matching gift industry as of late, however, keep reading to find out the latest industry developments and the future of corporate philanthropy.
Recent Industry Developments [and Examples]
Tons of companies participate in corporate philanthropy by matching employee gifts. Our matching gift database contains records on upwards of 24,000 companies' program guidelines, and we work to provide the most comprehensive, accurate, and up-to-date source of information on the topic.
Recently, we can attest that we're seeing program potential continuously trending upward⁠—with new, reinstated, and expanding initiatives driving growth.
Let's take a closer look at these developments.
New programs
New companies are rolling out matching gift programs every day!
Check out a few examples of businesses that have recently incorporated matching gifts into their ongoing corporate giving strategy:

Russell Reynolds Associates

In 2022, Russell Reynolds Associates established RRA Gives Back, a philanthropic program that encourages RRA colleagues to support charitable causes and get their contributions matched by the company.




Kraft Group

The Kraft Group and its subsidiaries have long participated in a wide range of philanthropic activities. One of their newest initiatives is matching employee donations. Thus, the company is able to encourage team members to give back to a range of nonprofit organizations, doubling their impact as they do.



Bonus! A trend we're seeing more and more of is employees advocating for matching gift programs to their employers who don't currently offer them. So if a number of your donors are not eligible for matching gifts, don't fret! Instead, provide resources that can help supporters champion gift-matching on your behalf, and the results can be grand.
After all, key benefits for companies that match gifts include increased employee engagement, productivity, and retention. Knowing their employees want the programs can be a significant motivator for rolling out such an initiative.
Reinstated programs
This is largely thanks to the significant value that companies see in their corporate social responsibility efforts and recognize them as an integral aspect of their businesses⁠—even in the face of economic uncertainty.
For example, here are some companies that are matching gifts again after a brief intermission in their programming:
Booz Allen Hamilton

Previously suspended in 2021, Booz Allen Hamilton's matching gift program is once again live, as of January 2023. Both full-time and part-time team members are encouraged to join the company in supporting their favorite charitable causes.

Kimray Inc.

Since the reinstatement of its matching gift initiative, Kimray Inc. is once again matching donations made by employees to eligible nonprofit causes up to $2,000 per team member per year. Though they'll match to many registered 501(c)(3) organizations and accredited educational institutions, Kimray places a special emphasis on missions related to youth programming, culture, and their local communities.

IBM (International Business Machines)

There's recently been talk of IBM suspending its matching gift initiatives. Luckily though, it appears that they were just making the move from one software vendor to another, and paused match operations in the meantime while carrying over employee data.

The good news is that the program is live, and IBM employees are able to request matching gifts of up to $10,000 per year! The bottom line? IBM sees the value in continuing to invest in and improve its corporate giving programs.

UPS (United Parcel Service)

Though it stopped matching employee gifts for a period, UPS is back and matching since late 2022. Facilitated through the UPS Foundation, UPS' matching gift program is designed to empower team members to make a difference through workplace giving.
So why did these companies restore their previously lapsed matching gift initiatives?
It's possibly as simple as they're in a better place financially and chose to continue supporting the causes their employees are devoted to.
However, it's also likely that they recognized the termination of their philanthropic programming as a poor business practice. And that's why more employers don't cut matching gifts but instead consider it more of a long-term investment into their communities.
But regardless of the reasoning, we're glad these companies are back!
Expanding programs
The next key change? Companies with existing matching gift programs are expanding their efforts⁠—likely by increasing their matching gift ratio (or the rate at which they agree to match employee donations) and/or upping their maximum match amount per year.
Here are a few examples of companies recently making these changes:
American Eagle Outfitters

Quadrupling their maximum match amount (from $500 per team member per year to $2,000 per team member per year), American Eagle Outfitters continues to offer a best-in-class matching gift program! They also recently upgraded from a paper request form to an online submission portal⁠—making it simpler than ever for employees to get involved.

The Hartford

With an increasing match ratio from .5:1 to matching on a dollar-for-dollar basis, The Hartford Financial Services Group, Inc. is empowering employees to give by doubling individual donations. This allows each team member's contribution to make an even greater impact on the causes they care about.

Chicago Community Trust

A few key changes have been made at the Chicago Community Trust as of late. Not only did the company increase its matching gift ratio from 2:1 to 3:1⁠ (effectively quadrupling individual donations⁠) but it also heightened the maximum gift amount to $7,500.
Not to mention, the number of unrestricted matching gift programs (i.e., the company will match to any nonprofit) continues to grow, while restricted programs (e.g., only matching to a particular nonprofit mission type) have severely declined. With the opening up of these programs will likely come increased matching gift revenue for organizations that may have previously not fit the criteria but are now looking to make the most of available opportunities.
This trend continues to reflect a broader shift toward more inclusive corporate philanthropy as companies recognize the importance of empowering their employees to support causes that matter to them.
Key Matching Gift Trends We're Seeing
With the explosive growth of giving initiatives comes a number of new matching gift trends and patterns worth exploring.
Here's what's currently shaping the always-changing corporate philanthropy landscape.
Increased small and mid-size company involvement
Historically, matching gifts have mostly been offered by enterprise-level corporations. Companies needed a big budget to get started⁠, not to mention the time and energy to run the program.
Today, our analysis shows that over 65% of Fortune 500 companies still provide matching gifts⁠—but the number of small and mid-sized businesses following suit is growing rapidly as well. One thing that made this change more accessible was the introduction of a number of dedicated workplace giving platforms designed for smaller teams and limited budgets.
Now, just about any employer can get started with matching gifts and see a substantial return on their investment for doing so! And all in all, that means organizations are seeing more eligible donors⁠—with something like 26+ million individuals working for companies that match employee gifts.
Expected continuous growth
In the last few years, an increasing number of companies have adopted employee-matching programs. And the business benefits of doing so are significant!
That said, we can expect to see continued growth. In fact, according to a recent study, 94% of major US corporations plan to heighten or maintain their philanthropy in the next few years. With the trends we're seeing, we estimate that a notable portion of that increased giving will be contributed through employee-driven initiatives (or workplace giving programs), like matching gifts.
A proactive approach from fundraising organizations
Even with an increasing number of companies offering matching gifts, a significant roadblock remains when eligible employees are unaware of the programs available to them. Still, research shows that less than 19% of companies include adequate information on matching gift programs in easily accessible employee-facing materials.
The result? 78% of donors do not know whether their company matches gifts. And thus, available matches are going unclaimed⁠—so nonprofits are taking it upon themselves to proactively promote matching gifts to their audiences. This can take many forms but often consists of internal matching gift training, efforts to integrate matching gift information directly into the donation process, using matching gift software to uncover available opportunities, and sending personalized follow-ups post-transaction.

Tighter integrations between companies and nonprofits
Corporate philanthropy initiatives like matching gifts involve a few key stakeholders. Namely, this includes the companies offering the programs and the nonprofits receiving associated funds. In order to make the process as simple and direct as possible, tighter partnerships are forming between the two parties.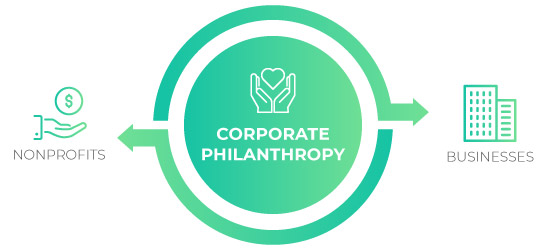 One example of this is Double the Donation's innovative new matching gift auto-submission functionality. Auto-submission within 360MatchPro enables employees at forward-thinking companies like Checkr, Innovative Discovery, and more to submit their matching gift requests from their favorite organizations' giving pages.
It's quick, it's easy, and it's all handled behind the scenes⁠. Thus, it minimizes complications for nonprofits, companies, and donors alike and drives more matching gifts to completion.
---
Trending Onward & Upward
Matching gifts continue to be a prominent form of corporate philanthropy. Thus, we encourage nonprofits to make the most of the opportunities at hand.
But remember: your donors may not be aware of their companies' matching initiatives! Take a proactive approach in marketing matching gifts to your audience to maximize funding and engagement from the programs. When you employ matching gift automation, your team can sit back as your matching gift revenue trends upward as well.
Interested in learning more about matching gift trends to be aware of? Check out these additional Double the Donation resources: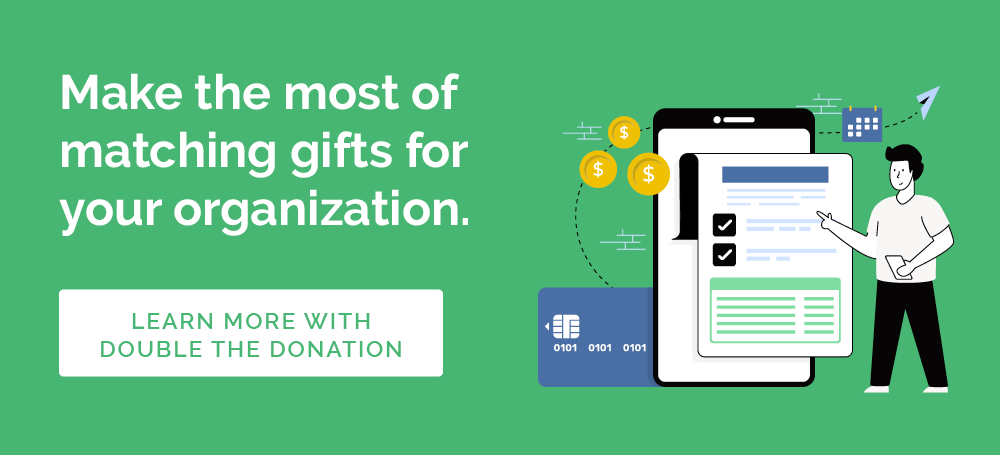 https://doublethedonation.com/wp-content/uploads/2023/03/DTD_Matching-Gift-Trends-2023-New-Growing-Initiatives-More_Feature.png
600
1600
Adam Weinger
https://doublethedonation.com/wp-content/uploads/2022/03/logo-dtd.svg
Adam Weinger
2023-03-24 15:38:13
2023-07-21 14:16:48
Matching Gift Trends 2023: New, Growing Initiatives & More