Through the Microsoft Ad Grant program, nonprofits can transform their advertising techniques and venture into the world of search engine marketing (SEM) for free. All you have to do is meet the eligibility requirements, apply, and start creating compelling ads. But before diving straight in and applying, take some time to learn the basics of the program.
What Is The Microsoft Ad Grant?
Also known as Ads for Social Impact, the Microsoft Ad Grants program awards eligible nonprofits $3,000 each month to spend on promoting web content across Microsoft's digital search and native advertising network. Ads are shown across Bing, Yahoo, AOL, outlook.com, MSN, and Microsoft Edge.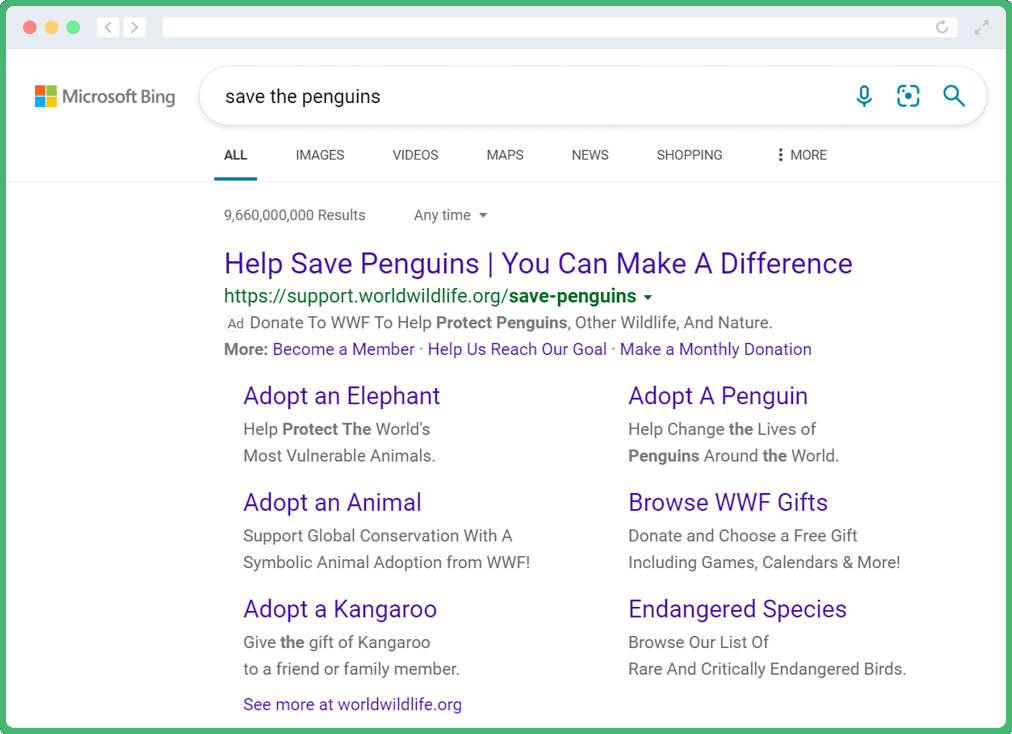 Currently available only to U.S.-based nonprofits, Microsoft Ad Grants expand your marketing budget and empower organizations like yours to accomplish goals such as:
Growing mission awareness by promoting educational content
Attracting and retaining donors, volunteers, and other supporters by unlocking a new platform
Driving more qualified web traffic to your most important landing pages
Plus, access to additional tools through Microsoft for Nonprofits will help you garner a deeper understanding of how users interact with your cause online. That way, you can make sure you're targeting the right keywords and driving greater mission outcomes through the program.
Note that Microsoft is not taking any more applications at this time while they work on refining the program to support more nonprofits.
Microsoft Ad Grant Eligibility Requirements
If you're familiar with Google Ad Grants, you know the program's coordinators have eligibility criteria to limit access to the program. Microsoft takes a similar approach with its nonprofit eligibility guidelines.
Once Microsoft starts accepting applications again, make sure you meet the core requirements that Microsoft breaks down into three categories:
Type of organization: Your organization must be a nonprofit or non-governmental organization with recognized legal status (e.g., 501(c)(3) status for U.S. organizations). Public libraries and museums are also eligible.
Mission: Organizations must operate on a not-for-profit basis and have a mission to benefit their local communities.
Non-discrimination: Organizations must not have a policy or mission of discrimination. This includes (but is not limited to) discrimination in hiring, compensation, training, promotion, termination, services, or any other area.
Note that certain types of organizations are automatically ineligible for the program. Some of these include governmental organizations, academic institutions, healthcare organizations, and political organizations.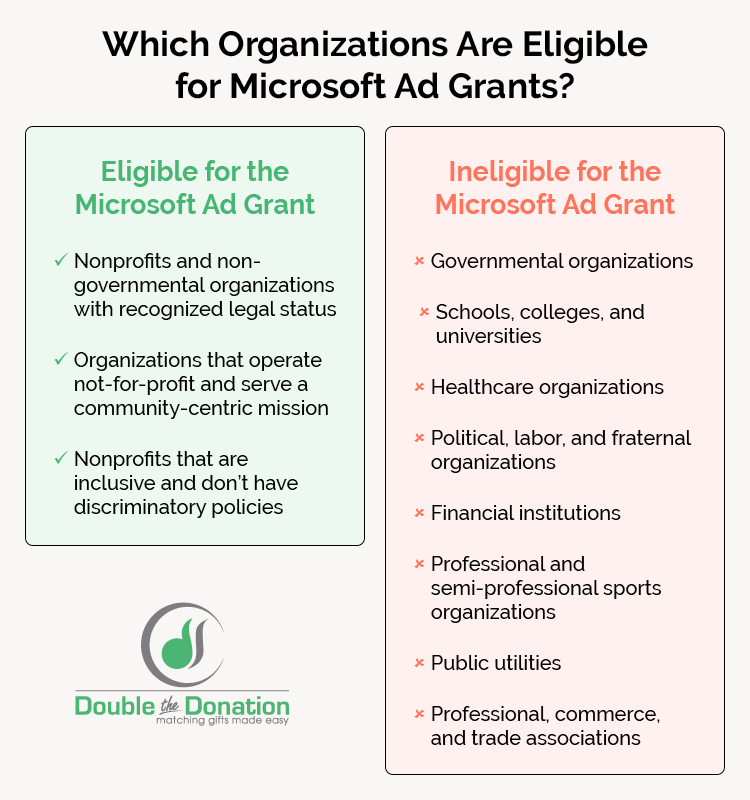 As long as your organization meets the program's requirements, you'll be accepted into the program! If you're unsure if you meet the requirements, a dedicated Microsoft Ad Grants manager may be able to step in to confirm your eligibility.

How to Get Started with Microsoft Ad Grants
So you've determined that you're eligible for the program — fantastic! Now you're ready to apply. Remember that Microsoft has temporarily paused the program for new applicants, but it's important to know what to expect.
Let's walk through the steps you need to take to get started with this marketing opportunity once the program coordinators begin accepting new applications.
Step 1) Bring your website up to code.
While not listed in their official application steps, you should take time to optimize your website before applying. After all, this is where you'll drive users across your Microsoft Ad Grant campaigns.
Walk through your site, paying special attention to the landing pages you'll promote through your ads. Here are some elements to consider:
Pages with a clear purpose: Each page on your site should have a clear purpose, whether that's sharing volunteer information, funneling donations, promoting matching gifts, outlining a major initiative like a capital campaign, explaining your mission, or something else. Then, use your CTAs to tell readers exactly what step you want them to take.
Mobile usage: Fundraising research estimates half of all nonprofit web traffic comes from mobile users and mobile-friendly donation forms yield 34% more donations. Make sure you use a mobile-responsive web builder that will automatically resize your content to fit any screen size.
Effective graphic design: You can have compelling written content, but your graphic design will tie it all together and reel users in. Kwala's nonprofit graphic design guide explains that you should infuse your brand by featuring your logo, colors, fonts, and other recognizable elements. You should also use timeless images and fonts as well as effective colors and contrasts that make your design pop.
In no time, you'll develop a trustworthy website that users will want to explore once they click on your Microsoft Ads!
Step 2) Apply for Microsoft for Nonprofits
Microsoft for Nonprofits is the broader program you'll need to join before you can apply for Microsoft Ad Grants. This program provides additional grants and discounts for various Microsoft products, like Office 365 and Dynamics 365.
To register, you'll need to do the following:
Share role-specific information for your nonprofit's point of contact.
Agree to Microsoft's program policies.
Provide organizational information and documents that prove your organization's eligibility.
Registration review can take up to 7 days. Bear in mind that Microsoft partners with TechSoup to validate applicants' information. As you wait, TechSoup may contact you for additional details.
Once approved, you'll receive an email from Microsoft and can access Microsoft's Nonprofit Hub to take advantage of the different tools.
Step 3) Complete the Microsoft Ad Grants application.
Access the Nonprofit Hub within Microsoft for Nonprofits, which houses the Microsoft Ad Grants application. As you fill out the application, you'll provide additional information, such as:
Expect to hear back via email within 10 business days. The timeline for approval may alter if Microsoft requests additional information or documentation from you.
Once accepted, you can start building your campaigns, writing compelling ads, and taking full advantage of this nonprofit marketing opportunity.
In no time, you'll be a Microsoft Ad Grant wiz! And if at any time you need help, you can always reach out to an SEM grant management specialist to answer your questions.
Other Resources to Explore
Nonprofit Basics – Learn more nonprofit management essentials by exploring other expert resources.
Microsoft Ad Grants: A Q&A Guide for Nonprofit Marketers – Dive further into the Ads for Social Impact program with our ultimate guide!
The Microsoft Ad Grant Program: All Your Questions Answered – Keep learning about the benefits of Microsoft Ad Grants along with some grant management best practices in this guide.

https://doublethedonation.com/wp-content/uploads/2022/05/Microsoft-Ad-Grants_Feature.png
380
1000
Adam Weinger
https://doublethedonation.com/wp-content/uploads/2022/03/logo-dtd.svg
Adam Weinger
2022-05-22 21:49:26
2023-02-17 14:31:40
Nonprofit Basics: Microsoft Ad Grants for Social Impact