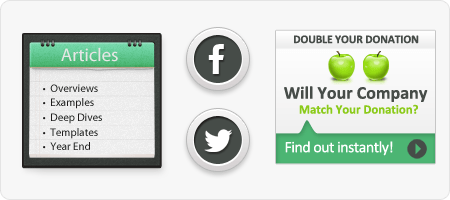 Here at Double the Donation, we often write about the benefits of corporate giving programs, but we also touch upon marketing these programs to your donors. Informing individuals about the possibility of literally doubling donations via matching gift opportunities is step one to extra financial support, but step two is ensuring that these marketing efforts are working!
We'll touch upon some common marketing efforts to get your donors ramped up to submit that matching gift request form to their employer, but also how to tell if your strategy is working.
Marketing Matching Gift Programs
Getting your donors aware about matching gift opportunities is the biggest obstacle your organization will have to overcome in order to receive more funds through these programs. There are billions (yes, billions!) of unclaimed dollars from corporate giving programs because donors are just simply not aware that they can ask their employers to match donations to eligible nonprofit organizations.
Here are three easy and effective marketing strategies to raise donor awareness about matching gift programs.
Include Matching Gift Information in Acknowledgement Letters
If your nonprofit organization is not already including information about matching gift opportunities in donor acknowledgement letters, then it's a super easy way to start your marketing campaign. When an individual donates money to your organization, the hard part is done. Now you just need to get them to submit a matching gift request form to their employer – but how do you get them to do that?
Include a blurb about matching gifts in your acknowledgement letter. You've already got a committed audience, and since the acknowledgement letter doubles as a tax receipt, you can almost guarantee that the donor will read the letter to skim over key points. Make sure you emphasize that requesting a matching gift from their employer is easy and effective. Direct them to your Double the Donation webpage to allow them to check in just a couple of quick steps if their employer offers a matching gift program, and the steps they need to follow to do so.
It can be as simple as this: "Did you know that many corporations offer employee giving programs where they match donations to [your organization's name]? The tax deductible component of your membership is normally eligible to be matched as well. Check with your employer today to see if they provide matching gifts!"
Make sure to mention that many companies now offer the opportunity to submit these forms online, so that makes the request that much easier. Your odds that a donor requests a matching gift from their employer are so much better if they've made a gift recently, so make sure your acknowledgement letters are timely!
Strategically Place Matching Gift Information on Donation Web Pages 
As with the above method, you want to make sure to include matching gift information in places that your donors (actual and potential) can see and process quickly. If an individual is on your organization's donation page, then chances are that they didn't end up there by accident. This is a great place to let them know that once they commit to the donation, then asking for a match from their employer will only take a few extra minutes. Donors are more likely to pull the trigger when they know it won't be a long and arduous process, especially once they've already made a gift.
Put blurbs about matching gift opportunities on your donation pages, including on the "Donate Now" pages, and especially on the "Thank you for donating!" pages. It would be great as a "Next Steps" option.
Engage Your Donors on Social Media
Does your organization have a Facebook page? Twitter? YouTube? All of these are great places to let your donors know how grateful you are for their commitment to your organization's mission, and a great place to let them know that they can literally double their donation by simply requesting a matching gift from employers. First and foremost, say thank you! This is a crucial part to ensure that they keep reading and engaging with your organization.
Post stories about how the money raised for your organization is helping grow your mission. Include asides about how matching gifts can doubly impact the cause! Facebook is a great place for short posts about matching gifts; Twitter is great for quick and succinct blurbs with links; and YouTube is a great place to submit a video thanking your donors for their contributions and extra efforts in matching gifts!
With social media, the marketing possibilities are endless.
Measuring the Impact of Marketing Efforts
The best advice we have on measuring your marketing impact is to create a chart. Create a graph of some kind (whatever your boss prefers, whether it's a bar graph, a pie chart, or a nifty line chart in Excel) with the total amount of matching gifts received last year versus this year. Or last month versus this month. Use any time span that can really show you a difference between your pre- and post-marketing efforts. Can you see a discernible difference in the number of matching gifts being sent in?
Of course you can download our free Microsoft Excel Matching Gift Tracker and Dashboard >
You can also create a survey (there are many free online software tools) that allow you to send a thank you email to a donor who had submitted a matching gift request. Ask them how they learned about matching gifts, and include all of your marketing efforts, as well as an "Other" box with a free response option. This will help you realize which efforts are worth investing more time in (or at least focusing more on in the future), and which may be fruitless.
Your organization will also be able to identify if a majority of matching gifts are coming from one company in particular, or from a wide array of employers. This is notable because if your matching gifts seem to be coming from one employer, then it'd be a good idea to publicly recognize it as a valuable donor and partner to your organization.
There are a variety of ways to market matching gifts to your donors, and several other ways to measure the impact of these marketing efforts. Too much money goes unclaimed by nonprofit organizations due to a lack of awareness on the part of the donors about corporate giving programs. This shouldn't be the case! Make sure you're educating your constituents on a consistent and appropriate basis, and you could be well on your way to a high increase in the number of matching gift requests submit.
For more tips on how to to keep up with your marketing efforts and better retain your donor base, check out this webinar from Aplos.

https://doublethedonation.com/wp-content/uploads/2022/05/donor-awareness-matching-gifts.png
321
845
Adam Weinger
https://doublethedonation.com/wp-content/uploads/2022/03/logo-dtd.svg
Adam Weinger
2014-08-25 21:31:02
2022-06-20 07:54:17
Nonprofits: How to Increase Donor Awareness about Matching Gift Programs