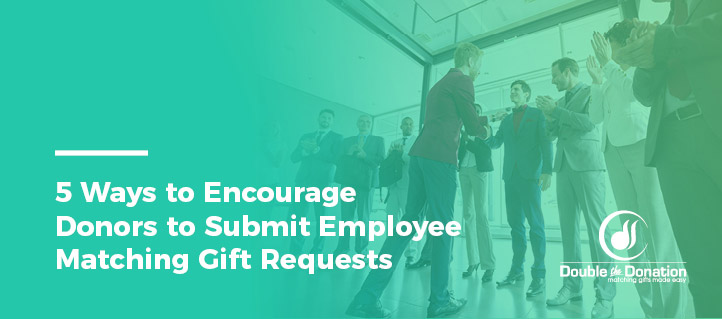 5 Ways to Encourage Donors to Submit Employee Matching Gift Requests
As a fundraising leader, you've put a lot of thought into how to market matching gifts before and during the donation process. But for the donor, clicking submit or mailing their check often feels like the final step.
We've put together a few ways to encourage your donors to take that next step and submit their matching gift requests.

1. Send a follow-up email
Send a quick email to your donors that specifically asks them to take the next step and submit their matching gift requests. Make sure that this email includes an explanation of matching gifts and truly illustrates how easy they are to request.
Even better, use Double the Donation's 360MatchPro portal to send automated outreach to your donors about matching gifts. When your donors make a contribution, they are automatically sent an email that includes their company-specific matching gift information and a link to their employer's submission form. Though sent from 360MatchPro, these emails are branded to match your organization, which makes the appeal more personal for your donors.

2. Pick up the phone
Sort through your donations and identify your top contributors. Call these donors to thank them for their gift and encourage them to submit their matching gift request. Many donors would be happy to support your organization in this way, they simply know about matching gifts.
Lack of donor awareness is the biggest hurdle to increasing matching gift revenue. If you're able to walk them through the process on the phone and provide them with information about the process and the guidelines they need, they will be more likely to submit and more likely to tell their friends.

3. Send a note in the mail
Good old-fashioned postage is still a great way to touch base with your donors! Send a postcard, letter, or buckslip to share information about matching gifts. You can also use these mailers as a call to action that encourages the donor to submit their matching gift request.
Many companies have very generous matching gift request submission deadlines. This window is often between three months and over a year, which gives donors plenty of time to get their donations doubled!

4. Educate your Staff
You can easily raise your match submission rates among your donors by looking inward. Make sure that your organization is cultivating a knowledgeable staff, with every employee understanding your organization's procedure for processing matching gifts. When your team knows the basics of matching gifts and feels confident explaining the process, you can work together to create an outreach strategy that is specific to your donor base.

5. Market Matching Gifts Everywhere.
The most effective way to encourage donors to submit their matching gift requests: mention matching gifts as often as possible! Include matching gift information in your acknowledgment letters and emails, on your website, and in your social media posts. Check out a few examples here, and download our Ultimate Guide to Marketing Matching Gifts for even more information.
https://doublethedonation.com/wp-content/uploads/2022/06/Double-the-Donation-Encourage-matching-gift-requests-feature.jpg
319
722
Adam Weinger
https://doublethedonation.com/wp-content/uploads/2022/03/logo-dtd.svg
Adam Weinger
2016-05-14 13:34:56
2022-06-20 07:55:05
5 Ways to Encourage Donors to Submit Employee Matching Gift Requests