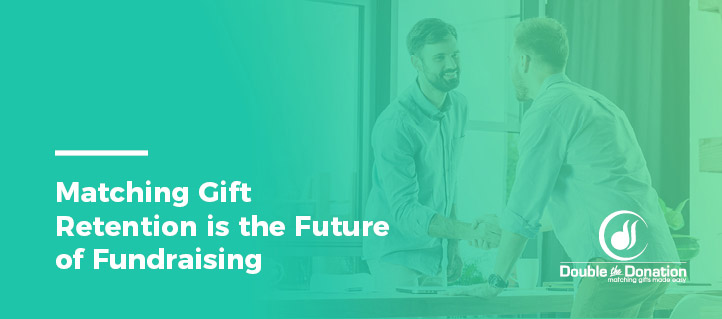 Matching Gift Retention is the Future of Fundraising
With so many different ways to fundraise for our nonprofits, we're being pulled in too many directions, and our ability to focus on the most impactful channels is becoming difficult. The future of fundraising is a strategy that enables organizations to overcome resource constraints and competing data sources to maximize fundraising and optimize programs.
Two areas that are worthy of tactical coordination are matching gifts and donor retention. In this post, we're going to outline why retaining your matching gift donors, in particular, is going to have an amazing impact on your organization's immediate revenue and long term sustainability.

Why retention needs to be your central strategy
The cost to acquire $1 from a new donor averages $1.25, yet retaining a donor comes at a significantly lower cost. According to research by acclaimed nonprofit researcher Adrian Sargeant, if an organization retains 10% of their current donors then their net growth in giving for the "typical" nonprofit will grow by 50%.
This data has historically focused solely on the individual donor and not taken matching gifts into account. Given that the majority of companies offering matching gifts are matching at a 1:1 ratio, while others can give as much as $4 for every $1 donated, there is an amazing amount of potential when we focus our retention efforts on match-eligible donors.
From a pure revenue generation standpoint, organizations will be able to dramatically alter their revenue projections if they can identify and retain donors who have historically been able to match their gifts.
So where do we begin?

Data stewardship will maintain your impact
A common source of frustration for donors is poor communication, which is typically a symptom of a much larger issue surrounding data integrity. It costs an organization $1 to verify a record upon entry, $10 to dedupe and clean data AFTER input, and $100 per bad record if nothing is done.
Identifying matching gift opportunities and maintaining donor retention both begin with having accurate data on your donors, so kick off your retention strategy by investing in data stewardship. This can be achieved by concentrating on small changes to processes that your organization may be missing right now:
This becomes especially important when leveraging impact-focused integrations like the 360MatchPro integration with NeonCRM's donor management system, since having an accurate name and email on file will ensure that the automated marketing will be automatically delivered to drive more matching gift requests to completion.
An important process adjustment includes logging which businesses a donor works with. If you notice on LinkedIn or through your matching gift outreach that a person has changed jobs, be sure that this change is reflected in their account in your database of record.

Use personas to hone your retention message
Once your organization has established a confident foundation for your donor database, you will be able to begin strategic outreach and cultivation around donor retention. Rather than randomly calling people who have donated in the past, your organization can implement a data-driven outreach plan that centers around the creation of donor personas for your retention stewardship needs.
The concept of personas originally came from the marketing world as a way to group buyers into key segments of your audience. Since then, there has been some exciting work done around developing donor personas specific to the nonprofit industry.
Developing a persona to organize your work around can help to clarify the key items that will relate to your audience. Instead of creating mass messaging that doesn't appeal to anyone, organizations should be crafting communications that speak directly to a specific audience.
An added step that your organization could be taking involves running reports specifically on donors who have requested matching gifts in the past. Being able to create a persona specifically around match-eligible donors will be an empowering step toward maximizing your impact. Take it one step further and create personas around new match-eligible donors versus lapsed match-eligible donors.

Make donor love central to your mission
Beyond poor communication, another reason that your organization may be losing donors is the donation experience itself. Review how easy it is to make a donation on your website and, more specifically, how clear your instructions around initiating a matching gift are.
Donor love should be at the center of the giving experience. You can do this by centering fundraising appeals around your organization's mission and message as well as the donor's role in making an impact. Make the experience about the donor's ability to drive change and ensure that your organization is not taking a "me me me" approach to communications.
You can start by taking a hard look at your organization's website since it will be one of the primary resources that donors use to determine whether they will be giving to your nonprofit.
No matter what your organization does, focusing on your mission will always ensure that donors feel an emotional attachment to your organization.
Donor retention is about ensuring that you are building a lasting relationship with the individual that is giving to you. Matching gifts take that relationship to the next level, involving a generous corporate partner as well as your individual donor. By combining matching gifts with a strategy focused on donor retention, you will be able to chart an exciting path towards sustainability and growth for your nonprofit.
Tim Sarrantonio is a team member at Neon One and has more than 10 years of experience working for and volunteering with nonprofits. Tim has raised over $3 million for various causes, engaged and enhanced databases of all sizes, procured multiple successful grants, and formulated engaging communications and fundraising campaigns for several nonprofits. He has presented at international conferences and is a TEDx speaker on technology and philanthropy. He volunteers heavily in his hometown, Niskayuna, NY.
https://doublethedonation.com/wp-content/uploads/2022/06/Double-the-Donation-NeonOne-Matching-gift-retention-feature.jpg
319
722
Adam Weinger
https://doublethedonation.com/wp-content/uploads/2022/03/logo-dtd.svg
Adam Weinger
2019-02-18 17:56:44
2023-09-14 20:56:43
Matching Gift Retention is the Future of Fundraising