Top 7 GoFundMe Alternatives for Powerful Fundraisers
As crowdfunding continues to become an increasingly popular form of fundraising for a wide range of causes, the need for a profitable and easy-to-use platform grows as well. Industry-leading crowdfunding website, GoFundMe, continues to be an obvious choice for hundreds of thousands of fundraising individuals and groups across the globe. Let's explore why GoFundMe is one of our favorite solutions:
Why We Love GoFundMe
GoFundMe is one of the most popular crowdfunding platforms in both the nonprofit and personal fundraising spaces. With its low fees and high rates of success, it can be an excellent choice for all sorts of critical needs, from medical bills to church campaigns and more.
Plus, it's one of the biggest names in the fundraising sector, which means friends, loved ones, and other supporters will feel good about giving through a well-established and secure platform.
Facts to Know About GoFundMe
Here are some fun facts about the GoFundMe platform that demonstrate its wide reach and impact on all sorts of fundraisers:
More people launch GoFundMe fundraisers than on any other platform.
GoFundMe pages receive over 1 billion visits each year, which boils down to more than 31 hits per second.
Each GoFundMe share on social media results in an average of $13 in donations.
GoFundMe users tend to skew younger than the average nonprofit donor demographic.
The GoFundMe platform processes an average of over 30 donations per minute.
GoFundMe's Most Noteworthy Features
GoFundMe offers an easy-to-use platform both behind the scenes for organizers as well as on the donor-facing front. Here are some of their features and benefits that stand out:
The Donate Button: GoFundMe's donate button widget allows individual fundraisers to quickly and easily embed a campaign in their personal website or blog. This way, they can drive additional traffic to their crowdfunding page from external resources.
Team fundraising abilities: Families, friends, teams, clubs, and more can easily start fundraising together with GoFundMe's group fundraiser functionality. Each participant can share the campaign, thank donors, and track their progress while the funds collected go toward a common goal.
Visual goal thermometers: Once an organizer sets their dollar goal, the GoFundMe campaign incorporates a visual fundraising thermometer that updates in real-time when each donor submits their gift. This is great for driving donations and leveraging gamification strategies!
However, if (for some reason) you're still in the market for a top crowdfunding solution and you'd like to explore options beyond GoFundMe, you might want to consider the following fundraising sites as well:
Let's dive right in!

1. GiveCampus
Best GoFundMe Alternative for Educational Fundraisers
GiveCampus is a fundraising and volunteer management platform designed to help schools increase conversion and fuel fundraising. Through their powerful donation tools, GiveCampus has facilitated over $1 billion in charitable giving to educational institutions through the leading fundraising avenues. GiveCampus specializes in giving forms, volunteer management, and educational peer-to-peer fundraising, an approach that can be 300x more effective than institutional asks.
Using the GiveCampus platform, educational institutions can access solutions for a range of fundraising activities, such as annual giving, major gifts, volunteer programs, alumni relations, crowdfunding and giving days!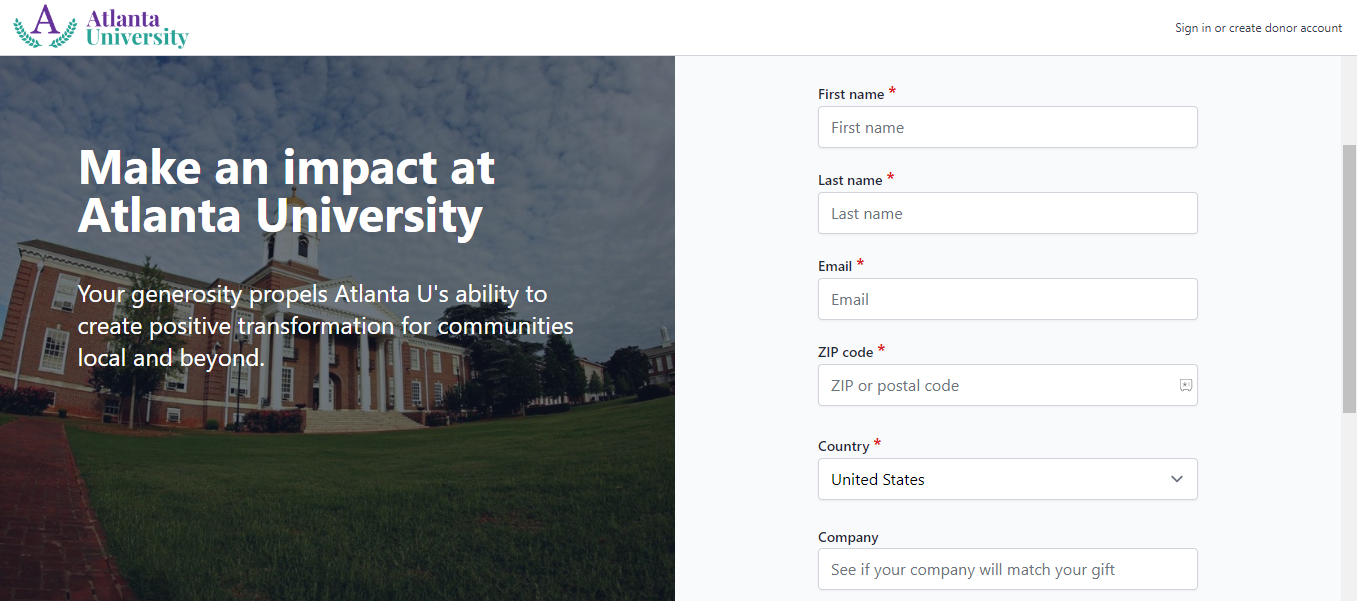 Why We Love This Platform
GiveCampus leverages modern technology and behavioral science to help your institution reach, engage, and mobilize your community. Through their innovative platform, your institution can drive donations with ease.
Plus, it integrates with Double the Donation's matching gift automation tool, 360MatchPro.
Pricing
Check out the GiveCampus site to learn more about their pricing offerings.

2. Fundly
Best GoFundMe Alternative for Mobile-First Fundraising
Fundly's crowdfunding platform is one of the best. It's easy to get started, the fees are low, and you get to keep whatever funds you raise (regardless of whether or not you meet your goal!). This "keep it all" (KiA) model allows fundraisers to focus on spreading awareness for their campaigns and recruiting more donors, instead of worrying about a deadline or a looming goal.
Fundly's platform enables fundraisers to upload media, post updates, tell their stories, and share their campaigns via Facebook, Twitter, and email.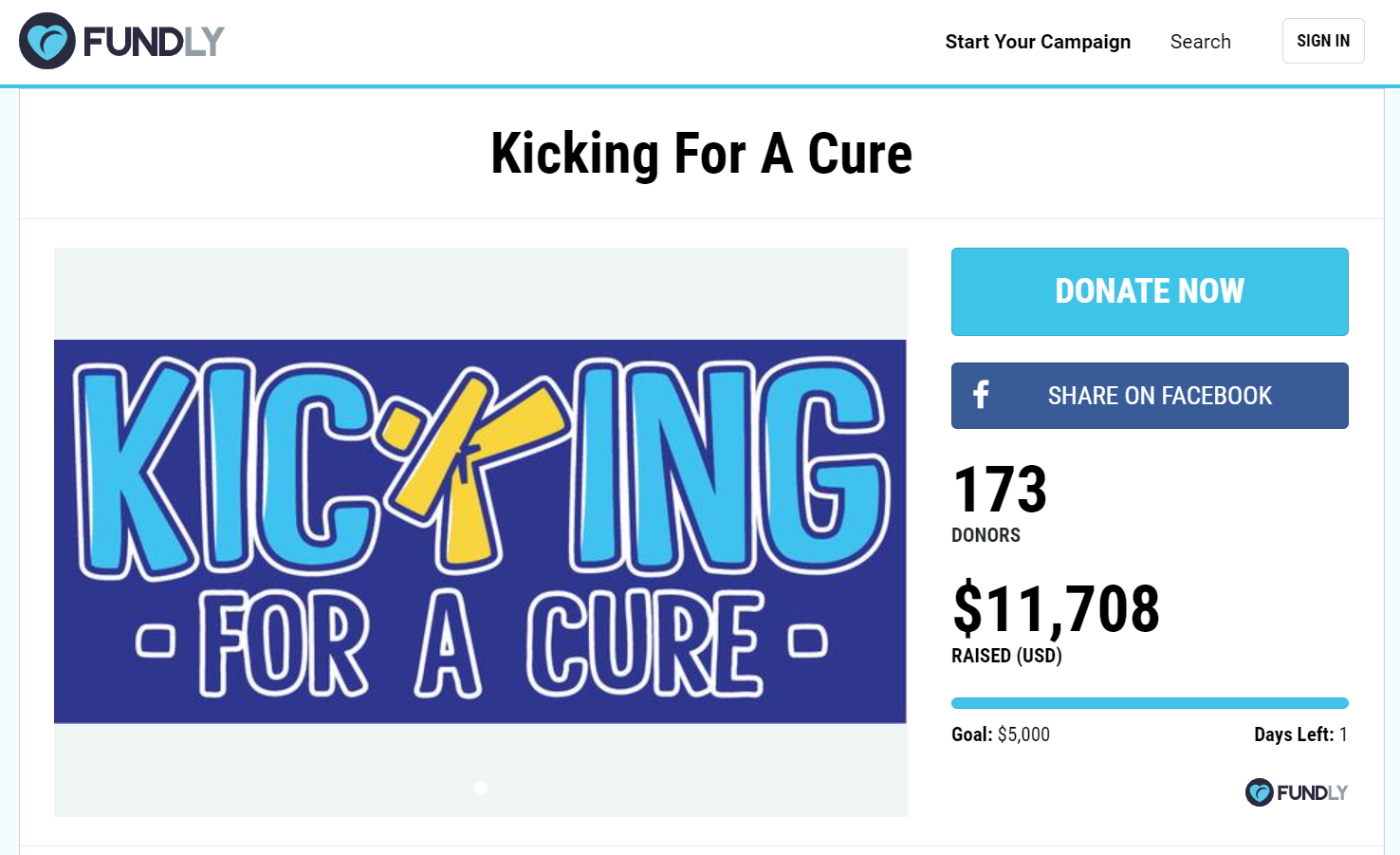 Why We Love This Platform
Fundly allows you to customize your campaign by adding logos, a background image, custom colors, and more to make your campaign truly unique.
Additionally, Fundly has some of the best customer service offerings in the industry. If you run into a fundraising problem, Fundly's support team will help you fix it in no time.
Plus, it integrates with Double the Donation's matching gift automation tool, 360MatchPro.
Pricing
Fundly charges a 4.9% platform fee as well as a 2.9% credit card processing fee and $.30 per transaction.
3. Givebutter
Best GoFundMe Alternative for Donor Management
Givebutter has everything you need for campaign fundraising in an easy-to-customize, easy-to-share format. The platform offers a free, built-in CRM called Track where users can store contacts and track supporter activity.
Add videos, tell your supporters about your mission, and engage your donors' creative side with their live supporter feed. Plus, your supporters can fundraise as a team and track their group's progress.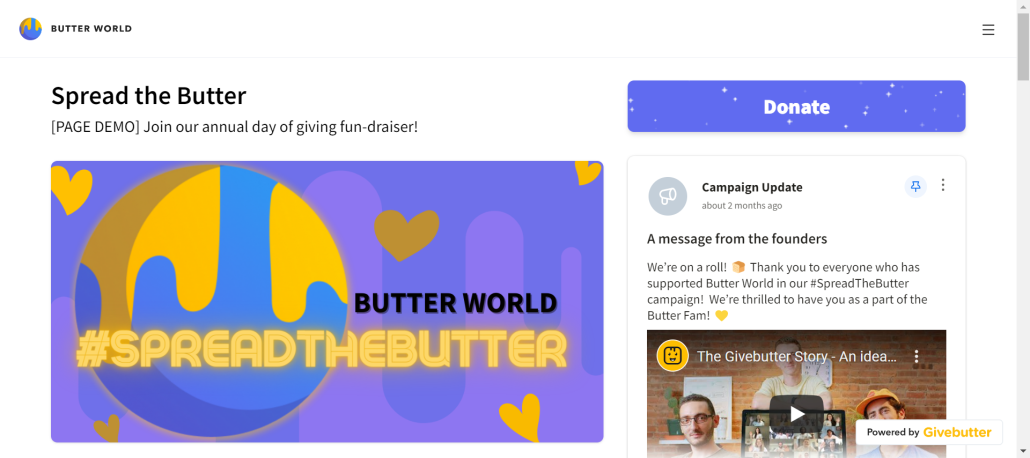 Why We Love This Platform
Givebutter has made a big splash in the online fundraising space with its intuitive and affordable solutions for organizations large and small and continues to expand functionality for their users. They're known for their user-friendliness, fundraising pages, free outbound text blasts, and website embeds like donate buttons and forms.
They also integrate with 360MatchPro by Double the Donation, allowing users to capture match eligible donations and receive more revenue from matching gifts.
Pricing
You can sign up for Givebutter for free, which gives you access to their fundraising pages, donation forms, fundraising event pages, CRM, and email and text messaging tools.
4. Bonfire
Best GoFundMe Alternative for T-Shirt Fundraising
If you're looking for a way for your donors to support your cause even after your current campaign is over, offering t-shirts from Bonfire is a great way to do it!
The process is simple: You design your shirts and spread the word about the sale via a crowdfunding campaign. Once orders are printed and shipped to supporters, you receive all the profits.
Campaigns from this site can last up to three weeks, and if you don't make your minimum number of t-shirts sold, you can start your campaign again.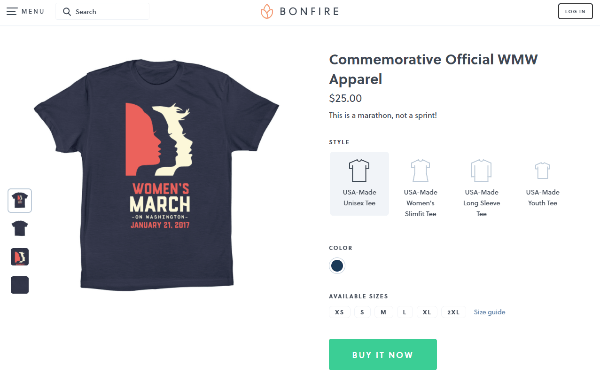 Why We Love This Platform
Bonfire has concluded a long list of successful campaigns for recognizable organizations such as the Jane Goodall Institute, the Women's March on Washington, and the Susan G. Komen Foundation of Greater New York City.
Pricing
You receive 100% of the profits from your sales, though Bonfire charges a 3.5% processing fee and a 4.5% platform fee for additional donations.
5. Snowball
Best GoFundMe Alternative for Auctions and Events
Snowball offers a complete suite of fundraising software that works to maximize revenue for any cause. Through online donation pages, fundraising thermometers, text-to-give services, and more, you can raise additional revenue in less time than ever before.
Thanks to a comprehensive platform like this, you can own every aspect of the donation process— from spreading the word about your campaign to organizing and analyzing donor data.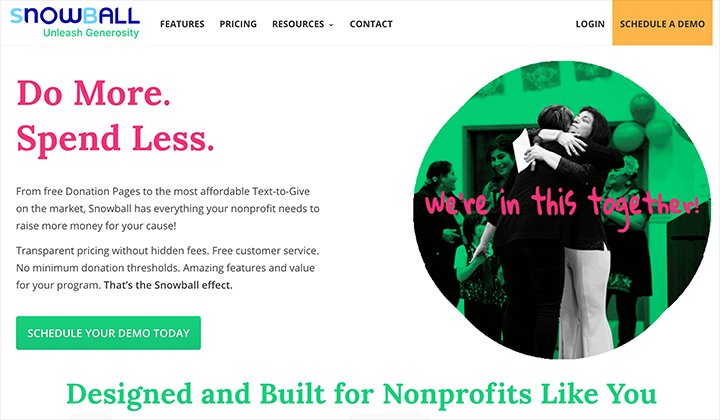 Why We Love This Platform
Snowball is easy to use for both you and your donors! You can quickly get up and running with a brand new donation page, share it with supporters all over the world, and watch the funds pour in in no time.
Pricing
Get started with Snowball's Essential Plan for free, and receive access to the basic giving tools you need—including an optimized online donation page, a CRM dashboard, and recurring gift functionality. Or, upgrade to their Premium Plan for $549/year and unlock increased functionality, unlimited online donation pages, event ticketing, and text-to-give tools!
6. 99Pledges
Best GoFundMe Alternative for Walk-a-Thons
Geared toward "event-a-thon" style fundraisers such as walkathons and bike-a-thons, 99Pledges makes it easy to share and manage your campaign.
When you start a 99Pledges fundraising campaign, each participant automatically receives a donation page to share with friends, family, and followers over email and on social media.
Want to encourage a little friendly competition among your fundraisers? 99Pledges can track and share the progress of individuals or groups to show you who's in the lead!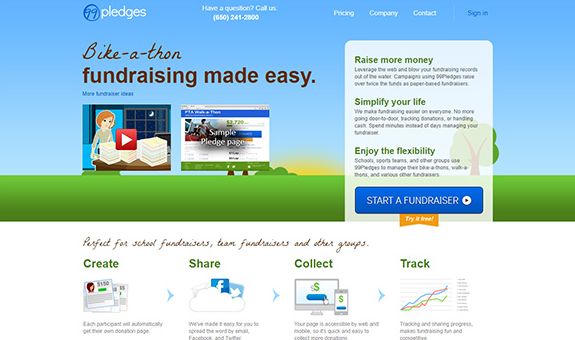 Why We Love This Platform
99Pledges campaign pages are accessible online and via mobile, making donations convenient and simple. This is the perfect way to encourage donations for a variety of popular fundraisers. If you're looking for inspiration, they offer fundraising ideas that work well with their platform.
Pricing
99Pledges charges no platform fees, and fundraisers are free to start. The only fees are standard credit card and PayPal processing fees of 2.9% + 30 cents per transaction. For cash and check donations, you keep 100% of what you raise!
7. Indiegogo
Best GoFundMe Alternative for Product Innovation
Indiegogo is a fantastic crowdfunding website for creative projects or entrepreneurial endeavors. If fundraisers meet their goal, they can then choose to sell their product in Indiegogo's marketplace.
Indiegogo is an "all or nothing" (AoN) crowdfunding platform, which, unfortunately, means that fundraisers will only receive funds if they meet their financial goals within the specified deadline.
However, this platform also equips fundraisers with social sharing tools that make promotion simple. You can advertise your campaign across social media directly from your campaign page!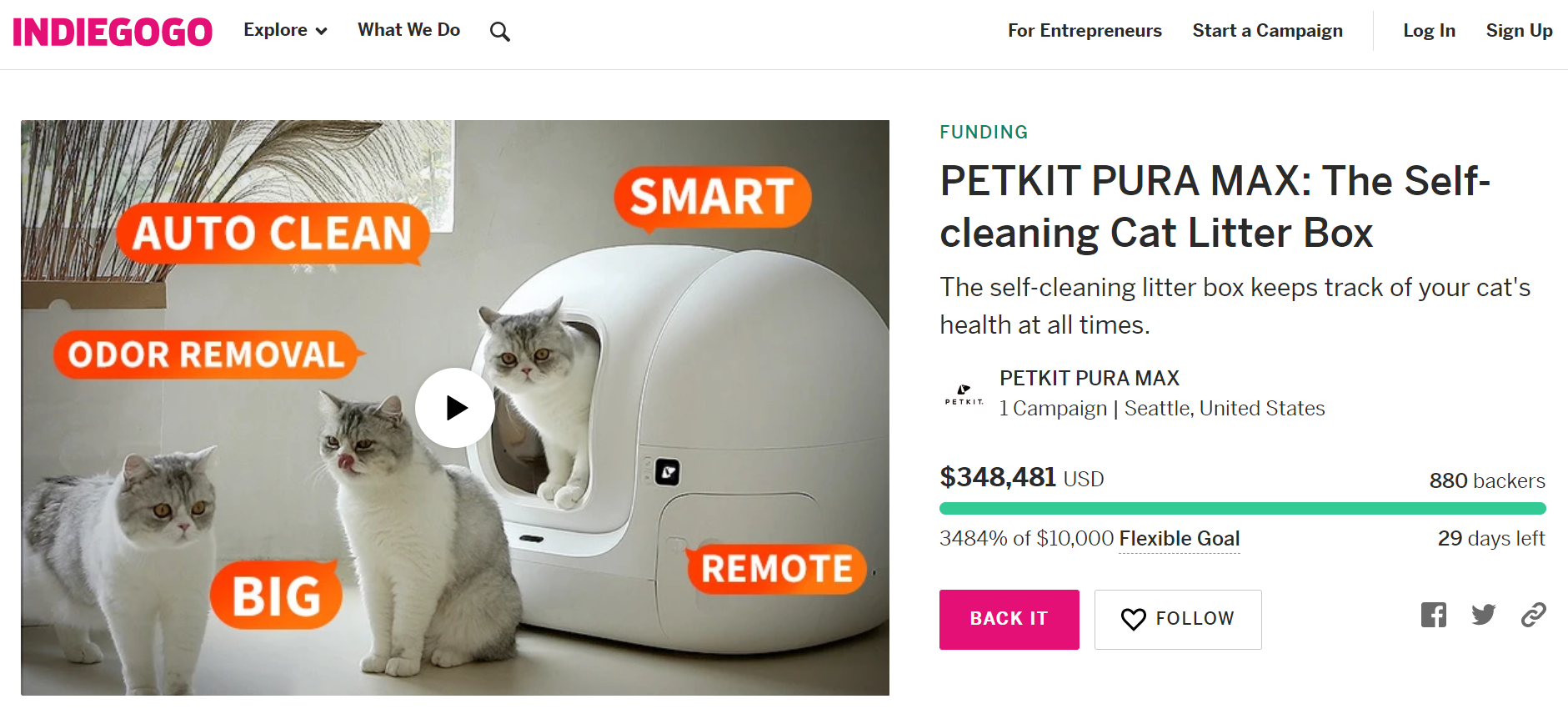 Why We Love This Platform
Indiegogo has made it easy for individuals to raise money and promote their products, services, and projects. Their interface is easy to use, and every crowdfunding campaign looks professional and thoughtfully made.
Indiegogo also offers a mobile app for fundraisers who need to keep up with their crowdfunding campaigns on the go!
Pricing
Indiegogo charges a 5% platform fee. Depending on donors' payment methods, additional transaction fees can range from 3-5%.
---
If you're ready to get crowdfunding, we suggest launching a campaign with GoFundMe or one of our other favorite picks. You'll see the dollars adding up in no time!
For more information, fundraising platforms, and strategies, be sure to check out these additional resources:
Our Favorite Fundraising Ideas for Individuals: Crowdfunding is one of the best ways to raise money for individuals, but there are other ways to fundraise for a cause you care about. Check out the top fundraising ideas for individuals and start raising more money!
Top Crowdfunding Tips To Raise More: Regardless of the crowdfunding platform you're using to raise money, you might find yourself in need of some fundraising help and advice. Luckily, these crowdfunding tips can help your campaign from start to finish!
The Ultimate Guide To Crowdfunding Successfully: If you need some more information about crowdfunding in general, head on over to our ultimate guide to crowdfunding for individuals. We've got the strategies you need to succeed with your crowdfunding efforts.
https://doublethedonation.com/wp-content/uploads/2022/06/Top-GoFundMe-Alternatives-for-Powerful-Fundraisers.jpg
275
725
Gabrielle
https://doublethedonation.com/wp-content/uploads/2022/03/logo-dtd.svg
Gabrielle
2020-01-21 15:20:30
2022-08-25 20:49:24
Top 7 GoFundMe Alternatives for Powerful Fundraisers