Canadian Companies with Matching Gift Programs: The Basics

Matching gifts play a large part in nonprofits' fundraising strategies. However, these opportunities aren't just limited to the United States.
Nonprofits in Canada and many other countries can benefit from corporate philanthropy, too!
That said, many matching gift databases for nonprofits are limited to only employers within the United States. Fortunately, Double the Donation tracks both U.S. and Canadian companies that match employee donations.
Before we jump in, let's cover the basics of matching gifts.
What are Matching Gifts?
Matching gifts are a form of a corporate philanthropy in which companies match donations their employees make to eligible nonprofits. Matching donations are typically made at a 1:1 ratio, but some companies match at a higher rate, such as 2:1 or 3:1.
Matching gifts are valuable because they're essentially free money for your nonprofit. However, they're often overlooked by nonprofits because these organizations don't have the necessary staff, resources, or time to pursue matching gift opportunities.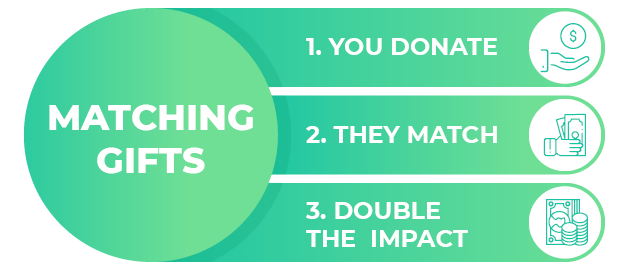 That's why having access to a matching gift database like Double the Donation's is so important. A matching gift database houses information on thousands of companies with matching gift programs, so it's easy for your supporters to search for their employer and find the necessary forms.
As expected, many Fortune 500 companies have a global presence and are found throughout Canada. Many of these large corporations also have matching gift programs; however, the policies can vary between countries.
In this article, we'll cover:
To learn more about Canada matching gift companies and matching gift databases that cover the Canadian market, read on!


Canadian Matching Gift Companies
With the 10th largest economy in the world, Canada headquarters many great companies with generous employee giving benefits. Many Canadian corporations have a long history of philanthropy, which is great news for the many renowned nonprofits that call Canada home.
If you're a Canadian organization trying to boost your fundraising with matching gifts or volunteer grants, be sure to familiarize staff members with the companies below. This list is far from exhaustive, so we encourage you to invest in a corporate giving program lookup service to make it easier for donors to access necessary information and submit their matching gift requests.
BCE Inc.
BCE Inc., formerly known as Bell Canada Enterprises, does not offer a matching gift program, but they do offer individual and team volunteer grants. Employees or retirees who volunteer throughout the year can earn substantial grants for their favorite nonprofits.
Specifically, individuals must volunteer 50 hours within a year to acquire a set grant amount of $500 for your organization, and teams must volunteer a combined 500 hours within a year to acquire a set grant amount of $2,500.
Read more about the BCE volunteer grant program.
Gildan Activewear
Headquartered in Montreal, Gildan matches gifts from both full- and part-time employees, and also offers volunteer grants. The matching gift program is open to organizations in Canada, the United States, and Honduras.
In addition to donations, they will match selected fundraising campaigns made by employees, too!
Read more about the Gildan Activewear matching gift program.
Green Shield Canada
Green Shield Canada matches gifts of up to $1,000 per employee every year. They match donations to most schools and nonprofit organizations, including a variety of institutions ranging from K-12 schools to arts and cultural organizations to environmental groups. 
Read more about the Green Shield's matching gift program.
Royal Bank of Canada
RBC, or The Royal Bank of Canada, will match employee donations from anywhere to $100 to $5,000. A perk of RBC's matching gift program is that part-time employees and retirees are also eligible to participate and can have their donations matched at the standard 1:1 ratio.
Like many of these other organizations, RBC offers grants for active volunteers! For a minimum of 40 volunteer hours, the company will provide up to a $500 grant.
Read more about RBC's matching gift program.
TC Energy
TC Energy offers two main types of employee giving programs. The first is its matching gift program, where the company will match up to $1,000 annually to most nonprofits. The program is open to all employees and retirees.
The second program is TC Energy's Dollars for Doers program. Through this program, the company matches volunteer hours with monetary grants. Once an employee volunteers for at least 1 hour in a calendar year, they can request a volunteer grant for the organization.
Read more about TC Energy's employee giving programs.
AstraZeneca Canada
AstraZeneca offers different programs across different markets. In Canada, active AstraZeneca employees can donate $50 to $500 to the CRA-registered charity of their choice and have it matched.
AstraZeneca Canada also offers multiple volunteer grant programs. Canadian employees or retirees who volunteer 40 hours with an organization can request a volunteer grant of $500 to that nonprofit. The company also gives $250 in grants to organizations where employees serve as board members or coaches.
Read more about AstraZeneca's employee giving programs.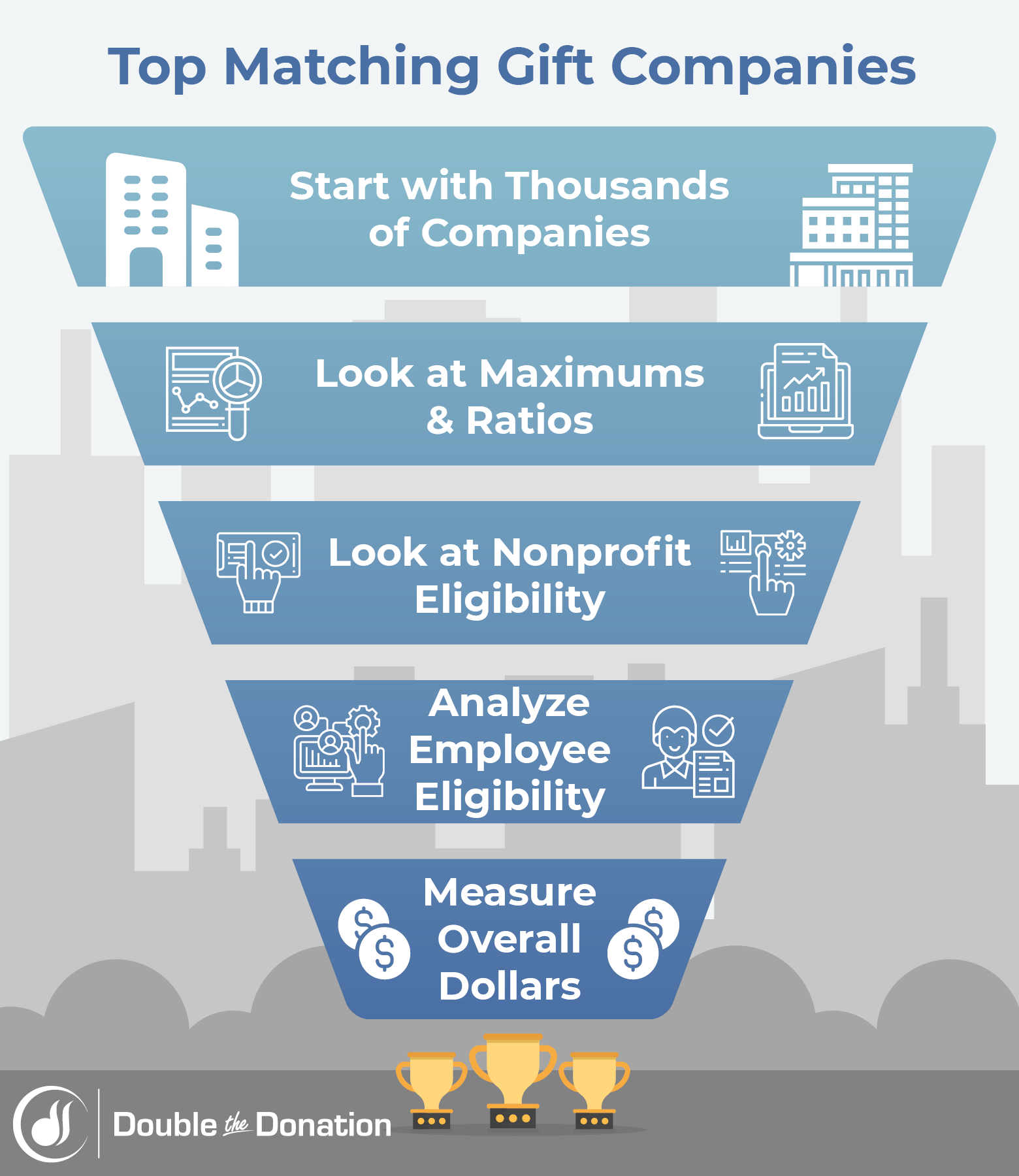 Matching Gift Database: Double the Donation & 360MatchPro
With more than 20,000 companies and subsidiaries that represent 15+ million match-eligible individuals, Double the Donation is the world's leading matching gift database.
That being said, Double the Donation is Canada's most accurate and up-to-date source of matching gift information, with customized program information, guidelines, and submission forms.
---
360MatchPro by Double the Donation
360MatchPro by Double the Donation goes beyond providing users with the necessary information for placing a match or grant request. It recognizes match-eligible donors and contacts them through automated reminder emails that guide them through the process. Your staff will save time and maximize its revenue all at the same time!
Benefits of using 360MatchPro include:
More matching gift opportunities.

Because 360MatchPro helps you automatically collect matching gift eligibility using email domains, within donation forms, by email, and more, you'll increase the amount of matching gift requests that donors submit.

More matches driven to completion. Donors will immediately be directed to the necessary matching gift forms after they've completed the donation process. Then, by giving the right information to the right donors at the right time with customized emails, you'll drive more submissions to completion and increase your matching gift revenue.
More time to focus on top opportunities.

360MatchPro automates all of your matching gift outreach, including small dollar-value ones, so you can focus your efforts on personalizing follow-ups to the most valuable match-eligible donations.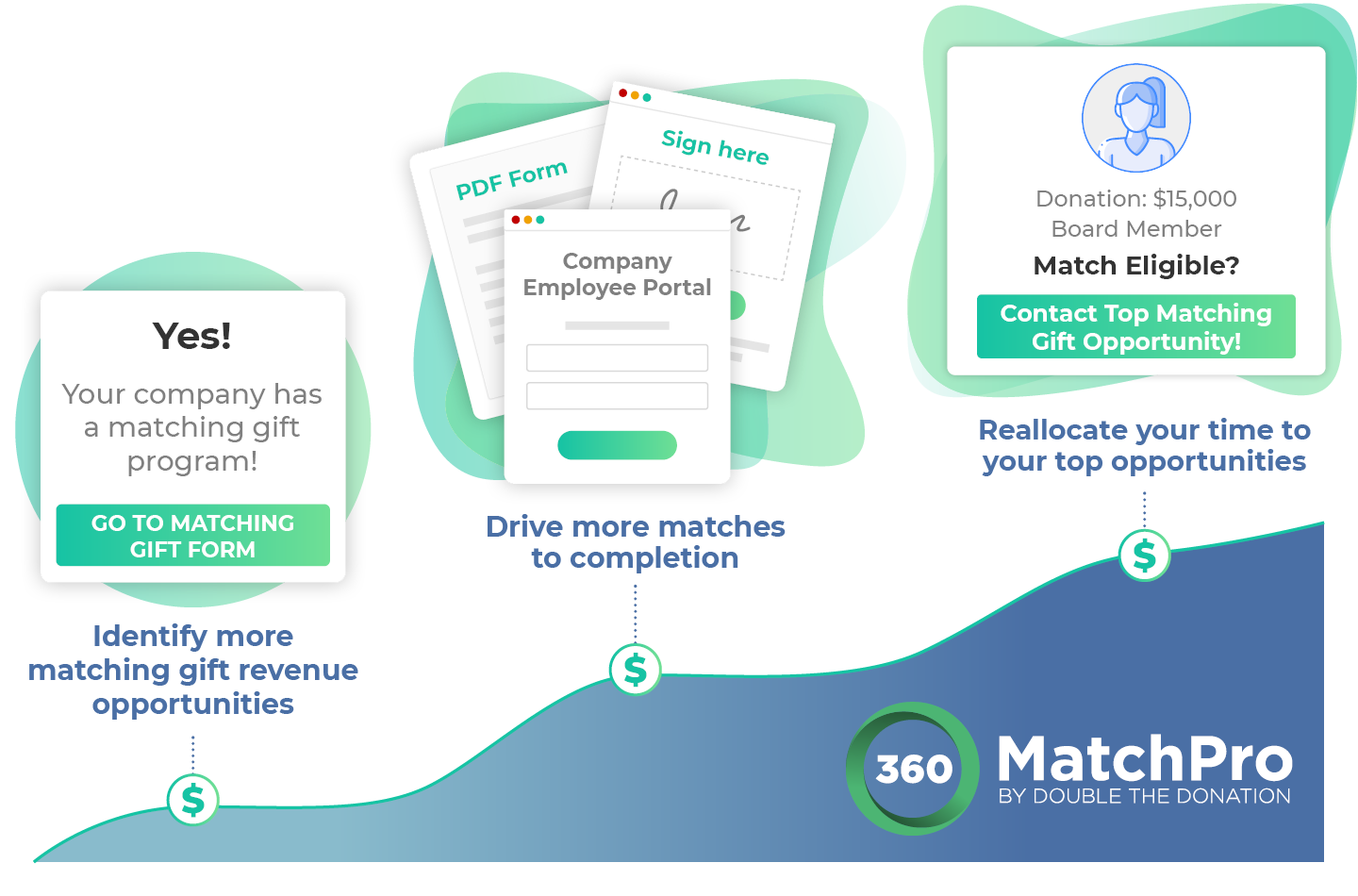 360MatchPro essentially serves as your own matching gift team, so where you don't have the staff, time, or resources necessary to perform matching gift outreach, 360MatchPro's automation platform can step in and handle the rest!
Coverage of Matching Gifts in Canada
According to recent analyses, Double the Donation offers the most accurate and up-to-date information about Canadian corporate matching gifts.
For example:
93-99% of individuals who work for Canadian companies with matching gift programs

will find their employer in Double the Donation's database.

In one analysis,

Double the Donation's database covered approximately $99,000 of $102,000 in matching gifts

received by a global organization's market in Canada.

In another analysis, we looked at the number of employees making payments to a Canadian affiliate of a large global organization.

Companies in Double the Donation's database employed 483,760 people, while companies not in the database employed 4,124 people.
This means Double the Donation and 360MatchPro offer substantial coverage of the Canadian market.
Integrations with Double the Donation and 360MatchPro
Double the Donation and 360MatchPro offer 50+ integrations with the leading fundraising tools, including:
CRMs
Integrate with popular CRMs like Blackbaud (Raiser's Edge NXT) and Salesforce.
Peer-to-Peer Fundraising Platforms
Integrate with widely used peer-to-peer fundraising platforms to boost your matching gift revenue, including Classy, DonorDrive, and Raisin.
Online Donation Tools
Integrate with online donation tools so donors are immediately offered a chance to double their donations. These integrations include:
Luminate

Convio

Funraise

iModules
When implemented, these simple-to-use integrations can help your nonprofit increase your revenue by giving donors direct and easy access to the matching gift database.
Here's an example of how the integration works with Raisin, the leading Canadian fundraising platform: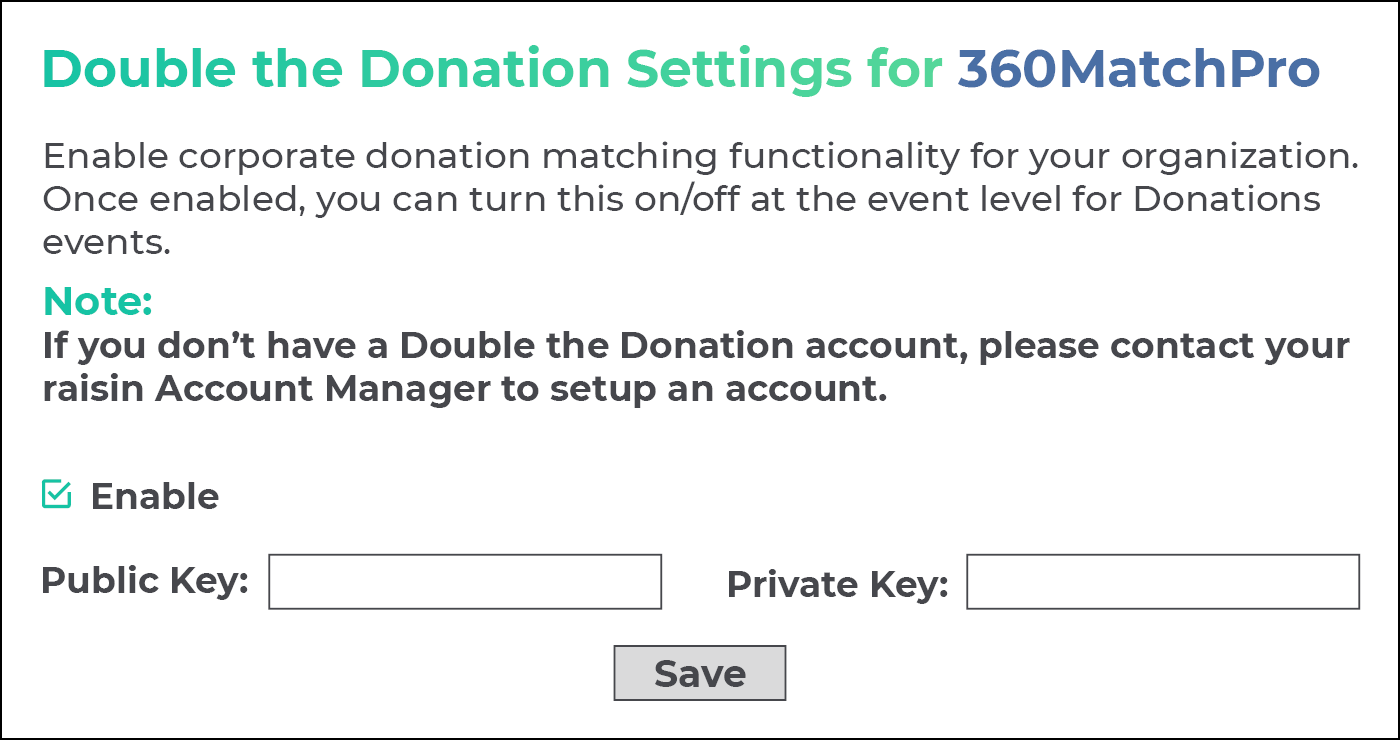 Simply activate 360MatchPro by Double the Donation by entering your API keys within Raisin. Then, you'll be able to choose which donation forms you want to feature the 360MatchPro search tool.
Customize Double the Donation to Feature Canada Results
Double the Donation is designed to accommodate nonprofits that fundraise in one or more geographic markets. This means for nonprofits fundraising in Canada, you can customize Double the Donation's search results by adjusting the geographic regions that apply to your nonprofit. You can also add additional regions based on where a large number of your donors are located.
360MatchPro will then tailor the matching gift search results and information your donors receive based on your selections:

If your nonprofit's tax status is based in Canada and you primarily have Canadian donors, it's recommended that you only select Canada. However, if you're registered as a nonprofit in multiple markets, such as the U.S. and Canada, or have a large number of donors in those markets, it's recommended that you select both the U.S. and Canada.
Double the Donation's database categorizes which geographic region a company's matching gift program applies to and can also have multiple variations for a company depending on how the company structures their program. This ensures your needs will be met!
---
Choosing the right matching gift database to keep track of Canadian companies with matching gift programs is essential. While we've listed some of the major companies that offer matching gifts to Canadian nonprofits, they aren't the only businesses that do. 
Be sure to constantly research your donors' employers and stay up-to-date on companies in your area. Double the Donation's matching gift database can help with all of that!
Now that you have more insight into major matching gift companies in Canada, you're ready to start maximizing your revenue!

Additional Canada Matching Gift Resources

https://doublethedonation.com/wp-content/uploads/2022/05/Canadian-Companies-with-Matching-Gift-Programs-Feature.jpg
550
1440
Adam Weinger
https://doublethedonation.com/wp-content/uploads/2022/03/logo-dtd.svg
Adam Weinger
2013-06-26 18:34:48
2022-06-25 14:08:47
Canadian Companies with Matching Gift Programs: The Basics