RKD Group chooses 360MatchPro by Double the Donation for Advanced Matching Gifts Integration
Double the Donation is proud to announce a new partnership with RKD Group with a matching gifts integration between DMC Fundraising by RKD Digital and 360MatchPro by Double the Donation. The new integration allows nonprofits to identify match eligible donors, automate outreach to those donors, and see matches to completion. 
"RKD Group Digital is all about creating fundraising breakthroughs for our nonprofit clients, and matching gifts automation has quickly proven itself as a huge player in the online fundraising world," said Amanda Wasson, Executive Vice President of Strategy at RKD Group. "We're proud to work with Double the Donation to offer clients something that offers them immense value the minute they start using it."
The new integration makes it easy for donors to discover their match eligibility and go straight to their matching gift request form with the click of a button. 
"This integration allows us to provide nonprofits and donors alike with the most accurate, comprehensive, and up-to-date information about corporate matching gift programs," said Adam Weinger, President at Double the Donation. "That way, donors can spend their time working on the causes that matter most to them instead of worrying about broken links."
Once set up, orgs can start identifying more match eligible donors immediately through DMC Fundraising forms. 

Activate in Seconds and Start Raising More from Matching Gifts!
The RKD Digital team will activate your integration for you – from there, all you'll have to do is place the 360MatchPro tools on your desired DMC Fundraising forms. You'll be up and running in no time!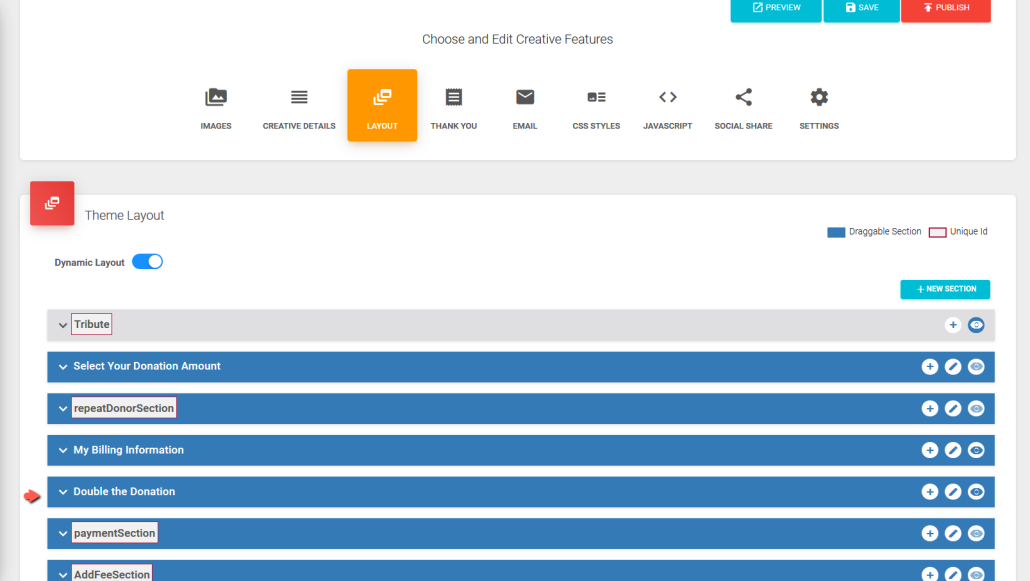 Donors have it easy too with the autocomplete search tool and confirmation page widget now at their disposal on DMC Fundraising forms. When they begin searching their company name, the search tool will autocomplete their entry by suggesting companies from Double the Donation's database of over 20,000 entries. After completing their gift, donors are then led directly to their matching gift request form or employee portal from the DMC Fundraising confirmation page.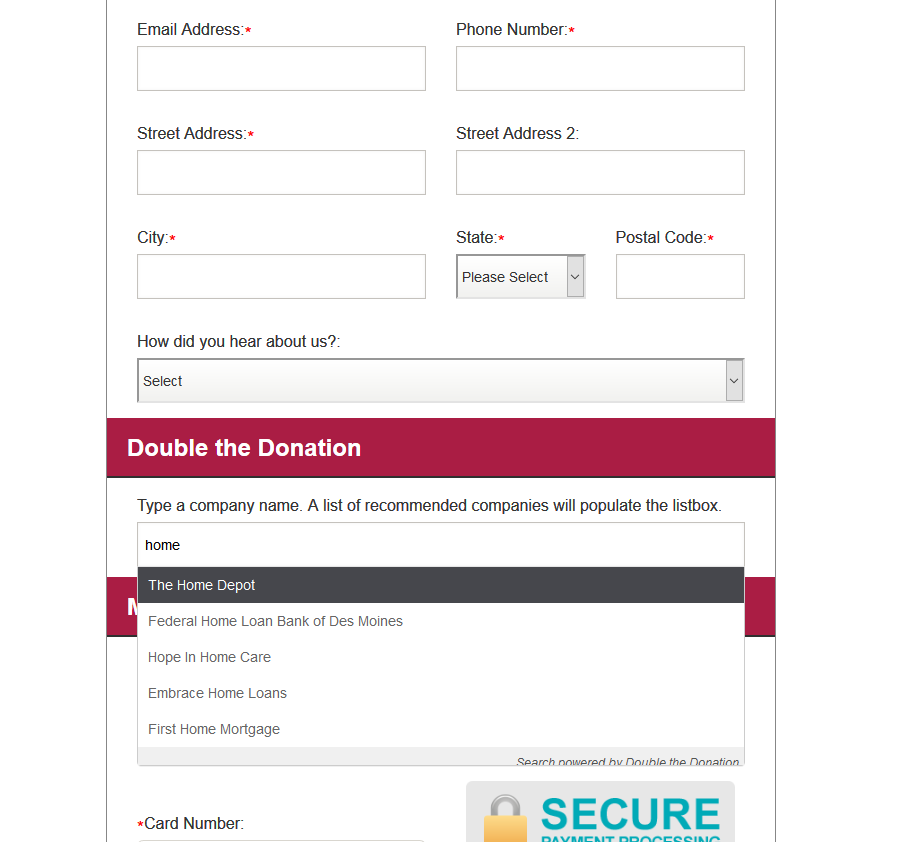 Even if donors don't have the time to fill out their matching gift request directly after they give, they'll be reminded via 360MatchPro's automated email streams. This way, all match eligible donors are given multiple touchpoints to get their gift matched!
Looking to learn more? Check out our in-depth integration guide to get started!

Drive More Matching Gifts to Completion with 360MatchPro!
The DMC Fundraising by RKD Digital and 360MatchPro by Double the Donation integration offers nonprofits with the state-of-the-art tools to start or ramp up their matching gift program. Whether an organization is looking to dip their toes into matching gifts campaigns for the first time or looking to bolster their already burgeoning program, 360MatchPro can automated the process of donor interaction with outreach for you.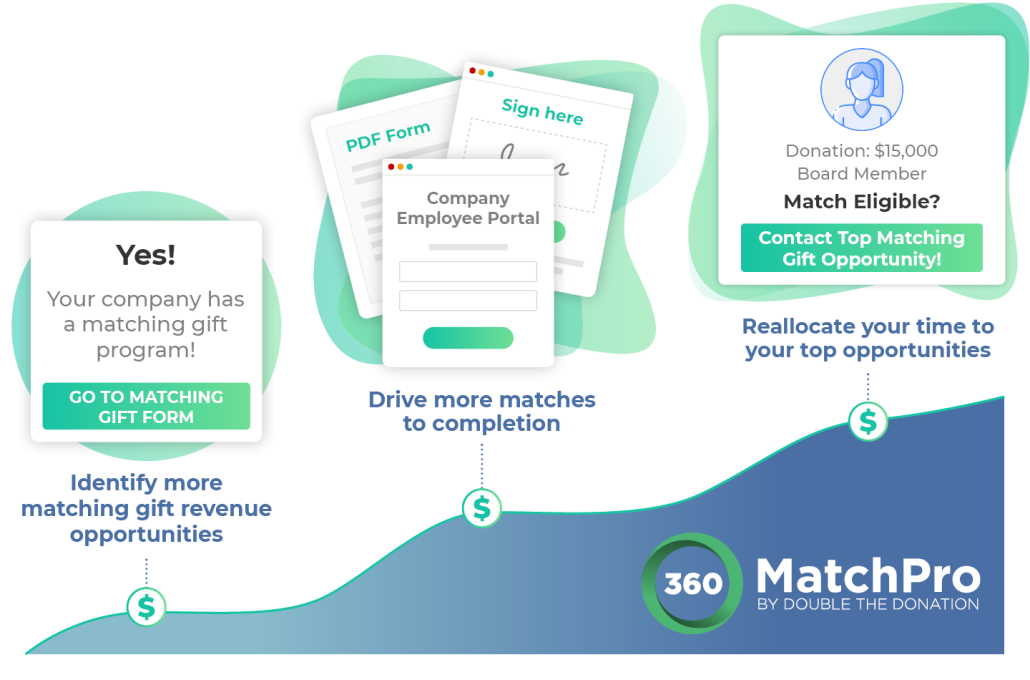 Some other key features orgs can look forward to:
Identify more matching gift revenue opportunities: 360MatchPro enables you to automatically collect matching gift eligibility from donors using email domains, within donation forms, on confirmation screens, or by email. The more matching gift opportunities 360MatchPro discovers and shares with donors, the more matching gift requests your donors will successfully submit.
Drive more matches to completion, from form submission to corporate payment: Direct donors immediately to their matching gift forms after the donation process is complete. Then, provide the right information to the right donors at the right time with custom emails based on match eligibility. Target follow-ups drive more completed submissions than ever before, bringing exponentially more matching gift checks from companies through your door.
Reallocate your time from routine follow-up to your top opportunities: Your time is valuable, so why spend it chasing small dollar-value matching gifts? Let 360MatchPro automate your matching gift outreach while flagging your highest-value opportunities, allowing your team to personalize follow-ups to the most valuable match-eligible donations. Rest easy knowing that 360MatchPro can handle the rest.
Don't wait to get started – request a personalized demo today and make sure you mention you use DMC Fundraising by RKD Digital.
---
About RKD Digital: RKD is a data-driven digital acceleration company. We help our clients reach new heights and achieve results they didn't think were possible through our advanced digital solutions.
About Double the Donation: There's an unnecessary gap between fundraising organizations and corporate giving programs, to the tune of $4-7 billion in unclaimed matching gift revenue annually. Double the Donation helps nonprofits and educational institutions increase fundraising from corporate matching gift and employee volunteer grant programs. Double the Donation maintains a database of employee matching gift and volunteer grant programs. With more than 20,000 entries in the database, Double the Donation presents match-eligible donors with their company's specific program requirements, including a direct link to their company's online matching gift submission portal or PDF download.
https://doublethedonation.com/wp-content/uploads/2022/06/Double-the-Donation-RKD-feature.png
290
775
Adam Weinger
https://doublethedonation.com/wp-content/uploads/2022/03/logo-dtd.svg
Adam Weinger
2021-03-17 15:32:57
2022-06-20 07:55:44
RKD Group chooses 360MatchPro by Double the Donation for Advanced Matching Gifts Integration