Leverage Matching Gifts to Strengthen Nonprofit-Corporate Relationships
We recently had a reader ask Double the Donation about how to strengthen relationships with corporations that offer generous matching gift contributions to their organization. She said she wished she had more ways to reach out to these companies post-matching gift donation to show them how a strong relationship could provide some great public relations benefits.
This is a great point! When corporations offer matching gift donations to a nonprofit organization, they may not realize how positive of an impact the contributions are having on the work of the nonprofit. It's important for nonprofits to leverage matching gifts into positive PR for both you and the corporation to ensure future collaboration, and therefore, a stronger nonprofit-corporate relationship.
Suggestions of "Extra Thanks" for Generous Matching Gift Donations
Does your organization have one corporation in particular (or even a few!) that really stands out in the field of matching gift donations? It's important that this company knows how big of an impact they are having on the work you do, and sometimes a simple, albeit wonderful, acknowledgement letter (that acts as a tax-deductible receipt, too) is not going to emphasize your thanks enough. So, what else can you do?
Press Releases
A simple and highly visible form of extra thanks is a press release to local publications. This could include information about the circumstances of the donation, how big of a matching gift partner they are (if, for example, you have many donors who work for one company that offers matching gifts on a recurring basis), and the kind of programs and nonprofit work the donations help progress.
And don't forget to highlight the company on your own website. It's not only positive publicity for the company but also encourages your other donors to see if their employers will match their donations.
The important thing here is that the company or companies providing matching gifts to your nonprofit organization are getting a public, positive recognition for the donations they make. They are more likely to donate in other capacities in the future, as well, when they see the kind of public acknowledgement they can get by donating to your organization.
Social Media
This one is seemingly a no-brainer, but it's always amazing what kind of far-reaching impacts a Facebook or Twitter post can have on relationships. By thanking a corporation for their generosity with matching gifts and including the positive impact they are having on the community, your nonprofit is taking an extra (and again, simple) step to show the company and the public how thankful you are for their commitment to the cause.
Here's a sample thank you post from the Children's Craniofacial Association: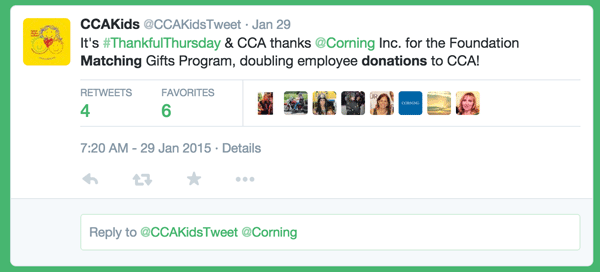 In case you can't read the text on the image it says
It's #ThankfulThursday & CCA thanks @Corning Inc. for the Foundation Matching Gifts Program, doubling employee donations to CCA!
It was retweeted four times and favorited six times, including from the main Corning account.
Donation Page Acknowledgements
On your website's donation pages, you could include information about some of the benefits of matching gifts (for your donors), and also mention some of the top-giving companies in the area. This shows many donors the commitment of their employers to the community, which in turn increases the chances an individual will donate to your cause and also ask their company for a matching gift. Increasing the number of eyes that see a corporation's name in a positive light also increases the likelihood of forming a stronger relationship with a company. Positive PR for a company (by a nonprofit organization) is a huge key for ensuring future collaboration.
Event Recognition
This is another easy way to recognize some of the major community players in the matching gift arena. Even if these companies are not sponsoring your charitable event, just mentioning the impact they are having on the work you do (without outshining the actual corporate sponsors, of course) is going to make a difference. Every company wants a positive image in the community because this increases their like-ability, and therefore their success. When your nonprofit organization is a key factor in increasing their success, the bond between the two will be stronger than ever.
Creating a Stronger Relationship
The above suggestions are just a few extra ways to say thanks to the corporations who have a strong commitment to matching gift donations. When a company sees the effort your nonprofit organization is putting forth to thank them for their generosity, it increases the chances of future giving, whether it's with more matching gifts, grants, or even some form of sponsorship.
Make sure you're saying thank you – it really can make all the difference!

https://doublethedonation.com/wp-content/uploads/2022/05/leverage-matching-gifts-strengthen-nonprofit-corporate-relationships.png
321
845
Adam Weinger
https://doublethedonation.com/wp-content/uploads/2022/03/logo-dtd.svg
Adam Weinger
2014-04-23 12:49:33
2022-06-20 07:54:16
Leverage Matching Gifts to Strengthen Nonprofit-Corporate Relationships