Has your nonprofit incorporated matching gift wording across your fundraising communications? If so, what happens when donors click on the link to matching gifts on your ways-to-give page, within a matching gift email, or in a donation confirmation email?
Ideally, they get directed to a page dedicated solely to matching gifts.
Purpose of Dedicated Matching Gift Pages
A dedicated matching gift page should do two things:
Educate the user about matching gifts both in a general sense and as they pertain to your nonprofit.
Make it as simple as possible for the donor to research if his or her company offers a matching gift program.
Dedicated matching gift pages don't need to follow a standard format, but they should share information that's useful for donors, such as:
Matching gift statistics
List of companies that offer matching gifts
Links to matching gift forms, guidelines, and company submission portals
Explanation of how matching gifts help your nonprofit
List of previous companies to give matching gifts to your organization
Tips on how to submit matching gift requests
Matching gift pages should accomplish as many of these tasks as possible, but there's no need to incorporate everything. Ask yourself what you can provide and what would make the matching gift process easier for your donors.
The Cupertino National Little League demonstrates how a dedicated matching gift page can be effective simply by supplying information: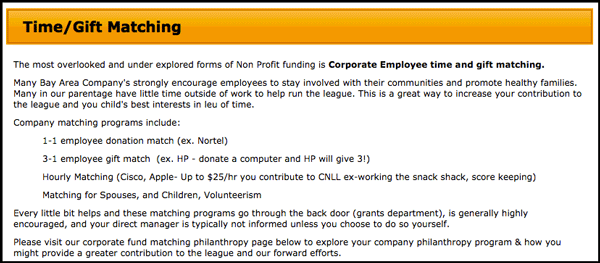 Cupertino National Little League explains how matching gifts help their organization and provides examples to show how matching gifts work. This straightforward information lets donors know how corporate giving functions, the action they have to take, and the benefits that matching gifts provide. An educated donor is a donor who is more likely to submit a matching gift request, and, as Cupertino National Little League demonstrates, teaching people about matching gifts can be as simple as about 200 words of text.
Children's Restoration Network (CRN) takes providing information a step farther by offering donors a long list of companies that offer matching gift programs: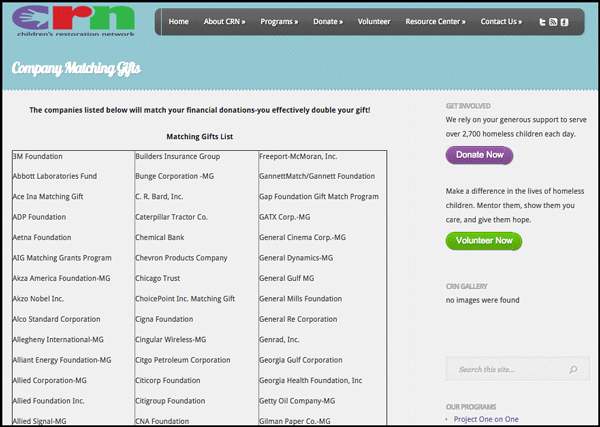 The list allows donors to check if their companies offer corporate giving. Without this information, donors would have to either navigate to their employers' websites and obtain the information themselves or contact their employers' HR departments. The more useful information that you can give to donors on a dedicated matching gift page, the easier it is for them to determine if the qualify to give a matching gift. When more eligible people know that they can give, the chances are good that more people will take a few minutes to double their donations.
For nonprofits with money to dedicate to increasing matching gift fundraising, a search box makes it easy for donors to:
Search for matching gift companies
Access company corporate giving forms, guidelines, and donation portals
View corporate giving information, such as eligibility requirements and matching gift ratios
Here's a great example of a dedicated matching gift page with a search box from Adrian College: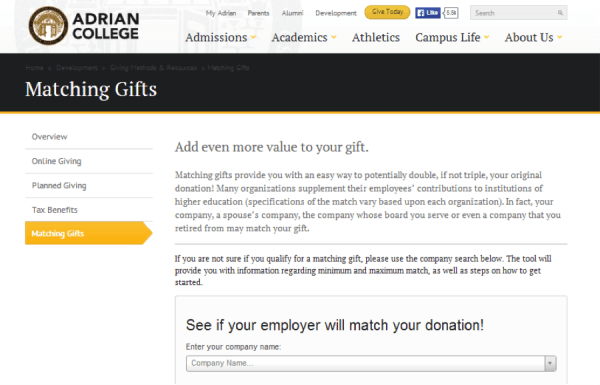 This is a clean, well-organized page where you can view both the information about matching gifts and the search box without any effort. The text is short and on-task, and the matching gift search box is intuitively functional. Dedicated matching gift pages work best when they're kept simple, and the above is a stellar example to follow.
If you lack the time or resources to build a dedicated matching gift page from scratch, Double the Donation provides a tool to build your own page in minutes.
Here's the dedicated matching gift page for the Lafayette Partners in Education created using Double the Donation's page-creation tool: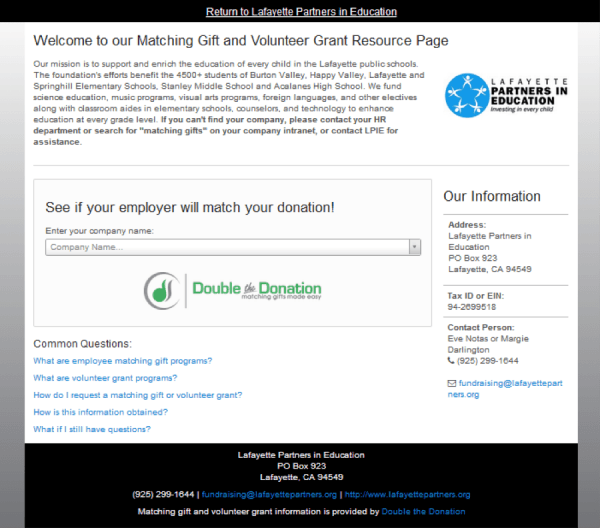 In mere minutes you get a clean, detailed, accessible page to share with donors to increase matching gifts.
Here's another example from the Atlanta Botanical Garden: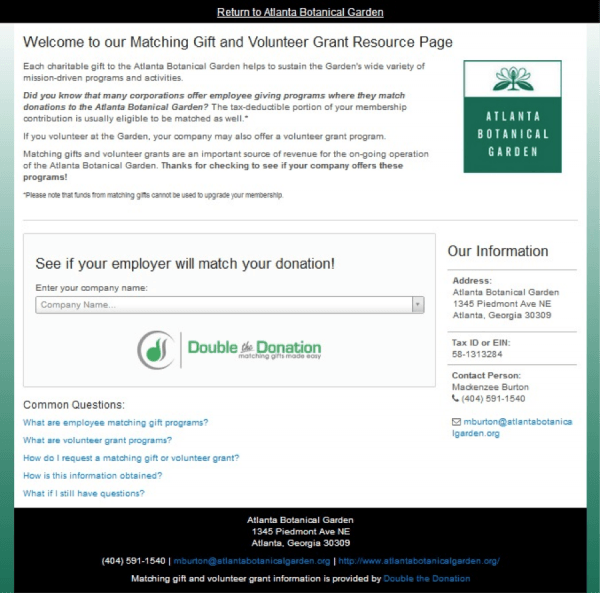 The pages are hosted on Double the Donation's servers, so all you have to do is provide your donors with a link that sends them to the page. The moral is that a dedicated matching gift page provides a tangible online portal for donors to search for and submit matching gifts. All you have to do is provide a link.
Matching gift search boxes are not essential for a successful matching gift page, but they do make accessing corporate giving information as easy as possible. Donors will have more information at their fingertips faster, so, if you can afford a matching gift service, it's a simple way to make an exemplary dedicated matching gift page. However, dedicated matching gift pages can succeed without search widgets. It's all about providing as much useful information to donors as possible in ways that are easily accessible and comprehensible.
In order for anyone to view your nonprofit's dedicated matching gift page, donors either need to know to look for the information or be directed there by a matching gift appeal. The key is to promote matching gifts across your fundraising efforts and to direct donors to your dedicated matching gift page, where they can access the information they need to submit matching gifts.
Suggested Locations to Promote Matching Gifts
And many additional locations
Dedicated matching gift pages are an important piece of the matching gift marketing puzzle. They're where donors go to learn how donations can do more for your nonprofit. An effective page can be the difference between, as the Cupertino National Little League might put it, a swing and a miss and a grand slam for your fundraising.
https://doublethedonation.com/wp-content/uploads/2015/02/Untitled-design.png
321
845
Adam Weinger
https://doublethedonation.com/wp-content/uploads/2016/09/double-the-donation-logo-header.png
Adam Weinger
2015-01-19 09:18:16
2015-06-24 21:58:21
Feature Matching Gifts on a Dedicated Page on Your Nonprofit's Website