Corporate Matching Gift Programs: The Basics
Common questions about matching gift programs
What are corporate matching gift programs?
Many companies want to support the causes that their employees care about, so they set up charitable giving programs through which they match employee donations to eligible nonprofits. Matching gift programs are offered by many companies, ranging from Fortune 500 corporations, such as Coca-Cola, to start-ups, like LinkedIn.
An example of a matching gift in action would be a donor, who works for Bank of America, who donates $250 to an eligible 501(c)(3) organization (i.e. a nonprofit). The donor then submits the proper matching gift forms to his employer's HR department or through an exclusive employee portal. Bank of America receives the request and matches the donation 1:1 by writing a check for $250 to the same nonprofit. The $250 check written by Bank of America is the matching gift, and it's an example of how corporate giving can provide a major boost to any fundraising campaign.
Why do development staff and organizations overlook matching gifts?
Due to a number of barriers to entry, it's a challenge for nonprofits to cultivate all of their potential matching gift money:
Limited information on where your donors or their spouses work
A lack of general knowledge about corporate giving programs
Challenges with communicating the appropriate match process, guidelines, and steps, so your donors can complete matching gift requests on their own
Given these obstacles, too many matching donations slip through nonprofits' fingers. If you're looking to increase matching donations, check out Double the Donation's matching gift service. We can help you to raise more money from corporate employee giving programs.
Learn more about Double the Donation's matching gift service.
Why should nonprofits focus on matching gifts?
Every dollar counts, and matching gifts are free money that nonprofits often overlook. Your organization has already completed the heavy lifting of attracting donors and receiving donations, so don't let easy, additional funding slip through your fingers.
Tracking and sharing matching gift information can be a major obstacle for a single nonprofit. Subscribing to a matching gift service makes it easy for donors both to discover that your organization accepts matching gifts and to find the relevant information for their respective companies.
Learn more about Double the Donation's matching gift service.
Why do companies offer matching gift programs?
In a perfect world, companies would match donations merely because they want to improve the world around them. That's part of the equation, but much more factors into a company's decision to offer a corporate giving program than the opportunity to do some good.
Perhaps the most common reason for corporate giving is the tax exemptions. That underscores the major theme of why corporate giving exists: Donating to charity is good for business.
Aside from money, matching gifts are great for global branding. For instance, Toms are synonymous with their one-for-one shoe program, and Google is regularly praised for its dedication to philanthropy. When businesses give back, they builds good reputations, and people associate those companies with positive emotions. Many consumers are more likely to purchase from companies that care about the bigger picture.
Matching gifts also build goodwill among employees. When employees submit matching gift requests, they're asking their companies to support the causes that they care about, and the companies comply (so long as the nonprofit is eligible). In this way, companies help employees to give more and nonprofits to do more, which most employees are grateful for. This builds employee loyalty and adds to occupational satisfaction.
Moreover, companies don't want to donate to corrupt, inefficient, or scandalous nonprofits. Matching gift programs help to weed out the rotten apples in the nonprofit basket, so that corporate dollars go to organizations that will truly drive change. Furthermore, companies don't have to worry about figuring out where to donate money, as employees dictate the dispersal of funds.
Learn more about why companies offer matching gift programs.
What companies match employee donations?
Big companies, small companies, established corporations, and inspired start-ups around the world offer matching gift programs. In fact, about 65% of Fortune 500 companies (and many others of all sizes) match employee donations. Millions of individuals work for companies that match employee donations.
Although corporations don't always release specific figures, top contributors include Microsoft (more than $48 million annually) and GE (more than $37 million annually):
Microsoft's Matching Gift Program

Microsoft's corporate giving program was started in 1983, when 200 employees raised $17,000 for nonprofits. Today, over 39,000 employees participate in the company's corporate giving program.
Employee donations between $25 and $15,000 will be matched at a 1:1 ratio. Full-time employees, part-time employees, spouses, and board members may all submit donation requests, but retirees are not eligible.
Learn more about Microsoft's matching gift program.
General Electric's Matching Gift Program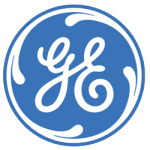 General Electric gave birth to corporate giving in 1954 in order to support employee philanthropy. Since then, GE has raised more than $1 billion for nonprofits.
Gifts between $25 and $50,000 will be matched at a 1:1 ratio for full-time employees, part-time workers, spouses, board members, and retirees.
Learn more about GE's matching gift program.
Google's Matching Gift Program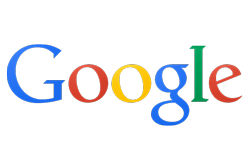 Google is dedicated to worldwide philanthropy, with nonprofit programs designed specifically for Hungary, Poland, Slovakia, the Czech Republic, France, and more. On top of monetary donations, Google offers technology, such as apps, to aid nonprofits around the world.
General gifts between $50 and $6,000 will be matched at a 1:1 ratio, as will donations of the same amount to disaster relief funds, so between the two programs an employee may submit $12,000 worth of matching gift requests. Full-time and part-time employees, spouses, and board members are eligible to donate, but retirees are not.
Learn more about Google's matching gift program.
Those are some of the big players in the matching gift game, but far from all of the companies. Nonprofits should encourage donors to check with their HR departments to see if their employers offer corporate giving.
View more top matching gift companies.
Are matching gifts exclusive to the U.S.?
Matching gifts are offered by companies around the world. Double the Donation provides matching gift information on companies located in the United States, United Kingdom, and Canada.
Canadian companies include:
Learn more about the Canadian companies that Double the Donation tracks.
Which companies offer the best matching gift programs?
Much variability exists between matching gift programs, so it's difficult to determine the 'best matching gift programs'. Some companies only match donations to specific causes, such as to education, while others donate internationally, but who is to say that one way of giving is any better than another?
Double the Donation tried, of course, as our team recently got together to evaluate our entire database of matching gift companies. We rated each corporate giving program according to geographic footprint, eligibility requirements (full-time employees versus retirees), matching ratio, annual limits, and the amount of nonprofits eligible to receive matching donations.
2014 top matching gift companies:

How successful are corporate giving programs?
More so than location or number of employees, internal promotion dictates the success of any individual matching gift program. For example, The Home Depot has about 8,000 more employees in the Atlanta area than Coca-Cola, but Atlanta-based nonprofits claim that they receive far more matching gifts from Coke (this based on conversations with membership and development managers at select Atlanta organizations).
There's not much consistency when it comes to employee participation rates in corporate giving programs. According to a survey released by The Chronicle of Philanthropy, American Express leads the way for financial services companies with a 70% participation rate, but the next closest company, Morgan Stanley, checks in at 35%. Microsoft is number one for technology companies at 65%, but second place is Dell at 12%. While many nonprofits blame geography or company size for these discrepancies, the true underlying factor is that many companies don't do enough to promote their matching gift programs.
Learn more about matching gift program participation rates.
How do you market matching gifts?
Even your most dedicated donors don't always submit their matching gift requests. Outside of the fundraising community, you'd be surprised by how few people know about corporate giving. Donors are rarely aware of whether or not their employer, or their spouse's employer, offers a program.
Your nonprofit wants to both prompt donors to submit their matching gift forms and make it as easy as possible to do so. If your donors are already passionate enough to open up their wallets then they should be happy to invest in a simple, short process to double their donations.
There are a variety of ways to market matching gifts, which include:
Promote matching gifts in the donation process
Feature matching gifts on your ways to give page
Share matching gift information on social media
Incorporate matching gifts into emails
And more!
It's important to spread the word, as a common reason that employees fail to take advantage of corporate giving is a lack of awareness. Doubled donations are easy money that you can't afford to leave on the table.
Promote Matching Gifts in the Donation Process
A great time to remind donors about matching gifts is when they're in the process of submitting their donations. When you feature matching gifts in the donation process, you can:
Urge donors to check for matching gift eligibility with their HR departments.
Insert a link to a dedicated matching gift page.
Insert a matching gift search box.
Texas A&M's Association of Former students incorporates a link on their donation page (highlighted by the green box):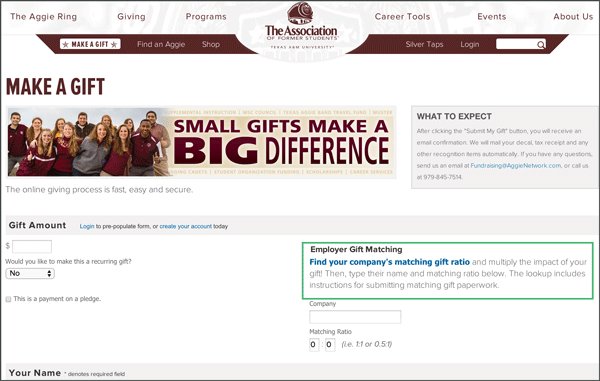 Learn more about featuring matching gifts in the donation process.
Feature Matching Gifts on Your Ways to Give Page
A ways to give page features the full lineup of donation options. Include a link to a dedicated matching gift page or similar location that will inform donors and guide them to the necessary guidelines and submission locations.
Ways to give page from the Colon Cancer Alliance: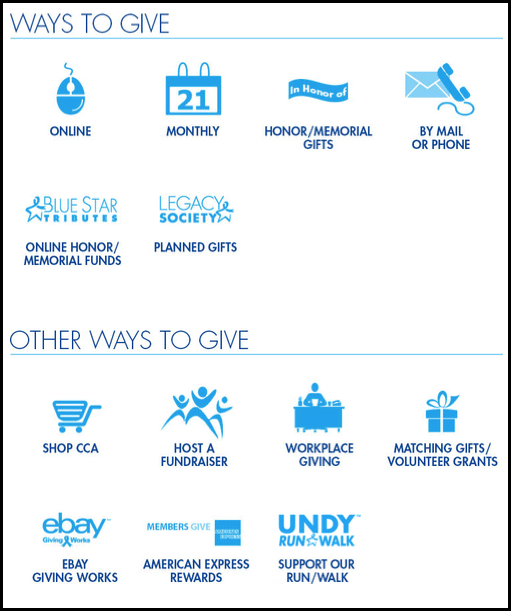 Learn more about ways to give pages for matching gifts.
Share Matching Gift Information on Social Media
All of your tech-savvy donors are on Facebook and Twitter, which makes it easy to promote matching gifts. While you can employ longer posts on Facebook, Twitter demonstrates how little you have to say in order to spread the word and call donors to action.
Example Twitter post from the Hereditary Neuropathy Foundation:

Learn more about sharing matching gifts on social media.
Incorporate Matching Gifts into Emails
Acknowledgement emails are a great place to promote matching gifts. The donations are still fresh in your donors' minds, they're feeling the good vibes, and you're giving them the chance to double their gifts without shelving out more of their own money. The ask for matching gifts should be incorporated into the email and after your initial thank you.
Piedmont Healthcare Foundation's acknowledgement email to donors: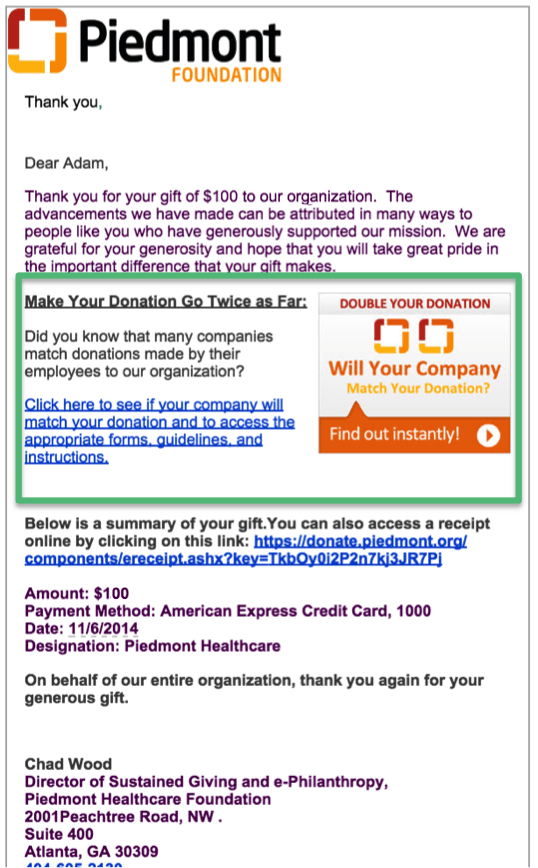 Learn more about incorporating matching gifts into acknowledgement emails.
Additionally, learn about:
And more!
Those are just some of the many ways to market matching gifts. Other strategies to increase matching gift submissions include:
How do you integrate matching gifts across your fundraising platforms?
Double the Donation's matching gift service can be integrated into many of your nonprofit's fundraising tools. From your website to tools such as PayPal, integrations make it easy for donors to access matching gift information. The easier information is to access, the higher the likelihood that matching gift requests will be submitted.
Double the Donation offers the options to both embed our plugin directly on your website and to create and host a dedicated matching gift page on our website:
If you need help integrating your matching gift service with your other donor software, Double the Donation offers integration guides:
Who are the best matching gift prospects?
All donors are worth the time to request a matching gift. Even small $25 donations can add up when all or most of them are doubled in value. However, the obvious way to increase fundraising through matching gifts is to get your major donors to submit matching gift requests. Whereas 10 doubled $25 donations would result in an additional $250, one doubled $1,000 donation would result in another grand for your nonprofit, and from just a single matched gift. Pitch matching gifts to everyone, but prioritize your biggest donors.
Prospect research allows you to identify major gift prospects in less time, and the data that such a search unveils can reveal employer information, which you can use to figure out if your major gift donors work for matching gift employers. If they do then you should reach out to them with specific asks for matching gift requests to be submitted. Major donations tend to be $5,000+, and most matching gift employers will match these large amounts (up to a certain amount). An additional $5,000+ might be a simple phone call away.
Learn more about using prospect research to improve matching gift fundraising.
How do you measure matching gift performance?
Matching gifts don't just appear out of thin air, as if by magic, to boost your fundraising. Matching gift programs are lucrative additions to fundraising campaigns, and they can always be improved. If you don't know how many matching gifts you're receiving or how much money you're making from those donations then you don't know if you're improving your intake of these generous corporate funds.
Some basic numbers you want to track:
Number of matching donations
Total money raised from matching gifts
Percentage of donations that included matching gifts
Percentage of total revenue raised from matching gifts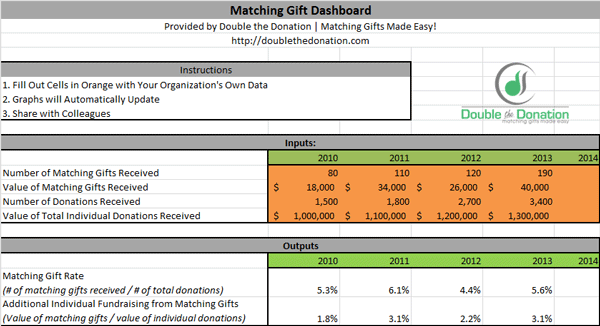 Tracking data can be hard, but you need to know where you stand in order to prove that you've improved. Also, reporting matching gift data to donors can help to encourage future donations.
Sharing the impact of matching gifts can help to remind donors how important it is that they take advantage of corporate giving programs. For example, environmental organizations could promote how many trees they planted thanks to matching gift funds and museums could boast about the number of free admissions they were able to give to children from low-income schools. Of course your nonprofit needs money, but if you can tell a story about how that money helps to achieve your mission then donors will likely be more receptive.
Learn more about measuring matching gift performance or learn more about communicating the impact of matching gifts to donors.
Why should I use Double the Donation?
Double the Donation strives to provide the most comprehensive matching gift profiles for every company that we list. All of our matching gift information is centralized in one easy-to-use tool that you can place on your website and incorporate into various donor software. Our tool is designed to do the work of a matching gift coordinator at a fraction of the cost.
Double the Donation matching gift company profiles provide:
Minimum and maximum match amounts
Employee eligibility
Links to electronic guidelines and forms
Company specific match instructions
Submission deadlines
Corporate contact information
And more!
Learn more about our matching gift directory.
How does Double the Donation direct donors to matching gift forms?
Not only does our matching gift service strive to provide the most up to date information on matching gift programs, but we also do our best to make it easy to access the necessary forms to submit a matching gift. We provide links to electronic submission channels, paper forms you can print out, and company contact information.
There are four standard ways that we direct the matching gift submission process:
Direct donors to an online matching gift submission process
Link to a company's website where printable paper forms are located
Provide printable matching gift forms on our servers
Redirect donors to their employer's intranet or human relations department contact
Electronic matching gift submissions are growing in both popularity and abundance, but many companies still rely on paper forms. Double the Donation works hard to give you the easiest, most up to date forms and means to submit, so matching gifts can be a walk in the park.
Learn more about how Double the Donation directs donors to matching gift forms.
How do companies set up online matching gift processes?
Matching gift vendors provide the tools that companies need to automate their matching gift submissions. Electronic matching gift systems make it simple for companies to outsource matching gift related administration processes and other broad corporate giving functions.
Matching gift vendors include:
Electronic submissions make it easy for donors to submit matching gift requests in minutes. Many companies still rely on paper forms, but online vendors provide the easiest means for the most donors to submit matching gifts.
Learn more about matching gift vendors.
Do companies match in-kind donations?
An in-kind donation is a gift of goods, such as food, or services, such as manual labor, as opposed to typical monetary contributions like cash or stock. The general rule of thumb is that companies do not match in-kind donations, as they're hard to equate to fair dollar amounts, which is how the companies would want to match the donations.
Learn more about why companies don't match in-kind donations.
Will companies match non-personal donations or donations from others?
Let's differentiate a non-personal donation from a donation from another person.
Non-personal donation -- Money that an employee submits that was raised from the donations of many people, such as when a person raises money for a charity walk or run.
Donation from another person -- When a person who doesn't work for a matching gift company gives his money to a friend who does work for an employer with a corporate giving program, so the friend can submit the gift to a company that will double the donation and maximize the contribution.
Non-personal donations are, as my rabbi would say, "100% kosher." However, not all companies will match non-personal donations. Intuit, British Petroleum, and State Street are examples of companies who will match employee funds raised for a charitable walk, run, bike ride, or similar fundraising event.
On the other hand, donations from other people might make my rabbi exclaim, "Oy gevalt!" It's not that people can't get away with giving money to a friend who works for a matching gift company, so as to maximize the donation, but it's a frowned upon practice that Double the Donation does not support and that could entail serious repercussions.
The typical company's matching gift guidelines state that, "Gifts must be personal contributions." Donating a friend's money is not a personal contribution. Of course, a person could likely get away with such a stunt, but the point of matching gift programs is to reward employees for their philanthropy. These programs are optional, and taking advantage of them is not only a breach of trust, but could have dire consequences.
Two of those potential consequences are fraud and tax implications.
When an employee submits a matching gift, both he and the nonprofit to which he gives must sign a form declaring that they are adhering to the corporate giving program's company guidelines. At Double the Donation, we're not lawyers, but submitting false donations sounds a lot like libel.
The tax implications won't necessarily veer towards criminal behavior, but they could cause a rift in a friendship. Who receives the tax benefits of a donation using one person's money but made by another person through his company? Our understanding is that the actual donor would receive the tax benefits, which does not defeat the purpose of the donation for the person behind the scenes, actually giving the money, and might serve as a sort of thank you from the real donor to the surrogate donor, but the IRS is a tricky government agency, and people can get in a lot of trouble for sketchy tax practices, even if their actions were not intended to result as such.
Learn more about non-personal donations and donations from others.
Can matching gifts go to either restricted or unrestricted revenue?
The simple answer is yes, but it varies by the nonprofit whether or not donors may designate matching gifts funds to specific programs. Some nonprofits think it best for funds to be in their unrestricted funds, so that they may use the money where it's most needed, and many companies urge that matching gifts go into unrestricted funds. However, many donors are passionate about giving to specific programs, and many nonprofits will appease that desire. So, the easy answer is yes, matching gifts may go towards either restricted or unrestricted revenues, but it varies according to the nonprofit and where a company is willing to donate its matching gift.
Learn more about unrestricted matching gift revenue policy.
What are the restrictions for the types of organizations eligible to receive employee matching gift funds?
Most corporate giving programs match to educational institutions and various types of 501(c)(3) organizations, which are often categorized as:
Healthcare based organizations -- Hospitals, substance abuse programs, healthcare services, medical research, etc.
Arts and cultural organizations -- Aquariums, museums, libraries, orchestras, public broadcasting stations, etc.
Environmental organizations -- Conservation efforts, wildlife preservation, etc.
Community based social services -- Homeless shelters, child welfare, animal shelters, low-income assistance, etc.
While most 501(c)(3) organizations and educational nonprofits are eligible for matching gifts from a vast array of companies, there are a few common restrictions, which include:
Political organizations
Sports teams
Religious organizations, such as churches and synagogues, although faith-based organizations focused on community outreach are typically eligible.
Can Phonathons request matching gifts?
Of course! In fact, Phonathons might be one of the best ways to request matching gifts. Callers are actually speaking to the donors, who have just pledged money, and all the callers have to do is steer the conversation towards how the donor can give twice the money at the minimal expense of five minutes of time and no additional money out of his own pocket.
The transition from the donation to the matching gift ask can be as simple as, "Thank you for the generous donation! May I ask if you work for an employer that offers a matching gift program?"
Follow through is key. The original call might inform a donor about matching gifts, but that's no guarantee that the matching gift request was submitted. Schedule a follow up call, that can be masked as a thank you for the original donation, to encourage the donor to commit to a matching gift. The promise of a matching gift is not as good as actually receiving one.
Learn more about the importance of matching gifts for Phonathons.
When are the matching gift submission deadlines?
Lollipops dissolve down to sticks, cars run out of gas, and charitable donations don't last forever. Employee donations have lifespans for how long they remain valid to be submitted for matching gifts.
Different companies have different deadlines, and being aware of these dates can ensure that you don't miss out on easy money.
Standard matching gift submission deadlines include:
End of the calender year.
A set number of months after the date of the donation.
End of January, February, or March in the year subsequent to when the donation was made.
A couple of companies with irregular submission deadlines:
Fannie Mae

Donors and volunteers must submit matching gift requests within 30 days of the date of the donation or by December 31st of the donation year, whichever is sooner.
Fannie Mae matches employee donations up to $5,000 annually and offers grants when employees volunteer. Some organizations miss out on Fannie Mae's funding because they aren't encouraging donors to submit matching gift requests in a timely manner.
Altria

All matching gift requests must be received by Altria's program administrator within 90 days of the date of the gift.
Altria offers a generous matching gift program (up to $30,000 annually per Altria employee) as well as large volunteer grants ($500 after 25 hours of volunteering).
Many corporate giving programs understand submission tardiness, so they offer grace periods, which tend to fall into one of three general categories:
Companies will match gifts if applications are submitted by Jan. 31, Feb. 28, or Mar. 31 of the following year.
Companies will match gifts made at any time during the previous three, six, or twelve months.
Companies will match all gifts made during the current calendar year.
Boeing is a company that offers such a grace period, as they give donors until January 31st of the year following their donations to submit matching gift requests.
Learn how to use corporate giving submission deadlines to send out more effective year end and new year matching gift appeals.
What are the benefits of a matching gift peer group?
Life is more fun with friends, and so are matching gifts. Double the Donation created and operates LinkedIn's #1 matching gift group to provide nonprofits with fresh, diverse perspectives on how to increase matching gift fundraising.
The LinkedIn group also provides:
Successful matching gift marketing strategies.
Topics of the month.
A vast collection of knowledge and perspectives.
No man (or woman) is an island, and the LinkedIn group is designed to put you in touch with the people who have the answers you need. You don't have to do matching gifts alone, so join us today and say hi.