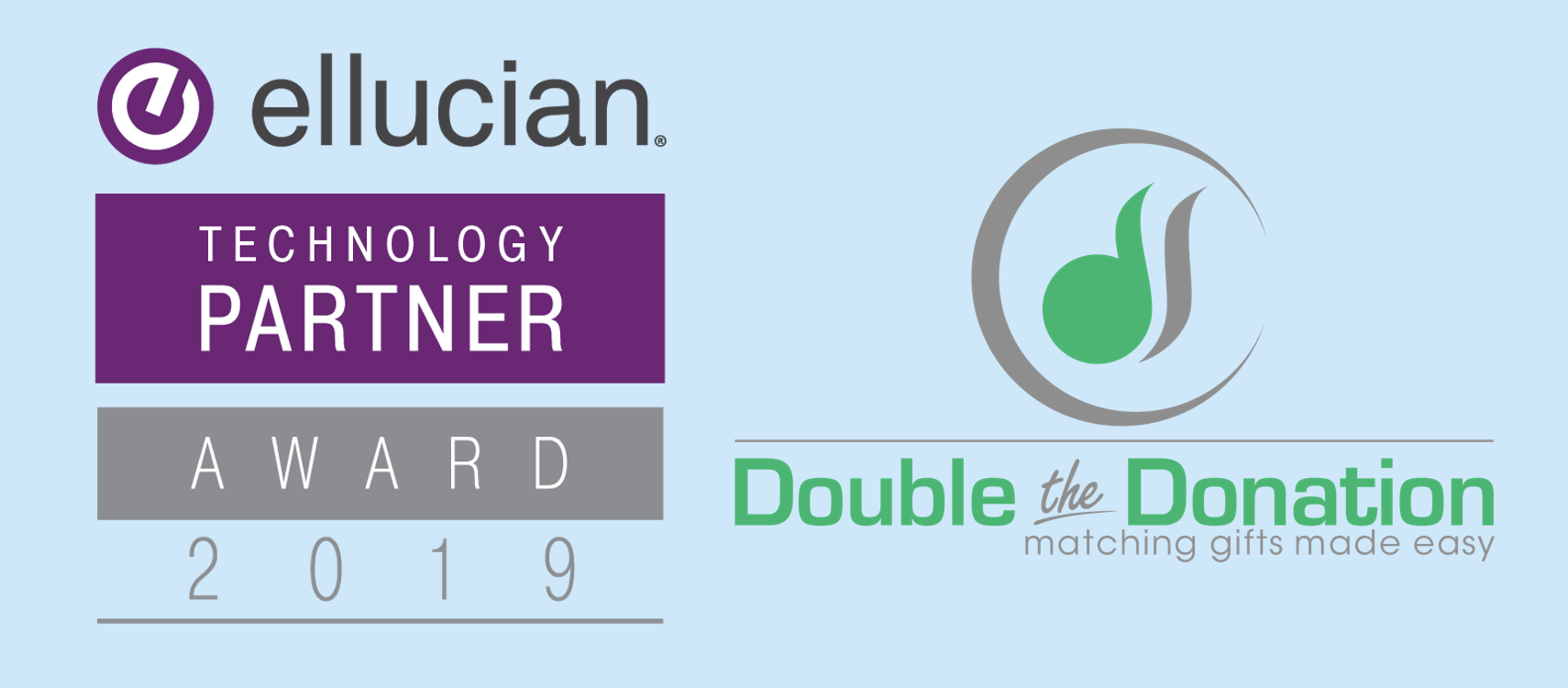 Double the Donation Named 2019 Ellucian Partner Award Winner
Double the Donation Recognized for Ethos Excellence
Atlanta, GA (October 15, 2019) — Double the Donation announced today that it has been selected as a winner in the 2019 Ellucian Partner Awards in the category of Ethos Excellence. Double the Donation has been recognized by Ellucian for its use of Ethos integration to empower higher education.
When connected to CRM Advance, 360MatchPro by Double the Donation automatically scans gift records for matching gift eligibility. The system then delivers the right forms and instructions to each donor, following up appropriately to drive matches to completion. Thanks to Ellucian Ethos integration, this powerful automation can be activated within minutes, allowing institutions to begin doubling their fundraising revenue instantly.
Delivering its Ethos integration just 30 days after becoming a partner, Double the Donation's gift matching solution dramatically increases donation dollars by quickly validating each donation for gift matching eligibility.
"It's an honor to be awarded with the 2019 Ellucian Technology Partner Award for Ethos Excellence," said Adam Weinger, President of Double the Donation. "We invest deeply in all of our technology partnerships, and this recognition just affirms our commitment to Ellucian as a valued partner for our clients in higher education."
"We're proud to recognize our technology partner, Double the Donation, for developing and applying solutions to help higher education institutions achieve sustainable success," said Ellucian Senior Director, Partnerships Andrea Henry. "We wish our sincere congratulations to Double the Donation and all of the 2019 Partner Awards winners!"
Ellucian has the largest partner network in higher education, with more than 170 member organizations. The annual Partner Awards program honors software and solution providers who have made a significant impact in the higher education community. Winning organizations were recognized during Ellucian's Partner Forum, which took place in Chicago, Illinois in conjunction with the annual EDUCAUSE Conference.
Double the Donation is the leading provider of matching gift and volunteer grant solutions to nonprofits and educational institutions. The 360MatchPro platform provides nonprofits with tools to identify match-eligible donors, drive matches to completion, and gain actionable insights. 360MatchPro integrates directly into Ellucian CRM Advance to capture employment information and follow up appropriately with donors about matching gifts.
https://doublethedonation.com/wp-content/uploads/2022/06/Double-the-Donation-wins-2019-Ellucian-Tech-Partner-Award-for-Ethos-Excellence.png
750
1710
Adam Weinger
https://doublethedonation.com/wp-content/uploads/2022/03/logo-dtd.svg
Adam Weinger
2019-10-15 16:36:20
2023-09-14 21:56:37
Double the Donation Named 2019 Ellucian Partner Award Winner