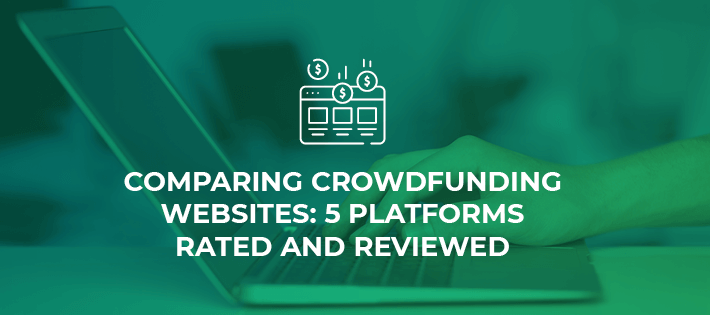 Comparing Crowdfunding Websites: 5 Sites Rated and Reviewed
Comparing Crowdfunding Websites: 5 Platforms Rated and Reviewed
If you're searching for a crowdfunding campaign, you've probably encountered several popular options that might be a great fit for your cause, project, or expense.
But, how do you know which one offers exactly what you need?
Comparing multiple crowdfunding platforms to determine which one best fits your needs can take a lot of time and effort.
Luckily, we've done the hard work for you! With this guide, we'll compare 5 popular crowdfunding websites:
When comparing each platform, it's important to consider the overall platform and what type of crowdfunding they allow.
Here are the 3 categories we'll cover: 
Stick around till the end to see our top picks for the best overall crowdfunding websites or jump to our favorites now. 
1. Crowdfunding Type
While all 5 of the crowdfunding websites are wildly popular, each one is slightly different in the types of causes or projects it supports and how and when fundraisers receive their donations. We'll look at each crowdfunding platform to help you decide which one is best for your needs.
What campaigns are the websites designed for?
First, you'll want to consider what platform caters to your campaign. In other words: some crowdfunding websites are open to all types of fundraising while others are only open to specific categories.
As we mentioned earlier, Bonfire, Fundly, and GoFundMe cater to individuals who want to raise money for any cause (Bonfire and Fundly are unique in the fact that they cater to organizations as well). In contrast, Kickstarter and Indiegogo are targeted specifically for creative projects—such as music, art, and technology—and don't allow any type of charitable campaign.
With that said, if you're a nonprofit looking to fundraise, Bonfire and Fundly are your best options as both individuals and organizations can raise money using their platform.
Is the platform all-or-nothing or keep-it-all?
Crowdfunding platforms also have different requirements on when and how campaign creators receive donations.
For instance, Kickstarter is an all-or-nothing crowdfunding website, which means that creators only receive donations if their goals are met.
With an all-or-nothing campaign, creators only get to receive funds after the campaign is over, and only if they've reached their goals.  This approach, however, does have its benefits.
For one, supporters are more motivated to share and contribute to your campaign so that your project is realized. Plus, it ensures that projects get all the funds they need so they can produce a complete product.
Alternatively, crowdfunding websites like Bonfire, Fundly, and GoFundMe follow the keep-it-all approach where creators keep all the money they raise. That means that campaign creators don't have to meet a goal requirement or deadline to keep their donations.
This approach is desirable for both nonprofits and individuals because every donation can make a difference to your cause or life event.
There are even some sites like Indiegogo that give creators the option to choose the keep-it-all or the all-or-nothing model.
2. Pricing
While it's free to set up a campaign on most crowdfunding websites, campaign creators are charged two different fees if they receive funds: the platform fee and the payment processing fee.
The platform fee is charged when the campaign creator collects their donations and is a percentage of the total funds raised.
Charging a platform fee is how crowdfunding websites make money. With that money, the crowdfunding website can create better features, improve the support team, and so much more. 
Platform fees usually range from 4-5%. When comparing crowdfunding websites, Bonfire charges the lowest out of all of the ones listed. There aren't any platform fees. The only fee they ever collect is an 8% processing fee per additional donation (reduced to an incredible 3.5% for verified nonprofits). Fundly has the next lowest platform fee of 4.9%. GoFundMe, Kickstarter, and Indiegogo all charge a 5% platform fee.
In addition to the platform fee, campaign creators will have to pay a payment processing fee which goes to the payment processor.
The payment processor makes it possible for your crowdfunding campaign to accept online donations by verifying the payment method and transferring the funds from the donor's account to your account.
Payment processing fees will vary depending on what processor your crowdfunding website works with.
Generally, the payment processing fee is a percentage of the total funds raised plus an amount per donation.
No matter why you're fundraising, understanding what costs are going to be deducted for your total donations will help you determine your fundraising goal. Choose a website that has a lower platform fee so that you keep the most funds.
3. Features
Another important component of a crowdfunding website is its features. Different capabilities will allow you to share your campaign and optimize your fundraising page so that more people can find your cause.
While there are several features that can enhance your crowdfunding page, we'll focus on crowdfunding perks, social integrations, and customization.
Crowdfunding perks
If you're not familiar with the term, crowdfunding perks allow you to give donors gifts in return for their donations.
Perks like t-shirts, coffee mugs, backpacks, and so much more can motivate donors to give to your campaign. Merchandise platforms like Bonfire make it incredibly easy to combine branded merchandise with your campaigns, eliminating the need to order your merch and then sell it on a separate platform.
Alternatively, you can choose a more generic crowdfunding platform and set giving levels. Then, you can promise specific gifts in exchange for set donation amounts. For example, you might offer a mug for a gift of $15 and a t-shirt for a gift of $30. By providing giving levels, donors don't have to guess how much to give; they can pick whichever giving level they're comfortable with and receive a gift in return.
Giving levels have their advantages, but they won't work for every cause, project, or expense. Campaigns for sports teams, creative projects, and charities will likely benefit from offering perks.
With that said, some platforms like Kickstarter require you to offer perks. Choosing Fundly, GoFundMe, or Indiegogo means that you'll have the option to add perks if you think it will benefit your campaign.
Social media integrations
Social media can help leverage your campaign so that you can reach even more potential donors.
To do this, you need to find a crowdfunding website that offers a full suite of social sharing capabilities—not just social sharing buttons!
All 5 fundraising websites have social sharing buttons that allow donors to share your page on Facebook and Twitter, and they allow you to post crowdfunding updates to your page.
Fundly is unique because you can place a Twitter and Instagram feed on your fundraising page that tracks any posts with a specific hashtag. If you're crowdfunding, you can create a hashtag for your campaign and supporters can follow all the content posted with that hashtag on your Fundly page.
Customization
Customizing your crowdfunding page is especially important if you're a nonprofit or business trying to maintain a consistent brand, but it can be just as relevant to individuals who want to make their page stand out.
All the websites let you add images and videos and write a crowdfunding description, but some of the platforms have more customization. 
On Kickstarter and Indiegogo, creators don't have the freedom to adjust the color scheme or layout of the page. While on GoFundMe, users can change the color of some of the page features to match their brands.
Similarly, Bonfire enables fundraisers to create online stores that feature all their custom products in one central location. They can customize the page with images and details regarding their cause.
On the other hand, Fundly allows you to customize the colors and background of your page. Plus, creators can upload a logo to further brand the page.
Bonfire
Bonfire is the industry leader in custom merchandise fundraising. Whether you're an individual fundraiser or part of an organization, custom products are a fantastic way to boost your revenue while spreading awareness about a worthwhile cause.
Bonfire's quality merchandise comes in a range of colors and styles. Design your own t-shirts, hats, mugs, and more with your organization's logo as well as thousands of free graphics and fonts. Launch your campaign, and Bonfire handles the rest. They'll process payments and ship orders directly to your buyers, freeing up your time so that you can focus on selling your merchandise.
Fundly
We recommend Fundly if you're fundraising for a charity or personal cause. Not only is Fundly one of the lowest costing websites to use, but the platform also comes with a whole host of awesome (and effective!) features.
Fundly understands that personalizing your page helps increase your chances of success. That's why their fundraising pages are fully customizable. If you ever run into any challenges, Fundly's support team is ready to help resolve your problems so that you can get right back to fundraising.
Indiegogo
Indiegogo is a flexible crowdfunding website with plenty of useful features, making it our top recommendation for creative projects. Instead of accepting a wide range of fundraising categories, Indiegogo focuses on catering to artistic entrepreneurs.
Since campaign creators have the option to add perks and can decide what type of campaign they want to host (all-or-nothing or keep-it-all), you'll have full autonomy over how your fundraiser is structured.
Hopefully, this crowdfunding websites comparison guide has helped you decide what crowdfunding platform to choose.
If you want more help planning your crowdfunding campaign, check out these additional resources to get started: 
Crowdfunding for Individuals. Are you looking for ways to raise money for a personal expense or life-event? Check out this comprehensive guide on everything you need to know about crowdfunding.
Fundly's Crowdfunding Success Stories. Looking at crowdfunding examples is a great way to get inspiration on how to build your own campaign. Fundly has a list of 7 crowdfunding campaigns that met their goals.
Full List of Fundraising Ideas. Combine your crowdfunding campaign with a fundraising event to raise even more funds for your cause. Get our list of over 100 ideas that go great with crowdfunding.

https://doublethedonation.com/wp-content/uploads/2022/06/Comparing-Crowdfunding-Websites_Feature.png
315
710
Adam Weinger
https://doublethedonation.com/wp-content/uploads/2022/03/logo-dtd.svg
Adam Weinger
2017-05-15 14:03:40
2022-06-20 07:54:40
Comparing Crowdfunding Websites: 5 Sites Rated and Reviewed