The 11 Must-Know Matching Gift Best Practices for Nonprofits
Have you ever been to a movie double feature? You get in the movie-going mood, take the time out of your busy life to make it to the theater, buy your popcorn, splurge on a huge soda, and then settle in for two great films. Oh, and most importantly, you're only paying for one.
Matching gifts are fundraising double features. For the time and cost of acquiring one donation, you get twice the funding.
Once a donor contributes to your organization, they can submit a request to their company (if they have a program) to have their gift matched. If your nonprofit qualifies, the corporation will send a check for the same amount (or more!) depending on the company's matching ratio.
However, it will take your team a bit of extra planning to secure that extra revenue.
To ensure that your nonprofit maximizes its efforts, we've curated a list of the 11 most valuable matching gift best practices:
If you're more of a visual learner, we've got you covered! We've summarized our top ideas in a video. Feel free to watch it and then dive into the article for more information and additional ideas:
Follow these tips, lean back in your seat, and watch the credits roll!

1. Study Up on Matching Gifts
Here's the good news: if you want to learn about matching gifts, you will have no issue doing so with the countless resources online.
The topic of matching gifts isn't incredibly intimidating once you take the time to develop a better understanding of the process. Reaching an effective level of working knowledge is certainly possible.
Begin like you would with any subject by reading what you can. Try to build a strong foundation of knowledge, so that when you implement your program you'll be set to handle obstacles as they arise.
Having a keen sense of matching gifts and what goes into obtaining it is crucial in planning your program and standardizing your processes.
For instance, learning the matching gift guidelines for the three biggest companies in your area can help your team target donors from those companies. Chances are, some of your current donors work at one of those three.
Before you can implement a surefire matching gift strategy, you need to develop a solid understanding of this type of corporate philanthropy. Otherwise, you won't be able to relay the necessary information to your supporters. Kick-off your research with our comprehensive matching gift guide.



2. Appoint a Matching Gift Specialist
In the ideal situation, everyone on your organization's team will be well-versed in matching gift programs. However, by appointing an expert to lead your team, you'll have the time and resources to implement matching gifts into your overall fundraising strategy.
Your nonprofit will be more prepared after hiring a matching gift specialist than it would be having your whole staff know just a few basic facts about matching gifts. The coordinator is the expert, but the rest of your employees should know enough to field the questions that they can and pass along the rest as needed.
The specialist is the designated point-person for all matching gift queries and problems, as well as the staff member in charge of seeing the donations through until the end.
Your coordinator will be able to keep your various departments in the loop about what's going on and need-to-know information.
All staff members should be promoting matching gifts when relevant, but the matching gift coordinator is the coach leading your team to victory.
If the matching gift specialist position is new territory for your organization, why not consider hiring an executive search firm? Consultants can help you craft the perfect job description and lead you through the entire hiring process, ensuring that everything runs smoothly!
What if you don't have the funds or employee base to designate a matching gift coordinator?
Set aside some time and have designated team members do the research and put together matching gift materials including:
Educational packets
Letter templates
Newsletters
Answers to FAQs
Fast facts
With these resources, any member of your team is now armed with working knowledge of matching gifts and is prepared to handle most matching gift occurrences and problems. Otherwise, you won't truly maximize your matching gift potential.



3. Raise Awareness About Matched Giving
Once your team has a solid understanding of matching gifts and an idea of how the process will work internally, it's time to spread the word! People need to know about matching gifts before they can request them.
No need to be shy at this point; the goal is mass awareness. Lucky for everyone, technology has drastically improved over the years, so nonprofits now have plenty of ways to promote matching gifts.
Put matching gifts on your 'ways to give' page, like Girls Scouts of Greater Atlanta did: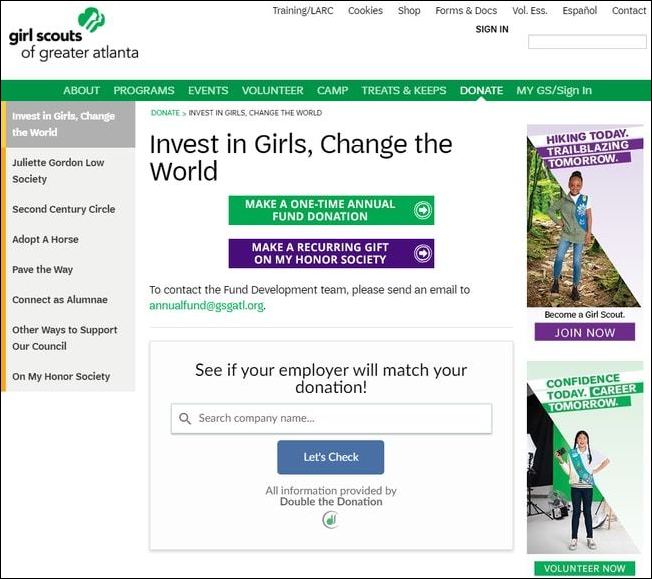 Create a dedicated matching gift page, like the ASPCA did: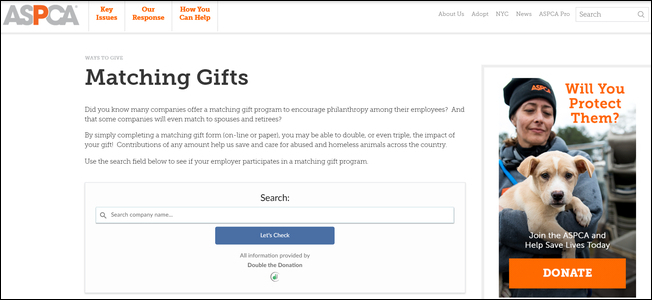 These are just two of many, many options. Get creative! To get the word out about matching gifts, try the following:
Send out a newsletter that focuses on matching gifts.
Create a paper insert to include in your communications.
Provide a matching gift search tool on your donation page.
Post additional resources on your website to teach readers about corporate philanthropy.
Matching gift promotion should span all of your communication platforms. Diversify your marketing so that it can reach the largest possible audience of donors.
4. Collect Donor Employer Details
The educational materials you give your donors will provide them with the tools they need to determine their eligibility. However, the matching gift process is not passive. Your nonprofit shouldn't sit back and wait for donors to come to you; rather, your team should be actively recognizing and pursuing your eligible donors.
If your staff can immediately see your donors' employers in your database, they can go the extra mile to obtain donations.
A major gift donor who works for a company with a generous matching gift program can make a huge difference in a nonprofit's annual budget. Plus, you won't waste the time of your employees when you double donors' contributions with minimal extra effort.
Knowing the companies your donors work for will help you segment your matching gift prospects.
For instance, if you're promoting via email, zeroing in on only the prospects with the most potential wouldn't make sense. Instead, consider a calling campaign. Team members won't have time to call all donors and prospects. That's where segmenting by employer can make a world of difference.
Segmentation by employer allows you to instantly recognize match-eligible donors. Sometimes, these donors might be aware of the opportunities, but they just need an extra push to complete the process!



5. Strive for Easy Accessibility
For a donor, securing a matching gift is an easy process that has the misfortune of sounding complicated. To remedy this, brand it better by simplifying the process.
Clear and concise language with straightforward directions will encourage your donors to seek out matching gifts. Donors who have already been generous enough to donate should not have to follow-up with a ton of paperwork.
To better explain matching gifts, you can:
List the typical steps involved in the process on your matching gifts explainer page.
Insert a matching gift widget that can help the donor search for their company's program.
Mail out informational materials about corporate philanthropy.
Highlight key matching gift statistics in your educational resources.
Point out a few of the companies that commonly match gifts for your nonprofit.
Ensure that your nonprofit is a one-stop-shop for all things matching gifts! That way, donors won't have to seek out this information themselves. Get ahead of the game and give your supporters all the information they need to fully understand their opportunities.



6. Keep Records of the Individuals' Matching Gift Statuses
Maintaining ongoing records of donors' matching gift statuses falls under the matching gift coordinator's jurisdiction.
Essentially, you'll want to know what requests have been made, when they are processed, and when they have been fulfilled.
Keeping accurate records will guarantee that no revenue opportunities slip through the cracks. There can be a lot of moving parts in the process among the donor, donor's employer, and the nonprofit, and there will be some level of back-and-forth.
A clear trail of what has happened and what needs to happen will make interactions a lot easier and a lot more efficient. For instance, a matching gift database like 360MatchPro by Double the Donation can track match progress. It automatically identifies opportunities to use corporate matching gift programs by searching donors' email domains and can drive matches to completion through tracking tools and automated messaging options.
The more standardized and systematic the process you use is, the better the results will be.



7. Thank Your Donors for Submitting a Matching Gift Request
Donors involved with matching gifts have gone the extra mile for your cause, so your appreciation should match that level of energy.
Just like matching gifts have doubled your donations, matching gift thank yous should be double as well. Thank them once for the initial donation and a second time when the matched gift goes through.
In fact, you may even want to put together a special event to honor matching gift donors. The goal is to show genuine gratitude towards what they've done to help, and something like a special event will also promote the program to those who are unaware of it.
If you don't have the resources for an entire event, try publicly thanking those involved on social media. Social media is a great place to promote matching gifts and is also a top outlet for acknowledgment.
For instance, a strategic Facebook post can kill two birds with one stone by thanking a matching gift donor while getting the idea of matching gifts into the heads of your Facebook community.
Nonetheless, you'll need to find an appropriate way to demonstrate your gratitude and ensure that the donors feel appreciated. Whether it's through a full-blown appreciation event or through thank-you letters, let your donors know their contributions are vital to your mission.



8. Cultivate Relationships with Donors' Companies
You should also consider thanking your donors' companies as well. The donor has brought the company to you, so go ahead and cover all your bases.
Matching gifts can provide a much-desired introduction to major corporations with top-notch corporate giving.
When an employee asks their company to match their gift, by nature of the process, the company will be exposed to your nonprofit. If you want to foster a new relationship, your nonprofit is going to have to impress the company. In some cases, you'll even develop long-term partnerships with them.
By having all of your matching gifts ducks in a row, your staff can focus on building those corporate relationships, instead of troubleshooting submission issues.
Plus, whenever you need an extra helping hand at one of your events, these companies will likely be more than happy to help out through their corporate volunteer program since you'll already be on their radar.



9. Maintain Your Donor Records
A disorganized and dysfunctional donor database is really going to hold your fundraisers back when it comes to matching gifts. With out-of-date information, your staff has no chance of making an efficient attempt at acquiring matching gifts.
If your organization fails to collect vital donor information, simply reach out to donors. For example, you could send out mailers with blanks for donors to fill in any changes to their personal details. Something as simple as an email asking them to confirm and update their information can work.
From there, refine your process by encouraging donors to fill out their personal details when they donate for the first time.
Once the information is in your system, your next move is going to be making sure those who need it can find it. Having data stored in such a manner that only one senior team member can find it doesn't do your organization any good, so make sure all your team members who are involved with the donation process have access to this data.



10. Perform Prospect Screening
If you're looking for donors with large capacities to donate and great matching gift programs, prospect screenings can be a big help.
Prospect research can provide major insights into your donors. Search for vital details like business affiliations of potential donors, like where they work and where their spouses work. If a donor's spouse works for a major matching gift company, your donor will often qualify for those donations as well.
Matching gift participation rates can vary from 3% to 65% based on how much the individual companies promote their programs. Don't let this vital process fall through the cracks. Instead, screen your donors to find overlooked opportunities.
With the knowledge derived from prospect screening, you'll be able to take a well-prepared approach to finding matching gift donors and will be well on your way to maximizing your revenue.



11. Track and Review Your Progress
Students earn grades and receive progress reports. Professional athletes watch game tape and practice all week long. No one can get better without locating weaknesses and focusing on changing them.
This rule applies to matching gifts as well. An established system designed with achievement assessment in mind is a valuable asset.
In order to properly grade your program, track:
The matching gift money raised in previous years.
The matching gift money raised after establishing your corporate philanthropy strategy.
Your top matching gift employer.
The costs and time it takes to acquire matches.
The percentage of your total revenue that matching gifts account for.
Simply advocating for matching gifts won't be enough to run a successful program. Tracking data and looking at results is the best way to pinpoint areas for improvement.
---
Matching Gift Database: Identify Matching Gifts with Double the Donation
Matching gifts play a major role in your nonprofit's fundraising strategy. As you now know, eligible donors can double (maybe even triple!) their contributions through their employers. The key is to make them aware of their available opportunities and ensure they follow through with the process.
Double the Donation can simplify this process and make it easy for nonprofits and employees to take advantage of corporate philanthropy. When you embed the matching gift plugin across your website and fundraising channels, you'll maximize your revenue potential.
With more than 8,500 organizations using it, Double the Donation offers the industry-leading matching gifts database. It allows users to search more than 20,000 companies and subsidiaries which represent 15+ million match-eligible individuals.
As the most comprehensive source of matching gift forms and instructions, corporate employees will be able to quickly check their eligibility and submit requests to their employers.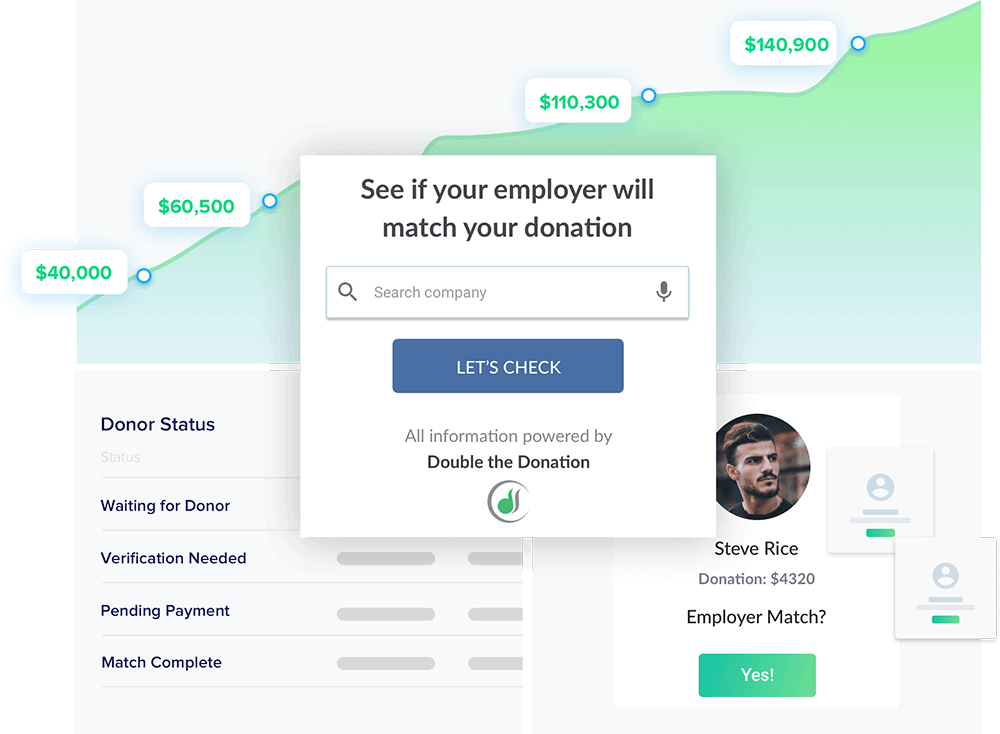 Larger nonprofits may benefit even more from 360MatchPro by Double the Donation. This system goes beyond providing users with necessary instructions and forms. It recognizes match-eligible donors through email domain screening, and through automated reminder emails, donors will be encouraged to complete the matching gift process. Your staff will save time while still providing donors with the necessary guidance for completing their matching gift requests promptly.
---
Corporate giving programs are out there for the taking. Major corporations like GE and Microsoft have some of the best matching gift programs in the world. Make sure your nonprofit's team can easily recognize these opportunities.
Institute these matching gifts best practices and get ready for the second movie to start.
For more matching gift advice, check out these additional resources: 
Marketing Matching Gifts: Want more ways to promote matching gifts? This guide takes you through several ideas on how your organization can best market matching gifts.
Ultimate Guide to Major Gifts: Encouraging major donors to submit matching gifts can add even more money to your annual fund. Learn the ins and outs of major donors with this helpful guide.
Matching Gifts Guide: Need to go back to the basics of matching gifts? Check out this comprehensive guide by Recharity.

https://doublethedonation.com/wp-content/uploads/2022/05/Matching-Gift-Best-Practices_Feature.jpg
250
725
Adam Weinger
https://doublethedonation.com/wp-content/uploads/2022/03/logo-dtd.svg
Adam Weinger
2015-06-15 14:27:28
2023-09-18 18:02:14
The 11 Must-Know Matching Gift Best Practices for Nonprofits