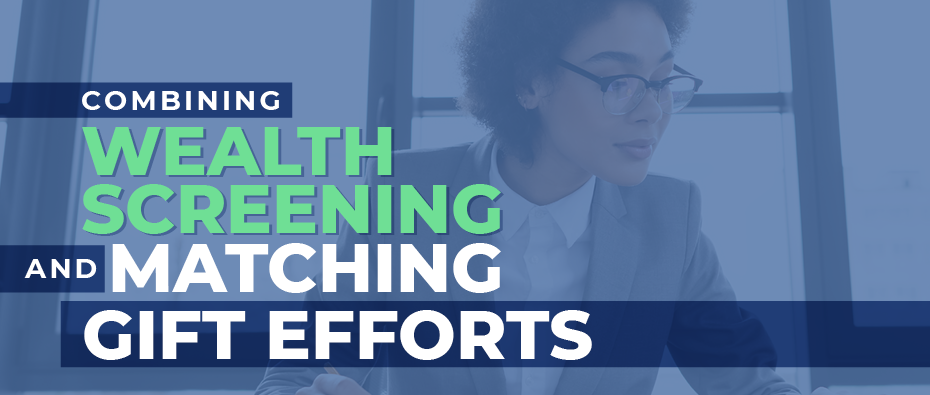 Combining Wealth Screening and Matching Gift Efforts
Exploring trends in both nonprofit data and fundraising, donor wealth data⁠—and having the right resources to leverage it⁠—can go a long way towards successful revenue generation⁠. And if you're looking to increase your organization's corporate revenue as well, wealth screening and matching gift efforts go hand in hand.
To boost your wealth screening and matching gift strategies simultaneously, equipping your team with the right tips and tools is critical. When done effectively, fundraising organizations can reap the following benefits for donor relations and overall revenue growth:
In this guide, we will explore the power of matching gifts, how these corporate giving programs correspond with individual wealth screening, and what you can do to increase your organization's efforts. Let's jump right in with the basics.
Understanding Wealth Screening
Wealth screening is a donor prospect research strategy that allows organizations to scan supporter information for common indicators of wealth.
Effective wealth screening practices offer several advantages to nonprofits and other fundraising organizations⁠, including the abilities to:
Better identify valuable prospective donors.
Craft more tailored donation asks.
This often involves comparing nonprofit database information against external sources such as government databases and online resources to help determine an individual's overall net worth and ability to give.

Understanding Matching Gifts
Matching gifts are a form of corporate giving offered by companies that aim to financially support the charitable causes that their employees care about. Gift matches are most often made at a dollar-for-dollar rate, although some businesses will choose to match up to $3 for every $1 donated by an employee.
As a nonprofit, these types of corporate gift-matching programs can offer you powerful benefits such as:
Increased fundraising revenue with little to no additional effort required.
Improved donor engagement strategies.
Opportunities for long-term corporate business partnerships.
Corporate or workplace giving programs such as matching gifts are advantageous to every party involved, including the business making the match, the donor contributing the initial gift, and the organization receiving the funding. That's a significant factor in what makes matching gift fundraising efforts so popular among the philanthropic community.
However, our studies show that the majority (78%) of match-eligible donors are never made aware of these programs. This results in billions of corporate dollars going unclaimed each year, and only 7% of donors at matching gift companies actually submitting a request.
Benefits of Combining Wealth Screening and Matching Gifts
If you're interested in combining your wealth screening and matching gift fundraising efforts, you have the potential to set your organization up for ongoing, long-term success. Here's how:
1. Better target communications with high-value matching gift donors.
It's a simple fact that in order to maximize results, you must engage with high-net-worth donors and prospects in a very strategic and relational way. If you typically employ automated email communications, you might opt for a more personalized approach instead. This allows you to build deeper relationships with these individuals and demonstrate their value as critical mission partners rather than ATM machines.
In order to determine which donors deserve this additional outreach, it's important that you have the tools required to screen and flag your highest-value supporters. Then, you can use the details you learn about each individual to target and adjust your messaging accordingly.
For example, if you know that a major donor works for a company with a particularly generous matching gift program, be sure to look into their program guidelines and determine if the gift is eligible for a match. If so, share this information (as well as any online submission forms) directly with the donor so that they can easily take the next steps.
2. Increase overall fundraising and corporate giving revenue.
Effective fundraising relies on having the right data to drive your efforts. One of the best ways to collect this information is through wealth screening practices. This way, you can uncover major donor prospects within your network and make carefully crafted donation asks to maximize revenue.
Here's how: imagine you have a supporter who consistently gives a few thousand dollars at a time. When you determine their net worth, you realize that they're worth around $5 million. They could easily become a major donor for your upcoming annual fund campaign but aren't likely to take that step on their own. And you never would have uncovered that information if it were not for wealth screening!
You decide to contact them as a potential major contributor. Now, you'll need to make your fundraising ask. If you ask too much, you're more likely to get a "no." If you ask too little, you'll often leave available funding on the table. When you have knowledge of the donor's net worth and available assets, however, you can easily find that sweet spot at the high end of their comfort zone⁠—which means more money for your nonprofit!
3. Leverage a more comprehensive understanding of supporters.
Knowing your donors requires you to have a more holistic view of each person, rather than seeing donors as rows in a nonprofit database or dollar signs in your organization's bank account. Luckily, wealth screening can provide your fundraising team with valuable insights into what makes each person them.
For example, does a major donor tend to display an affinity towards similar missions as your own? This implies that they have a passion for your cause and will be more likely to give⁠—and to go above and beyond by requesting a corporate match.
Wealth Screening Tools for Nonprofits
When it comes to combining wealth screening and matching gifts, you know you'll need the right tools for increased success and efficiency. Hopefully, you're already set up with a matching gift database and automation tool⁠—so now all you need are powerful wealth screening tools for your cause. Here's what you need to know:
What are wealth screening tools?
While you might be able to manually screen a small number of donor prospects for common wealth indicators using tedious research and evaluation methods, wealth screening tools make the process a whole lot faster and easier for your team.
With a top wealth screening solution, you can determine accurate net worth estimates for donors and constituents, receive regularly updated information when wealth markers ebb and flow, and uncover valuable major donor prospects to help support your cause.
What is Windfall Data?
If you're looking for recommendations on wealth screening providers, Windfall Data is certainly one of our top picks. This powerful platform offers unique and invaluable insights into some of your most critical donors and prospects to help charitable organizations like yours improve fundraising results. Here are some of its most noteworthy features:
Personal and household attribute management which takes into account other interests, virtue, and signals beyond typical wealth markers.
Customizable objectives based on whether your fundraising team is seeking major donations, annual fund donors, leadership gifts, planned giving, or more.
Holistic perspectives that combine data from multiple points of engagement such as donor databases, events, alumni rosters, and member networks.
Plus, Windfall Data offers a native integration with our innovative matching gift solution, 360MatchPro by Double the Donation. When leveraging these platforms together, nonprofits can ensure that high-net-worth individuals are automatically flagged for personalized matching gift communications. This way, your team can grow its prospect research and matching gifts simultaneously to adjust communications, boost funding, and improve donor relations along the way.

---
All in all, wealth screening and matching gifts are two of the most vital, yet often overlooked fundraising strategies for nonprofits looking to scale their efforts. When combined, these tactics allow organizations to raise more money in a more efficient manner.
In order to leverage the benefits of wealth screening and matching gift fundraising for your mission, it's important that you invest in the right tools to make the most of these practices. Good luck!
Learn more about wealth screening and matching gifts with these other educational resources:
https://doublethedonation.com/wp-content/uploads/2022/06/Windfall_DTD_Combining-Wealth-Screening-and-Matching-Gift-Efforts_Feature-e1631664102274.png
395
930
Adam Weinger
https://doublethedonation.com/wp-content/uploads/2022/03/logo-dtd.svg
Adam Weinger
2021-09-24 22:13:20
2022-06-20 07:55:55
Combining Wealth Screening and Matching Gift Efforts