Awesome #GivingTuesday Advice From 30+ Nonprofit Experts
#GivingTuesday might not be until December, but because planning and preparation are key to any successful campaign, we think the best time to start thinking about how to take advantage of this fundraising opportunity is now!
Double the Donation's team has compiled advice from over 30 experts on how nonprofit organizations can make #GivingTuesday a hit.
Good luck!
Start Planning Now!
Far and away, the most common piece of advice was to start planning as soon as possible. Getting a head start on promotions, social media trends, marketing materials, and getting in touch with donors (individuals, foundations, corporations, etc.) is going to be the key to a successful campaign!
Lynne D. Filderman, Vice President & Chief Marketing Officer at America's Charities says: "#GivingTuesday is a movement to inspire generosity; not just another website where you list your charity profile or an event that replaces your existing year-end campaign. The hype from #GivingTuesday should be used to draw attention to your organization's story and impact. It's an opportunity to reach new donors and find new ways to excite existing supporters. Whether you choose to integrate #GivingTuesday into your year-end fundraising campaign or as a stand-alone awareness day event, your success will be determined by how focused your message is, how clear your call-to-action is, how active you are in promoting your initiative, and how well you plan – starting now."
Gretchen Barry, Director of Marketing and Communications at NonprofitEasy says: Don't have a #GivingTuesday plan? Don't stress. Many organizations dread #GivingTuesday, mostly because they haven't created a plan or set any objectives. Here are three tips to jump-start your strategy.
Tip #1: There are many ways to tap into the #GivingTuesday machine so if you don't already have a plan, no worries! Break out a flip chart, grab a few of your most creative thinkers, determine your #GivingTuesday objective (it's okay to start small), and spend 30 minutes on a quick brainstorming session.
Tip #2: Communication is the key to success. Once your plan is in place, pull a short list of your most active volunteers, board members and donors and start making personal calls asking them for help in spreading the word. Then, send them a follow-up email thanking them for their help – very important!
Tip #3: Make the call to action clear and ensure that it's easy for people to connect with your organization on #GivingTuesday. For example, hold an open house and encourage the community to drop by and learn more about your mission. If you don't have the budget for an open house, hold a virtual open house through social media and invite community leaders and your volunteers to share stories about your mission and ways that people can help. Make a list of volunteer opportunities and post one through social media every hour or two throughout the day.
Bonus Tip: Don't forget to review your results. Document what worked and what didn't work and then pat yourself on the back because you're already on your way to a plan for next year's #GivingTuesday.
Howard Lake, Publisher at UK Fundraising says:
"Create some images showing your nonprofit's involvement with #GivingTuesday and invite your supporters to share them – with a link to your site. Don't forget a call to action on the image."
"Plan ahead – invite your corporate supporters to match donations made on #GivingTuesday, either in total or, more likely, up to a certain amount."
"Invite a medium or major donor (or business donor?) to give out one hundred $10 or £10 notes to supporters who promise to use them to raise at least triple the amount in time for #GivingTuesday."
"Stuck for ideas for #GivingTuesday? Ask your supporters now, and choose the best."
"Change the thank you page on your online donation platform, if you can, so that it shows a #GivingTuesday message, which donors are invited to share. For example, 'I gave to [nonprofit] to help [children, animals, the environment] on #GivingTuesday. You can, too: [link].'"
Dan Fonseca of FrontStream says: "#GivingTuesday is a growing charitable movement that takes place during the holiday season. For one day, (the Tuesday after Black Friday) we're reminded that giving back and aiding important causes is just as (if not more) important as super savings deals. Back in 2012, FirstGiving's #GivingTuesday donation grand total was $159,102.96. In 2013, we announced that $438,018.50 was raised in a single day. In that year alone, #GivingTuesday's momentum grew almost four fold. And in 2014 it grew even more substantially. Of course, this is all thanks to our partnering nonprofits. We're just here to help facilitate what these nonprofits do best. We're excited to see what 2015 brings!
If we had any word of advice, it'd be to start planning for your #GivingTuesday campaign early, we're talking months of planning in advance. Take advantage of the buzz and momentum of this fantastic charitable movement. Learn what successful organizations did in the past and think about how you can take what you've learned and apply it to your organization. Think about donation incentives and how to motivate your supporters. Do you know what motivates them?"
Blue Hovatter, Founder of Community Funded says: "The best thing you can do to make your #GivingTuesday a success is put together a solid plan of attack and pre-promote the event. Make sure you have a plan for how you are going to reach out to your network and make sure the event has plenty of pre-promotion. Get everyone on your team ready to go and make sure your community is aware and ready to take action."
Dan Quirk, Marketing Specialist at SalsaLabs says: "Test and analyze several different donation landing page designs and layouts in advance, so that you are using your highest performing (converting) page on #GivingTuesday."
Julia Campbell, Founder of JC Social Marketing says: "The key to success in a #GivingTuesday campaign is planning ahead. Plan for the day as you would a big in-person fundraising event, with tasks, deadlines and responsibilities. Do not leave the promotion of your campaign up to one person – get a group involved and form a #GivingTuesday committee! Encourage donors, volunteers, board members, staff, and community members to spread the word about your campaign online via the social media channel they like best. Create an example Social Media Kit with graphics and sample tweets and posts to make it super easy for people to share the info. Don't forget to thank people afterward and follow up with everyone who participates to let them know the results, and create momentum for next year!"
Amy DeVita, Founder of Top Nonprofits says:  "#GivingTuesday (Dec. 1, 2015) is an ingenious way for any-sized organization to gain greater awareness, by leveraging a national campaign that appeals to the growing number of people who are fundamentally turned off by "Black Friday" and "Cyber Monday" – basically a counter to consumerism for the sake of consumerism. Prepare and strategize…in advance!
Look at December 1, 2015 as the harvest date and plant seeds and pathways for your donors to connect with you for the months leading up to it. But first have a plan. Will you find a matching donor? Will you solicit time donations in addition to monetary donations? Think about where you want to end up—and make a map that will get you there; don't just spin around aimlessly.
Start now, maybe with regular posts on Facebook that give a look at the difference your group is making and include the hashtag #GivingTuesday. Use the hashtag in your Tweets—start making your organization discoverable to those searching for #GivingTuesday—now or months from now."
Craig Van Korlaar, Founder of TopNonprofits says: "As Benjamin Franklin said, 'By failing to prepare, you are preparing to fail.'
I think that it's important to remember that any successful #GivingTuesday campaign is first, and foremost, a campaign. And all great campaigns require advance planning and strategy. Stating objectives and determining an audience; identifying campaign success KPIs are all important. While a nonprofit organization that works with an agency can certainly call on its team to create a campaign, to the hundreds of thousands of nonprofits relying on their own in-house staff, creating a campaign may seem daunting.
Fortunately, there are free tools that one can utilize to produce a robust and documented strategy, including robust campaign planning documents and editorial calendars."
Hesha Patel, Director of Marketing for JK Group says: "The key to a successful giving campaign is proper planning and communications. Non-profits should work with their corporate partners in devising a multi-touch communication plan that not only talks about the logistic of the campaign but also what the cause aims to achieve. That will drive employee participation."
At Double the Donation we provide employee matching gift tools to nonprofits. We know we're months away from #GivingTuesday but as part of our company's #Giving Tuesday offer we'll be giving away our service for free for the two weeks before and after #GivingTuesday.
Learn more about how our #GivingTuesday offer works by clicking here.
Don't Treat #GivingTuesday as a One-Day Event
Several experts agree that while #GivingTuesday IS a one-day event, you shouldn't treat it as such. This is a great opportunity to work on donor cultivation for the long-term.
Ken Berger, President and CEO of Charity Navigator says: "We are a strong supporter of #GivingTuesday and its ability to inspire new acts of generosity. But December 2nd should just be the stepping stone on the path of cultivating new donors. Charities that have excelled at leveraging #GivingTuesday are the ones that feed their donors' demand for data on their impact. These charities engage in ongoing communications with their new #GivingTuesday supporters to inform them about the results of their charitable programs and services. We believe and have seen that the more transparent charities are about their performance, the more donors will respect, value, and support their efforts."
Sarah Ford, Associate Marketing Manager for America's Charities says: "While #GivingTuesday culminates on December 1, 2015, it is by no means a one-day event. It is a movement to encourage giving and celebrate philanthropy. Whether it's through workplace giving, volunteering, cause marketing, matching gifts, charity fairs, donating items to charity, or simply telling the world about your company's cause work and impact, there are several ways to leverage your company's social responsibility initiatives with #GivingTuesday. Be creative and don't be afraid to reach out to industry experts for advice."
Megan Keane, Membership Director at NTEN says: "Remember, #GivingTuesday goes beyond a single day of giving – a successful campaign is part of a larger donor cultivation and fundraising strategy. At NTEN, our #GivingTuesday participation was one piece of our annual giving campaign that followed our month-long Member Appreciation Month. We encouraged supporters to extend the spirit of thanks by giving back to the NTEN community, and #GivingTuesday was a way of showcasing our community through being a part of a larger movement."
Keep Employees Engaged (Advice for Companies)
Corporate giving programs wouldn't be successful without employees with a big heart and the passion to make a difference. #GivingTuesday isn't any different!
Ryan Scott, CEO of Causecast says: "The number one thing people forget? A great employee giving and volunteering campaign comes down to being able to tap into both employee passion and expertise. Everything you do has to be authentic, meaningful and relevant, or your impact will be next to zero. No one will want to play with you next year if you don't engage their hearts and minds. So ask your employees what they love, what they care about, and then build a campaign that captures and delivers upon that spirit."
Chris Jarvis, Senior Partner, and Corey Diamond, Partner, from RealizedWorth say: "The paradigm is shifting – clearly, companies that facilitate giving without engaging their staff are missing a large part of the equation. Matching gift programs, Dollar for Doer initiatives and working with employees to choose the causes to support are revolutionizing how a company gives to not-for-profits. Companies now want to see how many hands touch the dollar bill before it goes out the door."
Dustin Joost, Lead Sales and Digital Marketing Manager at YourCause says: "Like many CSR programs, #GivingTuesday is an event that can help build a sense of community within a company. Have your executive leaders kick it off by recording short video snippets of why #GivingTuesday is important to them and how they plan on making an impact. Release these videos are few days before the big day and encourage others to submit video snippets of what they did for #GivingTuesday. It's a great way to encourage engagement and the videos can be used next year to tell a story and further drive participation."
Partner Up with Corporations and Foundations
An important part of nonprofit success is the partnerships an organization can forge with both local and national businesses. These experts advise building relationships around #GivingTuesday can make for a successful campaign, and even beyond!
Donna Callejon, Chief Business Officer of Global Giving says: "Nonprofits should be in touch with their corporate and foundation funders to see if there is a campaign or program they can join as part of #GivingTuesday."
Mark Feinberg, Co-Founder and CEO of Uruut says: "#GivingTuesday provides an incredible opportunity for businesses and foundations of all sizes, individuals of all age groups and backgrounds to come together to support causes they care deeply about. I hope we can use the energy and success of #GivingTuesday and move us even closer to a "Giving Everyday" framework. We continue to make great progress in this regard but there is even more we can do."
Lori Forte Harnick, General Manager of Microsoft Citizenship and Public Affairs says: "Nonprofits can maximize fundraising during #GivingTuesday by working with corporations with similar philanthropy goals. Through the Microsoft YouthSpark initiative, we're partnering with a full range of youth-serving nonprofits to empower young people with technology tools and education and help them fulfill their dreams."
Adam Weinger, President of Double the Donation says: "It's important for nonprofits to leverage matching gifts or general corporate support into positive PR for both you and the corporation to ensure future collaboration, and therefore, a stronger nonprofit-corporate relationship. If you receive a donation from a corporation think about how your organization can publicly acknowledge the support through your website, social media, or press releases."
Engage and Thank Your Donors: Before, During, and After #GivingTuesday
Keeping your donors and constituents engaged and acknowledging their support before #GivingTuesday will make it easier to make a direct ask for the event. Your donors should know how grateful you are for their past support before you make an ask, while you're making the ask, and especially after you make the ask.
Bill Tedesco, CEO of DonorSearch says: "After #GivingTuesday, evaluate your list of new donors to determine if any of them could be prospects for a larger gift in the future. Performing prospect research on new donors is a great way to identify donors that have given large donations to other nonprofits. Once you identify these donors, have a member of your team reach out to personally thank them for their donation."
Karrie Hungerford, Co-Founder & CEO of GivingTrax says: "A great way to increase overall contributions is to engage local businesses to offer public match challenges or increased employee matching gifts. You can provide value back to businesses by using social media to create awareness of their contribution and support of your organization.
Tweet the matching gift offer and post to social media channels multiple times before and during #GivingTuesday. Be sure to tag the business sponsors' handle and include applicable hashtags for your area. An example of this would be the following tweet: 'Kudos to @donor for giving @your-organization's-handle on #GivingTuesday a #matchinggift of $5,000. Give at: [link to giving page]'. Be sure to use short codes to a donation landing page for the event or include a way to donate within the post."
Randy Hawthorne, Executive Director/Publisher of Nonprofit Hub says: "Thank all of your donors in early November as part of a Thanksgiving campaign so that you've had contact before you make an ask at the end of the month."
Alexandra Saavedra, Marketing Programs Manager of Greater Giving says: "Share your results on social media after the fact and let people know how you did (perhaps a 'thank you' video on YouTube)."
Claire Axelrad, Principal at Clairification says: "If you're a nonprofit that's already swamped with fundraising initiatives at this busy time of year, perhaps there's another alternative that won't interfere with your current schedule or risk confusing your donors by multiple, overlapping asks for donations. Personally, I like using the day for gratitude.  Why does the giving have to be on the donor's end? Why not consider it a day to give back to your donors?
There's all sorts of things you could do.  Think of it as one big giant opportunity to honor your donors! Here are a few ideas for starters:
How about a thankathon? It's a great way to involve volunteers because, inevitably, it's a feel-good experience for everyone involved. It's more fun to do it as a group – with refreshments of course! But it's okay to dole out the names and have folks do it from their home or office. Leaving messages on voicemail is fine. If you get someone on the phone, most supporters are pleasantly surprised to be receiving a call that's purely a thank you, and this pleasant feeling is passed along to the caller.  For volunteers who've been afraid to pick up the phone to call donors requesting support, this is a terrific way to get their feet wet. Just make sure to arm them with a script in advance.
How about a greeting card or e-greeting? Time it to land in your donor's mailbox on Giving Tuesday. I can imagine a message like: It's Giving Tuesday; And Just So Rare; It's Our "Won't Lose Day"; Because You Care! Then add a little personal note letting your donor know how much their support means to you. Maybe put it on a card with a photo that visually shows what their giving accomplishes. And don't be afraid to be corny or schmaltzy.
How about a token gift? Could you get a local retailer to offer a coupon for a cup of coffee? An ice cream? A pizza slice? A hamburger?
You may have something you can give your donors that costs you next-to-nothing.  It could be free parking or VIP seating at an upcoming event. A discount at your on-site café. This year Jewish Family and Children's Services of San Francisco did a combination of "give and get" for #GivingTuesday, offering those who give on December 1st a free glass of champagne if they'll be attending their upcoming Gala.
So, if you're one of those nonprofits who've rejected the notion of #GivingTuesday out of fears it might cannibalize your other fundraising efforts or burn out your staff and/or volunteers, I urge you to consider some  giving alternatives. We don't thank our supporters nearly enough, so why not have a day dedicated to donor love?"
Use #GivingTuesday as a Platform to Share Success Stories and Outcomes to Supporters – Be Transparent
These experts agree that #GivingTuesday is a great opportunity to show your donors and supporters what you do with the donations you receive throughout the year. Telling great stories and using high-impacting numbers and figures is the best way to keep your constituents in the know and excited about continuing to give to your cause.
Rafi Norberg, President of Nexus Marketing says: "#GivingTuesday is more than just an online donation drive, it's an opportunity to improve your organization's online authority. After #GivingTuesday is over, write a blog entry thanking your supporters and letting them know how their donations will be used. After you publish the post, share it via social media, the #GivingTuesday website, and your newsletter."
Lindsay J.K. Nichols, Senior Director of Marketing & Communications at GuideStar says: "Nonprofits can use #GivingTuesday to signal to people that give wisely (as in they give with their heads as well as their hearts – the only way to go!) that your organization "gets it." Create a quick tip sheet of the ways people can give to your nonprofit – with their money, their time, their online/social media support, etc. – and use the #GivingTuesday hashtag to help spread the word among the ready and waiting (huge) audience that supports the campaign. Make sure you talk about your outcomes, not just your outputs, when asking for donations – remember no stories without data, and no data without stories!"
Use #GivingTuesday to Encourage Millennial Giving
Millennials are the driving force behind today's nonprofit success. Individuals between the ages of 18 and 35 are shaping the way organizations are run, whether through engagement, employment, or simply donations (be it money or time). Get them involved and motivated to support your cause!
Megan Reile, Sales & Marketing Director at 360Alumni says: "#GivingTuesday is a fantastic opportunity for individuals and corporations to raise non-profit support. Following Cyber Monday, which is a consumption-driven whirlwind, #GivingTuesday is a chance to give back to non-profits worldwide, and remember the true spirit of the holidays. #GivingTuesday is especially impactful in engaging Millennials, those born after 1979. According to Achieve's Millennial Impact report, 87% of millennials donated to a non-profit in 2013, and 55% of millennials were influenced to take the job they currently have after discussing cause work with their interviewer. Millennials want to give back, so why not utilize the cause to encourage them? And using corporate matching programs gives these individuals the emotional satisfaction in knowing that their dollar went even farther, often doubled. What better motivation for action?"
Listen to What Others are Doing to Make #GivingTuesday Successful
It's always beneficial to see how others perceive a successful campaign. Take advantage of the abundance of resources out there, including webinars and radio segments, to hear ideas you may not otherwise have thought of.
Tony Martignetti, Host of Tony Martignetti Nonprofit Radio says: "Leverage all of the webinars and radio segments on #GivingTuesday. The #GivingTuesday team maintains a large library at http://www.givingtuesday.org/watch/ and there are also radio segments such as this one of Giving Tuesday early adopters sharing their best ideas: http://tony.ma/1bWl976."
Think Outside the "Giving" Box
#GivingTuesday doesn't only have to be about monetary donations. Thinking outside the box can help people think creatively in terms of how they give to your organization.
Shari Ilsen, Director of Engagement at VolunteerMatch says: "Why limit the ways in which your community can support you for #GivingTuesday? Instead, think outside the "giving" box and encourage people to get creative by giving time to volunteer, by activating their social networks to run social media campaigns, and sending in their own stories of how your organization has helped and inspired them. In addition to increased awareness, you'll get even more committed folks who will connect with your nonprofit emotionally and be even more likely to donate in the future!"
Asha Curran, Director, 92Y Center for Innovation & Social Impact (the creator of #GivingTuesday) says: "At 92Y – which will celebrate its 140th anniversary next year – #GivingTuesday grew out of looking at our core beliefs in community and philanthropy and imagining how social media might catapult them well beyond our walls. The result has been a global movement around giving that exceeded all of our expectations. This kind of experimentation is critical for the nonprofit sector; it makes for better, more effective campaigns, and it can also help transform an organization's thinking. Think of #GivingTuesday as an opportunity to try new things or collaborate with new partners."
Be Transparent and Direct with Pitches
Your supporters want to know where the money they're donating is going. Being direct and transparent will increase the likelihood of donations and ongoing support from individuals who fully support your mission.
Jen Boynton, Editor in Chief, and Mary Mazzoni, Senior Editor, of Triple Pundit say: "Create urgency with your pitch and make a specific ask – let funders know where their money will go."
Peter Lowy, Founder of MassNonprofit.org says: "Tangible projects work best rather than raising money for 'general operating expenses.' Choose a project based on need and what is most likely to excite your donors and get new donors on board. Determine a fundraising goal and have a big announcement explaining your participation in #GivingTuesday."
On the Contrary…
Not everyone thinks a successful #GivingTuesday campaign is the best way to increase support for your nonprofit organization.
Joe Garecht, President of Garecht Fundraising Associates: "If you want to raise more money for your non-profit on a consistent basis, avoid gimmicks like #GivingTuesday, and focus on building long-term relationships with your donors. You'll find more donors, who will give more, on a more consistent basis. Avoid the #GivingTuesday rat race!"
We hope these bits of expert advice can help your nonprofit make this year's #GivingTuesday the best one yet!
Suggested Next Steps:
Check out our immersive webinar on creating compelling Giving Tuesday campaigns!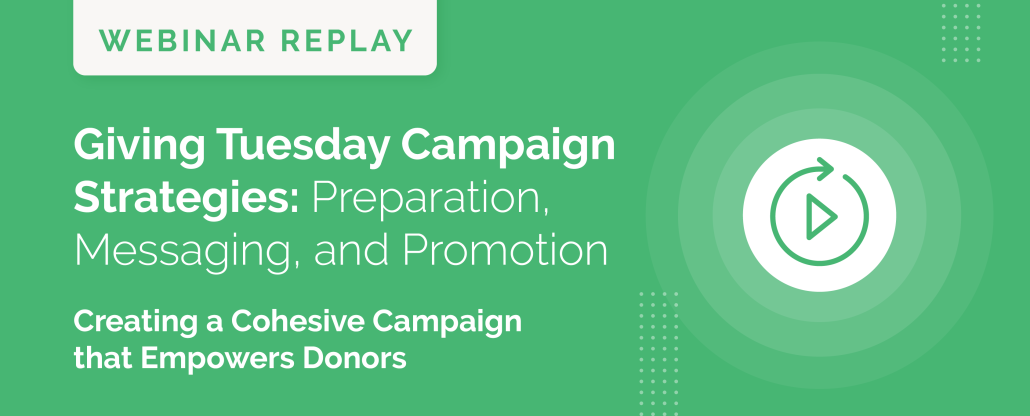 https://doublethedonation.com/wp-content/uploads/2022/05/Untitled-design.png
321
845
Adam Weinger
https://doublethedonation.com/wp-content/uploads/2022/03/logo-dtd.svg
Adam Weinger
2015-09-29 13:16:59
2023-07-21 13:17:19
Awesome #GivingTuesday Advice From 30+ Nonprofit Experts