The partnership brings enhanced matching gift functionality to Classy's nonprofit customers, allowing them to raise more and accelerate their organization's impact
Double the Donation announces an enhanced matching gifts partnership with Classy, creator of world-class online fundraising software for nonprofits. The partnership brings enhanced matching gift functionality to Classy customers through a native integration with the industry-leading matching gifts automation platform, 360MatchPro by Double the Donation.
"At Classy, our mission is to empower the world for good and this includes bringing the best-in-class fundraising solutions and tools to our customers so they can raise more money and ultimately increase their impact, says Scot Chisholm, CEO and Co-founder of Classy. "Integrating with Double the Donation allows us to offer a sophisticated gift matching solution, giving supporters tools to easily double their contribution, ultimately creating more sustainable impact for nonprofits."
The Classy-360MatchPro integration provides a quick and simple matching gift process for donors. Through Double the Donation's database of corporate matching gift programs, donors are able to confidently submit their matching gift requests. The enhanced capabilities of the new release identify more matching opportunities, drive the opportunities to completion, and ulimately result in more revenue for the nonprofit.
"We are committed to providing nonprofits and their donors with the most accurate, comprehensive, and up-to-date information about corporate matching gift programs," said Adam Weinger, President of Double the Donation. "The Double the Donation database is updated multiple times a day by the Double the Donation database team to ensure that all instructions, links, and program details delivered to donors actually result in increased revenue for nonprofits — not frustration at outdated information and broken links."

Activate in Seconds and Start Raising More from Matching Gifts!
Getting started with the new 360MatchPro integration takes less than a minute. Nonprofits with a 360MatchPro account can simply navigate to the Double the Donation App in "Apps & Extensions" within their Classy account to connect the two services.
No 360MatchPro account? No problem! Fill out the contact form, and a member of the Double the Donation team will be right with you to get you set up.
Once the integration has been set up, 360MatchPro will automatically add the appropriate company matching gift workflow to all Classy donation forms. That workflow is simple, streamlined, and highly valuable.
During the donation process itself, donors can select their company name from an easy-to-navigate autocomplete search box. Donors simply begin typing their company name and select it once it is suggested by the smart autocomplete functionality.
This search functionality allows donors to move quickly and confidently through the Classy donation form without stopping, which protects conversion rates while identifying opportunities for higher matching gift revenue at the same time.
Once 360MatchPro knows where a donor works, it provides the immediate next steps the donor needs to take to get their gift matched directly in the donor's inbox.
Of course, all the features from the previous version of the 360MatchPro-Classy integration are still included in the newly enhanced release. 360MatchPro still sends configurable follow-up emails to all donors to check their matching gift eligibility, even if they skipped the company name search field on the donation form, to capture every last opportunity for matching gifts.
Looking to learn more? Check out our in-depth integration guide to get started!

Drive More Matching Gifts to Completion with 360MatchPro and Classy!
360MatchPro by Double the Donation enhances the Classy donation experience by raising your organization more money from corporate matching gifts.
Identify more matching gift revenue opportunities: 360MatchPro enables you to automatically collect matching gift eligibility from donors using email domains, within donation forms, on confirmation screens, or by email. The more matching gift opportunities 360MatchPro discovers and shares with donors, the more matching gift requests your donors will successfully submit.
Drive more matches to completion, from form submission to corporate payment: Direct donors immediately to their matching gift forms after the donation process is complete. Then, provide the right information to the right donors at the right time with custom emails based on match eligibility. Target follow-ups drive more completed submissions than ever before, bringing exponentially more matching gift checks from companies through your door.
Reallocate your time from routine follow-up to your top opportunities: Your time is valuable, so why spend it chasing small dollar-value matching gifts? Let 360MatchPro automate your matching gift outreach while flagging your highest-value opportunities, allowing your team to personalize follow-ups to the most valuable match-eligible donations. Rest easy knowing that 360MatchPro can handle the rest.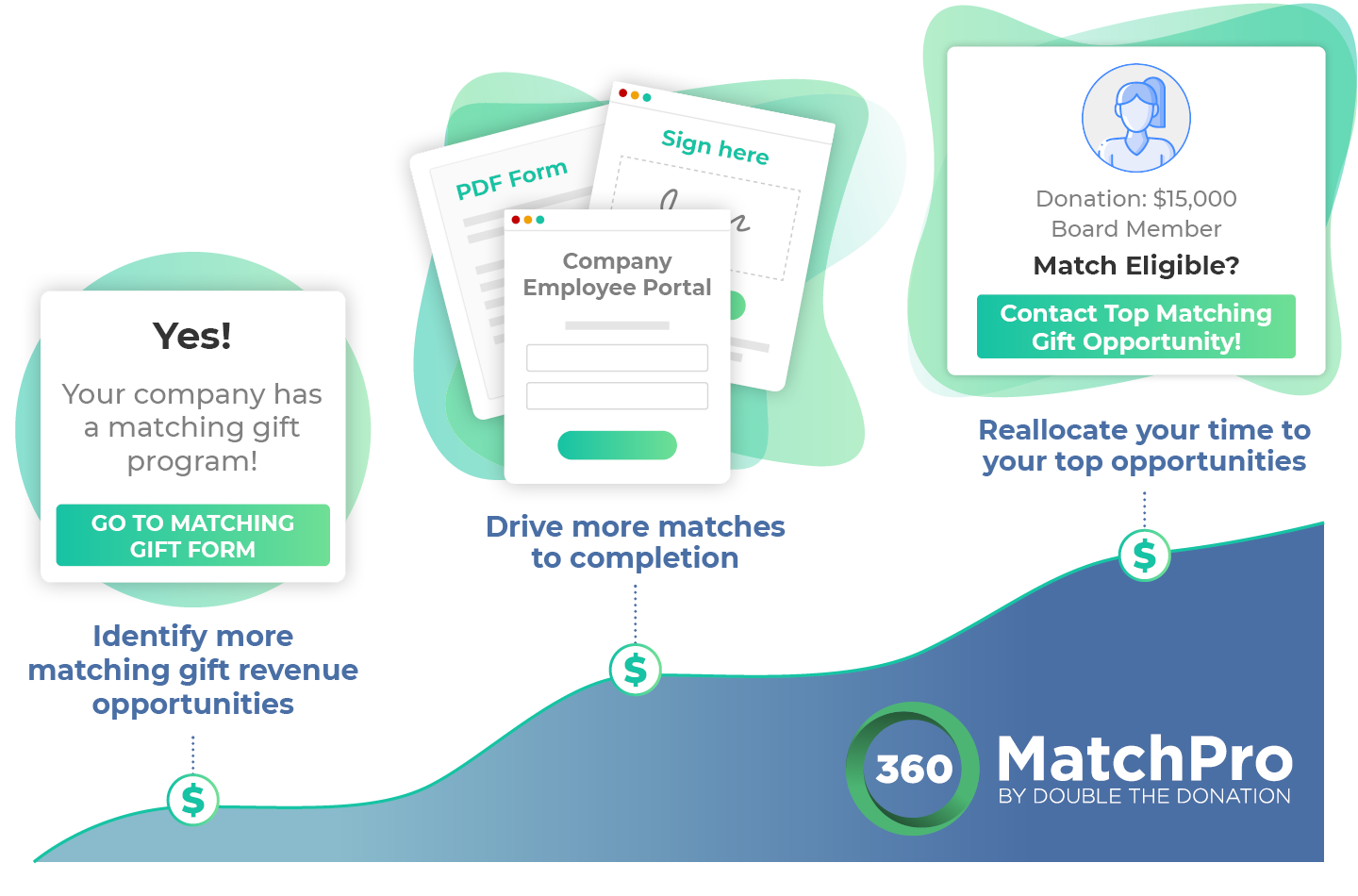 To get started on your matching gift journey with Classy and Double the Donation, schedule a private demo of 360MatchPro today. 
---
About Classy: Classy is a social enterprise that creates world-class online fundraising software for nonprofits, modernizing the giving experience to accelerate social impact around the world. Based in San Diego, CA, Classy is trusted by organizations of all sizes, from the fastest-growing nonprofits like Team Rubicon and The Trevor Project, to some of the world's largest social organizations, such as The Salvation Army, Robin Hood Foundation, and Shriners Hospitals for Children. Classy also hosts the Collaborative conference, a three-day immersive experience designed exclusively for nonprofit professionals and social impact leaders to learn, share, and get inspired. For more information, visit www.classy.org or follow Classy on Twitter @Classy.
About Double the Donation:  Automate your matching gift fundraising with the industry-leading solution from Double the Donation. The 360MatchPro platform provides nonprofits with tools to identify match-eligible donors, drive matches to completion, and gain actionable insights. 360MatchPro integrates directly into donation forms, CRMs, social fundraising software, and other nonprofit technology solutions to capture employment information and follow up appropriately with donors about matching gifts. To learn more about Double the Donation, visit https://doublethedonation.com and request a demo at https://360matchpro.com/demo-request/. 
https://doublethedonation.com/wp-content/uploads/2022/06/Double-the-Donation-and-Classy-Announce-Enhanced-Matching-Gifts-Integration-for-Nonprofits.png
290
775
Adam Weinger
https://doublethedonation.com/wp-content/uploads/2022/03/logo-dtd.svg
Adam Weinger
2018-11-07 13:19:36
2022-06-20 07:54:58
Double the Donation and Classy Announce Enhanced Matching Gifts Integration for Nonprofits