Double the Donation's nonprofits clients come from all across the country⁠—so we wanted to highlight a few select matching gift companies in key markets. Like most major metropolitan areas, New York is home to tons of notable employers, many of whom offer matching gift programs.
Is your New York-based organization tapping into this source of corporate giving?
To help you launch or finetune your strategy, we're going to look at the following matching gift companies your team should be aware of:
JPMorgan Chase & Co.
Verizon
IBM
Goldman Sachs Group
American International Group
Follow along for a look at New York City's corporate philanthropy and the tools you can use to discover these opportunities.

Statistics on New York Matching Gift Companies
If you dig into your organization's database of corporate donors from the past few years, you'll probably notice you received matching gifts from a variety of companies. Some are probably headquartered in your area, while others may have a much smaller presence.
Here are a few statistics on the New York market that may interest you:
Now, let's dive in!

Discovering Matching Gift Opportunities in Metropolitan Areas
The fact that New York has major matching gift opportunities means little if nonprofits don't capitalize on them. If you're like most organizations, you probably aren't reaching your full corporate philanthropy potential.
A great place to start is making sure everyone in your organization is familiar with the largest employers in your area. If you want to take it a step further, however, consider providing donors and volunteers with detailed information about their employer or their spouse's employer.
360MatchPro, a marketing automation platform suited for nonprofits looking to improve their existing matching gift processes, can help. With this software, your organization can automatically identify and contact eligible donors regarding matching gifts.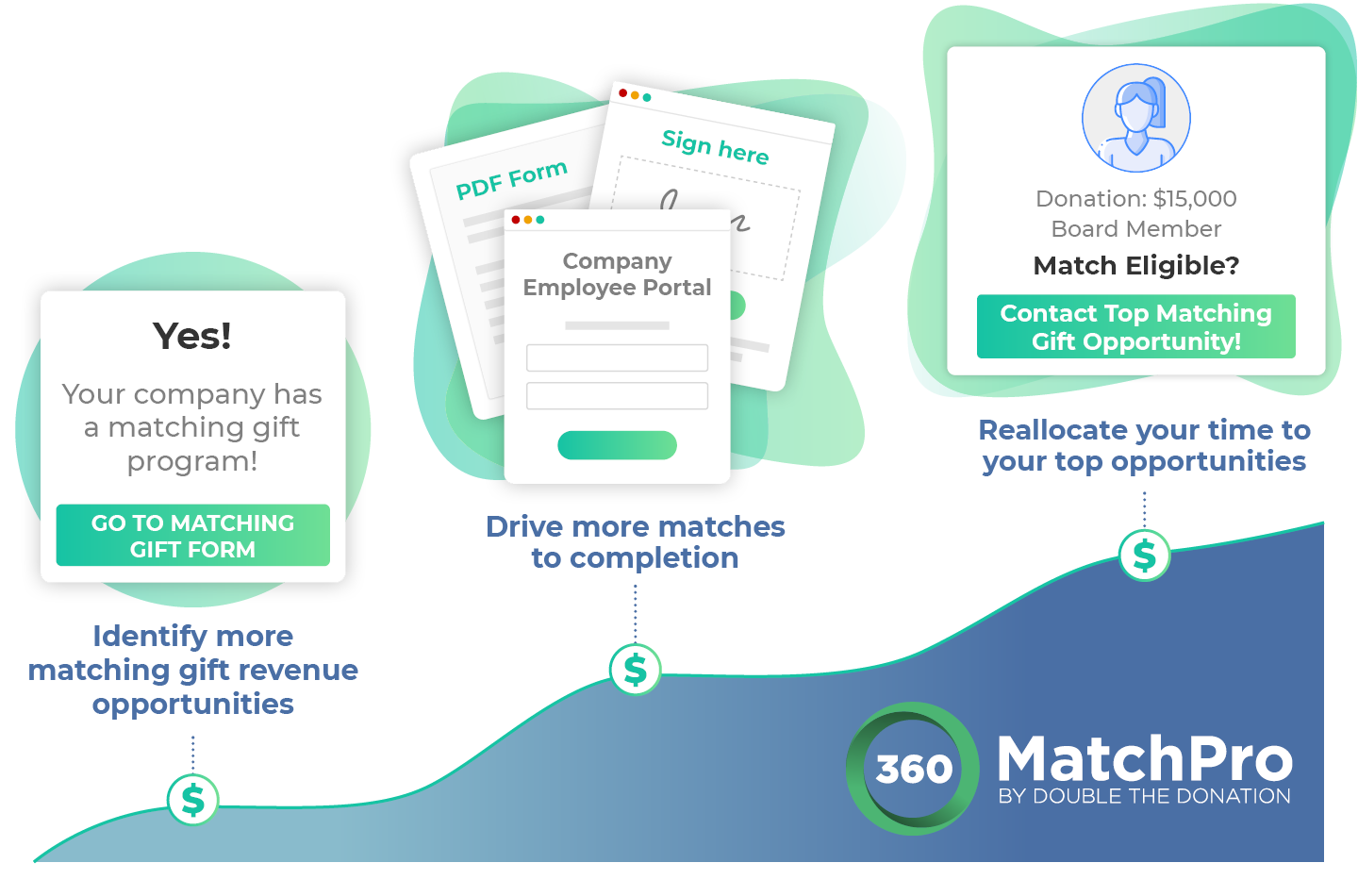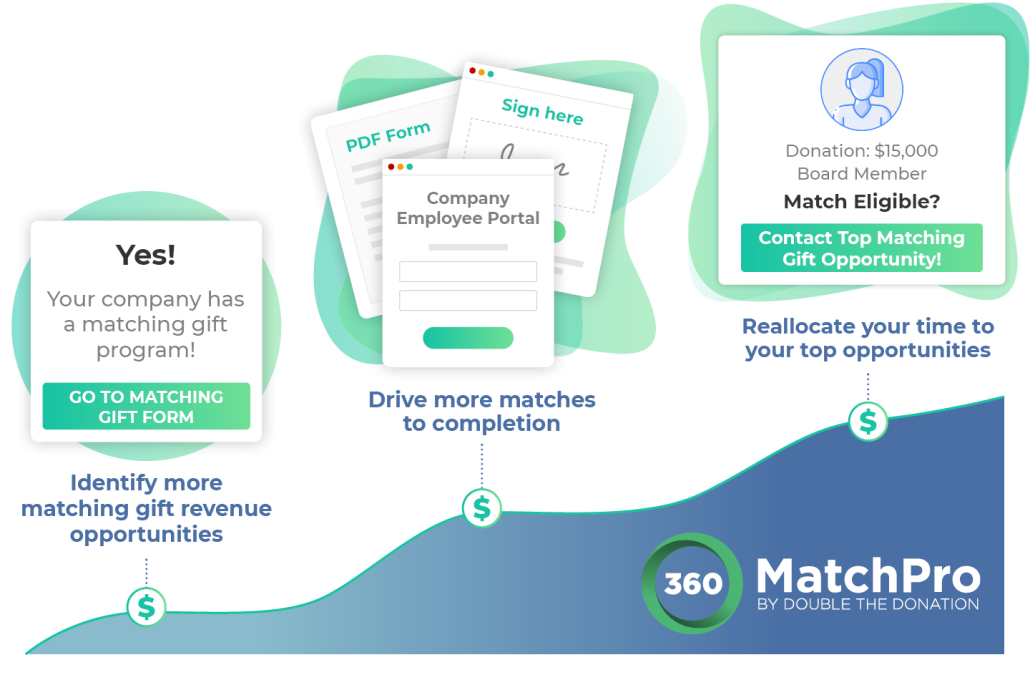 With that, continue reading for a look at New York City's top 5 companies with matching gift programs.

Companies in New York with Matching Gift Programs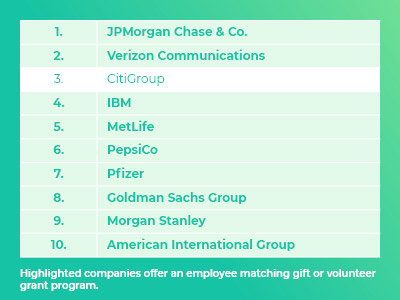 Of the top companies in New York City, those highlighted offer matching gift or volunteer grant programs. It would be difficult to go into detail regarding every company in New York offering matching gift programs, so we've highlighted some of the area's largest employers for this list. 
Based on the current Fortune 500 list, JPMorgan Chase and Verizon are the two biggest companies in New York City. Even better? Both offer matching gift programs!
Further, we've included IBM, Goldman Sachs Group, and American International Group, each of which is a large employer in the city offering matching gifts.
JPMorgan Chase
JPMorgan Chase offers both a matching gift and volunteer grant program. The company matches up to $1,000 per employee or retiree each year to pretty much any school or nonprofit.
The company also offers a tiered volunteer grant program where grants average $10 per hour volunteered. The grant amount varies based upon the number of hours an employee volunteers.
Learn more about JPMorgan Chase's employee giving programs.
Verizon

Verizon offers both a matching gift and volunteer grant program for employees. The company matches up to $5,000 to schools and $1,000 to all other nonprofits per employee each year.
Additionally, through the Verizon Volunteer Incentive Program, employees who volunteer for 50 hours in a calendar year can request a $750 grant for an organization.
Learn more about Verizon's employee giving programs.
IBM
IBM also offers multiple types of employee giving programs. Not only does the company offer matching grants on donations and cash grants for volunteering, but it also allows nonprofits to receive a significantly larger donation if the organization elects to receive IBM technology instead of cash.
For instance, IBM offers a 2:1 technology grant on employee donations. This means that if an IBM employee donates $500 to your organization, you can receive $1,000 in IBM equipment or $500 in cash.
Learn more about IBM's employee giving programs.
Goldman Sachs

Goldman Sachs, an investment banking company based in New York City, New York, offers a generous matching gift program that current, full-time employees are encouraged to take part in.
In fact, the company agrees to match donations between $50 and $20,000 at a 1:1 ratio to nearly all nonprofit organizations—including educational institutions, health and human services, arts and cultural organizations, civic and community groups, environmental nonprofits, and more.
Learn more about Goldman Sachs' employee giving programs.
American International Group (AIG)
AIG focuses its philanthropic efforts on three main groups of giving:
Safety

– auto safety, disease prevention, programs that help prevent improper use of prescription drugs

Security

– financial and educational programs that drive safety

Disaster Relief

– including support of disaster preparedness and repair of infrastructure in the wake of a catastrophe
AIG has a matching gift program with a minimum match of $25 and a maximum of $10,000 per employee per year.
Learn more about AIG's employee giving programs.
But that's not all!
Other NY-based Fortune 500 companies with employee matching gift and volunteer grant programs include:
Bottom line: Many of New York's leading employers match donations employees make to nonprofits. Make sure everyone in your organization's membership and development offices is familiar with major employers in your area that match employee donations.

https://doublethedonation.com/wp-content/uploads/2012/11/Companies-That-Match-Gifts_New-York-City.jpg
600
1600
Adam Weinger
https://doublethedonation.com/wp-content/uploads/2022/03/logo-dtd.svg
Adam Weinger
2012-11-09 00:27:25
2023-02-06 21:44:45
New York Companies with Matching Gift Programs