There may be no better time to encourage a donor to seek a matching gift than when he's making his actual donation.
Yes, we're saying that you can propagate matching gifts directly in the donation process on either the main donation page or on the donation confirmation screen.
Matching Gifts on the Donation Form
On donation forms, nonprofits can encourage donors to submit matching gifts in one of three ways:
Ask donors to check with their HR departments to see if their employers will match their donations
Insert a link that takes donors to a dedicated matching gift page with company specific matching gift information
Insert a matching gift search box to allow donors to enter in their company name and access the information they need to submit a matching gift
Texas A&M's Association of Former students incorporates a link on their donation page (highlighted by the green box):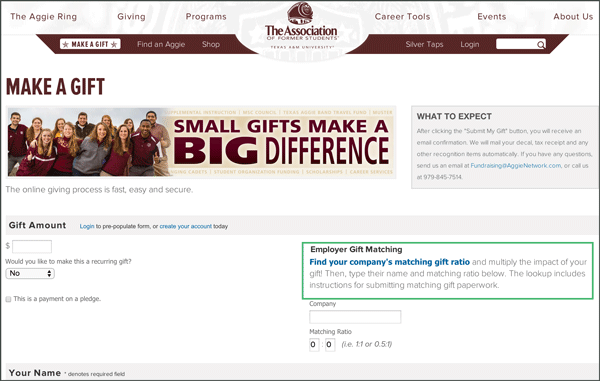 When one of Texas A&M's Aggie Network's donors click on the link that says, "Find your company's matching gift ratio," the donor is directed to their matching gift page, which allows donors to access company specific matching gift forms, guidelines, and instructions. In this case, their matching gift page is hosted on Double the Donation's servers:
 Screenshot of Texas A&M's Association of Former Students' Matching Gift Page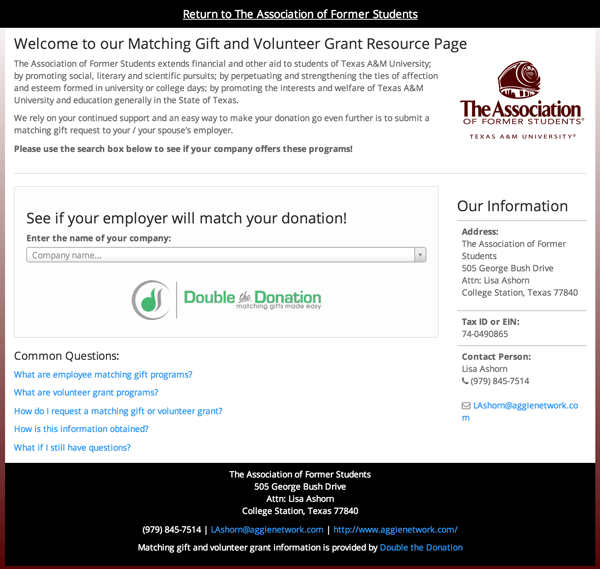 Another option is to incorporate matching gift information directly into the donation form. For example, BRAC incorporates a searchable Double the Donation plugin right on their credit card form:
 Screenshot of BRAC USA's Donation Form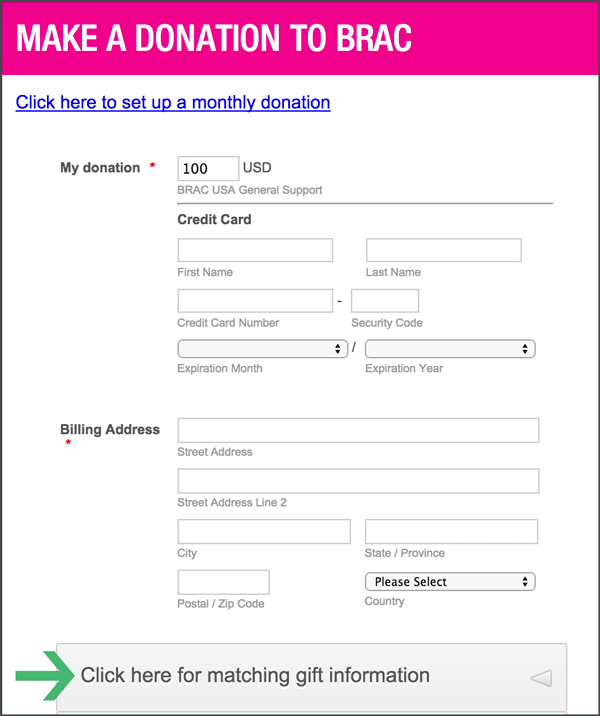 Click the button and…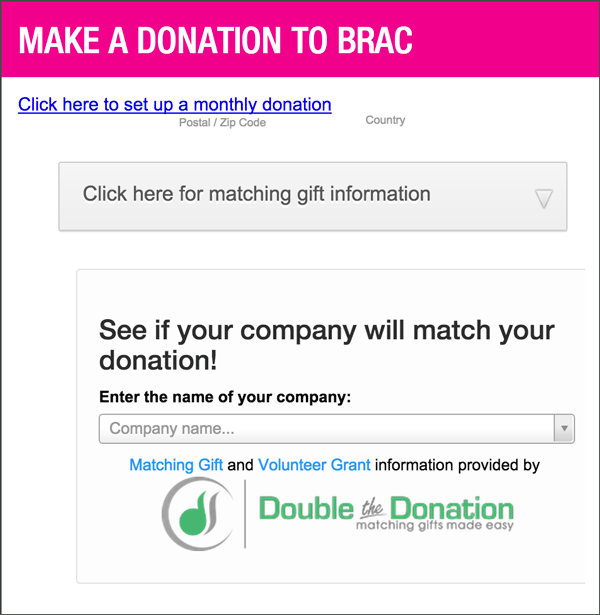 Voila! Search for matching gift eligibility without leaving the page. But that's the crème de la crème of donation pages. So long as you call attention to matching gifts you're doing just fine.
Each website page is an opportunity to provide information on matching gifts, and no better opportunity may exist than when the donor is actually pledging his money to your nonprofit. Why wouldn't someone want to give twice as much at the meager added cost of a few seconds of time?
Matching Gifts on the Donation Confirmation Screen
Your donor pledges money to your nonprofit and gets taken to a confirmation screen that says something like, "Thank you for your donation." Definitely thank people first, but take the opportunity to pitch matching gifts. This is an alternative to including matching gift information on your donation page, although it never hurts to do both. Your two options for confirmation pages are to provide company specific matching gift information (or a searchable plugin) directly on that page or to provide a graphic or text that links to a dedicated matching gift page.
Piedmont Healthcare offers an example of a confirmation screen that doubles as an ask for matching gifts and uses Double the Donation's plugin: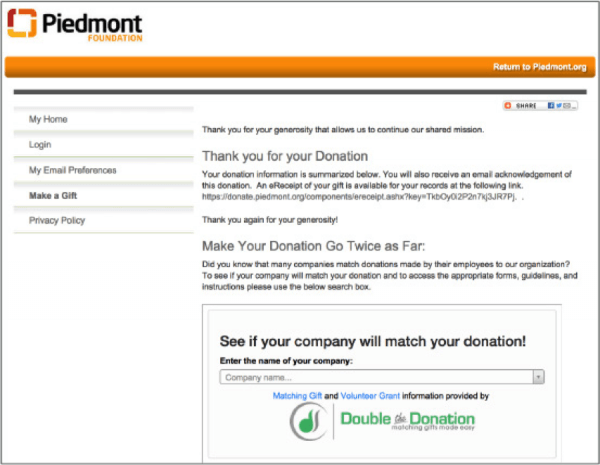 Piedmont Healthcare does what they should do by thanking the donor first and foremost, but then they incorporate an ask for matching gifts. The call-to-action is an encouragement, not a demand, and the matching gift search box is well-integrated into the page layout. It's a simple confirmation page, but it gets the job done.
Another great confirmation page example comes from the American Cancer Fund: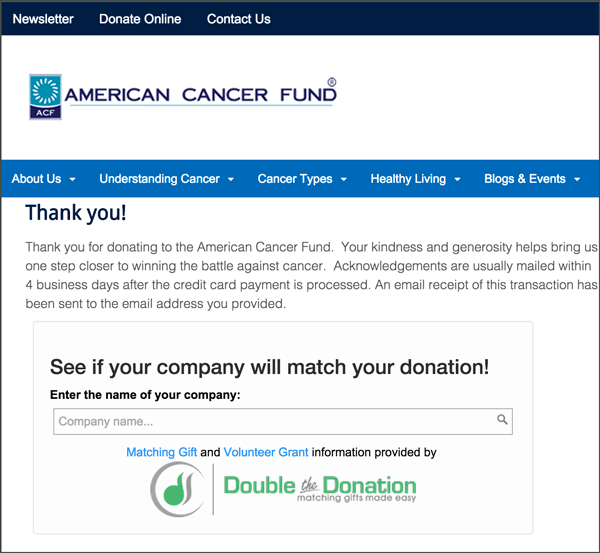 They do a great job of making their matching gift search box large on the page. It's a noticeable feature that draws donors in and aims to make them curious as to what the tool does. The text above the search box is all a thank you for the original donation. The balance between the text block and the large search box helps to build goodwill among donors and then get them to perform a search for matching gifts.
Carolina for Kibera offers another exemplary donation confirmation screen: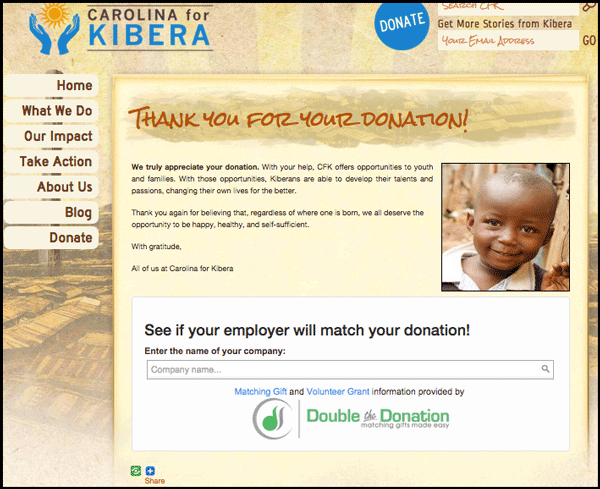 Their large banner at the top of the page does an awesome job of ensuring that donors know that their gifts are appreciated. This is just part of a webpage that is aesthetically superior. The picture of the child showcases that the organization helps youth. Such emotional appeals can sway people to seek matching gifts when the well-placed matching gift search box urges them to take more action. The entire page is beautifully laid out in terms of color, placement of graphics, format of text, and more. This is a top-notch webpage, and, while your organization doesn't need to spend an arm and a leg for the very best, a confirmation page that's pleasing to look at can help donors to feel that your nonprofit knows what it's doing and would truly make the most of a matching gift.
Rails to Trails demonstrates how a simple confirmation page can promote matching gifts without a search box: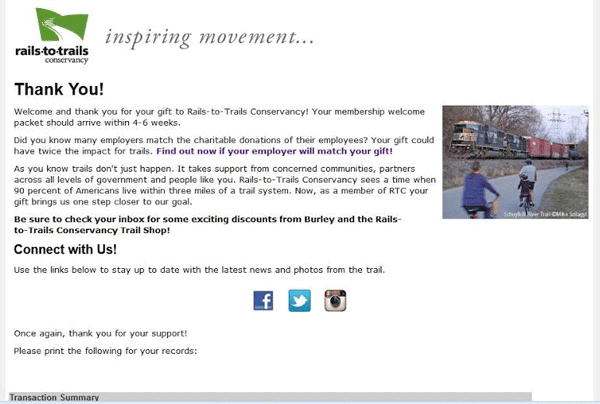 There's nothing fancy here, but the bolded link gets the job done of calling the donor's attention to a specific piece of information. A link should direct donors to a resource that will help them to make a matching gift, such as a dedicated matching gift page.
An alternative to a search box that might better entice donors is a conspicuous graphic that functions as a link. Here's an example from Search for Common Ground. At the bottom of the donation confirmation page the organization has large "Double Your Donation" links and graphics which direct donors to the organization's dedicated matching gift page.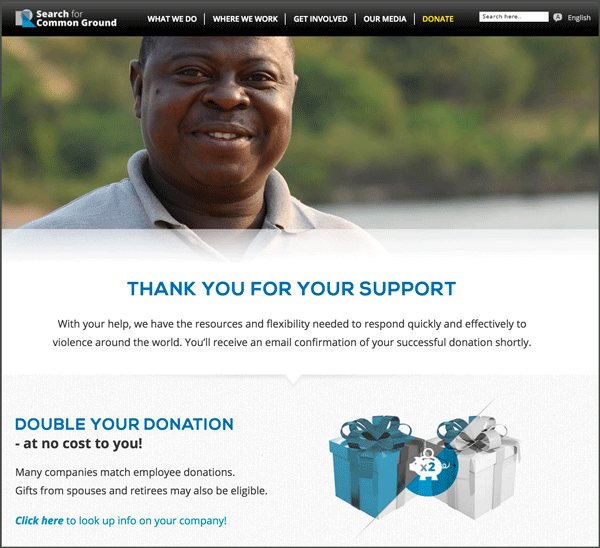 Alternatively you can use one of Double the Donation's premade graphics, such as: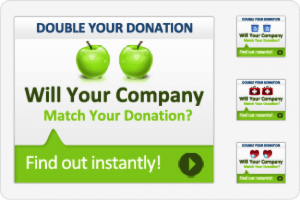 The graphic offers visual pop while remaining simple, clean, and far from overwhelming. The graphic links to a dedicated matching gift page where your nonprofit can either provide detailed information on matching gifts or allow donors to search for the relevant information. For example, here is ASPCA's dedicated matching gift page.
Screenshot of ASPCA's Dedicated Matching Gift Page
(view ASPCA's actual matching gift page)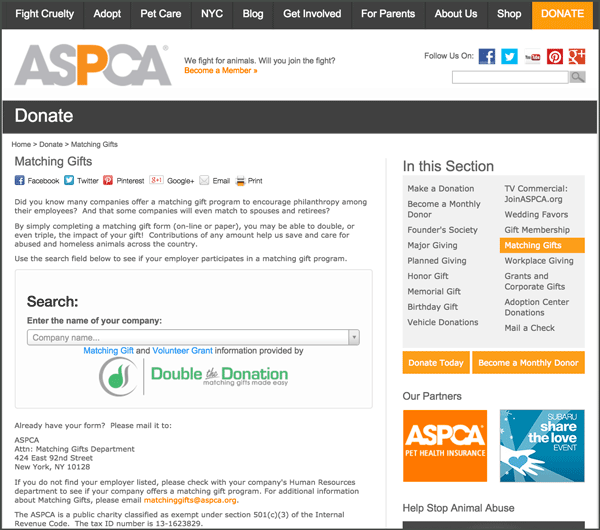 Want more information on creating a dedicated matching gift page?
View our complete how-to guide on creating a matching gift page on your nonprofit's website.
Summary:
Donors may not visit your website searching for information on matching gifts, but if you want to maximize your donations then you want to make people aware that matching gifts both exist and are easy to apply for. Get the word out on as many webpages as possible, because you never know where people might look on your website.
https://doublethedonation.com/wp-content/uploads/2015/01/Our-Tool-2.png
321
845
Adam Weinger
https://doublethedonation.com/wp-content/uploads/2016/09/double-the-donation-logo-header.png
Adam Weinger
2015-01-26 10:39:14
2016-05-07 22:20:59
Feature Matching Gifts in Your Donation Process